Viles Arboretum Unveils Plans for Upcoming Sculpture Symposium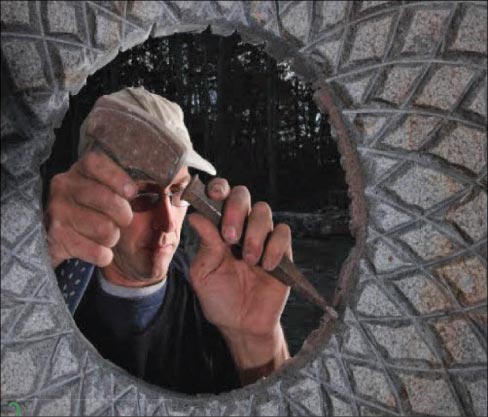 The Viles Arboretum unveiled plans for their first sculpture symposium to be held from September 12th to the 21st on the grounds of their 224 acre preserve in Augusta, Maine.

This first sculpture symposium for the Arboretum and for the Capitol City will feature ten nationally acclaimed Maine artists working for nine days creating nature-inspired sculpture from raw stone to finished art. What's unique about this sculpture symposium? For starters, it offers the public an unparalleled opportunity to experience first-hand the creative process from concept to creation.
Each artist will be available for all to observe and learn in a close, intimate and safe environment where questions are encouraged. Also for the first time as part of a symposium, the Arboretum is making available during the scheduled five weekdays an opportunity for the artists to hold court with as many grade/middle/high school art teachers and classes, creating an incubator for an exceptional learning experience.
These slots will be offered on a first-come, first-served basis and with the assistance of the Maine Arts Commission and Department of Education. The symposium directors have reached out to all schools across Maine.
The Viles Arboretum Sculpture Symposium already has two lead sponsors including J.C Stone, Inc., of Jefferson, the Maine Stone Workers Guild, and R. M. Davis Inc. The Symposium is exceptionally pleased to announce that Maine Home and Design is their exclusive Media Sponsor for the symposium.
The Symposium will be welcoming other businesses and individuals throughout Maine as they connect with additional sponsors and supporters. They encourage anyone interested in exploring creative ways of working with them, to contact them, and to make this a successful, educational and highly visible event for Augusta, Maine and New England.
There are many opportunities for sponsors. For example, imagine working with one of the artists to create a unique stone sculpture to grace the entrance to your business, or a memorial for that exceptional family member whose memory you wish to preserve.
A gift to the Viles Arboretum as an addition to their public display of art will be seen and appreciated by countless visitors throughout the seasons. The ideas are endless and Arboretum staff stands ready to work with you and the seed of an idea you might have.
The Viles Arboretum is centrally located in Augusta, Maine on 224 acres of fields, forests, wetlands and with botanical collections from around the world. They offer an ever-changing selection of inspirational exhibits, educational and practical programs for the general public and for schools.
They focus on interactive, creative and hands-on teaching with a focus on botany and natural history. Their goal is to unlock everyone's natural ability to understand the nature of our world through your own eyes and by using your own intellect.
Viles Arboretum strives to make their 224 acres of fields, forests and wetlands play a key role in contributing to the quality of life for Maine citizens and visitors from every corner of the world.
Their presence contributes significantly to the quality of life in and around Augusta and beyond, and they newly installed Art Trail presents the largest publicly accessible display of outdoor art sculpture in Maine.
You can learn more about the Arboretum and its programs, or how to become more involved by checking the website www.vilesarboretum.org, visiting their Facebook page, or by calling (207) 626-7989.