2014 MIA Accreditation Class Honored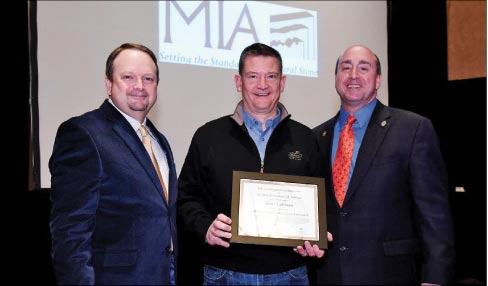 The MIA offers an industry accreditation program for fabricators and installers, and nineteen companies were honored at the MIA annual meeting / awards ceremony in Las Vegas, Nevada, for earning the MIA accreditation credential in 2014.
MIA Accreditation for natural stone fabricators and commercial contractors recognizes those companies that meet the industry's highest standards for business activities, product knowledge, fabrication and installation.
Receiving the MIA Accredited Natural Stone Fabricator credential:
AHI Stoneworks, Hot Springs, AR
Artistic Counters, Inc., Garden Ridge, TX
Dee Brown, Inc., Garland, TX
INcounters, Abilene, TX
KG Stevens, Inc., New Berlin, WI
Lakeside Surfaces, Inc., Norton Shores, MI
Morningstar Marble & Granite, Inc.,

Topsham, ME
Paramount Stone Co., Stamford, CT
Picasso Tile & Design, Tempe, AZ
Pure Granite Rocks!, Vernon, BC
Quality Surfaces, Inc., Spencer, IN
Sims-Lohman, Cincinnati, OH
Smokey Mountain Tops, Knoxville, TN
Stoneshop, Cherry Hill, NJ
Surfaces–Viking Kitchen Cabinets, New

Britain, CT
Tennessee Marble Company, Friendsville, TN
U.S. Granite of Tyler, TX
Receiving the MIA Accredited Commercial A Installer credential:
Camarata Masonry Systems, Houston TX
Dee Brown, Inc., Garland, TX
Receiving the MIA Accredited Commercial B Installer credential:
Stockett Tile and Granite Co., Phoenix, AZ

MIA Accreditation Commission Chairperson Rodney Harvey, Curtain Wall Design & Consulting Inc., shared "This was the largest single year for newly accredited companies since the program launched. It is great to see companies embrace the stone industries highest credential."
Jim Hieb, MIA's Executive Vice President/CEO, added that "the growth of the program is largely attributed to an improving economy and launch of the popular accreditation program immersion classes."
Several program enhancements are planned for 2015 including more immersion classes, work with the design community to reference "MIA accreditation" in design specifications, and continued work on creating an accreditation program for the care and maintenance segment of the industry. For more information about becoming accredited or the next immersion class (April 15th in Orlando, Florida) go online to www.marble-institute.com/gettheseal.
The MIA is also thankful to the support offered by several program sponsors: Artisan Group, Coldspring, Kohler, Laticrete, Marmo Meccanica North America, MS International, Park Industries, Schechner Lifson Corporation, and Rock of Ages.
NOTE: Mountain Marble and Granite, Inc., Asheville, NC, successfully completed all phases of the Natural Stone Fabricator program late in 2014, and will be officially recognized at StonExpo 2016. Additionally, Carnevale & Lohr Inc is the first accredited company (Commercial A Installer program) in 2015.
The MIA also markets a range of technical publications and consumer pamphlets on natural stone, sponsors business and technical meetings and seminars on industry-related topics, and provides educational programming for architects and construction specification professionals. More information on accreditation can be found on the association's website: www.marble-institute.com.