Stone Restoration and Maintenance Corner: Tech Tips for the New Year
Bob Murrell
Special Contributor
Photos provided by Bob Murrell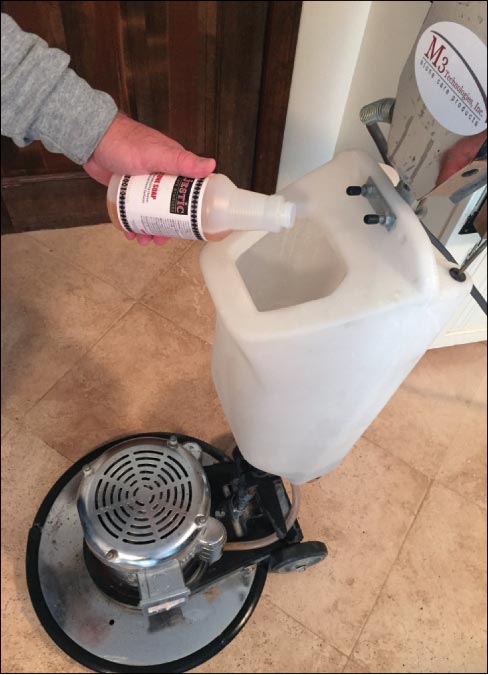 Above: Be aware that seasonal changes in temperature will make a difference in how you handle concrete polishing steps like rinsing and buffing. A little Stone Soap in your solution tank will help extend diamond life and clean up slurry.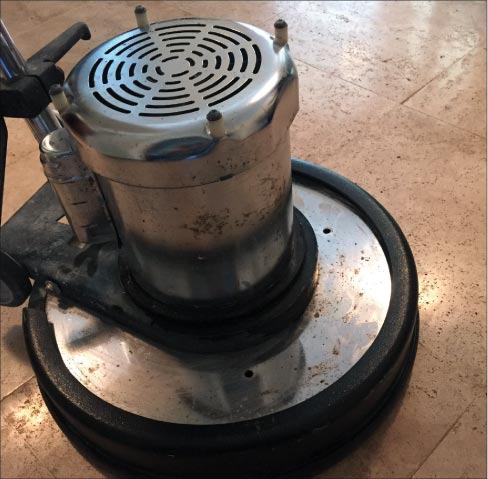 Above: Use a splash guard on your floor machine to eliminate splatter on adjacent vertical surfaces. I also recommend doing a hot water rinse and buffing with a white pad to eliminate salt film residue.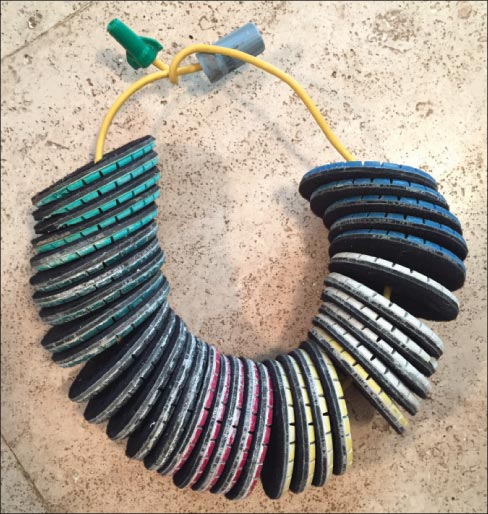 Above: Clean your diamond pads between use and allow them to dry thoroughly. I keep mine threaded onto electrical wire fastened with a couple of wire nuts.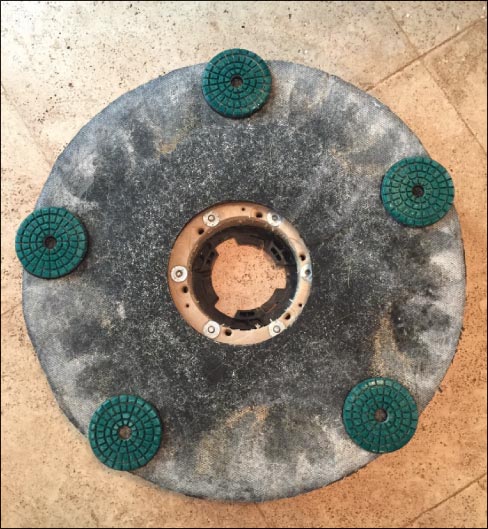 Above: Evenly space your diamond tooling around the circumference of the drive plate, slightly overhanging the edge for easy removal.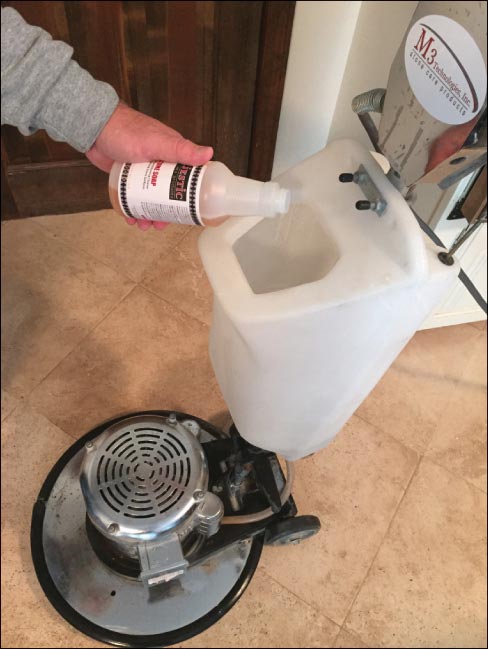 Above: Stone Soap in your floor machine solution tank helps extend diamond life and clean up slurry
I hope everyone had a wonderful Holiday Season. I know I sure enjoyed mine! Ten added pounds later, it is time to resume work for 2016. But first things first: time for the Christmas tree to go back up into the attic for another 11 months.
As a way to kick off 2016, I thought I would pass along some technical tips that I have picked up through the years. Some are from my experiences and others from contractor customers I know. This restoration and maintenance thing is an ongoing learning experience and we should be constantly expanding our knowledge, lest we become complacent and loose our competitive edge.
Be aware that during the winter months there may be differences with the polishing procedure due to seasonal changes such as cooler floor temperatures and the addition of snow melting salts which can migrate indoors through foot traffic.
With regards to the floor temperature, this could make it more difficult to rinse the floor properly, which could leave films and/or residues behind. For the solution to this, I recommend doing a hot water rinse and buffing with a white pad. This should solve the residue issue. In fact, it can be done routinely any time of the year, as it will also help with swirls and light over-etching issues as well. The use of hot water with most cleaning products will improve efficacy–try it and see for yourself!
When using Stone Polishing Compound please make sure that buckets are kept well mixed, especially during periods of freeze/thaw. Even though there are no performance issues due to freeze/thaw, if the product becomes overly separated, inconsistencies could develop. Powders present no temperature issues.
Both 5X and Stone Polishing Compound can have slight color variations based on the season of the year the product was manufactured and blended. This issue is a direct result of when the raw materials are harvested and does not have any adverse effects on the product's performance.
Regarding the snow melt salt migration issue, make sure the floor is well cleaned prior to polishing. It's a good idea to use hot water in this situation, as well, to remove any salts prior to the polishing procedure. This will also raise the floor temperature, helping with the polishing procedure.
When working in showers, use razor blades for the removal of conditioner and soap scum in the shower before using Heavy Duty Soap Scum Remover. Gently shave off the buildup, replacing with a fresh razor blade as needed will help you avoid scratching. Once the buildup is sufficiently scraped off, use the HD Soap Scum Remover in combination with a non-scratch pad. Every stone or tile shower should have a squeegee for routine use. This is a great tip to give the homeowner or customer, as it will help prevent the future accumulation of soap scum and mineral deposits.
Heavy weights on the machine can really make the diamonds hard to remove. When honing with diamond discs, try placing the diamonds on the outer edge of the drive plate for the best cutting speed and easier removal. Whether using five or six 3 inch discs, or three to four 5 inch discs, try installing the diamond discs on the drive plate with a very small amount of overhang, say by about 1/16 of an inch. This will allow you to get closer to the wall, give faster cutting speeds, and give you a small lip to grab when changing from one grit set of discs to the next. Use a spatula or putty knife to gently remove the diamond discs. Avoid just ripping them off like a Band-Aid, as this will wear the Velcro prematurely. Better yet, have a drive plate for each grit set of discs (even though you will probably have to occasionally rotate the discs to avoid uneven wear, this can save you time–and time saved is money saved.
Use a small amount of Stone Soap in the solution tank of your floor machine to increase diamond life and assist with slurry removal. It serves as a lubricant and also helps lift slurry and grit. Use a couple of ounces per tank.
Clean your Velcro drive plates after each work day and allow them to dry thoroughly before the next use. Keep some water resistant spray adhesive or contact cement handy to keep the Velcro secure. Replacement Velcro is available for when it wears out and no longer holds the diamonds well.
Keep your diamonds clean and allow them to dry between projects. I like keeping mine on a piece of PVC pipe with caps, or threaded onto a large electrical wire with wire nuts.
Using a splash guard really helps keep splatter off of walls and adjacent areas, especially when using diamonds. This is a small investment for a much neater project.
PLP diamond impregnated pads are now considered standard equipment on my truck. These handy pads are certainly not the answer for every situation but can help in many different scenarios. When it comes to honed marble, travertine and limestone, these pads are a fairly essential tool and help make the process of honing a much simpler and easier task. They cut more aggressively when used under a slow speed machine wet (with Stone Soap). They tend to provide a higher finish when used dry and high speed (electric or propane burnisher).
Be aware that using the lower grits dry can be problematic because of dust generation. Remember that the red dots go toward the floor and are wear indicators.
Using a smaller diameter floor machine for tight spaces like bathrooms and vestibules, as well as stairs and counters can be very beneficial. A 10 inch to a 13 inch footprint machine works well in these situations. Telescoping or short handles can be used to help with the operational success.
This is by no means a complete list of technical tips and will be added to at a later date. If you have some favorite tips that you would like to share, please send these to the editor who will in turn get them to me for future publication. As always, check with your supplier of products for technical support. That is part of their job –  to supply answers to your technical questions and offer advice. It is your option whether to take that advice or not.
Bob Murrell has worked in the natural stone industry for over 40 years and is well known for his expertise in the restoration and maintenance of natural stone, terrazzo, ceramic tile, and decorative concretes. He helped develop some of the main products and processes which revolutionized the industry. Bob started one of the largest and most successful training seminars in the industry with thousands of contractors having attended his school over a 25 year period. He is currently the National Sales Manager for M3 Technologies based out of Cohasset, Massachusetts.