Stone Restoration and Maintenance Corner: End of Summer Tech Tips
Bob Murrell
M3 Technologies
Photos by Bob Murrell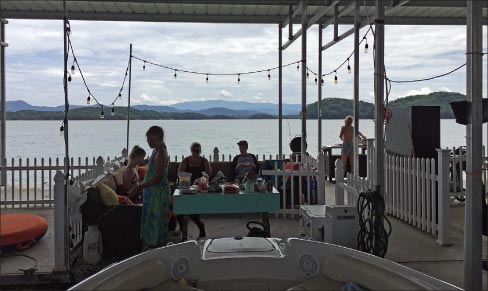 Above: Grilling and chilling on Douglas Lake with the Great Smoky Mountains as the backdrop.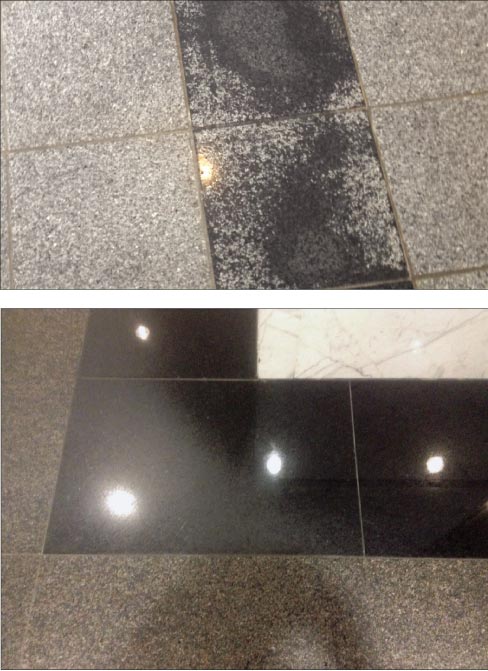 Above: Foot traffic wear and tear: Black granite shows wear faster because of both the color and the fact that it is a softer stone.
As I write this month's article, another summer is almost over. I happen to love summer and spending quality time with my family, as I am sure many of you do as well. We spend most of our free time on nearby Douglas Lake (a TVA lake), where we enjoy boating, and grilling and chilling with friends. I am truly blessed to be living in East Tennessee at the foot of the Great Smoky Mountains, where the water is clear and deep, and the scenery is absolutely spectacular.
I thought I would pass along some more technical tips this month that I have picked up through the years. Some are from my experiences, and others from contractor customers I know. In this article, I will try to concentrate on polishing granite and similar materials, as well as the associated procedures involved. I know we have covered this topic before, but hopefully I will include some additional technical tips you may not know about, to aid in this process.
Traffic wear on granite should be re-polished as soon as possible. Once wear patterns become obvious, they normally require some mechanical honing. If lippage is minimal, wear patterns can normally be successfully re-honed and feathered into the areas that show no wear.
As with marble, contractors routinely ask how much water to use when polishing, how much powder or compound is used per square foot, what machine weight, what type of pad or brush, how many passes or amount of time, are there differences between one stone and the next, and so on, and so on.
As discussed in previous articles, granite does not normally respond to acids and therefore polishing granite is typically a much slower and more labor-intensive process.
Granite polishing products are normally a mixture of fine abrasives like tin oxide and aluminum oxide. Carbon black is typically used to darken these polishing products for darker granites. Most are in powder form, like the Majestic Granite Polish Powder, which comes in Light & Dark formulas. There is also a ready-to-use product called Majestic Granite Polishing Compound.
These products tend to perform better with steel wool pads in either #0 or #1 grades. Some prefer jumbo steel wool pads while others prefer the metrix (flat). In any case, to avoid clogging up the pad driver with steel wool fibers, use a hog hair or some other type of polishing pad between the pad driver and the steel wool. Natural or hog hair pads can also be used to polish granite, but my personal preference is to use steel wool pads.
Majestic Crystallizer is typically used as the lubricant for polishing granite instead of water. It also contains polymers that aid in filling the microscopic voids from ejected crystals in the surface. This helps the surface to be more flat, and improves color.
The darker polishing products tend to make a mess, especially when used with steel wool pads. Therefore, have some of either Majestic Deep Cleaner Stripper or Majestic Intensive Cleaner in a mop bucket of warm water with a good mop and/or scrub brush ready to clean up after polishing.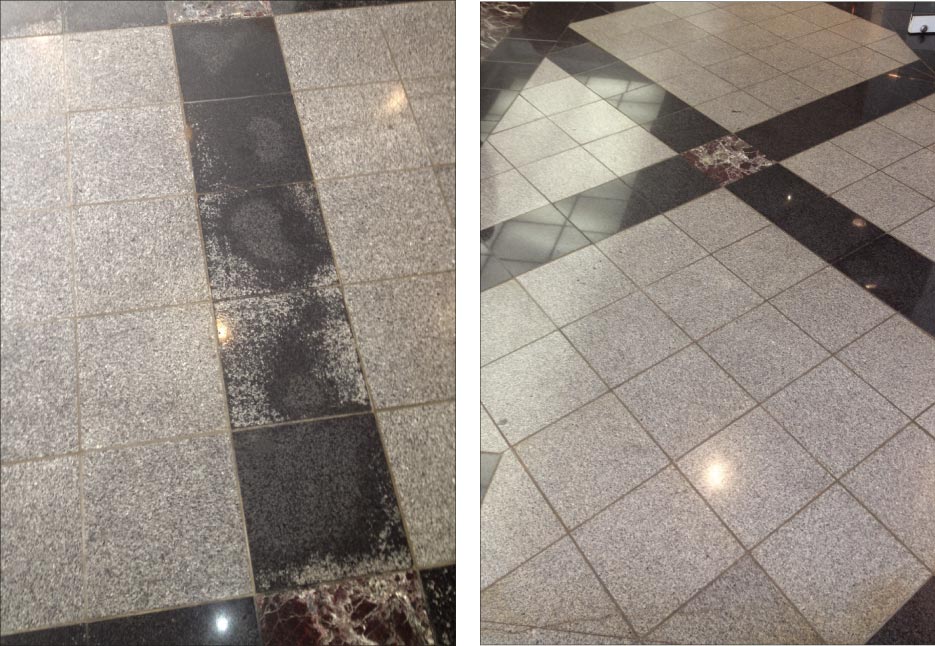 Above, left: Before polishing black and gray granite, with adjacent and inset marble.
Above, right: After polishing black and gray granite, with adjacent and inset marble.
If there are adjacent or inset marble tiles, do the granite first, and then polish the marble, as the marble polishing products will tend to help clean up after the darker granite polishing products. You may also need to tape areas off using red vinyl tape or a Tape & Drape product that will resist the staining from the darker granite products.
If Majestic Granite Polishing Compound is the product of choice, either a steel wool pad or natural hair pad can be used. A small amount of water or Majestic Crystallizer can be used to lubricate once the product starts to dry. You will have to decide for yourself which works best, based on the test area results.
A weighted machine of 135 pounds or more normally produces a better production rate than a machine with no weights added. Performance is a measurement of results and efficiency. Higher production rates come under the efficiency heading. Granite polishing is extremely labor intensive and definitely a two-man operation, hard on the machine and electrical breakers, and therefore more costly than polishing marble and other easier-to- polish stones. So charge accordingly.
The amount of time or number of passes required to achieve a satisfactory polish on a specific stone can vary. Some experienced professionals prefer the use of a timer while others count the number of passes, on per-square-foot basis. I say whatever works best for you and produces the best performance should be your standard. In any case, you should certainly develop a repeatable procedure or pattern that provides consistent superior, cost-effective results.
Polishing granite effectively is hard work. The typical procedure is to apply the Majestic Granite Powder product of choice, give a squirt or two of Majestic Crystallizer, and buff using the #0 steel wool pad over a surface area of about 9 square feet. This will turn the powder into a paste. Keep buffing until the paste starts to dry (the machine will get hard to handle at this point), and give another squirt or two of the Majestic Crystallizer to re-lubricate into a paste and continue buffing. Repeat this process, going from wet to dry until the desired polish is achieved, before moving to the next area. Complete large areas in a checkerboard pattern, overlapping areas to blend. You may need to polish the entire floor or at least a large part of it to keep the look consistent.
Harder granites are usually easier to polish than are softer granites, and granites with large crystals are normally harder, and thus easier to polish. Granites with a small, tight crystal structure like black granite are typically much harder to polish, because they are softer, and just like a black car, show every flaw at the surface.
The most important tip I can give anyone who is attempting to do a granite-polishing project is to complete a test area. Doing a test will confirm the results, the procedure, and help to manage customer expectations. This is a must before production begins.
This is by no means a complete list of all the technical tips for polishing of granite and similar stones. If you have some that you would like to share, please send these to the editor who will in turn get them to me for future publication. As always, check with your supplier of products for technical support. That is part of their job, to find you answers to your technical questions and offer advice. The phone call is free, the advice is free, so what have you got to lose?
Bob Murrell has worked in the natural stone industry for over 40 years and is well known for his expertise in the restoration and maintenance of natural stone, terrazzo, ceramic tile, and decorative concretes. He helped develop some of the main products and processes which revolutionized the industry and is currently the National Sales Manager for M3 Technologies.