Stockett Tile & Granite Wins CTSAA Fabricator of the Year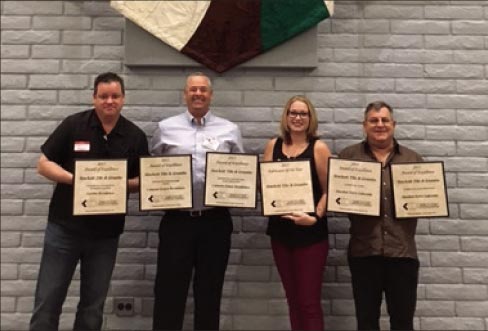 Stockett Tile and Granite employees accepted the awards. (From left to right) Ryan Sullivan, Mark Costilow, Ciara Raber and Larry Caine.
Phoenix Artisan Group member, Stockett Tile & Granite, was named Fabricator of the Year by Ceramic Tile and Stone Association of Arizona. This award is based on numerous excellent fabrication and installations in 2015, for categories such as seams, vein match, quality of lamination, backsplash, degree of difficulty and more.
Stockett Tile & Granite also won four design awards. These include Residential Custom Home Combo, Exterior Cladding Commercial Combo and Commercial Slab Fabrication, and were won based on meeting many industry criteria. Multiple Onyx and Granite slabs were used in the winning installations, including Pakistan Green Onyx on the tub and shower, and Labradorite Granite on the fireplace and vanities, with waterfall ends.
"CTSAA is proud to have members like Stockett Tile and Granite, who do outstanding work, in our group," says Ralph Williamson, CTSAA Executive Director. "This year Stockett Tile & Granite achieved the honor of being the Fabricator of the Year for some first-class work completed in 2015, and they have established a great reputation for this level of installations."
Visit stockett.com for more information on their work.