From Quarry to Client–Gawet Marble & Granite
Peter J. Marcucci
Photos by Peter J. Marcucci and Courtesy Gawet Marble & Granite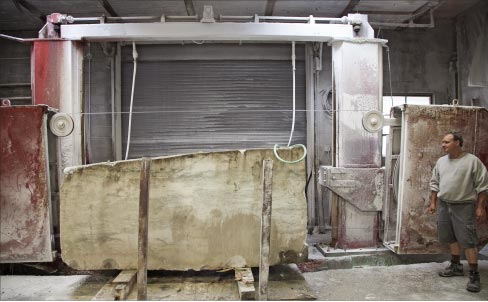 Above: Gawet Marble & Granite's wire saw was custom built to fit their shop. They had a roof restriction and a length restriction, so this compact wire saw exactly fits the facility. Co-owner Philip Gawet commented, "It's been wonderful, but it's 20 years old, and yes, we've rebuilt it. It has got to be rebuilt again. We're thinking about purchasing another one and putting it outdoors – under roof, of course."
Photo by Peter J. Marcucci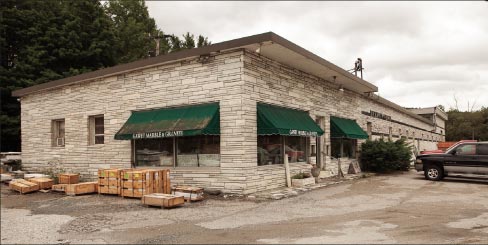 Above: Built from local stone, and purchased in 1961, Gawet Marble & Granite's main shop and offices are located on US-4 in Center Rutland, Vermont, right down the road from the family homestead. "When my dad put this shop together it was done piece by piece, a little bit here, a little bit there."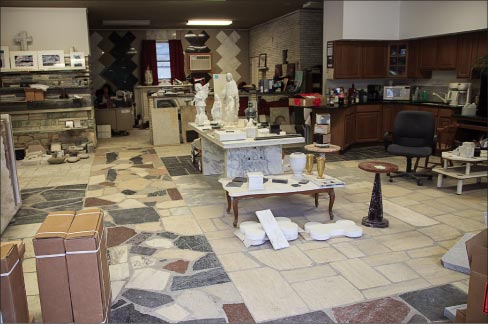 Above: Deirdre Shaw and Olivia Boughton (nee Gawet, the fourth generation in the Gawet business), manage the administrative and sales operations, while Peter O'Bara, having just celebrated his 35th anniversary at the company, oversees the shop functions and does the finish work on all the stone fabricated.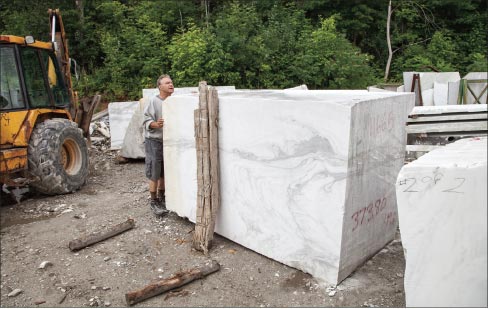 Above: Co-owner Phil Gawet inspecting one of the prime-quality blocks stored in their stoneyard. "My father bought blocks and stockpiled them. This one would be good for memorials. Many blocks are a combination of colors. Most are usable for large– or small-scale projects, including sculpture."
Above: Gawet Marble & Granite's contributions as a cut-to-size stone supplier were recognized with a 2012 Tucker Award on this notable project for Bennington College.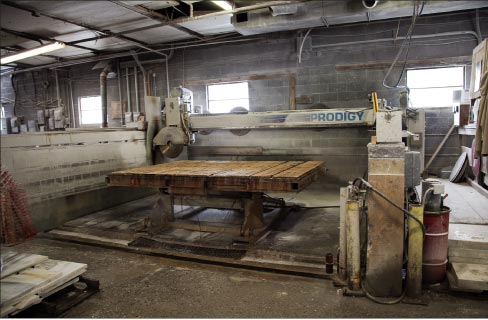 Above: A wire saw and gang saw facilitate Gawet's quarry to client concept, while two Park Industries bridge saws – a Prodigy and a Jaguar – round out the company's arsenal of cutting equipment. These well-built machines have some mileage on them, but are still going strong. Photo by Peter J. Marcucci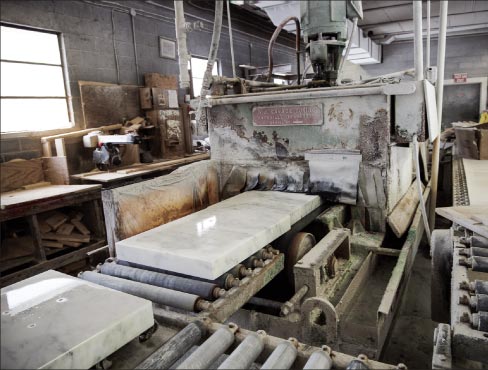 Above: "We also have an well-used Savage Face Polisher. Unfortunately, no one can date when this machine was built. Suffice it to say that it is pretty old, as it was purchased from the Vermont Marble Company." Here, a large cut-to-size job is being staged: custom windowsills with a honed finish. Photo by Peter J. Marcucci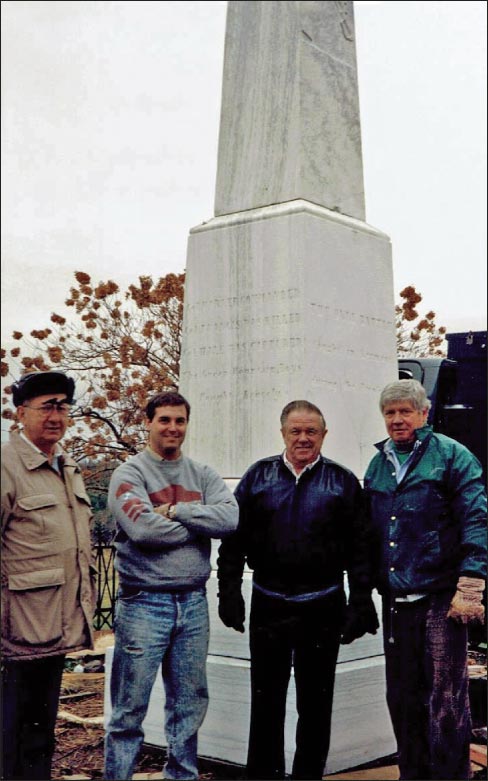 Above: Gawet family archive photo of Stanley Gawet (at far left) at the Hubbardton Battlefield Memorial, a monument fabricated by Gawet Marble & Granite, Inc., of marble from the West Rutland quarry.
Renowned as one of the largest marble deposits in the world, and supporting over 700 quarries at its peak, the Vermont "Marble Belt" runs vertically from Brandon (mid-state) to Bennington (the lower tip). Center Rutland, Vermont, sits atop this great deposit; and since 1919, so has Gawet Marble & Granite, Inc..
A self-described hands-on guy, co-owner Philip Gawet has labored in the quarries, trucked it, designed it, sold it, cut it, polished and edged it –   and he's also a historian of the local stone industry. While some shops may talk the talk of "full service," offering slabs and fabrication, Philip and company walk the walk every day, taking most jobs from quarry block to turn-key solutions.
If Only These Walls Could Talk
Surrounding the all under one roof facility is an ocean of local cut stone, where shades of white, gray, green and black of all sizes wait patiently to be cut for facades, countertops or pavers. But it wasn't until I peered into the shop, seeing the diverse array of machines that I realized how much this company has actually produced through the decades. If only these stained walls could talk, they'd speak volumes!
Machinery consists of a sandblaster for engraving, a line polisher, two Park Bridge Saws, two Park Radial Arm Polishers, a gang saw, wire saw and three jib cranes. The company guillotine cutter is currently on loan to Philip's sister Monica Gawet, the owner of Tennessee Marble Company and the Isle la Motte quarry, which produces Champlain Black. Additionally, on site are a variety of loaders and lift trucks. All equipment is operational, and at the time of my visit the crew was producing a large order of custom windowsills.
"Memorials by my grandfather, Joseph Gawet, is how this company started out," explained Philip. "He emigrated from Poland the same time that the Vermont Marble Company put out a big ad in Europe wanting craftsmen and laborers for their quarries and shop. Craftsmen came from Italy, Sweden, Ireland, Poland and France to work at the company, and when he arrived in America he worked for them.
"At first he was a grader of blocks, specifying what the marble could be used for. He then began doing memorial work. At the time, this area was a series of ethnically diverse communities, and the Polish community would ask him if he could get them a memorial. So he started doing work on the side, buying stone, working it and selling memorials. Later, he opened his own shop, J.P. Gawet and Sons, right up the street from here – which was also our family homestead. Additionally, he contracted memorials from the Vermont Marble Company, and bought granite memorials from Barre, Vermont. He'd put the material on a rail car, travel by train to the location where it was to be set, then unload and take it to the erection site with a horse and buggy. Many times he'd be gone for two weeks. At the time there were only a few mom and pop shops that made memorials."
It would be years later when Philip's father (Stanley Gawet) and uncle (Paul Gawet) became involved in the family business, but the call to duty was clear: Stanley Gawet joined the U.S. Armed Forces and left home to serve during World War II.
"When my father came back from the war, he wanted to get into producing other types of stone and began sawing and splitting rough stone by hand in incremental rises," continued Philip. "The demand for this new 'Splitface Ashlar Veneer' began to outpace production, and they purchased a guillotine and trucks for delivery. Soon they purchased the former Green Mountain Marble Quarry in West Rutland from the Georgia Marble Company to access material for this product. They expanded our product line into rubblestone; a quarry blasted stone that was also being used for riprap. Calling it 'Vermont Log,' they reworked it and sold it to be used for fascia and fireplaces. You see it on many government buildings."
Trucking To All Points Profitable
"At the time, the family had two trucks on the road, and we were sending an average of four truckloads per week of 'Vermont Log' to New York City and Long Island. Quarried marble at that time came from West Rutland, Florence, Brandon, Rochester, and of course, the Hollister quarry.
"Masons would set the chunks of stone on an 8-inch bed of mortar, exposing the flattest face, but it would still be rough," explained Philip. "Today's masons can only lay-up 30 square feet per day of this type of stone, but these days, this same look can be accomplished with the same material in one-inch thick veneer and simply stuck on. You do have to make the corners, but it looks good. That's where that market went and they have machines now to make this stone, but we never made the change to continue that trend."
Gawet Marble & Granite's current facility was incorporated by Stanley Gawet in 1961, and all four of his children grew up to become involved in the business.
Philip continues, "By the 1970s, my father and uncle were either in the shop or on the road, while my aunt stayed in the office. My dad went around and established dealers in Connecticut, New York, New Jersey – all over the northeast – and we started to ship there regularly. My father, my grandfather, my uncle and aunt built a very successful company in those days."
An Era Concludes
Founded in 1880 by Redfield Proctor, at its peak the Vermont Marble Company was the largest marble company in the world, with 48 gang saws and several thousand employees. "It was an amazing company," said Gawet. "They had their own architects, their own geologists that did their own studies, and their own carvers and setters. They made their own machinery, too. Highly resourceful, turning trash to cash; blocks that were considered unusable for standard production were used for half-inch thick tile. Then, with the advent of better cutting technology for harder stone, granite popularity grew, and by 1978 the West Rutland quarry had closed. None of the siblings were interested in taking over the company, so the buildings and quarries were sold to various other companies.
"During this transition they weren't able or willing to do their standard work, so it was subcontracted to us and other companies. They had also quit making memorials, so we picked that work up, too. Many of their employees from those days became our employees. The quarry let them go, and we welcomed them here.
We were fortunate to take on some very talented sculptors. In fact, my father snapped up our current shop foreman as soon as he found out he was available, and he's been working for us for the past 35 years."
By the mid 1980s, the company had become a "cut-to-size-shop," said Gawet. "We did some nice size jobs back then with the old-timers. Unfortunately, after the economic downturn, we saw a big drop in business." Lately, however, Gawet has seen an increase in both wholesale and retail monuments. This year they've not only shipped local, but as far as California, Canada and Puerto Rico.
"We'll ship our building stone anywhere! We just had a homeowner show up from Martha's Vineyard wanting West Rutland Grey marble. It is a big job."
Philip Gawet, now co-owner with his brother, Albert Gawet, who handles trucking the company and memorial setting, currently employs a total of six people. "They are a great bunch of people!' They are also highly diversified, doing countertops, shower surrounds, fireplaces, flooring, exterior facade and pavers, in addition to their thriving memorial business. Some clients show up with their designers in tow, some don't, and many are price shopping. Gawet employees do not perform the onsite installation other than setting memorials and headstones.
The Future
"I will continue doing what I'm doing, but it's a tough market," said Gawet. "We do need to update some of our equipment. We've got the trucks and we handle the production. That said, I've been looking at our Cippolino quarry in West Rutland. It was part of the quarry that my father bought years ago from Georgia Marble Company. It's a beautiful material and different than anything around. Some of the Vermont marbles are subtle and bland, unlike many of the current popular imported marbles that are livelier. This Cipollino has a lot of pizazz. There is also a white and lime green that comes out of that quarry.
"There are other markets, and the future looks good if we can produce products with mostly our own stone. The West Rutland quarry is still closed, but still contains all the original colors and could be made available for historic renovation/preservation work if we open it up again.
"Therefore, the future is about equipment, machinery, moving heavy blocks and networking. Unfortunately, in the (stone) industry these days, you don't have the lead times that you used to. People want it now! So that's tougher, too, but I'm always learning, and the potential for the marble from this area is enormous."
The Gawet family, in their own way, has perpetuated the concept of quarry to client into a present day business model, continuing the heritage of Vermont stone and the legacy of the giant that once flourished producing it.
Notable work includes, but is not limited to the U.S. Capitol, Washington, D.C.; Idaho State Capitol; Lord and Taylor Stores throughout America; the Hubbardton Battlefield Memorial; and scores of beautiful residences throughout this country.
Additionally, Gawet Marble & Granite received the 2012 Tucker Award for its cut-to-size products used in the construction of The Center For the Advancement of Public Action, located at Bennington College, Vermont.
For more information about Vermont marble and the Vermont marble belt, Google: Vermont Marble Trail.
For more information about Gawet Marble & Granite, visit www.gawetmarble.com .