The Publisher's Pen: Braxton-Bragg Receives Threatening Letter from ADI Lawyers, CEO Bows to Pressure and Changes Ad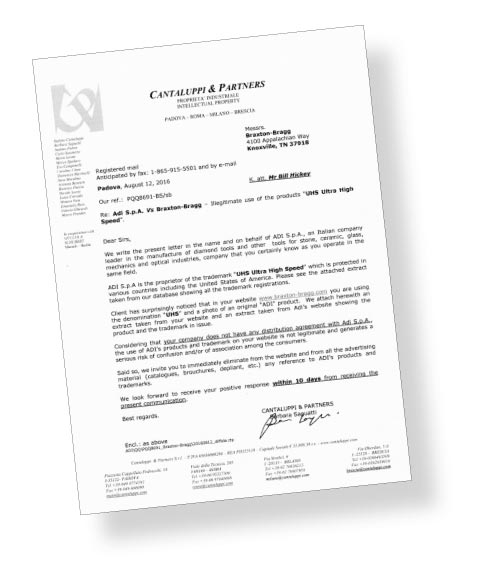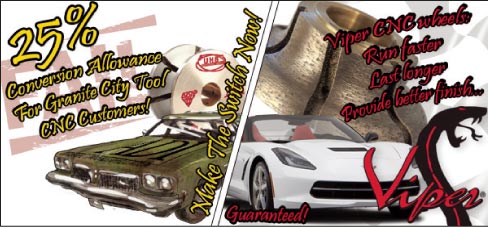 Above, Before: The Offending Ad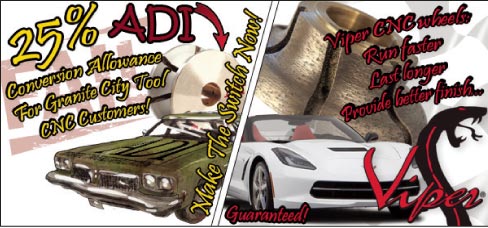 Above: The Modified Ad
I received a letter on September 2 from the Italian law firm of Cantaluppi & Partners. They represent ADI. The letter said that we were "illegitimately using UHS Ultra High Speed" on our website. The law firm included a screen shot of the offensive ad. (See "Before" ad below)
It was a Friday afternoon before a three-day weekend and things were slow, so I decided to check it out myself. Turns out that it is true that we are running comparison ads between Viper CNC tooling and ADI CNC tooling.
We claim that Viper runs as fast or faster, lasts as long or longer, polishes as well, or better and costs a lot less to use. Furthermore, we are backing up this bold claim with a 90-day use test. Buy a set; wear it out if you can. Measure the results and if you are not happy, we will buy it back. Only Braxton-Bragg guarantees happiness with a money-back promise.
Since everything seemed to be in order I re-read the letter. I noticed that they were not disputing our claims, they were objecting to the use of our photo of an ADI tool.
I was tempted to reply that they should read the US Constitution, paying special attention to Freedom of Speech. But after reflecting on the wisdom of irritating lawyers, I decided to bow to pressure and comply with their request. (See the modified ad below.)
Special Note to Granite City Tool Customers: Sooner or later you will be "encouraged" to switch to ADI tooling. This will be expensive and painful. Braxton-Bragg will do more than "feel your pain." If you would like to check out Viper CNC give us a call to schedule a trial. If you decide that we offer a better answer, we will give you a 25 percent conversion allowance to help "ease your pain."
Have a good read,
If you have thoughts or concerns, please address them to publisher@slipperyrockgazette.net .
– Rich Hassert