Online Registration Now Open for TISE 2017
Make Plans Now to Attend the Industry's Largest Marketplace For Floorcovering, Stone & Tile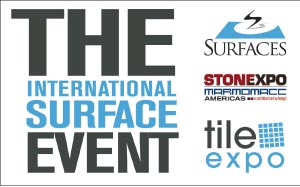 The International Surface Event (TISE) SURFACES | StonExpo/Marmomacc Americas | TileExpo, North America's largest floorcovering, stone and tile industry event, has now opened attendee online registration for the 2017 event. Industry professionals are encouraged to register early for the first pick of events, experiences, and education sessions, as space is limited for many options.
As the first event of the year, TISE is going beyond the edge of imaginable, packed with new exhibitor product launches, live demos, feature areas, such as the highly-anticipated Trends Hub curated in 2017 by the acclaimed Pompei C3 Design Firm, and a unique set of specialty experiences and events. The International Surface Event at the Mandalay Bay Convention Center will be the biggest (market) place to be Wednesday, January 18 through Friday, January 20, education starting on Tuesday, January 17. For hours, tickets and additional event information, visit TISEwest.com .
Trend Seekers Alert
Attendees wanting guided trends information curated from keyed-in industry designers are in luck. A new twist to an old favorite, The Speed Trending Tour, will now bring the eye of the top product picks for 2017 right to you. Hear the designer's thoughts on the trend-setting aspects of the products, technical product information directly from the product manufacturers, ask direct product questions and inquiries - all while enjoying light bites and beverages, from the comfort of your seat. This is a luxury experience with limited space, so register now.
If you can't make the Speed Trending Tour, or if it sells out quickly, finding trends at TISE 2017 is easy. See designer-selected, trend-setting products on display in the Trends Hub, sponsored by Floor Focus / Floor Daily, hear trend forecasting information to assist you in your own product selections in the Trends Chats @ the Trends Hub, and take advantage of design, retail and architecture sessions in the IGNITE Education program.
Expert Learning, On & Off the Floor
On the floor, attendees can participate and experience stone cutting displays, all types of surface material installations and techniques, participate in digital marketing consultations, and all while working directly with experts who can answer specific questions to solve and offer business solutions. Show features such as the Installation Showcase, the Social Media Learning Lab, The Cage, The Trends Hub, Tool Alley, as well as in-booth exhibitor demonstrations are just a few of these offerings at TISE 2017.
Off the floor is a suite of education in the IGNITE Education Program and bonus education opportunities from key association and industry partners. The IGNITE Education Program is constructed in partnership with a high-profile, targeted industry group to produce 55 sessions of the most engaging, hot topics and inspiring information, all instructor-led by over 100 experts in their fields. Defined into easy-to-search career tracks, the IGNITE program is a must-attend for any industry professional. A full listing of the IGNITE, Certifications and Bonus Education offerings at TISE 2017 is available online.
With over 25 million monthly visitors, Houzz offers homeowners inspiration, advice, and connections to pros who can turn their dreams into reality. As a leading platform for home remodeling and design, Houzz will bring their unique industry perspectives and curated information into multiple education opportunities at TISE in their 2017 Consumer Insight Report and When Clients Come Knocking.
Attendees can also attend the Case Study sessions, designed to express and inspire: Why After Sale Marketing Will Save Your Business and Tivoli Village, Las Vegas, focusing on the economical use of natural stone as a visual and influential application.
Planned by TISE's extraordinary StonExpo/Marmomacc Americas' event partners from Italy, Veronafiere, in partnership with TISE and MIA+BSI, the Designing With Natural Stone Program is an exclusive opportunity for qualified architects and designers to learn advanced techniques in the use of marble, granite and other stone materials. The program is a unique combination of classroom lectures (offering continuing education credits), a guided architectural tour of the iconic and stunning Lloyd D. George Federal Courthouse, and field trips. This comprehensive approach enables designers to better understand stone's full life-cycle – including how marble is quarried, cut, processed, finished, selected for specific jobs and installed, all using the latest technologies and products. Attendees interested in taking part in the Designing with Natural Stone Program should register online as soon as possible as space will fill up quickly.
Save Time, Buy Tickets in Advance
Those interested in attending The International Surface Event can purchase tickets before the event by registering online, saving time and money. Tickets will also be sold on-site at the Mandalay Bay Convention Center the four days of the event.
Exhibits Registration includes unlimited access to the Exhibit Hall and on floor education. Also included is access to the bonus education options, if listed as free. Advance prices start at $28 for members and $50 for non-members.
Industry professionals will want to attend TISE beginning on Tuesday, January 17 to take full advantage of the IGNITE Education Program. Exhibits + IGNITE Education registration includes all days of the IGNITE Education Program, plus unlimited access to the exhibit hall and on floor education. Also included is access to the Bonus Education options, if listed as free. Advance prices start at $54 for members and $109 for nonmembers.
VIP Package Options are also available for Exhibit and Exhibits + IGNITE Education Program registrants. For complete pricing options, visit the registration page of the TISE event site.