Striving for Excellence at Skeeles Manufacturing
Shannon Carey
Photos Courtesy Skeeles Manufacturing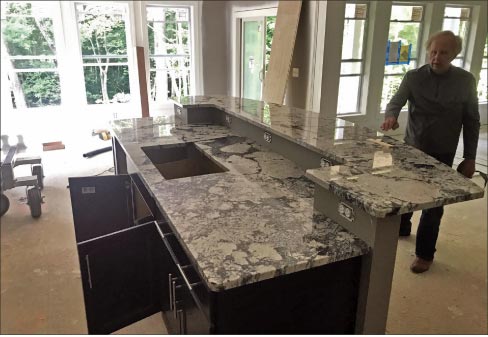 Above: Fred Skeeles checks out a custom Abstract White granite island, just installed in a new build for 3 Pillar Homes.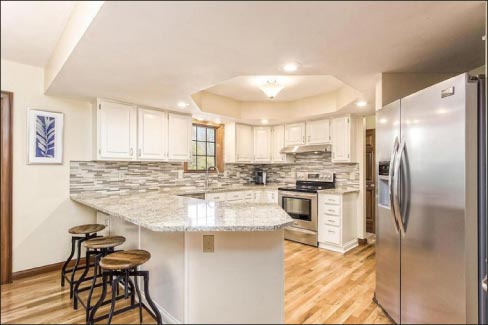 Above: Skeeles Manufacturing kitchen remodel features Venetian Gold granite countertops with glass subway tile backsplash.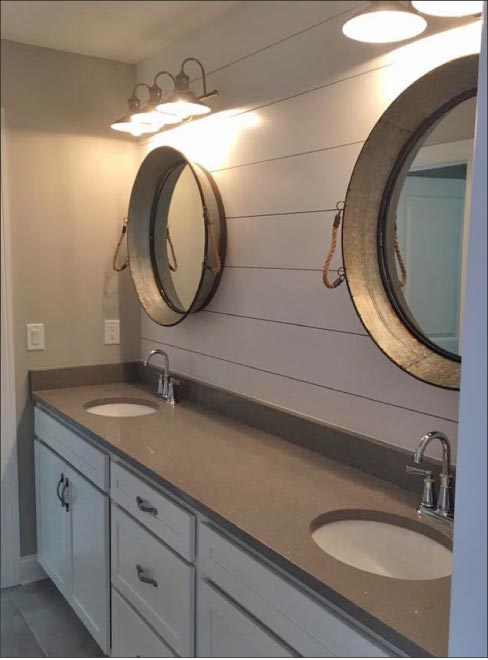 Above: 3cm Stellar Grey quartz vanity with undermount sinks.
There's a sign hanging up at Skeeles Manufacturing in Columbus, Ohio. It says, "Good enough is not allowed here."
And that's the philosophy that the Skeeles family has brought to their business. "We always go the extra step, and we're known for that," said Rebecca Skeeles.
Rebecca's dad, Fred Skeeles, founded the business in 1991. Rebecca worked there throughout college, left for a few years to practice law, then came back to the family business in 2013. Brother Jonathan Skeeles is also part of the business, managing the shop and installations.
While Skeeles Manufacturing does stone and solid-surface fabrication and installation, that is far from their only product, and it's their ethic of excellence and diversification that's kept them going strong all these years.
Fred moved to Columbus in 1970 from eastern Ohio. He worked in production management at manufacturing plants in the area, including the Worthington Industries plant where he was plant manager for 20 years.
As the outlook for manufacturing in the U.S. changed, Fred started to look at going into business for himself.
He didn't have big plans, just wanted to take a stab at running his own company.
"I've always been running from poor," he said. "I was born into a big family with no money. I didn't have any grand plans. I always ran a plant but wanted to own one myself. Even before, I always worked a lot of hours. I didn't get into business to get out of work. I got into business to get more work."
The Early Years
Fred bought a woodworking and plastics manufacturing plant that was going out of business and later expanded into acrylics. At first, Skeeles Manufacturing focused on retail fixtures and displays, doing checkout counters, storage and displays for companies like The Limited.
"That business is very cycle-oriented," said Rebecca, who is now the company's Vice-President. "The retail environment is really changing with online buying. In 1995, we realized we needed to diversify to keep our sales more consistent, so we started doing laminate countertops."
They already had the equipment for laminate, so they incorporated delivery and installation into their model. From there, the business evolved to include solid-surface. By then, granite was coming onto the scene. Around 2000, Rebecca saw quartz at a tradeshow.
"I thought it was phenomenal, and there was no one pushing quartz in Columbus. We didn't cut it. We ordered and installed it. And we kept doing more and more," she said.
Facilities
In 2007, Skeeles Manufacturing upgraded from 15,000 square feet to 40,000 square feet and invested in equipment to cut natural stone.
"It has been a big learning process, definitely," said Rebecca. "Stone fabrication is becoming so automated. You have to learn that equipment, and you still have to be running things."
Savvy business practices have kept the Skeeles doors open through the recession and launched them into better economic days.
"When the recession hit, we didn't spend money," We diversified, didn't up our inventory, and waited until it was over," said Fred.
"Diversification helps. One day, there were seven or eight guys working to expedite one order."
Excellent customer service also paid off during the downturn.
"When things get tough, there's people sitting around saying, 'We've been waiting for an opportunity to get rid of these people,'" said Fred. "They drown first. We want to survive in the good, bad and in-between times."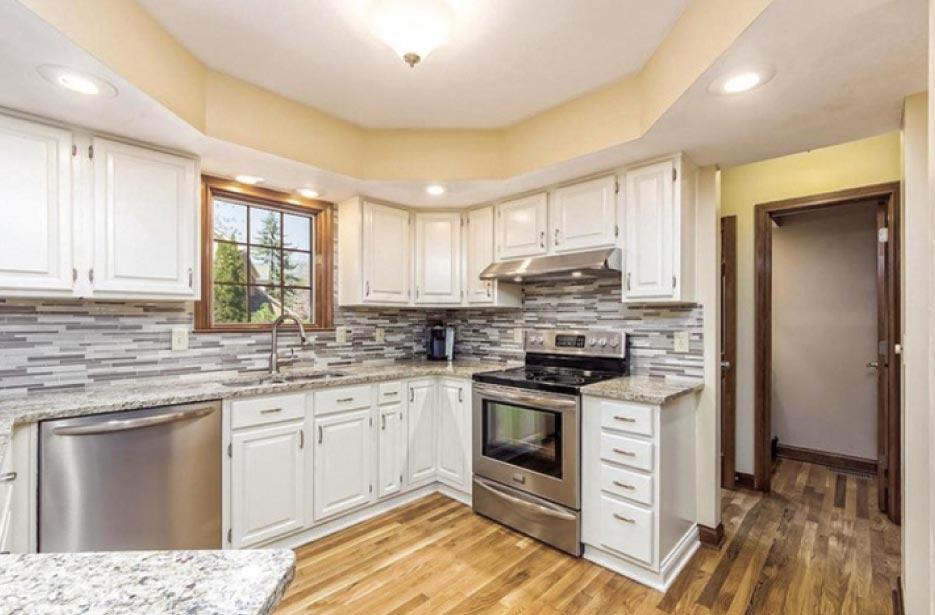 Above: Venetian Gold granite kitchen with full-height glass tile backsplash.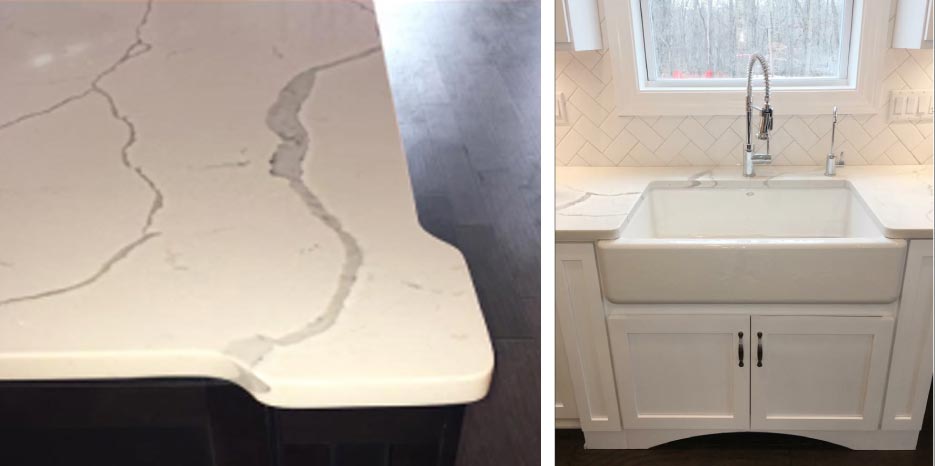 Above: White Calacatta Classique quartz kitchen includes special corner details to echo and accent cabinetry lines, a custom farmhouse sink and a diagonally-laid basketwork backsplash.

Skeeles Manufacturing employs between 20 and 25 people, with six to eight each in laminate and stone, four or five in acrylics, plus office staff. But, the production staff is cross trained, another savvy business practice that keeps Skeeles operating full speed, no matter what orders come in.
"If one area is slow, we can work another area," said Fred. "Everybody pitches in and does whatever."
"It's also good for them to respect what the other guys are doing and how important it is for them to do their job accurately," said Rebecca. "I think it helps promote teamwork, too."

Above, Left: White Calacatta Classique quartz kitchen includes special corner details to echo and accent cabinetry lines, a custom farmhouse sink and a diagonally-laid basketwork backsplash.
Above, Right: A great family team: Jonathan, Rebecca and Fred Skeeles.
Equipment in the stone shop includes a GMM Brio CNC saw, Park Titan and Park Destiny routers, and a new laser E-template system.
"In the stone business, you have to constantly update and improve," said Rebecca. "You have to automate to compete."
Fred said they've been buying supplies from Braxton-Bragg for about 17 years now.
"Braxton-Bragg is a good supplier, good quality, and they do what they say they can do. You have to have someone like that to give good service to your customers," said Fred. "You can call and get input, suggestions and help."
Big projects include significant work for Preferred Living, the largest owner of multi-family residential construction in Columbus, delivering and installing laminate, granite, quartz and more. This year Skeeles will supply granite and quartz for 30-40 high-end homes, for 3 Pillar Homes.
Ohio State and the Buckeyes athletics teams are also excellent customers for Skeeles. They recently updated countertops at the Buckeyes' Woody Hayes Center with about 400 square feet of sparkling red 3 CM quartz.
Skeeles even helped with a remodel of comedian Dave Chappelle's house, putting in transparent honey onyx in the bar area so the bar lights up from within, and black quartz.
But with projects big or small, high-profile or routine, the Skeeles Manufacturing credo remains the same: quality work and excellent customer service, and going that extra step.
Rebecca told a story about her brother Jonathan visiting a building site for a high-end custom home by P&D Builders, Ltd. to take measurements after the crew had gone home. He saw that the sump pump under one of the houses had broken and the house was in danger of flooding. He couldn't get anyone on the phone, so he stayed and fixed the sump.
"That's quality and service," Rebecca said. "We're here every day, working hard."
"We don't want to be the biggest, but we want to be the best," said Fred.
You can find Skeeles Manufacturing on Houzz and Facebook. Visit their website www.skeelesinc.com.