Tennessee Building Stone and BMJ Stone Merge
Peter J. Marcucci

Photos Courtesy Tennessee Building Stone Co.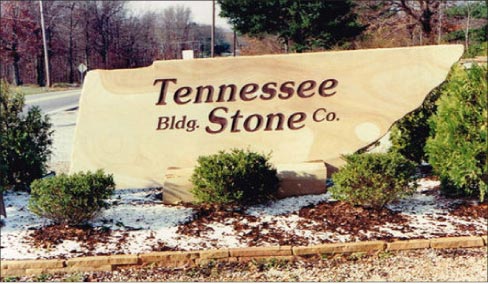 Another chapter in the Tennessee stone industry began this summer with the announced merger of two of the leading stone companies in Cumberland County, Tennessee – Tennessee Building Stone Company, and BMJ Stone.
For over a century, the legacy of Crab Orchard quartzite is chiseled in the memories of the settlers who first discovered this stackable stone, the quarry laborers who mined it, the craftsmen who cut and placed it, and the architects who specified it. Tennessee Building Stone is one of the major players in this localized Tennessee industry, and they have been in the forefront of promoting Crab Orchard stone for decades.
As of July 1, 2017, Tennessee Building Stone and BMJ Stone, both located in Crossville, Tennessee, have partnered in creating a multi-generational leap in production and distribution of the Crab Orchard family of colors. "Tennessee Building Stone was one of the first operations here on the plateau in Cumberland County that actually quarried, fabricated and installed Tennessee Crab Orchard quartzites," explained Anne Dover.
Anne is a 21-year stone industry veteran and manager of Tennessee Building Stone. "Tennessee Building Stone was a full service quarry and fabricator at one time, but after the death of family member Roy Rose, the company began to down-size and only sold to regular customers."
"We offer a full line of sawn products from standard to very custom, including countertops, bullnose pool coping, sills, water tables, flooring, flagstone, fieldstone, landscaping, stone, a full line of thin veneer products, as well as Stone Age modular fireplace and fire pit products," said Anne.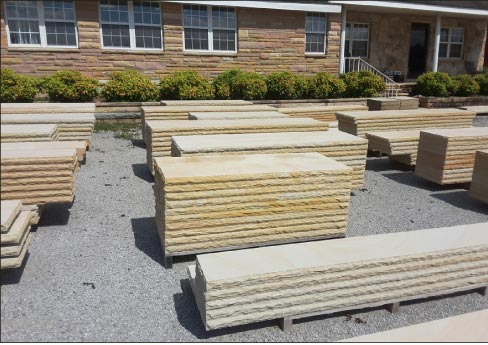 Above: Tennessee Building Stone's office building is also a Crab Orchard stone showcase.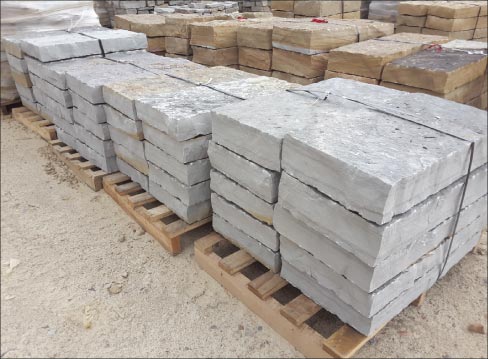 Above: Gray Crab Orchard: a custom order. Expected annual tonnage quarried within the next five years is about 100,000 T.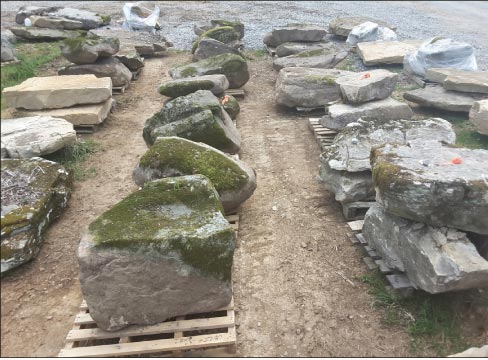 Above: Crab Orchard boulders are prized by area landscapers.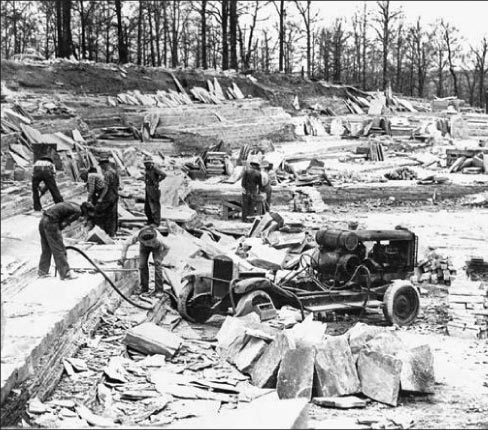 Above: Quarrying Crab Orchard stone at a Cumberland County site, circa 1948, when powered machinery like this hydraulic drill was first coming into use.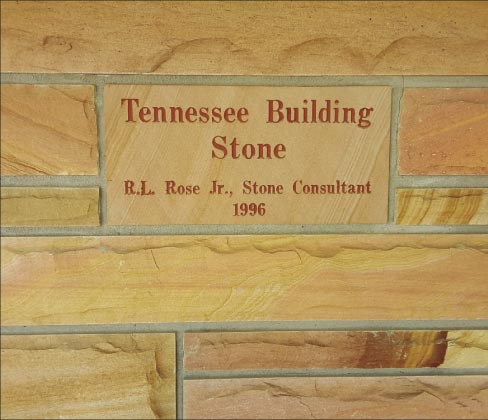 Above: This engraving outside the Tennessee Building Stone headquarters serves as a proclamation: the legacy of the Rose family and Tennessee Building Stone will continue into the future.
According to Anne, the main reasons for the merger were location and the size of the existing property to house new, high-tech equipment. "When the Rectors approached me with the opportunity to manage and oversee operations at this historic stone company, I was honored to be associated with them. Our goals are to continue the tradition of Tennessee Building Stone. They are one of the most ethical and most famous companies around here, and we want to continue that in honor of the Rose family and build upon that with new technology."
So what does a merger mean to BMJ Stone? Co-owner John Rector explains: "From our standpoint, it is to continue the legacy that Tennessee Building Stone has built, and to assure the industry of the quality that they have stood by. They have built a reputation for that quality and for the good of the industry, and the interest that we have is to maintain the quality that they've kept and demanded for past projects. We want to continue that, build on that, bring new innovation into the opportunities that are there, and then build on that by expanding both domestic and international sales."
"What I see is that this is an opportunity for all of us to bring our team to new markets that we haven't been involved in," explained brother and co-owner, Mike Rector. "Tennessee Building Stone has an untarnished reputation. David Rose, his brothers Roy and Chester, and their father R.L. Rose before them have done an outstanding job over the years, and that reputation is still there. John and I just wanted to take the opportunity to merge with this company and bring it back into the mainstream of the stone industry."
John and Mike are third-generation stone people and the owners of BMJ Stone for 20 years. The brothers additionally own a 32-year old masonry company as well as six quarries that operate under the name R3M Quarries.
"We own several other stone related businesses," continued Mike, "and when the opportunity came about with Tennessee Building Stone, we wanted to be able to help lift the legacy of what they had built here. But the bigger picture is for the stone industry. We just try and do what we do to enhance the industry in general and take it as a challenge, honestly."
Crab Orchard colors include (but are not limited to) the variegated, traditional Crab Orchard with pink and brown candy striping, a buff-chestnut color with a bit of caramel vein in it, and a blue-gray.
Notable past projects using the durable quartzites include Harvard University, Cambridge, Massachusetts; Oklahoma University, Tulsa; Rockefeller Center, New York; the Vice President's mansion, Washington DC; the Governor's Mansion, Nashville, Tennessee; McGee Tyson Airport, Knoxville, Tennessee; Disney World, Orlando, Florida; University of the South, Sewanee, Tennessee; Cheddar's Restaurants, various locations; Pizza Hut corporate headquarters, Indiana, and last but not least, country singer Tim McGraw's Nashville, Tennessee home.
According to Mike, expected tonnage quarried within the next five years will be somewhere in the neighborhood of 100,000 tons per year. "That's a slow growth trajectory and maybe a little conservative. We'd really like to be there in three years." Mike added that there is a projected 80 years worth of reserves.
If you're thinking a merger of this magnitude would warrant the need for more equipment, you're correct, explained John Rector. "We plan on adding quite a bit more new equipment, for growth. We are adding automation to keep up with the demand in a timely manner." Mike Rector added, "Yes, it's got a lot to do with production and lead times, but it also has to do with a lack of manpower that's available. Automation can help with that. A conveyor belt never has a hangover; an automatic splitter never has a divorce and quits their job, and so on, and so on. There are a lot of things that automation will bring that will help us create consistent output and that's what we're banking on."
Preserving a Great Future
"We have a great interest in the stone, and we have been blessed greatly," explained Tennessee Building Stone president David Rose. "I think it's kind of exciting. We've never seen this kind of work go together and built on with the combination of everything that's here. I think (the growth of this brand) is really going to be something to watch over the next several years."
Anne: "I think it's endless, the opportunities here with all of us, our experience, our knowledge, and we have David to help us out when we get into a hard position. We really want to put more of the spotlight on the Rose family and the contributions made by them to the industry as a whole, as well as our excitement to revive, expand and continue to bring integrity and quality to this legendary name.
"So many of the original names in the Crab Orchard stone business are deceased or have retired, and the old-time ethics, quality and service, have also disappeared. These are the main reasons, when this opportunity came along, we all decided that with our combined efforts, we could bring Tennessee Building Stone back to its 'Stand Alone' reputation."
Mike: "Our strong suit has always been our masonry background. We grew up in the quarries hating every minute of it, and became stone masons because we wanted to get out of quarry work. Of course, once we started our masonry business, we realized we needed a constant supply of good material. That's evolved over the years into a supply and demand situation, where we were supplying stone for our own work. Fortunately, we were also able to use our masonry company as a research and development company, if that makes any sense, and experiment with new products and new installation methods. We also belong to several trade organizations, so we've stayed on the forefront with masonry and stone technology, and kept growing and growing from that. So whether it's quarry extraction, processing, installation or retail questions, whatever, we've got a department that can cover pretty much everything. So that's something that we bring to the table that's a little unique. By no means do we know everything, but we continue to learn every day."
BMJ Stone is a member of the Marble Institute of America, the Tennessee Mining Association and the Building Stone Institute. For more information visit www.bmjstone.com .