Passion and Precision Equals Success in the Land of 10,000 Lakes
Peter J. Marcucci
Photos Courtesy Innovative Solutions
Ask any of Innovative Surfaces' 120 employees to describe their company, and you'll get 120 energetic answers.
Started by Bruce Akins, the company has continually morphed and advanced, seemingly exponentially, into its current shining example. "Bruce is my father, and he and a partner founded the company in 1984," explains Todd Akins. "When I came into the business dad said, 'You're starting at the bottom and working your way up.' Back then, we only had five people, so I went through field templating, installing and fabricating – all of that stuff. I'm now the COO overseeing operations and handle things of that nature, and my wife Kellie is the CEO focusing mainly on sales and marketing."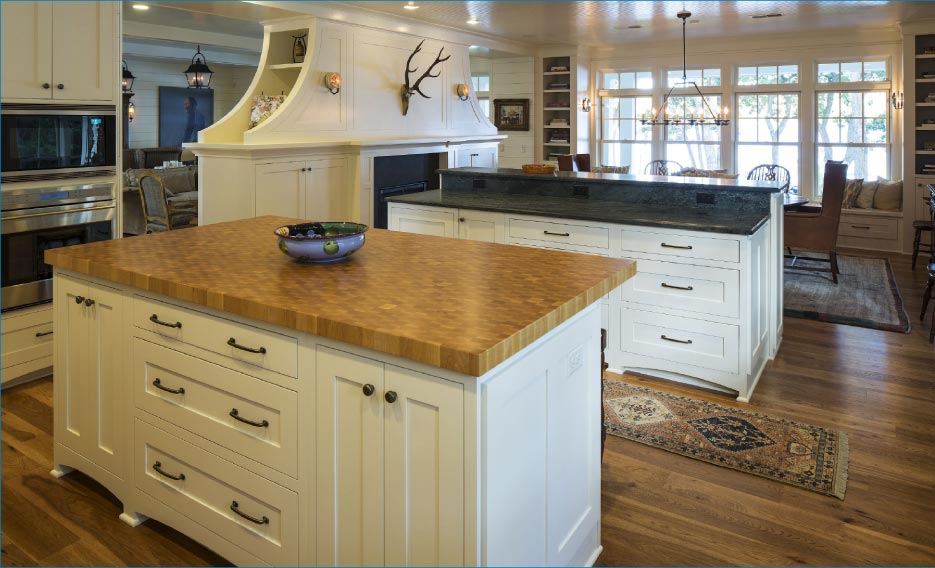 Innovative Surfaces kitchen projects for one of their new construction clients. Innovative Surfaces is active in several professional associations within the industry, including the Artisan Group, MIA, Midwest Chapter, Builders Association of the Twin Cities, and the NKBA.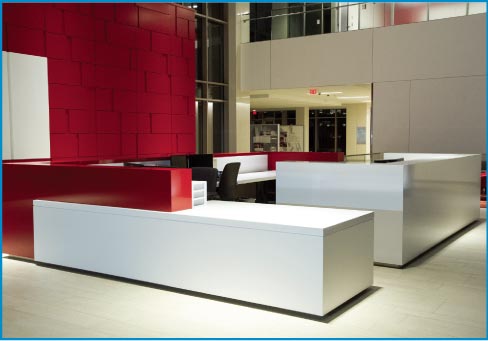 Quartz countertops and divider walls for a modern corporate lobby.
Within a few years, Bruce Akins had bought out his partner, and in 1994 moved the company to its current location in Hastings, Minnesota, and changed the name to Innovative Surfaces, explained Kellie Akins. "The company's roots are in solid surface and grew as stone began getting popular in the residential market. Our customers were pulling us into marble and granite, but at the time we didn't have the equipment, so we were supplying them with stone through other fabrication sources.
"Things quickly reached the point where we realized we needed to do stone fabrication on-site," said Kellie. "By the end of 2003, we received our first Park Industries equipment. Very quickly from that point we started to expand our stone shop. It's one of those things we've continued to focus on even after we purchased the company from Bruce two and a half years ago. Fortunately, much of the core of the company stayed intact, and it's been a great opportunity for us to take the company and blast it to the next level.
"We've really dug in deep with our team members, and empowered them to help them to understand the roles they play and their accountability for making the company successful; we rise together or we fall together. We try to have a high level of transparency so that they can have their finger on the pulse of the company and know how we are doing every day. Bruce has always been very passionate about what he does, and he has instilled that in all of us. Todd has always said that our hope is that our passion translates throughout the staff and into the work that we do.
"We're not the flashy guys that everybody oohs or ahhs about, but we are doing a heck of a lot of work up here in the Hastings area."
Located about 30 miles southeast of Minneapolis, Innovative Surfaces' primary service range is about a 100-mile radius of their shop. They do, however, regularly service select accounts in their surrounding five states as well as all destinations throughout the country.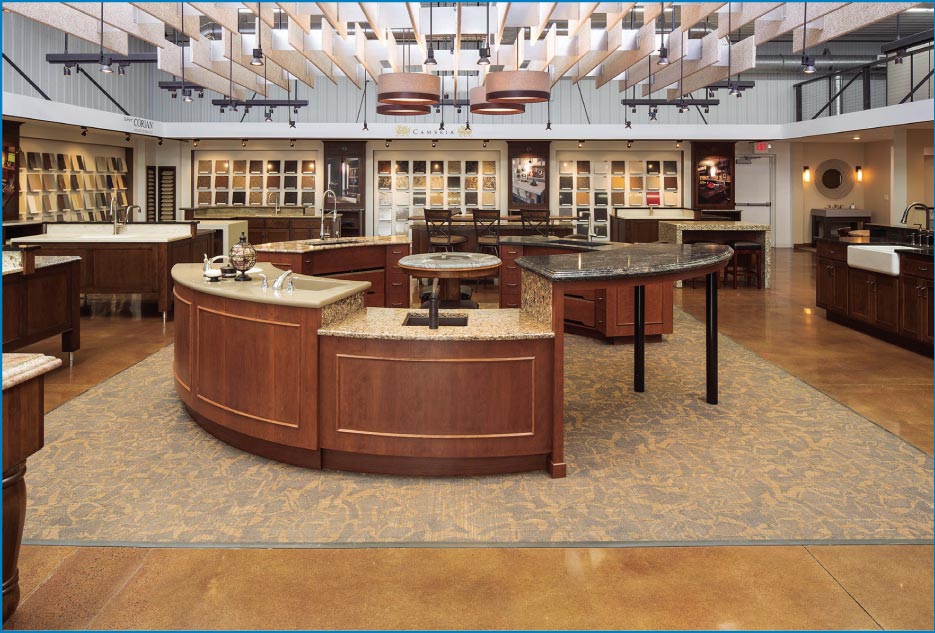 The Innovative Surfaces showroom is one of several buildings in their Hastings, Minnesota "campus."
Above: Soapstone and wood harmonize for a classic look in this sun-filled kitchen.
Above: Custom mitered Cambria bar for a corporate client.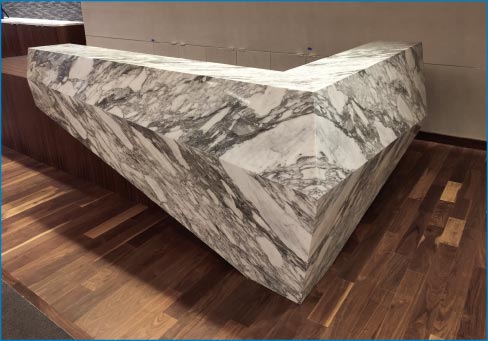 Above: This stunning bookmatched Arabescato marble reception desk was fabricated for a law firm.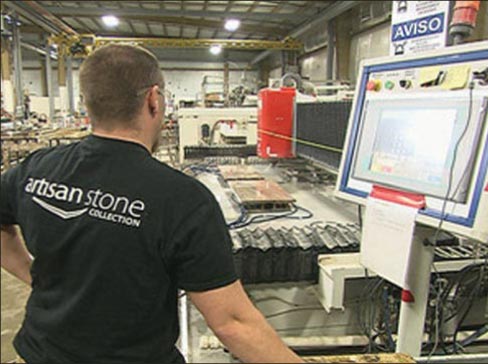 Above: Innovative Surfaces is a "die-hard" Park Industries shop. "They have that small town feel to them and great customer service," says Kellie Akins. "Unlike owning equipment from overseas, we can get service or any tooling we need quickly."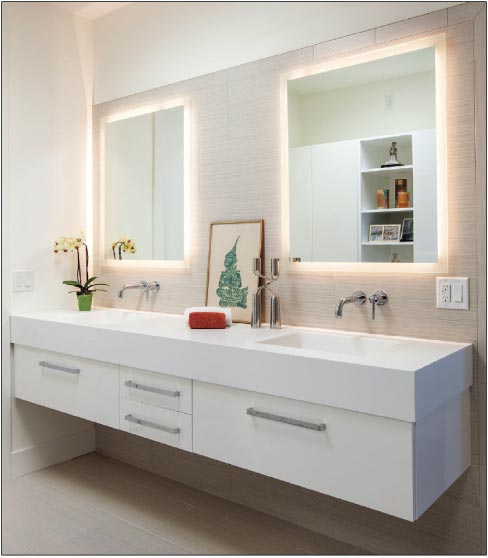 Above: This floating quartz vanity features built-in double sinks with a contemporary flair.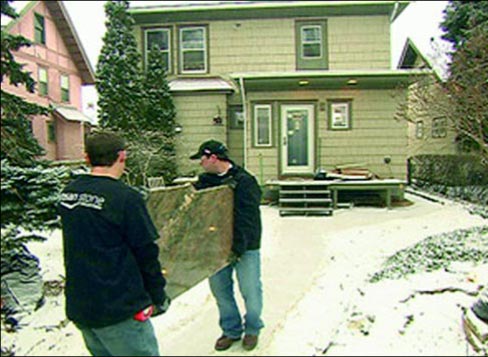 Above: On location for the PBS Series Home Time, which educates viewers about the complete selection, design, fabrication and installation process.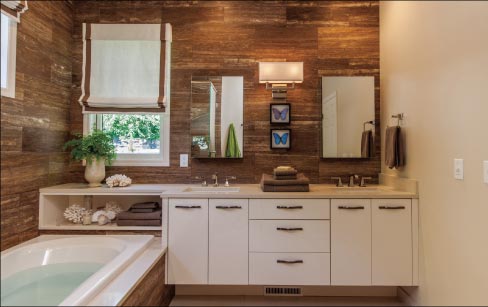 Above: This master bath features large format cladding on walls and tub surround.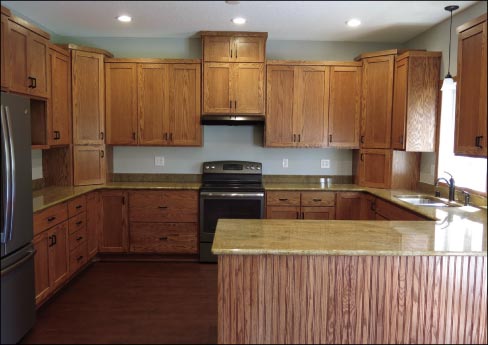 Above: Golden Sparkle granite countertop project fabricated and installed for the Homeward Bound project, in collaboration with Century College.
To Big Box or Not To Big Box? That Was the Question
"We did Home Depot work six or seven years ago, but we divorced ourselves from that," explained Kellie. "We've always been heavily in the residential kitchen and bath dealer market, and Home Depot came about for us quite haphazardly. We serviced one store, and then it became two stores. Then, there was a line review and another stone fabricator got axed, and all of a sudden we had 30 stores, and we just kept on growing.
"I do think that servicing big box stores has to be strategically part of your business plan, or it isn't, and to be honest, for us, it really wasn't. It comprised about 20 percent of our business, and we never wanted to see it become more than that, but we had come to the realization that we were taking our eye off the ball. For us, we want to be where we can really excel and bring value and quality to a relationship. We like to think outside of the box (no pun intended), and big box really wasn't a good fit for us. It was a hard decision for us to walk away, because 20 percent of our business was a lot. Plus, in doing so, we were going to give millions of dollars to one of our competitors. But we were taking our eye off the ball for what was really the core of our company, so we walked away from it.
"Our core business is a diverse mix of kitchen and bath dealers, interior designers, contractors and millwork houses. The commercial projects we do are pretty broad, also. We've done the Vikings stadium, the Minnesota Twins stadium, TCF Bank stadium and have a lot of renovation work going on right now."
Todd: "Yes, we have a lot of big ticket work. Huge projects like Mall of America. High scale, high profile work and that portion of our business is only 50 percent, so we can still take care of Mrs. Jones' vanity, and bring customer service to all of our customers."
Kellie: "Nothing drives me crazier than hearing someone say, 'You guys are just too big for us.' That just sets my hair on fire! We're not too big! Yes, sure, we can do the Viking Stadium because we've learned how to manage and do that kind of project. But we can do a 36-inch vanity, too, and I can do a better job on that vanity than any of my competitors can do, because I'm going to pay attention to the quality. So we can reach all ends of the spectrum, and what we need to do as a company is to make sure that any customer never gets to the point where they feel that they don't get the same level of care and passion as one of our large-scale jobs."
The Facility
Situated on a cul-de-sac surrounded by a dance studio and animal rescue center, Innovative Surfaces all-in-one site efficiently includes shop, showroom, training center, and slab bay. "It's four buildings in this industrial park, and we call it our campus," continued Kellie. "Our main building is our office and production facility while another is our selection center with an attached slab bay. The other two are sales office and parking for our vehicles, which includes a wash bay. We are very particular about our image, and how we are seen by the outside world. Our facility, our trucks and our people are always clean and managed. Say you're a remodeling contractor and you've spent a lot of time with a customer, and worked really hard to gain their trust. Then we drive up in a crappy pickup truck with an A-frame in the back. Does that validate your story, or does us pulling up with a really nice truck and guys neatly dressed in company clothes with organized tools? Which one would you choose? So from the beginning, we've taken pride in who we are and how that translates into high expectations that we are going to do a top-notch job."
The company's 50/50 mix of (wholesale only) clientele is both commercial and residential, said Kellie, adding, "We have a lovely selection center that we expanded about five years ago. At first, people thought Bruce was crazy putting a lot of money into a showroom in a place that nobody knows exists. But it's the best thing we ever did. So this is where validating our story comes in. When one of our wholesale partners drives one of their customers down the street to our showroom and is not expecting a lot, it's an 'Aha' moment for them."
Innovative Surfaces does not have any kitchen and bath designers on staff. They do, however, have a selection staff that shows by appointment, continued Kellie.
"Our wholesale partners will either send us their customers or accompany them. It just depends, and goes any number of ways. Those customers will bring truckloads of stuff: cabinet doors, paint swatches and wallpaper pieces. They'll look at our samples, walk the yard and look at full slabs. Then we'll help them make their final choices including faucets and edge profiles, but we do not offer any design help because we are wholesale, and that would put us in direct competition with our customer base. We let the dealers do what they're good at, and they let us do what we are good at, and in the end it's a win-win for everyone.
"We also added a room where we can train our partners and staff in products and sales, and, for us as a wholesale fabricator, I would say that this is one thing we could not live without. This also helps build our wholesale partner's business. I'm not worried about their countertop sales now. I'm worried about their countertop sales one, two or three years away and continuing to finding ways to add value to what we bring. We are not the smallest company around, and I am never, never, ever going to beat another company in price. We've got a big overhead, and we've got to be able to bring our A-game every day. So it's about us continually finding ways to add value to our relationships, and from a wholesale standpoint, having this training facility was money well spent."
Todd: "When you're engaging your customers in a training facility on your home court and giving them knowledge to take back to their own space and then apply that, this drives business to your door. It's a wonderful relationship that you can share with your partners. "
Staff and Equipment
Total staff consists of 120 dedicated men and women with 14 installation crews and five full-time template personnel. Laser Products 2D3D LT-55 lasers are used for all measuring work. Digital measurements then go to the CAD department where each job is programmed for the shop. All shop equipment at Innovative Surfaces is fully OSHA compliant, sourced from Park Industries, and consists of a Fusion dual table water jet, a single table Fusion water jet, two Titan and one Destiny CNC, a Wizard radial arm polisher and Fastback edge polisher. Kellie: "Park Industries is less than two hours away. They have that small town feel to them and great customer service. Unlike owning equipment from overseas, we can get service or any tooling we need quickly. So we are die-hard Park guys here."
The company does offer sinks and faucets but, surprisingly, does not import material, said Kellie. "As far as containers, we are one of the last vestiges. We did, however, bring in a lot of engineered material in containers for the international airport we did, but generally speaking, as a practice, we don't."
Todd: "We stock truckloads of material from AG&M in Austin, Texas. That is part of the Artisan Group deal, but we also purchase from a lot of local importers."
Kellie: "Yes, we are one of the founding members of the Artisan Group. We had a buying group relationship with AG&M back in 2003 and got to know a lot of people through this relationship. Born out of these new relationships was the Artisan Group. We have a lot of local import options here, but in our market there is a lot of value in brand names. Midwesterners find a lot of comfort in brand names and the idea that there is someone standing behind that brand name with a warranty. So for us, having the Artisan Group name was good synergy for a company that's been around since the early 1980s and was a natural move for us. The Artisan Group as a whole, I've got to tell you, these are world-class fabricators around the country!"
Todd: "All Artisan Group members are also Marble Institute of America accredited companies, and we basically have one member in each market. The whole group has to approve the addition of a new company to the group to make sure they fit with what we are looking for. We have meetings where we share information, tricks of the trade and little ideas of what's going on. We all have a certain sense of scale, and when you've been in the business for a long time, you have a lot of people that you can share information with. So when you've got companies with a similar scale but not necessarily in your market, you feel open to share information, ideas and techniques. You can talk about profits and improvements, how do you do this and what do you do in this type of situation. This valuable feedback helps you to reach your goals, and this is what the Artisan Group has let us do since 2006."
Gaining Growth with Traction
"Traction is an entrepreneurial operating system developed by Geno Wickman," continued Kellie. "It's a methodology attached to how you look at your business, how you position for growth and identifying how to be proactive about that growth. You know and understand when you're going to hit that ceiling and bring a cap to the business as you're growing. It's also about transparency and accountability within your business, so everyone within the company has the same end goals and objectives. Traction is the methodology that helps take you to the next level.
"Our insurance broker and accounting firm that we work with rolled out Traction in their business, and they have had great successes with it. Sometimes when you try and push an initiative through your company and you get so far and hit a wall, you want to beat your head against a table. For us it was kind of like that. We were working towards and positioning ourselves toward growth, but trying to get all of our team members on the same page was difficult. So Traction has really been great for us. All of the things that we had been working towards, Traction sort of gelled them together and gave us a path to move forward. We are growing in double digits and will continue to grow without the chaos. Don't get me wrong, the days can have their peaks and valleys and somebody's hair can be on fire, but the overall feeling of chaos is gone. We were on the path, but not within the same framework, and Traction allowed us to do this incrementally."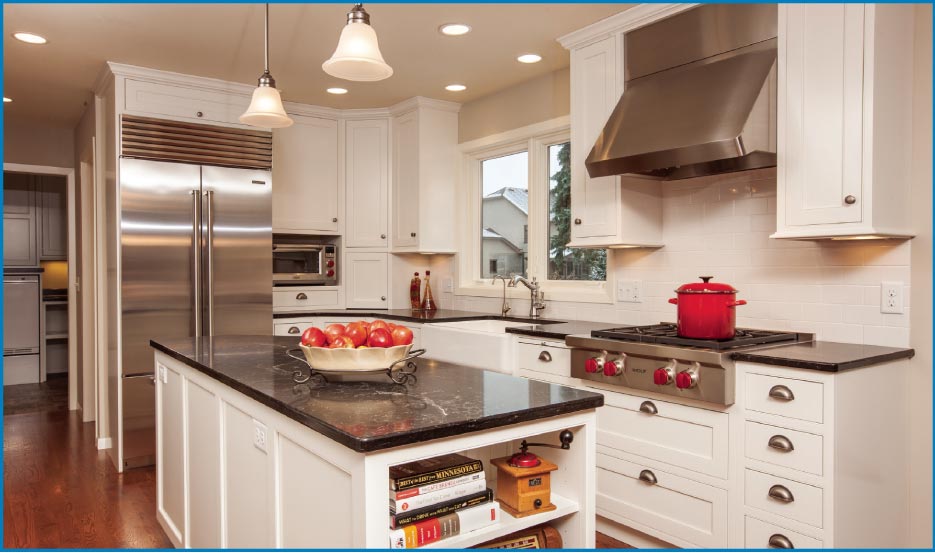 Above: Classic white and stainless steel chef's kitchen features a large Caesarstone island and a Wolf range top.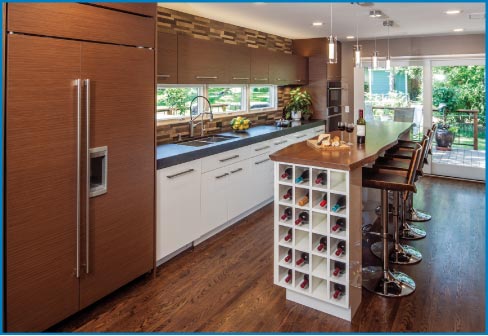 Above: Honed granite countertops and a natural-edge wood bar create a sophisticated, modern look in this warm, wood-filled kitchen space.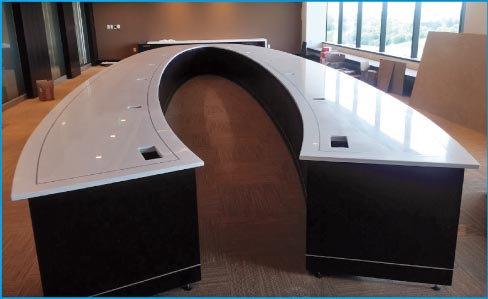 Above: Monumental Zodiaq quartz corporate conference table.
PBS Home Time
"We've done three projects with PBS Home Time so far," continued Kellie. "It was one of those things where they reached out and wondered if we'd like to get involved. We said yes, and it really was a lot of fun. It's similar to the original HGTV show where they build a house or do a big remodel for a whole season showing the progress. For us, we don't have a thirst for getting in front of the consumer, but Home Time really had more of an educational feel to it. There were a few different episodes, and they would be onsite when our measurer was there, showed the process and talked about what we were doing. They'd also visited our shop and showed what it's like to make a material selection, what to consider as well as the technical side of it like the drafting, the equipment and then the installation. We've done three seasons with them, and we always know when one of our episodes is running, because we'll get a call from somebody saying, 'I was having a cup of coffee while watching PBS, and there you were!' It's interesting to look back at the bad hair styles that we might have had."
Todd: "Or the much darker hair and more of it that we used to have, too."
Special Projects for Non-Profits
"We don't market, so we do try and align ourselves with the opportunity to educate and move the industry forward," Todd continued. "We do a lot of work with the local kitchen and bath programs, community colleges and things like that. It's an educational experience for the students, and we get to work alongside of them. Part of our core values is that we pay it forward and give back, and our team members get a source of pride from that."
Kellie: "We've always had pet projects that we've worked on. Our Homeward Bound Project (see the August Slippery Rock for coverage of their latest Homeward Bound contributions) is a project that we've gone in on locally with Century College. It's really an excellent kitchen and bath program. The students come in and they come up with a design to accommodate the disabled and meet the needs of the family. It's really a great kind of 'feel good' project and it's the seventh year that we've done it.
"Another project through a builder that we do business with was a group home for severely disabled people. We also did some work with the Twin Cities Builders Association. They have a foundation where they do charitable work, and we connected with a group called Special Spaces for people in need. It's along the lines of Make-A-Wish, but it's not for the terminally ill. In this case, it was for a 12 year-old girl that had significant medical issues that really impacted her quality of life. Special Spaces created a special room for her to hangout with friends, listen to music, and do some arts and crafts. We donated the countertops for that."
Todd: "We also donated materials and countertops for the Disabled Veterans project, and the Jared Allen, Wounded Warriors project. Additionally, every year, we do a thing called penny wars, where we raise a thousand dollars in pennies which goes to the food shelf in Hastings to help people who aren't as fortunate as us." Kellie: "We try and encourage our employees to be good stewards. Feed My Starving Children is also sponsored every few months by an Innovative Surfaces' employee with other employees. We also put on a family carnival (with dunk tank) to help support our neighboring animal shelter."
Todd and Kellie have two children (10 and 12 years old), and regularly (amazingly!) make time to attend their soccer practices and games. Most R & R, however, consists of (and you might laugh) sitting on a dock on a lake drinking their favorite beer, said Kellie. "We've got a lake cabin, truly a cabin maybe 800-square feet built by my grandfather. It's two hours north, and when we escape, we like to go there and sip a little brewski on the dock."
An Innovative and Diverse Future
"Todd and I have worked extremely hard over the last few years at having our staff feel valued, and that they come first," continued Kellie. "We have over 600 active customers and, for us and our employees, it's like a family. We're together more than we're apart, and every family has a kind of a crazy aunt and a kooky uncle and can get on your nerves once in a while, but they are part of the family, and we find a way to coexist together, be respectful and want the best for each other.
"We've put in place great benefits such as a 401k match, a charitable match, paid bereavement and sick leave. We've worked hard to help them understand that they are valued, and without them there is no Innovative Surfaces. Every day we are in the trenches with them, and they know that we've got their back. They want us to do well, and we want them to do well. We plan on being aggressive at growing and will be adding to our production which could include a new building or an acquisition. We have a very aggressive plan for growth and market diversification, both locally and nationally, to maximize our production in our facility.
"What makes us special and sets us apart? I think that the things we want to say about our company, are the same things that every company around the country would love to say: dedication to quality and customer service, good people and integrity — all the things people want to say. But we can say these things and validate every one of them. We are so fortunate. This year alone, we've had two 30-year work anniversaries, two 20-year anniversaries, a couple of 15, a 10 and a couple of five-year anniversaries. So when you've got people that have that kind of longevity and maintained that kind of passion for what they do, I think that's how we've raise the bar above our competitors in this market. Everyone here understands what the endgame is and what we need to do."
Todd: "We have a summer help guy here. He's out there doing the dirty jobs that every stone shop might have: cleaning trenches and straightening up the slab yard and doing the things that nobody likes to do. We just had what Kellie and I call a Town Hall Meeting with every person in the company, and three groups of people commented on this kid and what a good job he was doing at making our spaces much more enjoyable. And if people enjoy their work space, enjoy their jobs and want to come to work and have a good time, it's that passion that transcends to our customer. I think this is what sets us apart."
As for Bruce Akins, he is still quite active in the company, visiting jobsites and being the "eyes in the field" for the company he created. Bruce now gets to focus on those things tht ignited his own passion for the industry, all those years ago.
For more information about Innovative Surfaces Incorporated go to www.innovativesurfaces.com