Laser Products Selected for 36th Annual Inc. 5000 List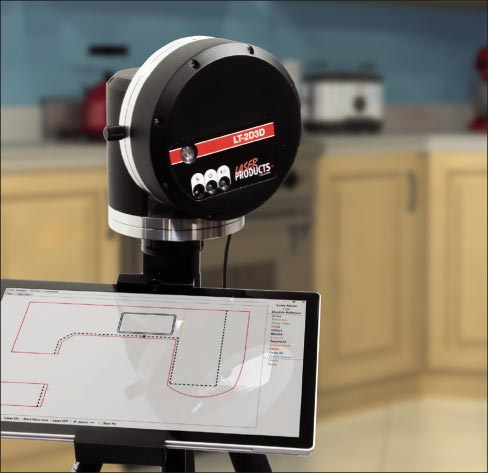 Laser Products offers on-the-jobsite training for one to two days, or more, and will train customers through the process from digital templating to fabricating the product.
Laser Products Industries (LPI) has announced that Inc. Magazine has recognized the company on its 36th annual Inc. 5000 list of the nation's fastest-growing private companies. With a three-year sales growth of 122 percent, LPI is the third fastest growing private manufacturer in Illinois on the list.
Founded in 1994 by Dan Louis, Laser Products today has 34 employees and manufactures laser measuring equipment that has won worldwide recognition for innovation and quality in the countertop, cabinet and woodworking industries.
"Being selected for the Inc. 5000 is an exciting achievement," said Rich Katzmann, president. "It shows that our business decisions have been good ones. We are seeing strong, consistent growth that I know will continue for the foreseeable future. We are entering new markets, forging new partnerships and have a long list of new products in development. I expect to be a returning company on the Inc. 5000 list for a very long time."
"The Inc. 5000 is the most persuasive evidence I know that the American Dream is still alive," says Inc. President and Editor-In-Chief Eric Schurenberg. "The founders and CEOs of the Inc. 5000 tell us they think determination, risk taking, and vision were the keys to their success, and I believe them."
To qualify for the Inc. 5000 list, companies must be U.S.-based, privately held, for profit, and independent, i.e., not subsidiaries or divisions of other companies. The list represents a unique look at the most successful companies within the American economy's most dynamic segment— its independent small and mid-sized businesses.
Laser Products will be honored at the 10th anniversary educational conference in Palm Springs on October 10 – 12 where speakers will include some of the greatest entrepreneurs of this and past generations. For more information about Laser Products, visit them at laserproductsus.com or call 630-679-1300.


Founded in 1994, Laser Products manufactures laser measuring equipment for the countertop, cabinet, and woodworking industries. They have sold over 5,000 systems in 35 countries to more than 2,600 companies. Based in Romeoville, Illinois, the company's products are American made using 96 percent U.S.-made parts.