Fifth Gear Tech Solutions: "By Fabricators for Fabricators"
Shannon Carey
Photos Courtesy Fifth Gear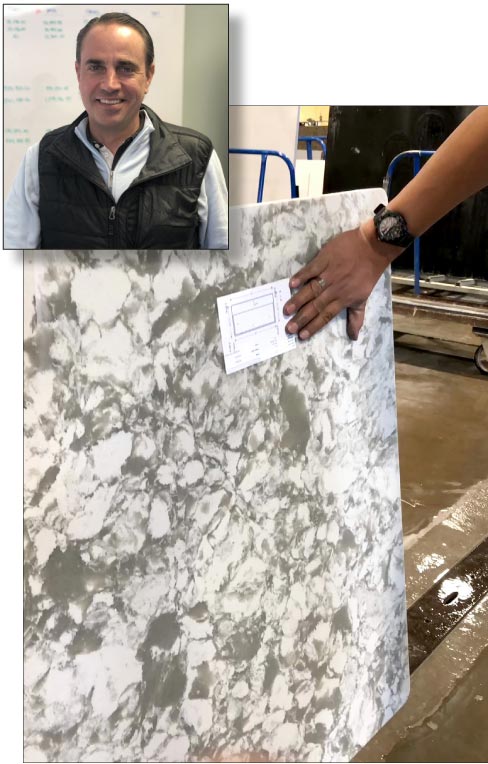 Bill Heuer of Fifth Gear Technologies talks about the software they've developed to streamline time-consuming tasks in the shop.
SPEEDLabel is all about shop organization. It generates and prints labels to identify every piece of stone connected to a job.
Above: SPEEDLabel printout includes dimensions.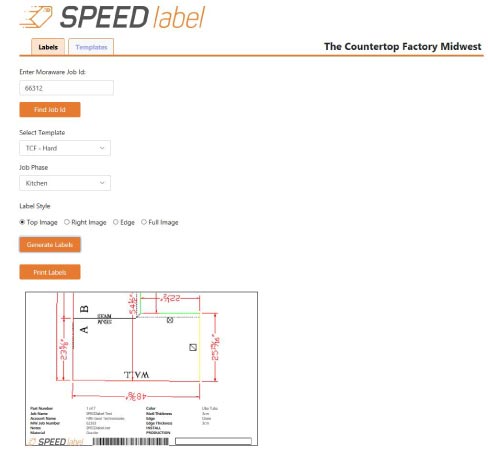 Shops using SPEEDLabel see increased efficiency in shop production, fewer mistakes, and ultimately, higher customer satisfaction.
SPEEDLabel will convert your CAD drawing into individual labels for each countertop part with only two clicks, producing project labels in less than one minute when using the companion software SPEEDdraw.
SPEEDLabel production label. SPEEDDraw and SPEEDLabel work with Moraware software for a complete digital shop organization solution.
Ever try talking shop with someone who's not a fabricator, and they just don't get it? They just don't understand the unique challenges you face every day.
But as a fabricator himself, Bill Heuer of Fifth Gear Technologies gets it, and he is committed to providing solid, simple solutions to real fabrication shop problems. Heuer co-owns The Countertop Factory Midwest with Geoffrey Gran, and he's been in the fabrication business for 13 years. Fifth Gear Technologies got its start when they partnered with an external developer to create efficiencies in their own shop.
"I have always found that there's been a ton of innovation in our industry around machinery and tooling," said Heuer. "But the technology portion of it was lagging behind the innovation in machinery, so we created a couple of solutions internally for our own process to be more efficient and reduce error rates."
Visiting fabricators saw the software in action and expressed interest, so in the summer of 2016 Heuer and his partners created Fifth Gear to offer the technology to a wider market. They currently offer two pieces of software that can be used together or separately, but each is aimed at a fabrication shop's biggest time-wasters, and more software is currently in development.
SPEEDdraw is designed to work with AutoCAD to streamline the process of taking measurements from the field and turning them into digital shop drawings, including G-code ready dxf files, shop tickets and quality control documents, in a fraction of the time. Heuer estimated a 70 percent time savings to complete a typical drawing, but even better time savings with more complicated jobs.
"You can close poly lines, add overhangs, inert sinks," Heuer said. "It takes what would have been 20 clicks to one click. It's a huge time-saver, but it's also a big help for error reduction. With every click you have to do, the more risk there is for human error."
SPEEDlabel is all about shop organization and quality control, working with the Moraware project management software to print labels for every part of a job.
"A chronic problem in our industry is getting out to a jobsite and realizing you're missing a piece. It's not an uncommon occurrence," said Heuer. "As parts go through the shop, it's hard to keep them all together. They get misplaced. It becomes harder for our guys to continue to quality control that piece throughout the process.
You have a shop drawing, but if the job is in six pieces that drawing isn't always in contact with all of the pieces."
SPEEDlabel prints a label with a shop drawing for each piece in the job, making it easy to see which piece you're working with, what job it's for, and what pieces you might be missing.
Heuer said his shop has been using SPEEDlabel for four months, and their error rate is down 45 percent this quarter. Two Fifth Gear partners, Steve Mast and Robert Haussermen, run a shop in Oregon, and they've seen their error rate drop 35 percent in the first quarter.
"It's been very impactful for us," Mast said. "It's a very powerful tool, a simpler solution but very impactful."
And customers who have used Fifth Gear Technologies products have glowing reviews of the products and services.
"They are evangelists, I would say," said Heuer. "They love it."
Matt Halsey of Big Creek Granite in Norway, Iowa, said his shop has been using SPEEDdraw for two years and SPEEDlabel for a week. He called SPEEDdraw "a game-changer" and has already seen shop organization improve with SPEEDlabel.
"The cool thing about Fifth Gear support is that they really want you to succeed," he said. "Since the implementation of SPEEDdraw, we have been able to grow twofold in the past two years without adding additional CAD personnel. Simply amazing, and now with SPEEDlabel to be coupled with SPEEDdraw, we are very excited about the future of our company's bottom line."
Brian Tekulve is manufacturing operations manager at Front Range Stone in Englewood, Colorado, and his shop has been using Fifth Gear software for a little more than a month. He said implementing the software was a simple, turnkey process.
"The initial setup was smooth and simple, and we were able to roll it out to our shop within a few days from signing on. They talked our programmers through the snipping program and template used and have been with us every step of the way," he said.
About SPEEDlabel, Tekulve said, "The ability to hold each person from the measurer through installation accountable for each individual piece of every job is invaluable. With each piece being carefully checked and signed off on by each person that touches it, we have seen a dramatic decrease in rebuilds and refabs and ultimately, happier customers. Every employee knows that they have ownership in those pieces and want their name only on the best quality product. It has stopped our guys from being able to pass an issue down the line to the next guy, which was causing us to over-fabricate pieces, wasting time and effort. The product has honestly made us as more successful shop with our customer satisfaction and financially."
Those interested in implementing Fifth Gear Technologies software in their own shops can schedule a free demo through the SPEEDdraw and SPEEDlabel websites.
"We provide support and training," said Heuer. "We have two full-time tech guys to answer phone calls and problem-solve.
"As the guys who run it, we're also heavy users of the software. Through that interest on our part and feedback from the users, we'll continue to make improvements."
For more information or to schedule a demo, visit www.speeddraw.net or www.speedlabel.net.