Stone Mason and Artist Dan Ucci
Peter Marcucci
Photos by Jill T. Greenlaw and Peter Marcucci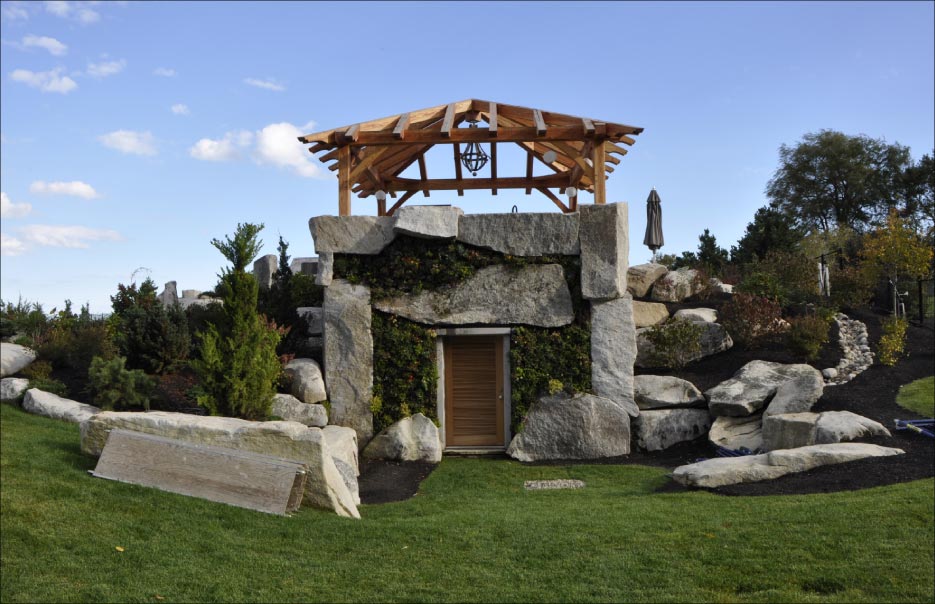 Above: Monolithic construction and landscaping, this bunker for a pool and hot tub in Cape Elizabeth, Maine is made of local granite and was quite a challenge for Dan and crew. Photo: Jill T. Greenlaw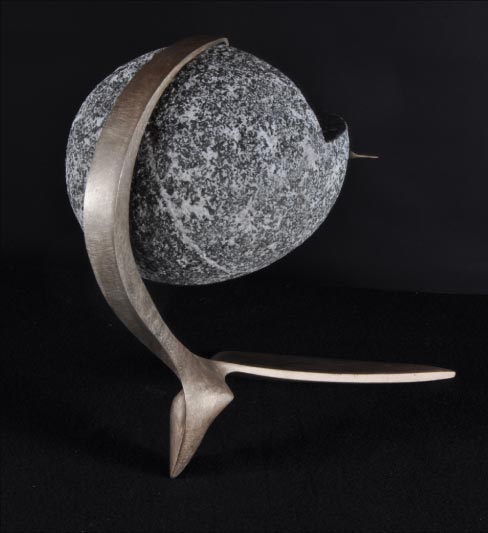 Above: "Crescent," Granite and bronze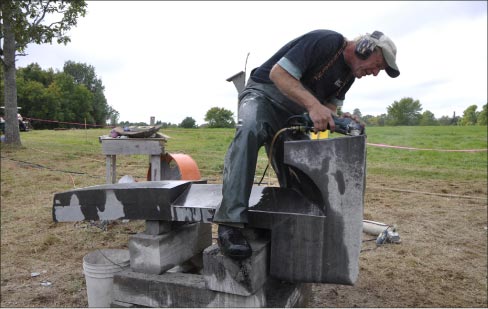 Above: Artist and mason Dan Ucci hard at it at the First Viles Arboretum Sculpture Symposium in Augusta, Maine during September of 2014. Dan also sits on the committee that began the concept of producing stone sculpture on the premises.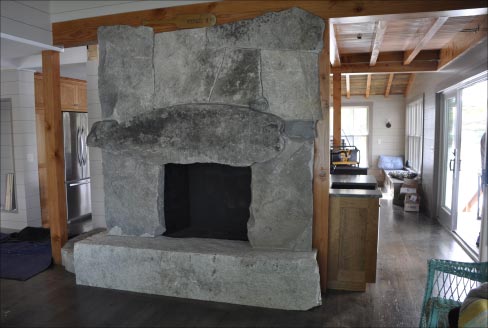 Above: Form meets function and utilitarian art is the result of this fireplace that embellishes this Edgecomb, Maine residence. Photo: Jill T. Greenlaw
Above: Dan Ucci shapes granite with a hand chisel, adding final touches to a fireplace surround.
I was greeted at Dan Ucci's workshop by two warm smiles and a rock-crushing handshake. The 53-year-old mason possessed a young man's strength and a trustworthy smile–huge assets in the stone business. Dan's wife, Jill, was the other friendly smile. Dan and Jill own Ledge Hill Creations, a family owned and operated masonry business with over a quarter century of quality craftsmanship, located in Pittston, Maine.
Growing up in Lancaster, New York, Dan's only connection to Maine prior to doing stonework was planting trees while attending college. Unfortunately, it was a brief downturn of events, including an auto accident that brought him closer to his lifelong trade. Dan would probably tell you he was caught between a rock and a hard place at the time. "I moved to New England to go to Unity College in Unity, Maine wanting to be a fish biologist," recalled Dan. "I then got into a car wreck in August 1981 and didn't finish school. Soon after, I began milking cows, and then by fall of 1982 went out west with a friend and worked for a landscaping company for awhile."
When Ucci returned to Maine, he really began his career in stonework while working for Applewood Landscape and Nursery in the greater Augusta area. "We were on a job and some people wanted a stone wall built," he continued. "This was the mid 1980s, and I was in my 20s. Anyway, the guys I worked for asked if I could build a stone wall, and I said, 'Yeah, sure! Why not!' It wasn't very big, and I built it all by myself. As time passed, the company continued getting more landscaping jobs, including stonework, and it was me doing all of those, too. I was the only one who was doing stonework in the area, and that's how it all started."
With lots of experience under his tool belt, during summer of 1988, Dan was living out of his van while building a large stone wall at the Kennebec Journal in Augusta, Maine. That was when he met Jill. "That wall was built with over 200 tons of stone quarried from the Blue Rock Quarry in Sidney, Maine," continued Dan. "Not one stone was more than three inches thick, and some parts of the wall were six feet tall. Jill was a photographer for the Kennebec Journal, and she asked me out on a date." (Laughing in disagreement at this point, Jill interrupted saying, "Excuse me! I think it was the other way around!")
Then, according to Dan, all of a sudden landscapers began getting in on the local stonework. Anyone with a pickup truck and a wheelbarrow could be a stonemason and, unfortunately, by 1989, Dan's employer went out of business.
Fortunately, Ucci loved what he was doing at this point, and continued his burgeoning and prosperous trade.
"After Applewood Landscape and Nursery went bankrupt, I took over their stone contracts. They were mostly stone walls and patios. Upon completing those contracts, word-of-mouth advertising just took things from there, and I continued doing mostly landscaping stonework.
"Then, at some point, I think about 15 years ago, I began doing stonework for The Knickerbocker Group (Boothbay Builders at the time), a pretty big outfit doing high-end homes. That's when I began doing wet masonry work like exterior veneer, fireplaces and chimneys." That's also when Dan and his subcontractor associates began doing all types of large-scale exterior stonework. "I didn't want to run a company and didn't want to be responsible for employees, so if I had a job that I knew I was going to need help on, I would simply put a crew together. I would sign the contracts and they would subcontract off of me, and when it was finished everyone went their own way and was happy. Everyone wanted to do their very best, and never just saying, 'It's good enough.' So I'm really blessed in that respect."
By this time, Dan had become a member of the Stone Foundation and currently sits on the Advisory Board. He also explained that he's a proponent of the Dry Stone Conservancy and British Dry Stone Walling Association, adding, "Organizations like these set the standards in stone work, and if you don't have personal standards of what you're building, then it's not going to be in the finished product." A driven perfectionist, he's also a member of the Maine Stone Workers Guild and studied masonry techniques in Scotland in 1992. Fortunately, it was around this same time that Ucci met up with Don Meserve, a brilliant Maine stone artist by trade. Now deceased, Don Meserve had a dramatic effect on the path of Ucci's winding career, as he did with many other artists.
"I met Don Meserve through mutual friends. He was a full-time sculptor and I used to go to his house on Fridays. We had what we called art appreciation day. At this point I wasn't doing any artwork — not really, but Don encouraged me to start doing sculpture. Some days I would go there and help him on something, and we would work together or I'd just do my own work. Sometimes I'd be stressed out about a masonry job and be talking to him, and he'd say, 'Do your sculpture work, just do your sculpture work!' Another thing about Don was that he really mentored a lot of us, not just me. He mentored contemporary artists, David Sywalski, Mark Harrington and Paul Kozak. Everyone he touched he encouraged, saying, 'Do it, do it, just do it!' He was that way with everybody."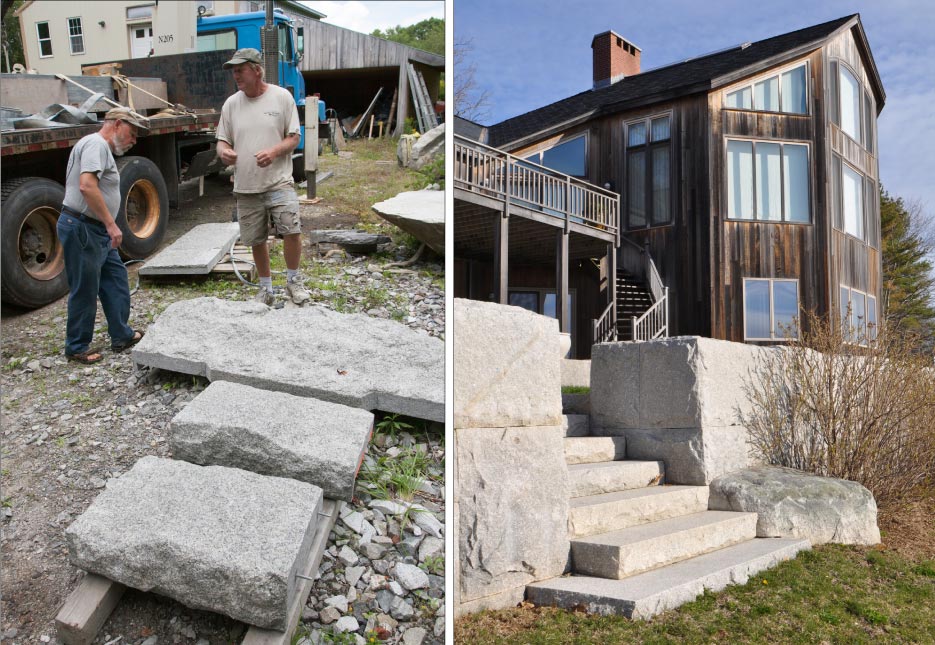 Above, Left: Ucci shows Maine Stone Workers Guild member Norman Casas the mitered joints used instead of simple butt joints on the legs and massive lintel of this fireplace project.

Above, Right: Huge Maine granite quarry blocks were delivered to the site and then hand fabricated to create these custom retaining walls and stone steps for a Maine house overlooking the sea.

Photos (2) by Peter Marcucci




Diversity: The Key to Staying Busy
What gets Ucci up every day and you out the door, especially during Maine's legendary cold winter?
"I love what I do. Not all aspects of it, but I do enjoy doing this kind of work. I like to pay attention to details and giving a good product. I try to say that I don't have an ego, but I do. But on the work that I've been doing, it's not about me, it's about we as a group and what we've pulled off. My bread and butter is residential stonework building fireplaces, patios, house veneers and landscape projects. They're extensive and long-term, and a lot of it is a timeline. The homes I do are easily a million dollars and up – summer homes, mostly along the coastline. If you can draw it or think it, we can do it. I've got contractors who I do work for, who come to me and say, 'This is what we want to do, or this is what we're thinking. What do you think?' It's kind of nice, because I get to input what I would like to do, versus an architect or landscape designer, where you get a plan with dimensions and sizes, and then become just an installer.
"Five out of the last six years I've only been on two jobs – but they were huge projects. One lasted almost four and a half years and the other lasted 10 months. One was in Boothbay, Maine, the other in Cape Elizabeth, Maine, so that didn't leave a lot of time to do other things. When I'm doing that kind of work it is a collaborative effort, and I cannot take credit. I really can't. Without the input and hard work of the guys that work with me, it wouldn't have happened. Large-scale work like this you can't do yourself. Everybody enhanced those jobs in their own way.
"What was really good on the last project was having separate crews. We were all working on the same thing, but there were three people working in one area, while two others worked in another. That took me away from the labor end of it and allowed me to be in a managerial position, get materials, and keep things moving as one cohesive unit. So I'm lucky that I've got a good group of people that I can pull from, and that helps. A good example is Andreas von Huene. When I've had stones damaged, who do you call? You call Andreas, because he's very good at what he does. He can repair stone and make it look like it never happened."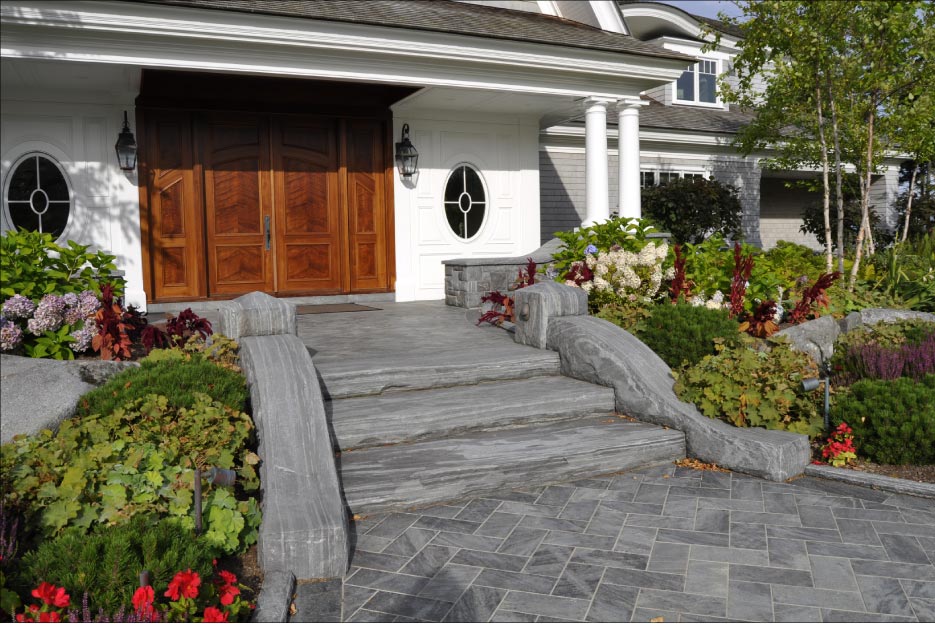 Above: This eight foot wide entryway is custom fabricated out of J. C. Stone's Heritage Valley stone. Ucci also extensively surrounded this Southport, Maine estate with stone veneer, an exterior fireplace, patio, walls, gateposts, gazebo, and hot tub with pool waterfall and coping.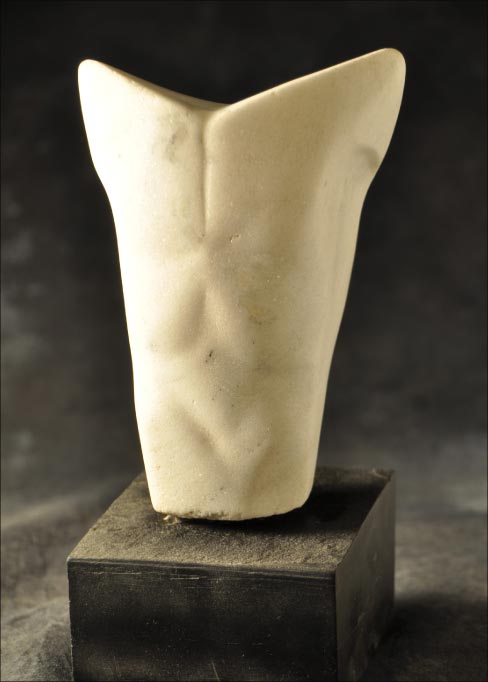 Above: "Torso," Ucci's first carving done in marble, in the studio with Don Meserve.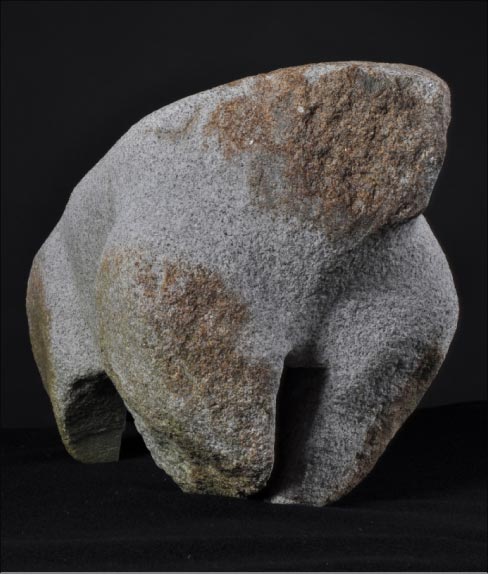 Above: "Ucci Bear," a protective gargoyle-style sculpture, minimally carved out of a found granite boulder, Pittston, Maine.
The Wisdom of Experience
"If I had to put something out there to the industry it would be this, but it begins with a story," continued Dan. "I was having a hard time with a contractor. He was getting down on something I did while building a wall. So one day I took him photos from a magazine and online and asked him, 'What do you think of these photos?' He answered, 'I don't like the stone.'
'How about this one,' I asked? He answered, 'Oh, well, no, I don't like that stone either.' The reason I picked those photos, unbeknownst to him, was because not one of these walls were built correctly. The basic rule in masonry is two stones over one and one stone over two. I don't care if the stones are large or small, when you break, don't break the vertical joint when you're tying them together, because that's where your structure and strength is and not adhering to this basic rule will compromise the integrity. Every one of those photos had that fault, but he didn't see that. He was focused on the aesthetics and not the structure. I've been guilty of doing it sometimes, too, when working close, but you've got to stand back, take a look, and sometimes realize, oops, this isn't working, I need to correct this.
"One of the things I would say to any new mason is to pay attention to your work structurally. I really see a lack of this in both the architect and labor end. You should be able to stand back and look at it and it all blends together and that it is a pretty picture, but you have to be aware of structural integrity.
"When I first started doing stone walls there was nobody to learn from. I guess I just had it in me and went with it, but nowadays there are so many people with so much knowledge. So I'd say definitely talk with artists and masons and ask questions when learning. I learn from you and you learn from me, so don't be afraid to ask questions or get your hands dirty. Tomas Lipps started the Stone Foundation, so people who love stone could come together to show what they can do as a group versus what they can do individually. When you're around a group of like-minded people, like at a sculpture symposium, the energy is there and you're feeding off of it.

Above: "Balance," Heritage Valley granite and bronze, 6.5 feet long
Dreams for a Diverse and Exciting Future
"I don't want to grow our business. I guess Jill and I are comfortable where we are at. Word-of-mouth has worked, and I'm really enjoying doing landscaping stonework, again. It's not so rigid, and it's free form. I also continue to enjoy doing large stone fireplace surrounds. I've always been a 'what comes down the pike' kind of guy and a 'yes man.' 'Can you do this?' and I'd say, 'Yes, I can!' I may not have enjoyed doing it, but I did it. I don't want to do that anymore. I've burned out on getting up on roofs or doing veneer work for siding, so I'm pulling away from that. I have a wide range of associates, and I just pass jobs like that on to them.
"There was one winter that was very cold and hard, and Jill and I said to each other, 'let's get the heck out of here.' So I went to the Stone Foundation's website. They have stone people listed state by state, and I called the ones in North and South Carolina and said, hey it's cold here in Maine, and I'd be willing to come down and work, but nothing panned out. We've also talked about traveling and doing workshops. I can do what I like to do, and Jill can do what she likes. I would also like to do more artwork collaboration with the artists I'm friends with. Some are the most talented people I know.
"For my next project, I am incorporating several large rocks weighing over 30,000 pounds into the architecture of a private residence in Edgecomb, Maine. I am also making plans for the Viles Arboretum Art Event in Augusta this October, and the 2019 Maine Coast Stone Symposium at the Railway Village in Boothbay, Maine."

Dan is currently showing his sculpture in the Sculpture trails of the Viles Arboretum in Augusta and in the Boothbay Harbor Region and at the Down East Gallery in Edgecomb, Maine. His son Gabe is showing work there as well. "We are a family of artists: Jill's a photographer, our daughter, Isabella Ucci is a graphic designer and our son Gabriel Greenlaw is a sculptural glass blower. We all love what we do!"

Dan Ucci operates Ledge Hill Creations, Stone Masonry & Sculpture, in Pittston, Maine.
Contact him at 207-458-1819, email ducci@roadrunner.com .
Local stone was used to create this naturalized outcropping for a waterfall and swimming pool retaining wall in Cape Elizabeth, Maine.