Bookmatching: Geology Meets Geometry
Karin Kirk

usenaturalstone.com
Photos and Charts by Karin Kirk, Natural Stone Institute
You saw the title of this article and are probably expecting to read about marble, but for now, let's talk about marble rye bread, the perfect medium for a salami, Swiss, and arugula sandwich. When it's time to make a sandwich, I reach in the bag, grab two neighboring slices of bread, put them on a plate, and then flop them open like I'm opening a book. (A book about sandwiches, no doubt.)
The same idea – minus the salami – applies to marble stone slabs, as well. When two neighboring slabs are 'opened up' and polished on the surfaces that were facing each other, the pattern on each stone will be virtually identical, except they will be mirror images of each other. These twin slabs can then be arranged along a common edge to produce a stunning, kaleidoscopic pattern. Bookmatched slabs sometimes look like butterflies, or Rorschach (inkblot) tests, or many other fanciful shapes. Bar none, bookmatched slabs are one of the most dramatic and impressive ways to use natural stone.
Bookmatched slabs are made by polishing two consecutive slabs cut from the same block on their adjacent sides.

Best Places for Bookmatching
A pair of bookmatched slabs commands a lot of attention. For maximum effect, these statement pieces should be used where there's ample room to accommodate a large expanse of stone, like a big kitchen island, a conference room table, a wall, or an oversized shower. If you have a large area to cover, bookmatching is a handy way to ensure that the pattern runs fluidly from one piece to the next.
It's not a great idea to cram a bookmatched pattern into a surface that's interrupted by corners, cutouts, and appliances. The bigger the expanse, the greater the impact. That said, a bookmatched pattern need not be limited to full slabs. Smaller pieces of bookmatched stone are often used in flooring tile or backsplashes.


Variations on the Bookmatch
If the standard two-slab bookmatch is somehow insufficient to satisfy your design tastes, you can take it up a notch with diamond-matching (also called quad-matching). This arrangement uses four pieces of stone, and is so named because it commonly produces a diamond-shaped pattern.
Bookmatched pieces needn't be all on the same plane, either. A vertical slab on a wall can be mated to its twin on a horizontal countertop or bathtub surround, for example. This gives an immersive effect, as if you are sitting inside of a vast block of stone.
Another variation on the theme is called vein-matching (or slip-matching), where the key visual elements of the slabs are matched to flow across seams and produce a continuous pattern. Vein-matching is commonly seen on 'waterfall' arrangements, where a horizontal countertop joins a vertical panel of stone that runs from the countertop down to the floor, or from the countertop up to the backsplash. Vein match in these instances is typically preferred over bookmatch.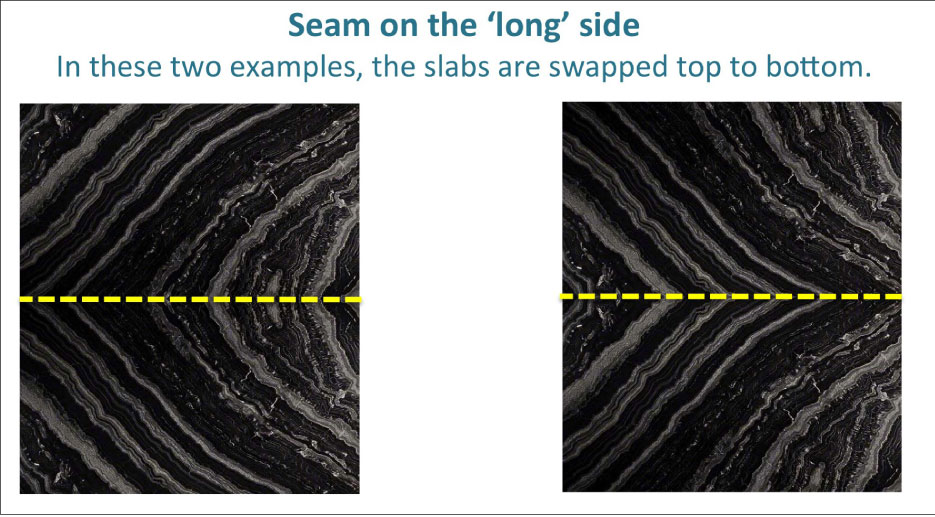 Image by Karin Kirk for the Natural Stone Institute

Considerations When Hunting for Slabs
At the quarry, large blocks of stone are removed from the ground, then shipped to a facility for processing. Here, the big blocks are sliced into slabs. When the slabs are all polished on the same side, it's called 'consecutive' polishing (also called 'sequential' polishing). These slabs are usually numbered so you can purchase neighboring slabs if needed.
To create a near-perfectly matched pattern, the surfaces of two neighboring slabs have to be processed so the surfaces that were facing each other are both polished. This operation is usually done when the slabs are cut from the block, and is not commonly done at a fabricator's shop.
In some cases it's possible to convert sequential slabs to bookmatched slabs by polishing the back side of one of the slabs. But it's less hassle and more reliable if the slabs were originally processed and polished with bookmatching in mind.
Because bookmatched slabs generally originate at the sawyer, there can be significant lead time if stone needs to be ordered. Plan ahead and be patient – the wait will be more that worth it.
Bookmatching tends to be more expensive than a standard layout, because in every case two slabs are needed, even if the area to be covered is not that large. And if one slab is lost to breakage or other issues, the entire layout of slabs can be lost due to the irreplaceable nature of the one slab. The painstaking planning and fabrication required to execute a precise match-up of the pieces may also add to the cost.
Any of the four edges of the slabs can be aligned. Showrooms often have bookmatched slabs on display like an open book, but keep in mind you can swap them left to right – or top to bottom – if you want. Each arrangement will yield a different pattern. You can mock up different variations to visualize the possible outcomes.
Images Two and Three were created in PowerPoint by importing a single picture of a slab, copying it, making a mirror image of it, then dragging and rotating the two shapes to make different designs. For those who prefer a hands-on approach, you can print two photographs of the slab and fiddle with various layouts. (Warning: Regardless of the method, this is a mesmerizing and addictive process!)
While these graphics are electronically generated and show perfect mirror images, such perfection is not attainable in actual stone fabrication due to variation within the stone. Even in neighboring slabs, the patterns can vary over short distances, depending on the nature of the pattern and the direction of the grain. So, it is wise to expect a certain amount of non-uniformity amongst sibling slabs.
Since bookmatching requires two pieces of stone to be placed exactly next to each other, the edges of the slabs that are destined to be joined together have to be in near-perfect condition. Any chips, cracks, or awkward areas that are trimmed off of one of the slabs must also be removed from its mate.
Bookmatched full slabs make an awe-inspiring feature wall, requiring little enhancement other than placement. Showroom photo courtesy United Marble Fabricators in Hanley, Mass.

Patterns: The Good, the Bad, and the Whaaat?
The natural colors and patterns in stone will almost look amplified when presented in the mirror-image arrangement of a bookmatched pair. A certain amount of movement is required to create a visually interesting effect, but an overly complex stone can cause sensory overload. Stones with soft hues and flowing movement, like marble, will create a beautiful look that's not too jarring. Vivid slabs with bright colors and high-contrast patterns are not for the faint of heart, but offer an unforgettable statement.
It's practically inevitable that you'll see images in the adjoining stones. Maybe it will look like a beautiful flower or a snowy owl. Or… maybe you'll see the face of a malevolent goblin, or, heaven forbid, something resembling the, ummm, human anatomy? Once seen, these forms can't be unseen; they will greet you every time you walk in the room. So take your time and carefully examine the potential designs and shapes you'll end up with once the stones are cut and assembled.

Craftsmanship and Communication
A downside to bookmatching is that there is little room for error in the fabrication and installation. The trimming and alignment of the slabs has to be spot-on. For this reason, careful communication with your fabricator is absolutely essential. Don't assume you both know which way the slabs will be oriented and which parts will be cut off. Make sure that the fabricator has plenty of experience with bookmatched slabs, and that you share the exact same vision for the final product.
The best way to visualize and communicate the plans is with is with photographic images, mockups, and a dry-lay of the stone panels prior to installation. Many fabricators have the ability to import images of the slabs into computer software and then decide where each cut and seam will go. It's imperative to go through this step together, and to sign off on the final plan. Neither the customer nor the fabricator wants any surprises on installation day, so if there was ever a time to be extra-careful in the planning phase, this is it.

Bookmatching is Natural Stone at its Best
The coolest thing about bookmatching is that it takes the patterns of geology, which are plenty awesome on their own, and boosts them to an almost supernatural aesthetic. If you feel there's no artist that can rival Mother Nature, then bookmatching might be for you. Pairing your own imagination with the inherent beauty of the Earth can forge a phenomenal result.