Fox Marble
Peter J. Marcucci
Photos by Mark Ream for Fox Marble, Neolith®, Misha Bruk, Lawrence Lauterborn, and Henry Guerro
Since its formation over three decades ago, Fox Marble has been on the cutting edge, and has grown exponentially into a custom fabrication powerhouse under the watchful eye of its founder and President, Charley McLaughlin. Located in San Francisco, Fox Marble covers Northern California, and was recently made a member of the esteemed Artisan Group. For those unfamiliar with the Artisan Group, it is an assembly of select fabrication company owners from specific locations around the country, who come together to share knowledge and solve problems.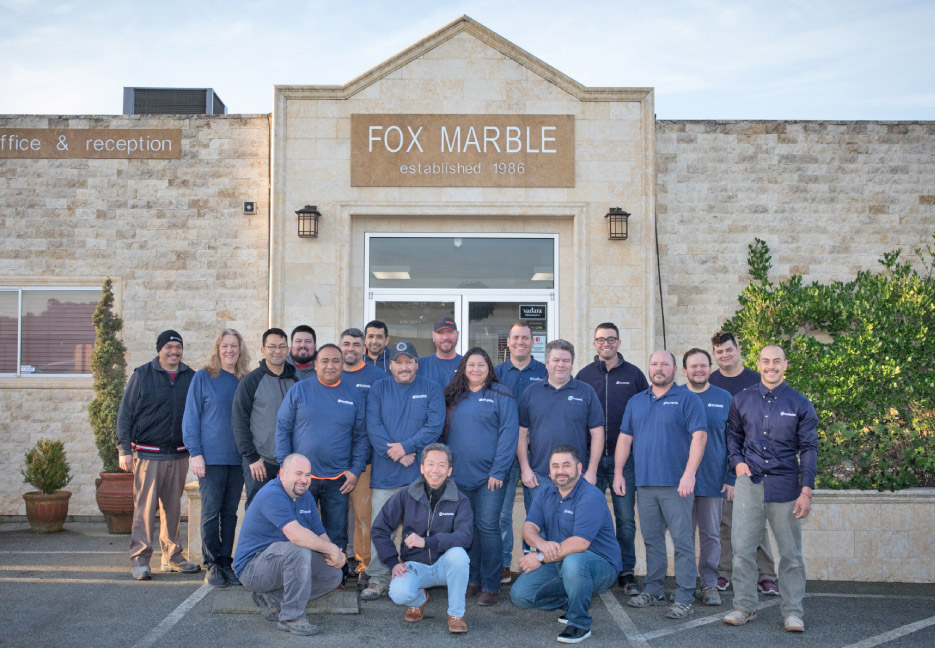 Fox Marble is one of the premier fabricators in the San Francisco Bay Area, and the division Fox Hensley ships projects throughout North America. Photo by Lawrence Lauterborn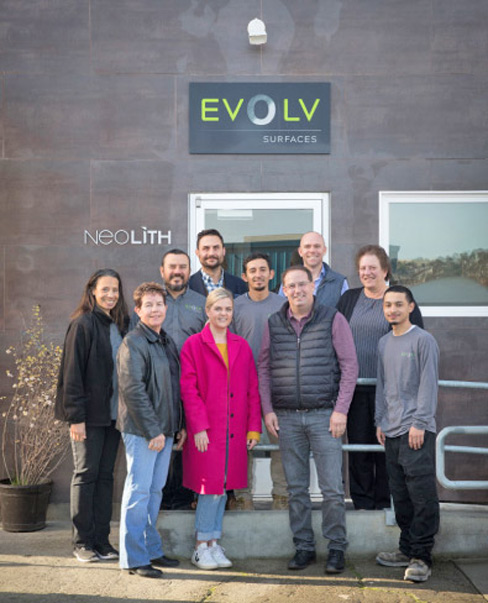 Above: Evolv Surfaces has offices in San Francisco, Seattle, and Las Vegas Photo by Lawrence Lauterborn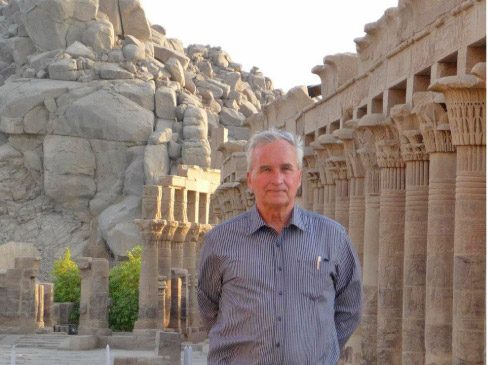 Above: Charley McLaughlin, founder of Fox Marble and Evolv Surfaces
But before getting into the nuts and bolts of the company story, there are some interesting facts that I learned from speaking to Charley McLaughlin.
Firstly, Fox Marble is actually one of four divisions of a group of stone-related companies. Evolv Surfaces, a second division, sells to fabrication shops, dealers and commercial installers all over the Western US and Hawaii. Evolv Surfaces also has office locations in Seattle and Las Vegas. While Fox Marble is one of Evolv Surfaces customers, they get no pricing preferences. However, they do have some advantage because they have been fabricating Neolith for almost 8 years.
Secondly: Fox Hensley is a 50,000 square foot production facility located in Richmond, California, that produces finished jobs for large accounts and ships products throughout North America.
And last but not least is the Fox Marble Stone Care division, a very successful unit that serves Northern California and Hawaii. This division has enormous growth potential. There are currently 12 field technicians and there are plans to expand substantially this coming year. It's important to note that all four divisions are separately managed and accounted.

The Nuts and Bolts
McLaughlin, a former U.S. Marine and Vietnam Veteran, graduated from Rutgers University in 1973. It was over a decade after his graduation that his true calling and love for natural stone would be realized, recalled McLaughlin. "It began in 1986. My family had moved here to San Francisco, and I had to do something to earn a living. I knew stone and tile from selling masonry products for Justin Industries in Austin, Texas. Soon after, we started marketing and selling pre-fabricated fireplaces that we imported from Taiwan, Italy and Spain. In the beginning, I was cutting with a Skill saw on the ground with a can of water spraying the blade. It was at this point that we had two paths to follow: distribution or fabrication. We chose fabrication, and we bought a bridge saw, then another saw, and by 1990 we were the first to go with an Intermac CNC on the west coast."
During this first growth cycle, it was no easy ride, said McLaughlin, adding that growth capital was hard to come by. "The bankers would laugh at me when I went in! It was a long haul back then, nothing came easy, but I got lucky after working very hard during all those years."

Spaces and People
Fox Marble and Evolv Surfaces have separate facilities located on an 80,000 square foot tract of land in San Francisco. The Fox Marble portion of the property houses offices, warehouse and a shop facility, all within 40,000 sq. ft. of buildings. According to McLaughlin, there is a slab gallery, but no real showroom to speak of.
That said, a newly acquired facility by Evolv Surfaces in Berkley, California will, in fact, have a state-of-the-art showroom, explained McLaughlin. The show room is beneficial because we will be able to sell out of it, and other area fabricators, designers, architects and builders will be welcome there and catered to by the Evolv Surfaces sales staff. Neither Evolv Surfaces or Fox Marble have designer teams. We rely on others to design the dreams of our clients. Sometimes those clients take hours and hours of time. It's not unusual for our clients to have eighty book matched slabs in one bathroom. I cringe when I say that, because of the amount of time we spend with the shop drawings and the layout process. It's not easy."
Fox Marble and Evolv Surfaces share 80,000 square feet of land in San Francisco, including warehouses and offices, shop facilities (Fox Marble) and a slab gallery.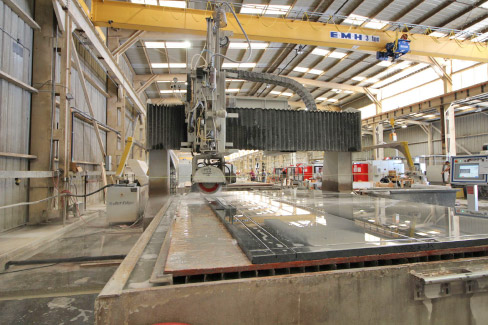 This view shows a small part of the size and scope of the Fox Hensley fab facility in Richmond, California.

Neolith and Diresco: the Next Big Things?
Neolith is a sintered material, and is considered an ultra-compact surface. According to McLaughlin, it is made with 100 percent natural ingredients, and contains clay, feldspar (a major component of granite) and other minerals. There are no glues or resins – it is made with heat and pressure, continued McLaughlin.
"I feel sintered stone slabs are the future, because they can be made large and thin, can be easily shipped around the world, and because they are strong at a fraction of the weight of natural and engineered materials. Neolith is also impervious to UV rays and can be applied on a wide variety of residential and exterior buildings plus it will not stain or fade. Traditional marble and quartz slabs are not going to go away anytime soon, but the big growth in the future is going to be thin, large format sintered materials. I can see it, and it's coming like a freight train, and only 30 percent of the fabricators in this area are handling it. Some shops don't seem to care or don't want to learn, because they are so busy. But when the market slows down and the more sophisticated buyers continue to want what they want, those shops that haven't learned to work with sintered stone, will wish they had.

Above, left: Even with automation, sometimes handwork is needed to smooth an inside bevel.
Above, right: A sawyer for Fox Marble checks the cut on a Neolith® slab.
Photos by Mark Ream
"It's really not difficult once you get the technique down. It's also great for your installers, because you're looking at a third of the weight per square foot. Think about it: currently installers are handling kitchen islands that can weigh up to 1000 pounds, where Neolith is a fraction of the weight. This greatly enhances the installer's work longevity. Neolith is impervious and sustainably made. Furthermore, almost every house has one kitchen, but has three or four bathrooms, and when you see shower walls and floors all wrapped in Neolith with no seams and no grout joints, it's amazing and beautiful! We are also doing residential and commercial exteriors with Neolith all over the west coast of California. So, this is where the trend is going for the mid- and upper-end markets. It's not going to happen overnight, but it is coming."
Diresco, Fox Marble's other big surface, is a UV resistant quartz surface made in Europe. Like Neolith, it is distributed by Evolv Surfaces. According to McLaughlin, Diresco is ascetically on par with all of the top brands of quartz surfaces, and perfect for those wanting to extend their aesthetic of their indoor kitchen to the great outdoors.
As for material sales ratios, Fox Marble fabricates approximately 30 percent quartz, 20 percent Neolith, with the balance being natural stone – specifically white marbles. Granite sales, according to McLaughlin, have absolutely flat lined in their area of California.
Surface polishing production: part of hand-finishing to perfection, and maintaining the highest level of quality at the Fox Hensley manufacturing plant in Richmond, California. Photo by Henry Guerro
Service and Quality, the True Keys to Success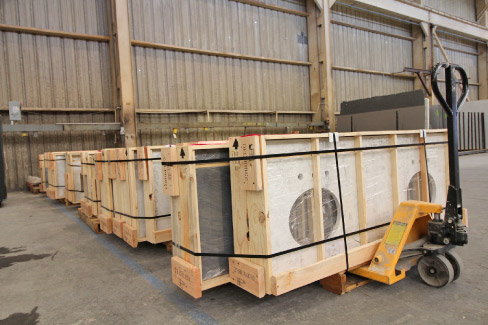 Fox Hensley produces finished jobs for large accounts, like the vanities ready to ship out. Photo by Henry Guerro
"A while back, I had read in the Wall Street Journal that America is the most competitive country in the world, and I believe that." continued McLaughlin. "Why do you think that inflation is held in check? It's not just because of the Fed! It's because we have a competitive economy. So, over the years, we chose high-end, and have shrunk our exposure and geographic reach, because the competition has proliferated. There are over 400 stone fabricators in northern California, but because we chose high-end, there is less of a pool of fabricators that can handle that level of business. That doesn't mean we make all kinds of money on it! You see, the more sophisticated the client, the more service is required, and the more manpower that's needed. So, an eight percent bottom line is our goal, but we are not quite there, even with automation, whereas, our Stone Care division is double that.
"What makes us unique is our level of service and ability to complete complex, high-quality jobs, on time. Our reputation is that we take care of our clients, and that's really what it boils down to. You're in the wrong business if you just look at the short term, and don't service the heck out of your clients. If you don't, you're going to fail. It's just a matter of time."
The Fox Hensley fabrication team is the core of the commercial production side of the business. Photo by Lawrence Lauterborn

Equipment and the Folks Who Operate It
If you're wondering at this point what equipment Fox Marble keeps, let's just say that it's a full house of CNCs, water jets, line polishers, etc, and consists of a mix of Breton (the lion's share), Park, Intermac, and soon, some BACA equipment, said McLaughlin. "What's exciting is the BACA robot! The folks at Baca really do see the future, and with the right tooling for sintered material, including automated mitering functions. "It's going to be a big deal. We are just now getting one installed, and there is a new one coming next year. It's the BACA Robolution.
"Automation and globalization are here to stay. That's evolution. To stay in business, you've got to have state-of-the-art water-fed machines, proper dust collection and air circulation. We have the best technology and the best materials, but it's our people who make this company, and it's not getting any easier to find them, and that's the challenge. Our dedicated staff of 140 people has made our business. They are valued dearly and appreciated."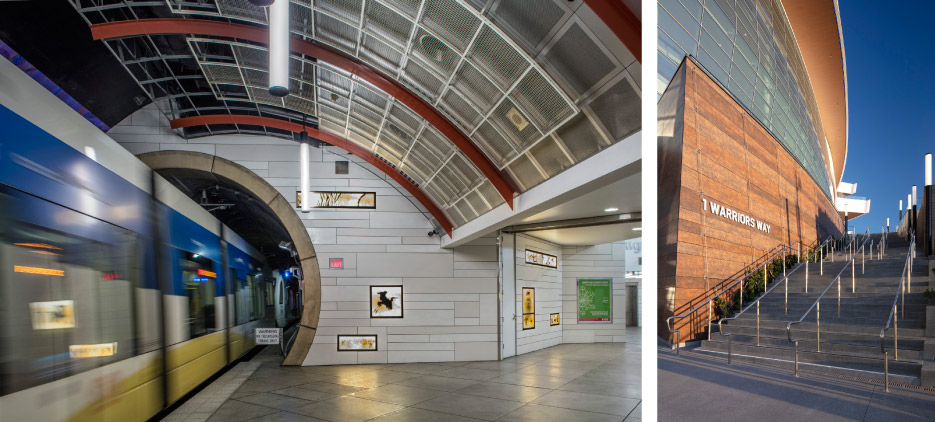 Above, left: Washington Park train station features durable and beautiful Neolith cladding.
Above, right: Neolith Iron Series – a 6mm custom & unique blend for the Chase Center. Both projects were sourced from Evolv Surfaces.
Train Station Photo Courtesy Neolith®, Chase Center Photo by Misha Bruk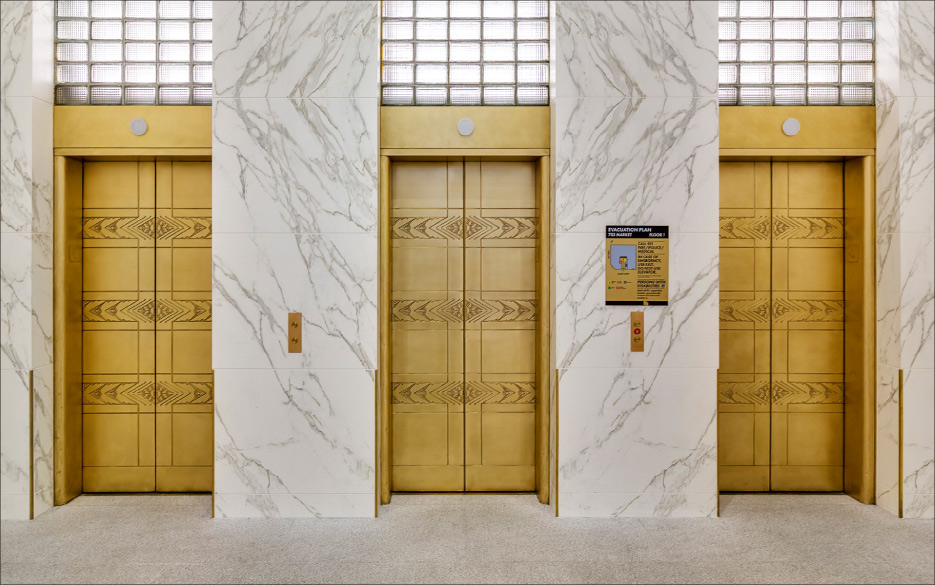 Above: This commercial project located at 703 Market, San Francisco, CA features Calacatta marble cladding, sourced through Evolv Surfaces. Photo Courtesy Neolith®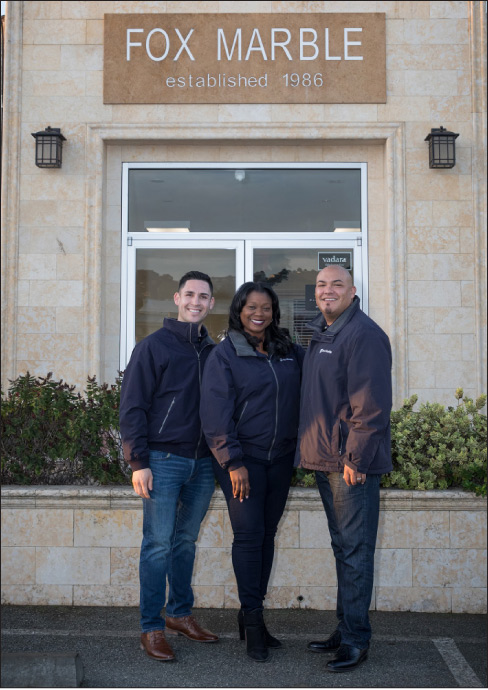 The Fox Stone Care division serves Northern California and Hawaii. Pictured: the Fox Stone Care department team leaders.

Photo by Lawrence Lauterborn
To Sell or Educate? That is the Question
"We are fairly new to the Artisan Group," continued McLaughlin. "The group means a lot to me, because I respect the organization. It's allowed me to visit other successful facilities and to make major decisions on machinery purchases that were based on what the group's consensus was, and where the industry is going. It's been a real game changer, and helped us figure out what coming trends are, and how to market those trends.
"The internet, however, is not a good marketing tool for us. People in our market do not buy stone off the internet. What it does do, though, is educate them. Clients are much more sophisticated, whereas they know the difference between materials and all the possibilities. The internet is also very important to show people our location. We pay a person to constantly to get us good ranking on Google search and Yelp, and that's important and key to getting them to walk in our door. You can track how many views it and how long they stay, and that is extremely important, too.
"When they do walk in the door, we both sell to them and educate them. We are expensive, and there's a reason that we are expensive: because we offer the highest level of service. We'll first get an idea of their budget, and try to (value engineer) their needs. If a customer wants just price, they've come to the wrong place, and most of them who come here know that beforehand. No, they don't want a deal, they want value, and that's what it's all about. Getting the best service, the best experience, and if there's a problem, even if it's years down the road, if it's our work, we take care of it; that's our reputation, as such. There's no other way! 75 percent of our work is referred by general contractors, designers or people who have used us in the past."

Final Words of Wisdom
"Years ago, I saw that granite was coming, just like I now see sintered products coming. It's the future, and the future looks very, very bright.
After the Great Recession, someone asked me, 'What did you learn from it'? Well, number one, is fear! McLaughlin said, laughing. "Number two, diversification is very important, and that's why we have four different legs (divisions) supporting the table, and why we separate management and staff, but keep the divisions all under one corporate umbrella.
"But for us, the future is not custom, unfortunately. I love it, but there are just not enough people available. It's not going to go away; it's just not going to grow anymore. Our future growth will be in manufacturing, specialty services and distribution. I see great growth in thin, large format, ultra-compact materials, and those who choose to learn it will do well, and those who don't, will regret it.
"One final thing. Having a passion for what you do will lead you to success. What's the old expression: 'Do what you love and the money will follow'? We have a great industry, and it's going to continue to morph, but it's always going to be here, and if you are passionate about it, you will always have a future. But pay attention!"
For more information on Fox Marble, its partners, products, and services visit www.fox-marble.com and www.evolvsurfaces.com.