Creating Synchronicity with EasedEdge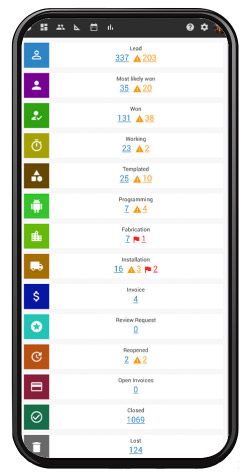 Staying on the forefront of cutting-edge products these days ain't easy. From quarry to countertop, when it comes to tools, machines, and supplies, our industry is very diverse. In recent years, this diversity includes software. Recently, the Slippery Rock Gazette had the opportunity to review the new software offering from EasedEdge.
Without going into too many details, let's just say that the demo was very informative. The app interface is colorful, well thought out, intuitive, easy to understand and learn, and fun in an all-inclusive and organized package that's appropriate for any fabrication shop looking to take their performance to the next level. An added bonus: it's actually fun to use.

From Concept to Installation
EasedEdge was developed by software engineer Ben Strong, in conjunction with Sarto Countertop owners Guiseppi Vanderputten (Sep) and Robert Wiemann. Ben is a longtime software developer on many levels, while Sep Vanderputten and Robert Wiemann are longtime fabrication experts. All three men are co-owners of EasedEdge, and between them concluded that there must be a better way to keep a fabrication shop organized, recalled Ben.
"Sep and Robert reached out to me, saying that they wanted something to get all of their people communicating better. They bought Sarto Countertops six years ago, and had been growing quickly, almost 100 percent every year. Both Sep and Robert are very technical minded, and had been jumping into a lot of automation. However, they were frustrated with the software that was available to the stone industry. They found it non-intuitive for the people in the shop and on the road. It was also based on per-user-cost, and they wanted their process more efficient by letting everyone in the company communicate on the same platform. It needed to be affordable, easy to use, smart phone-friendly, to allow everyone to use it on a day-to-day basis."
After about a year and a half of development and testing, EasedEdge's debut began in a rigorous, real world environment, continued Ben. "It worked really, really well. As they used it, they said it would be nice if it did this, and nice if it did that, so we began making changes and updates. Then, about a year ago, we called it tested and market-ready, and started offering it to fabricators. We currently have 23 companies using it."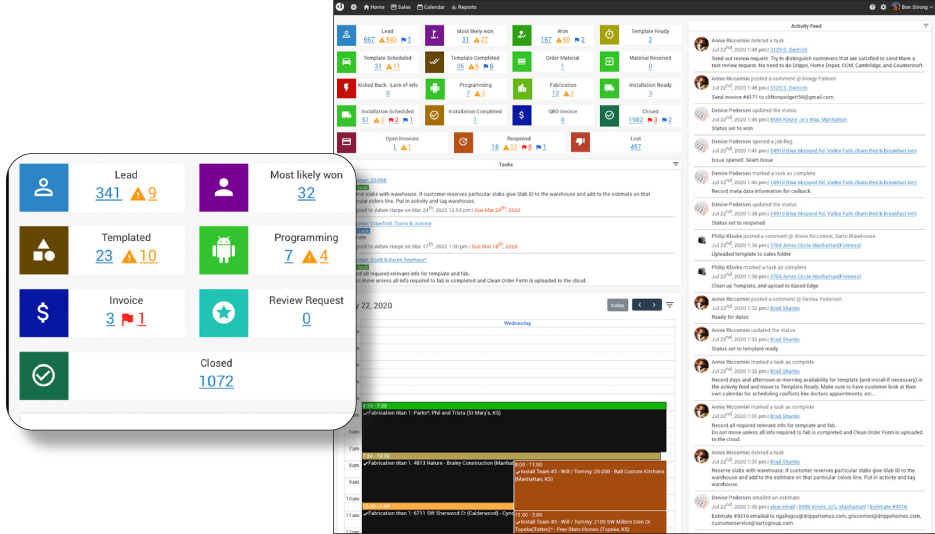 "When you launch the app, the first thing that comes on screen is the dashboard – a snapshot of where all the jobs are. At a glance, you can see how many jobs are on leads, how many are getting old, and you also can see how many jobs have alerts or holdups."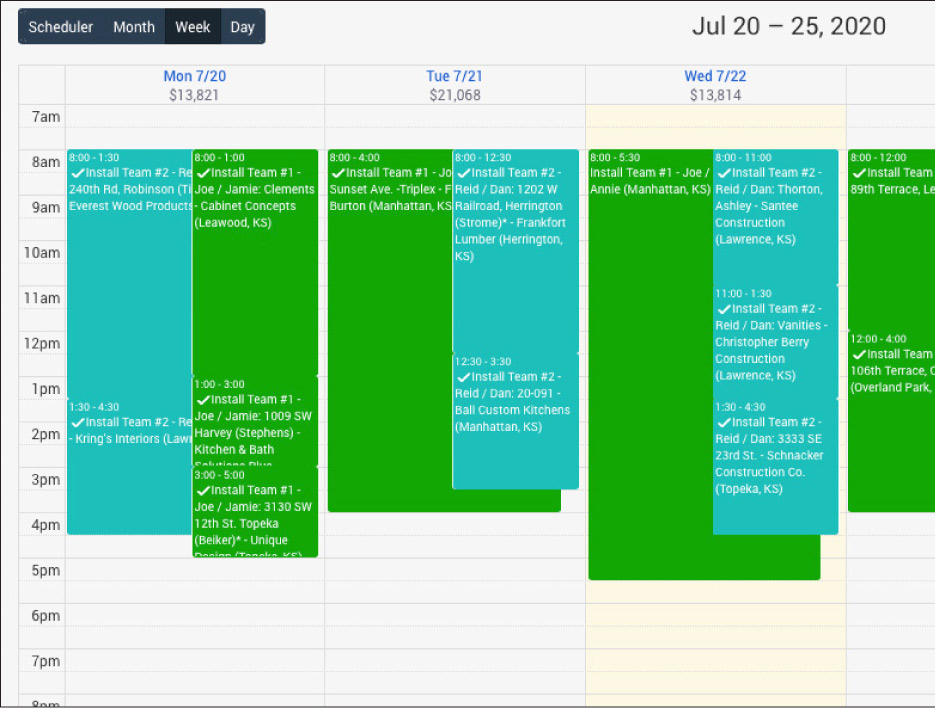 Above, Synchronized work flow: Sarto has about 60 employees. If a customer calls or emails wanting to know when their kitchen is going to be installed, the person scheduling does not have to walk out to the shop to find out what stage a job is at. That information is just a mouse click away. EasedEdge offers absolute clarity as far as what days and times are open in coming weeks for that installation, no matter how many install teams a company has. It will then email the customer for confirmation, and then notifies the person scheduling so he or she can place the installation, big or small, with the correct installation team.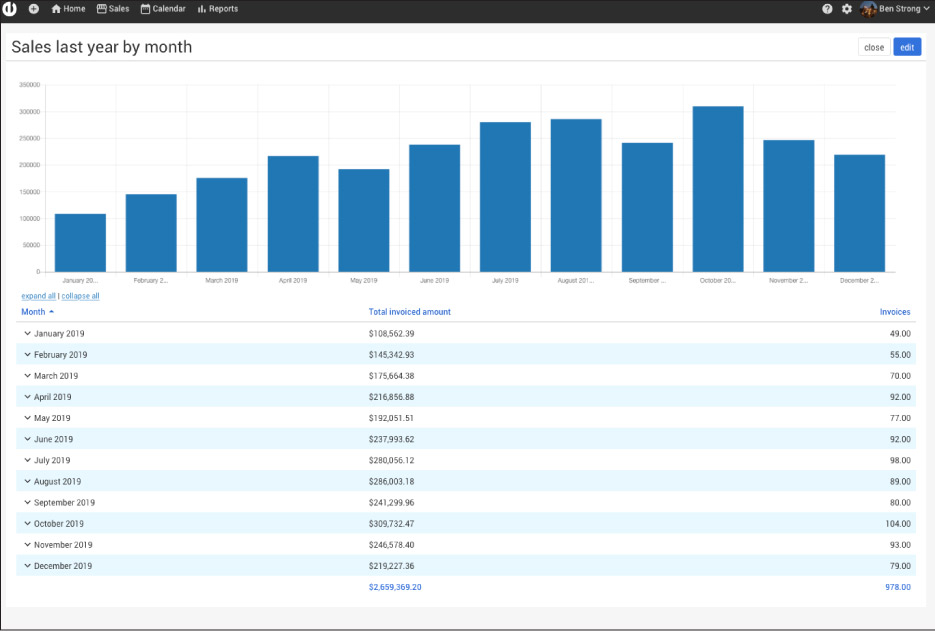 Above: Powerful reporting capability allows you to identify opportunities so you can make informed decisions.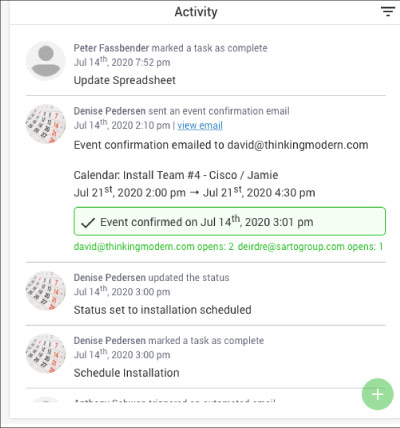 Activity feed for an active job being installed. One of the benefits of EasedEdge is ease of interaction and the higher customer service it allows you to develop with your customers.

A Synchronized Work Flow is Key to Maximizing Profits
The main strength of the EasedEdge software is its ability to communicate and add absolute clarity from the point of sale to final installation. After loading EasedEdge, the first thing that comes up is a screen called the "Dashboard," where you'll find what's called Job Statuses.
"Jobs are sorted by status, to give a clear picture of where your jobs are in your process, and to alert you of any holdups or issues. As jobs are moved from status to status, tasks can be automatically assigned to anyone in the company, to keep things moving smoothly.
For example: a sales associate might receive a prompt saying, "Send an estimate," or a shop manager might receive a prompt saying, "Template Completed". You can also create an infinite number of calendars for templating, fabrication and installations, all fully customizable to meet any shop's needs. As you can imagine, the list goes on all the way to "Installation Completed" and beyond, said Ben.
"EasedEdge is also a pricing tool for a walk-in customer, as well as a final pricing tool that includes discounts (when applicable) for a confirmed customer. It compiles all the components needed for estimating, with multiple pricing options for different types of customers, such as retail or wholesale, that can be applied to invoicing. All info such as material, square footage, edge type and lineal feet, cutouts, and sink are all easily entered. Additionally, all shops, one time or another, for one reason or another, have a job that stalls. EasedEdge tracks these stalls, and prompts the users for how long and for what reason(s) and keeps these jobs moving.
"So at the fundamental level, EasedEdge is software that automates day-to-day tasks to keep jobs moving until they are finished. If a job does stay in a status too long, such a fabrication, a notification is sent out, so you can check and see what the heck is going on. Nothing falls through the cracks, because there aren't any cracks. EasedEdge will even compile problems, giving the user the ability to see shortcomings in the production system.
"One other great benefit is the auto email feature that can keep the customer informed as their job goes from status to status, such as from fabrication to installation."

Service is the Other Key to Maximizing Profits
"We didn't want to say to our customers, 'Here's your software – good luck!' " explained Ben. "When they have a question, we encourage them to call us or shoot us an email. Demos, setup, updates, consultations as well as unlimited users are all part of our simple buying package, and we service EasedEdge forever, period! The benefit of cloud-based software is that it eliminates the need to update it on the software side, so you're constantly being served the latest version.
"There are no updates, no migrations and no servicing outdated versions. So from the software point of view, we are always maintaining the same version, even if a customer signed up for it 10 years ago, and if someone calls in with a question, we are answering questions that are all relevant to the software that everyone is using, and that's very helpful.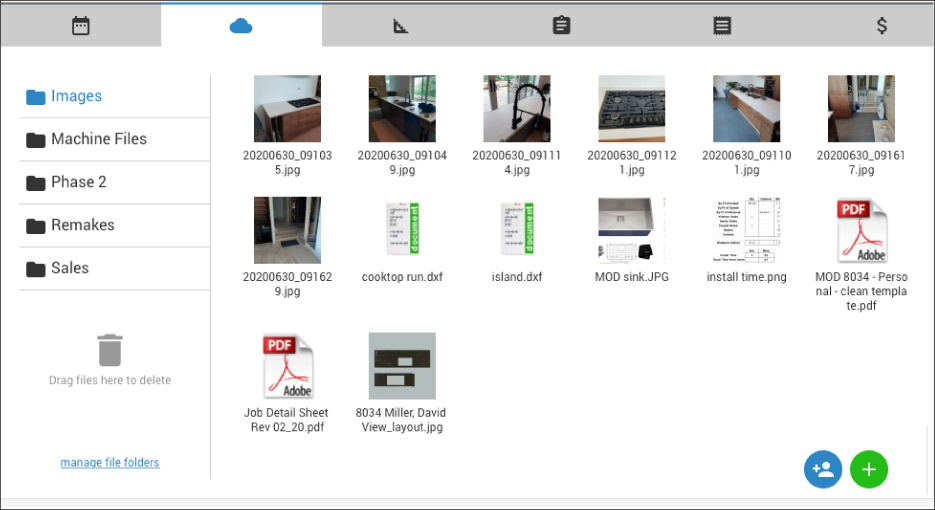 "Online resource sharing and file storage means important data is easily available to all team members, whether they are in the shop, the office, or on the jobsite. Everyone is on the same page with Job plans, from initial layout and materials to installation. These files can also be easily shared with customers as well," said Strong.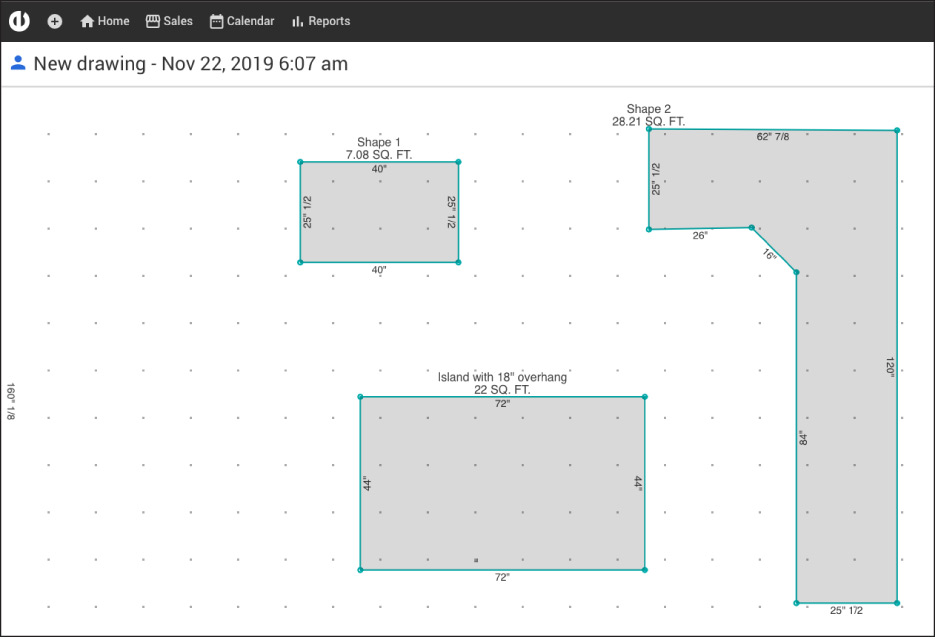 The Learning Curve
"Most people find EasedEdge very easy to move into. Everything is just a mouse click or two away. We give the new user an hour demo and several demo videos that explain little features one at a time. In the beginning, most people just say, 'Yeah, I get it! I don't have any questions!', and then a week or two after using it, they do have some questions. But no matter how long, be it a year, two years or forever, we will support our customer's needs at no extra charge, ever, even if it's a business question unrelated to the software. Our plan is to be the kind of software company where there's always an ongoing conversation with our users."

In the Pipeline
According to Ben, everyone always wants additional features, so EasedEdge is rolling out a feature for document signing, he explained. "It's the ability to send out a contract that a customer can sign online, and you get automatically notified. It's just one more back and forth that's eliminated with the customer. This feature was requested by one customer, but we don't release a new feature to just one customer. We release it to everybody.
"We are also working on QuickBooks integrations, and discussing an inventory feature, as well."
"In closing, EasedEdge eliminates costly mistakes from your processes," continued Ben. "Mistakes are expensive, and most times they happen because of a lack of communication between employees or customers. There's a lot of information involved in doing business, and mistakes cause a lot of frustration when you're not informed about what's going on, even when it's something small like getting the address wrong. Using EasedEdge makes communication and processes more efficient, and eliminates the problems that lose money. Your people will always know what to do, and not have to track down information. We didn't want the shop to have to conform to the software. With EasedEdge, the software conforms to the shop."

So if unlimited users, unlimited file storage, unlimited updates, and unlimited consultations sound good to you, visit www.EasedEdge.com to schedule a demo or to talk to a representative.