Catching Up with Sinkits
Ken Scott
Photos Courtesy Sinkits & BBI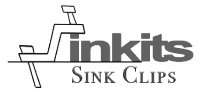 What is it about Nixa? The only city of its name, Nixa, Missouri is home to the annual Nixa Sucker Day Fish and Craft Festival (which unfortunately had to be canceled this year due to the COVID-19 pandemic). Author Robert Ludlum named Nixa as the birthplace of his fictional character Jason Bourne (only his name was David Webb when he was born). And Nixa is home to Sinkits Sink Clips, LLC, the industry standard in undermount sink installation systems.
When it comes to installing a sink, time is money. Kevin Pridemore knew that but he knew that safety was just as important. Observing installers at his fabrication shop struggle with adhesives, old-fashioned nut and bolt systems and custom-built wood supports inspired him to come up with the Sinkits system, which uses static friction. This is the same physics principle used in vehicle braking systems. The installer simply drills a hole or cuts a slot, bends the pre-load tab and inserts the clip into the hole or slot. The downward pressure of the sink on the clip secures the anchor in place. No adhesive is required. Pridemore won the Stone Fabricators Alliance Innovator of the Year Award for the Sinkits Sink Clip in 2011.
Pridemore is an inventor at heart, so once he had perfected his system and got it off the ground, with help from members of the Stone Fabricators Alliance and industry-leading distributors like BB Industries, he turned over day-to-day management to Allen Thrane and Jed Droge.
Almost ten years later, what has changed in the Sinkits world?
In 2019, Lincoln Hill Holdings acquired Sinkits with the goal of growing the business through increased sales and marketing efforts along with new product development. Kevin Pridemore still works with Sinkits on new product development and quality control issues, while also pursuing other new product development for other industries.
Today, Will Pucillo leads the Sinkits business and is excited to expand the company's reach and help more fabricators save time and money.
Speaking from his home in Denver, Colorado, Pucillo talked about their patented product line: Sinkit Slot Clips, Sinkit Sink Clips, Low Clearance "LC" Brackets and E-Brackets.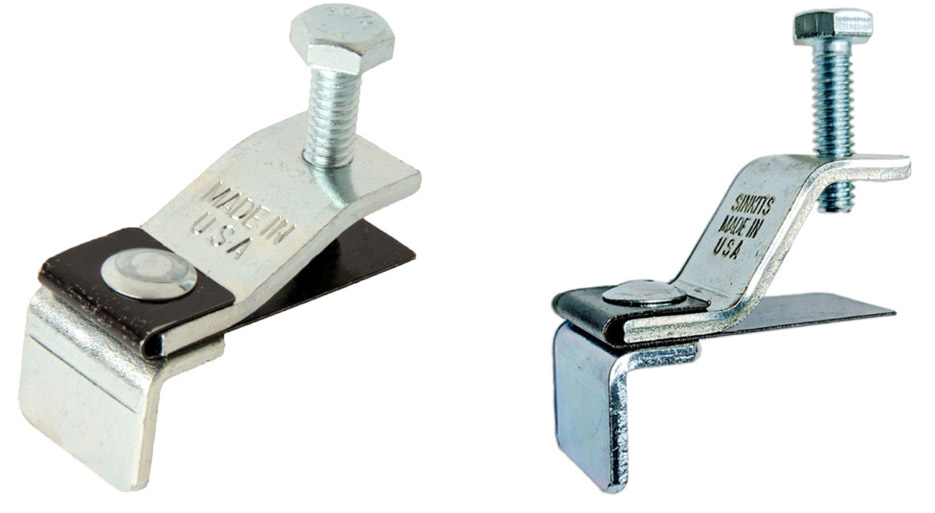 Above, left: The Original Sinkits Slot Sink Clip System won the Innovator of the Year Award from the SFA in 2011.
Above, right: Sinkits High Rise Sink Clip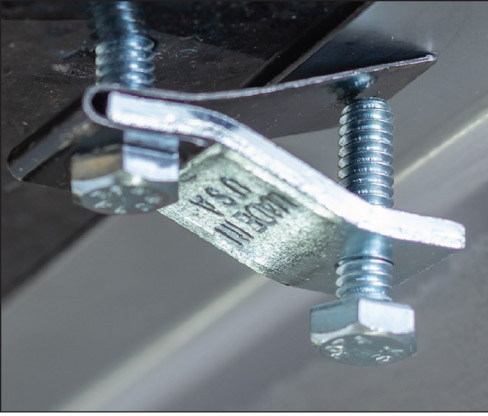 Sinkit Sink Clips anchor to a 1/4 inch x 5/8 hole.
Sinkit Slot Clips were Pridemore's first invention and are used by cutting a ½-inch deep slot 1 inch from the edge of the sink rim with a grinder. More recently, the High Rise Slot Clip was unveiled, which is, as the name implies, a high rise version of the Slot Clip that works on sink rim depths up to 1-1/8 inch. "The High Rise Slot Clip is great for use on thicker-rimmed vanity sinks," Pucillo said.
Sinkit Sink Clips use a bolt anchored in a hole rather than a slot, and have become Sinkits' best-selling product. Sinkit Sink Clips are offered in four sizes: Standard, Super Short (which are great for thin stainless steel sinks), XL and High Rise. Sinkits are used by drilling a 1/4 inch diameter hole 5/8 inch or 3/4 inch deep using a drill with a minimum RPM of 3,000. The Sinkit High Rise was introduced in 2019 and works on sink rim depths up to 1-3/8 inches.
Each Sinkit holds more than 120 pounds. Sinks require at least four Sinkits, but some may need six or eight. Sinkits has sold more than 8 million units over the past five years, with all products made in the USA. The CNC machining process has proven especially beneficial to the users of Sinkits, allowing the installer to program the dimensions for the precise required holes. "Sinkits are an incredible time-saver for fabricators who use CNC machines," said Pucillo.
LC ("Low Clearance") Brackets are another product invented by Pridemore that can be used on both new installations and repairs. This product does not require installers to drill or cut the stone. Instead, the sink is supported using the cabinet. They are a great method for tight situations with low clearance between the sink and the cabinet. "The LC Bracket works as a ledge to hold the sink in place," said Pucillo. "Because no holes are required, there is no need to drill or cut the stone. LC Brackets are widely used throughout the industry and have become the preferred under-mount sink installation method of Caesarstone."
Similarly, E-Brackets do not require drilling a hole in the stone and need no slotting or adhesives. "The E-Bracket hangs over the cabinet divider for strength and attaches to the cabinet with just one screw," said Pucillo. "E-Brackets are great for mounting stainless and composite sinks under thin material, porcelains, quartz, or any time sink clearance is at a minimum."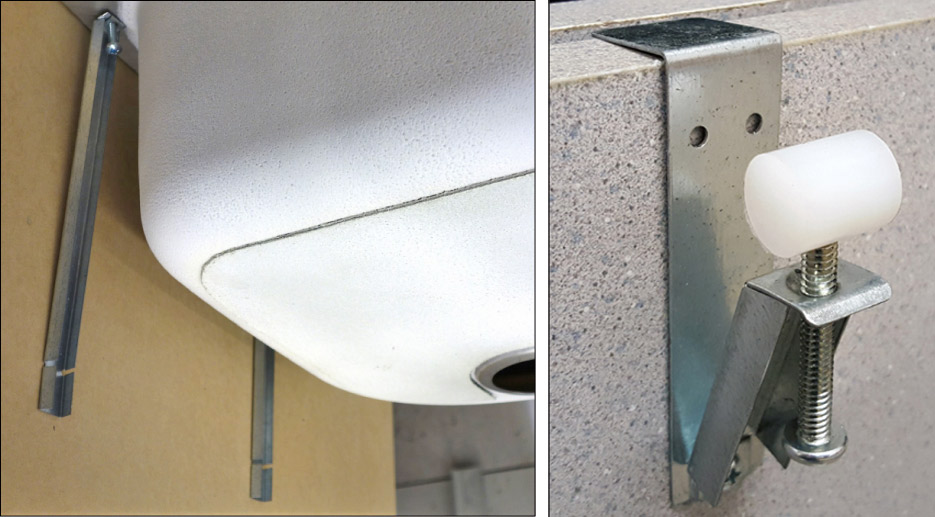 Above, left: LC Brackets, for undermount sink installation can be used for repairs or new installation.
Above, right: E-Brackets provide support without drilling anchor points.
Pucillo talked a bit about the uphill battle that Sinkits faced when it was first introduced to the industry. BB Industries helped significantly in this regard by helping to get the word out. "Getting folks to try something new is tough," said Pucillo. "But once fabricators try our products, they realize how much time they can save on sink installations."
There have been no reported sink failures using Sinkits' products that Pucillo is aware of, but he has heard countless stories of sink failures from other installation methods.
"The scariest story I've heard involved giving a young baby a bath in the kitchen sink," Pucillo said. "However, the most common sink failure stories start with a very heavy Thanksgiving turkey and end with significant marital strife and an emergency call to a plumber, handyman or countertop installer."

The Slippery Rock Gazette assures you that no turkeys or bathing babies were harmed in bringing you this story.
Any inquiries can be sent to info@sinkits.com and additional product information can be found at www.sinkits.com.