Could You Use an Additional 10 Percent Production Capacity Right Now?
Ed Young
Fabricator's Business Coach
Would you like to be able to process 10 percent more square footage through your plant every day – without capital investment, without adding people, and without working additional hours?
You can get that very quickly if you apply the simple principles outlined in this article.
You might be in the fabrication business but, at its core, your company is in business to perform value-added services that your customers are willing to pay for. They are willing to pay you for transforming slabs of granite (or other material) into countertops for their home or business. Your customers value that transformation. That's what they pay you to do.

The pure definition of value added is the physical transformation of material into something the customer is willing to pay for.
Everything else is non-value added. The maximum amount of square footage that your plant can process in a day is defined by the quantity of value-added hours that you execute that day. A value-added process would be something like the work done at a saw. Tasks like ordering slabs or repairing chips, while necessary to do, are non-value added.

The goal is to eliminate or reduce the time spent on non-value-added activities.
While processing stone through the saw is a value-added process step, not every activity performed at the saw is value added. The only value-added portion of this process step is when the blade is actually cutting the stone. Everything else is non-value added.
This includes programming the machine, loading the slab, unloading the cut pieces, cleaning the machine. All these activities may be necessary, but they are not value added. The ideal solution is to eliminate those activities. This can be challenging for the saw operation. However, if you work at it, you can find ways to reduce the time required to do those activities.
TIP: To give you an idea how much time is spent on NVA at the saw, stand there and watch the saw run. Use your wristwatch or cell phone to track the time the blade is in the stone compared to the total time you are there. The results may surprise you.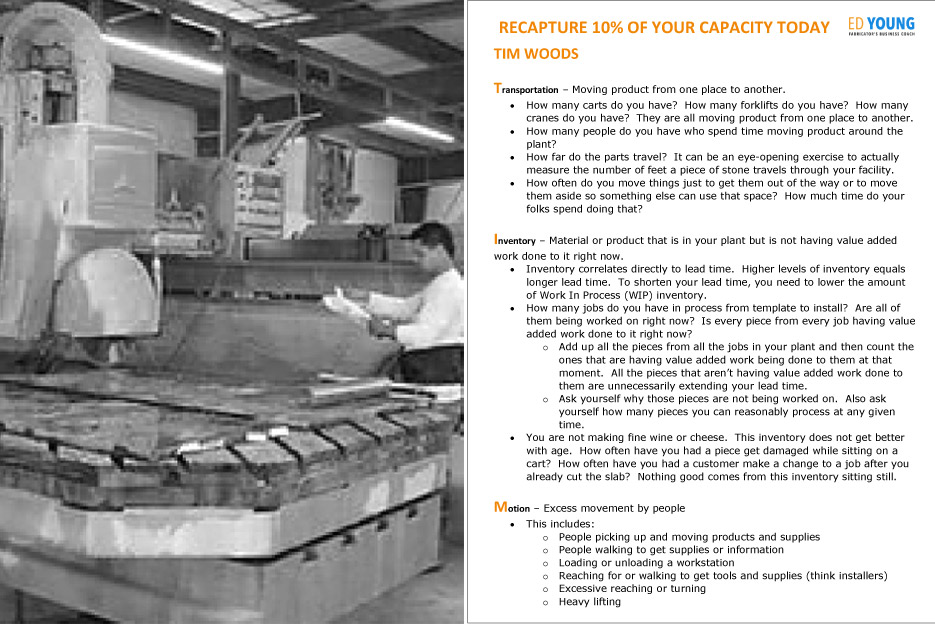 Above: This document was developed to help you find ways to free up capacity (page 2 shown). It details eight categories of NVA activities with definitions and examples. You can use it as you walk around the plant to discover capacity you can free up.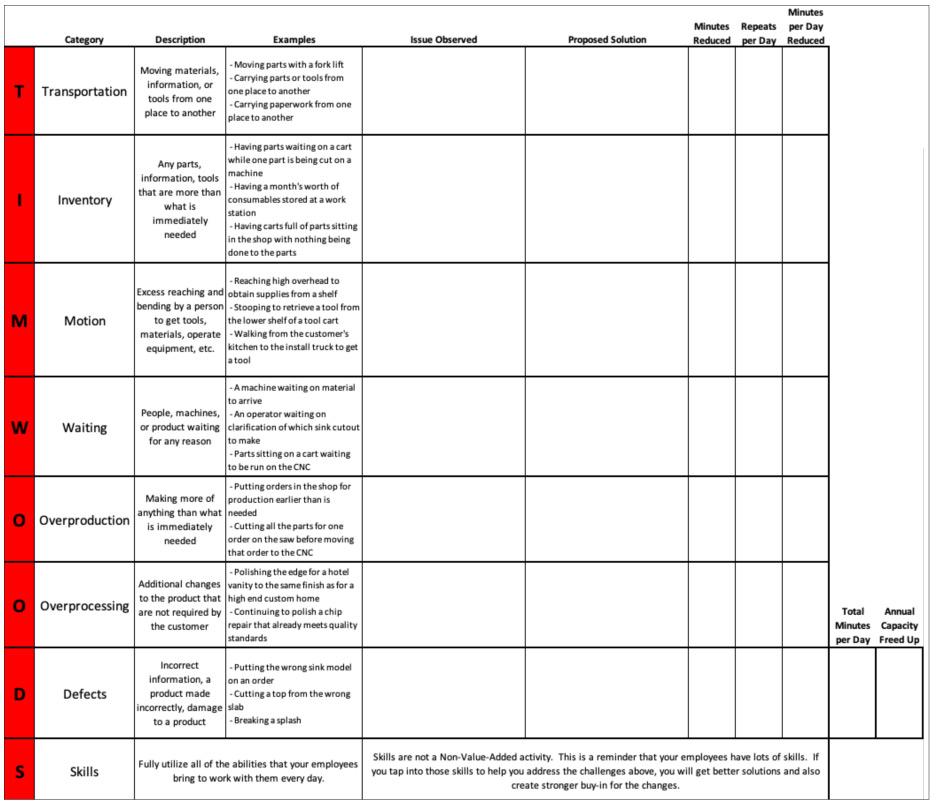 Above: I've developed a spreadsheet to help you track the opportunities you uncover, and to document the improvements you implement. It will also help you calculate the amount of capacity you are freeing up.

Eliminating or reducing the time for performing non-value-added activities frees up the capacity of the people and machines you already have so they can perform more value-added activities.
Executing this well across your plant can easily free up 10% additional capacity in your plant.
To help you look for more ways to reduce non-value-added time, I have put together a detailed document and an easy to use spreadsheet that gives you more examples of VA and NVA along with a simple way to track the changes you are making.
These tools are available free online from my website, www.FabricatorsCoach.com .

In addition to having run a countertop fabrication shop, Ed has also helped many fab shop owners become very successful. He is a seasoned manufacturing manager and coach who has helped hundreds of companies from single person startups to large international corporations.
As a former business owner, he understands the responsibility to make payroll while also satisfying customers.
Ed can be reached at Ed@FabricatorsCoach.com .