Bad Tourist!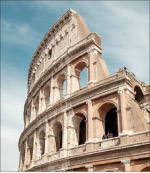 CNN reports a 32-year-old unnamed Irishman was charged with vandalism in September after being caught carving his first and last initials into a pillar on the first floor of the Colosseum in Rome.
The Carabinieri police said the 32-year-old man was caught by the Colosseum's private security one Monday and immediately reported to officers.
The man's two initials, about 6 centimeters (2 inches) high, were said to have been carved with a metal point on a pillar of the first floor of the 2,000-year-old monument.
The Colosseum is a World Heritage Site, along with 54 other Italian sites that comprise the city's historic center. The Coliseum is considered one of the Seven Wonders of the Modern World.