Darkhorse Lodge Gives Combat Veterans a Safe Space
BB Industries proudly donated ADA compliant support brackets for bathroom sink vanities at Darkhorse Lodge, a rustic retreat designed with the needs of the handicapped in mind. Darkhorse Lodge, currently under construction, is a 501(c)(3) non-profit organization designed to be a retreat for combat veterans of all branches of service to come to relax, fish on Kentucky Lake, enjoy area activities and communicate with others who have walked in their boots. All of this is free of charge to their honored guests.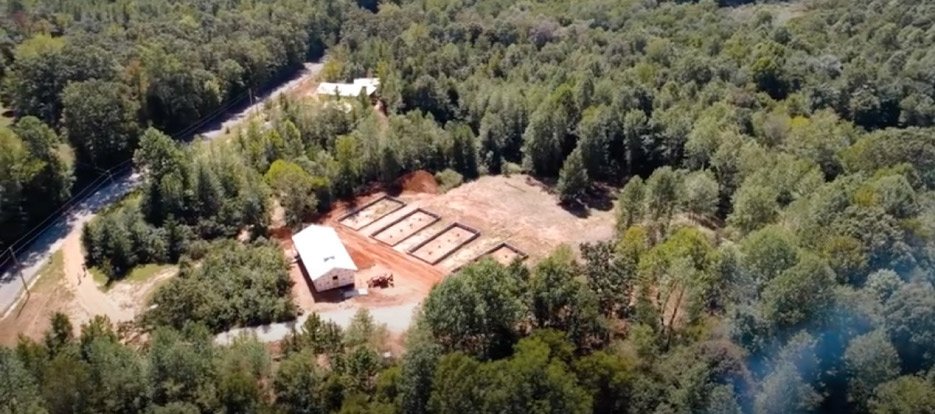 Above: Aerial view of Darkhorse Lodge, with individual cabins under construction. The building at the center is Bowman Hall, named after SPC Tim Bowman. BB Industries donated materials for ADA-compliant bathroom vanities to aid in the construction of this retreat.

Kirk and Gretchen Catherwood are building a retreat for combat veterans near Kentucky Lake, in Western Tennessee. The Catherwood's son Alec, Lieutenant Corporal USMC, was Killed In Action in Afghanistan in 2010.
This retreat is the vision and heart of Gold Star Parents Gretchen and Kirk Catherwood, whose 19-year-old son Lieutenant Corporal Alec E. Catherwood, USMC was KIA in Afghanistan October 14, 2010.
"You can pull the covers up over your head and not move forward, or you can do something," said Catherwood. "We taught our kids to never quit, so we couldn't quit, either. After realizing that we wouldn't honor him by giving up, I stayed up nights, wondering what I could do for those who did come home. Once I had the basics down, my husband added improvements to the plan for Darkhorse Lodge."
Seven years ago, the Catherwoods began fundraising to make their vision come true. Their vision is five guest cabins, each room named for one of the men lost from Marine Corps 3/5, Darkhorse unit. In addition, there is a staff cabin and shower house/dining facility named for US Army National Guard, Specialist Tim Bowman, who committed suicide on Thanksgiving Day, 2005 after returning home from Iraq.
The buildings at Darkhorse Lodge are handicapped accessible to accommodate as many veterans as possible. Darkhorse Lodge employees will be combat veterans as well, including those who will take the participants fishing at one of the most beautiful spots in the south.
"But more than the buildings, Darkhorse is a safe place for veterans to talk about their experiences, so they have another support system," said Catherwood. "This is vital because the suicide rate of combat veterans is 22 per day, or an average of one every 65 minutes. We want to do whatever we can to save those lives."
"We are humbled to be a small part of this amazing retreat to honor combat veterans," said Rick Stimac, President & CEO of BB Industries. "Darkhorse Lodge will be a great escape for veterans to relax and share their experiences with others that understand what they have been through."
COVID slowed down their fundraising events last year, so the opening is now planned for summer 2022. They have received some generous donations, the most recent one being from Kohler. The framework of all cabins is complete, and will continue as they begin the dining hall and decking. All monetary and in-kind donations are appreciated.
"We are so grateful for all help we have received because we are building this place on donations only," adds Catherwood. "Finding my new purpose in life has given me a reason to get up each morning and face the challenges ahead. I hope that others will join Darkhorse Lodge's mission to help those heroes who came home enjoy life to the fullest, in loving memory of those who did not."

For more info on Darkhorse Lodge, please visit www.darkhorselodge.org . A moving video documenting the Catherwood's journey to build this unique space is posted on Youtube. Search for Darkhorse Lodge.