A Visit with Tile and Light Art of Durango
Peter J. Marcucci
Photos  Courtesy Tile & Light Art of Durango and Scott Griggs Studios
Located in the Four Corners region of the southwest, known for its breathtaking vistas and its magnificent vacation opportunities lies Durango, Colorado, a town known for its blue sky, massive mountains, and narrow gauge railroad.
Nestled within the town is Tile & Light Art of Durango, a fabrication company renowned for its unique ability to blend stone and light, creating uncompromising visual effects that embellish and refine. So much so, in fact, that the company has recently moved from its original location, to a new, more efficient facility, just a stone's throw away.
Co-owned by Paul Beasley and wife Jackie, it was the couple's uncompromising drive and persistence that turned a small, previously-owned tile showroom, into the area's foremost supplier of fabricated stone, recalled Paul. "For twenty-two years I managed national accounts for a large lumber company. I was tired of spending my life on an airplane visiting different locations around the country, so I started looking for different companies to acquire in 2010. Jackie and I both came from a small town, and we wanted to get back to that, and when this company popped up in 2011, we went, 'Oh, okay!' "
By 2012, Paul and Jackie had put the acquisition together, inked the deal, and rolled up their sleeves. You see, due to a lackluster attempt by the previous owners trying to produce countertops, it was either get all in or get all out, explained Paul. "After the acquisition, we hired a forensic accountant. He came in and looked at what we had and said, 'You have to get the countertop business up and running in six months, or it's going to drag you down.' We went, Oh! Oh boy! So I spearheaded the countertop side, while Jackie, who had many years of running her own businesses, took over the design and showroom side of things. In the beginning, part of the problem was that the previous owner was married to a local competing builder, so local builders wouldn't touch them with a ten foot pole. When we bought the business, we said, we are not builders, and we are not going to be builders. We are here to support you and everything that you do. At first they kind of had the raised eyebrow look and said, sure, sure, sure. But slowly, but surely, we just kept chipping away at them and gaining more and more market share through pricing, quality, and service and winning them over one by one."

From ultra-modern design to traditional, Tile & Light Art educates customers on tile, fixtures, material and the wide range of color choices available for their projects.

Keeping Pace with Success
As for the fabrication end of things, Paul said that when Covid began, they were all sitting around the shop wondering what the heck is going on, he continued. "I was doing nothing but figuring out our company's run rate, thinking that if we do this, this, and this, we'll make it until February of 2021. I then looked at my wife and said, 'You know, it makes completely no sense and every bit of good sense to start building a new fabrication shop.'
We were paying $3,200 per month to lease our old shop, and when we pencil this out, we are probably going to be down to $2,000 a month for a new shop. So I went to the bank and they said, 'Let's do it!', and in the middle of the pandemic last year, we broke ground. It's the best thing we ever did, because as we all know, and I don't think any of us saw this coming, residential building went berserk, and so did we. I'm not saying that I always make the right move, and I don't claim this to be anything other than just dumb luck, but the work started, and away we went!"
During a move, many owners opt to upgrade their equipment. The old equipment is then sold when the new shop goes live, but not so in this case. Other than upgrading their water filtration system, the existing machinery, a Sasso K-600 5-axis CNC bridge saw, a Park Industries Wizard and a Marmo Meccanica Edge Profiler were fairly new and very well kept.
After the move, Paul also took advantage of a program offered by Colorado State University where they come in and do an OSHA inspection, without being OSHA, and point out your deficiencies. "We worked with them and we said, 'You tell us what we need to do, and we are going to fix everything.' We then got a certification that says we've done everything needed to comply with OSHA safety standards."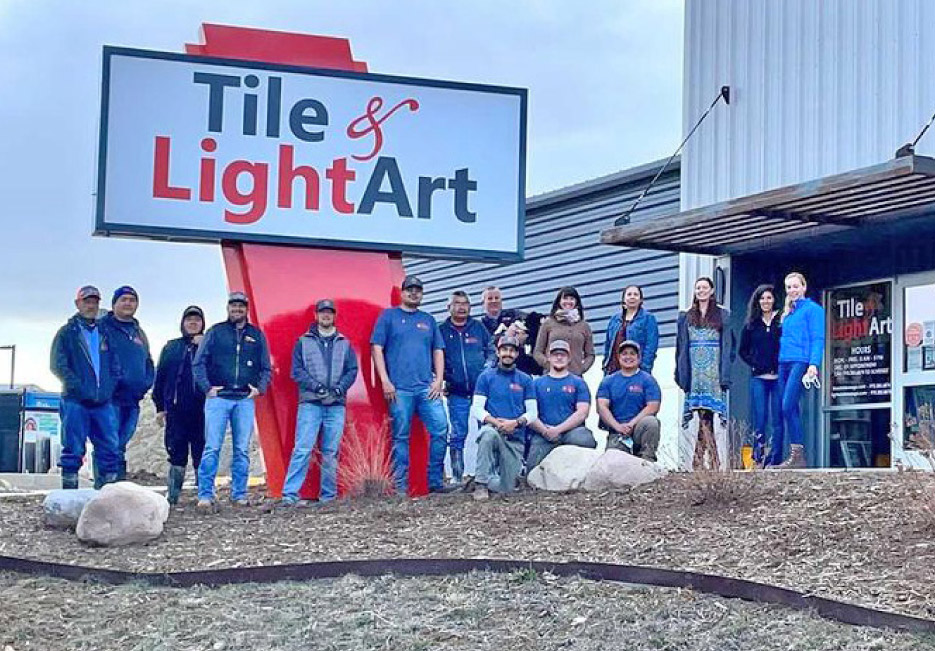 The Tile & Light Art crew, outside the showroom entrance. Employees are divided almost evenly between three departments: fabrication, installation, and showroom and admin. Lighting and fixtures sales alone account for about 15 percent of their business.

People, Service & Materials
Tile & Light Art of Durango employs sixteen people total, with five manning the shop, four doing the installations, and five in the showroom and administration. Its span of service is approximately two hours driving time, and covers all of the mountain areas of southwest Colorado and northern New Mexico. The type of work consists of 85 percent residential with the remaining being commercial, hospitality and retail. They are members of the Durango Local Home Builders Association, the local Chamber of Commerce, and acquire work mostly through its long standing relationships with builders, and by word of mouth. "We've got a very unique situation where we are," continued Paul. "We've got a talent pool of Navajo craftsmen. The Navajo Reservation surrounds us, and we were lucky enough to hire some real good guys who have been with us from the beginning. All businesses are all about the people that work with you and their attention to detail, and the pride and quality and craftsmanship of our people is incredible. Going to fabricator forums in bigger cities, or shows like Surfaces or Coverings, you hear that there is a lot of job-hopping in the big cities. We don't get that here, and part of that is because of our geographics. The other part is that we like to keep our people! They are phenomenal and a huge portion of our success. Additionally, we have a full showroom with three full-time designers and one part-time. They are tremendous at meeting and greeting and putting people at ease while guiding them through the process. When working in conjunction with a designer, they will pair-up and work collaboratively. So it's a process that works quite well for us."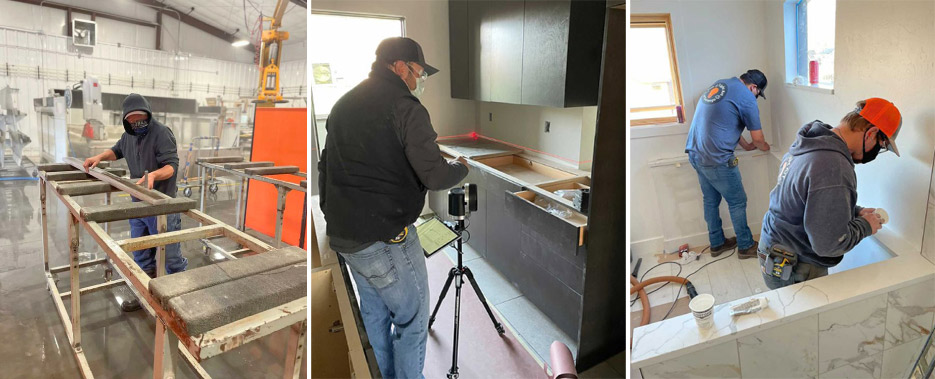 Above, left: The new Tile & Light Art fabrication shop has an upgraded water filtration system. They chose to keep their Sasso K-600 5-axis CNC bridge saw, a Park Industries Wizard and a Marmo Meccanica Edge Profiler, which were all fairly new and well-maintained machines.

Above, middle and right: Fabrication, templating and installation operations are staffed by teams with many years of combined experience in the shop and on the jobsite.

Slabs Selection Onsite
To meet the demand of its clients, the company carries a large inventory of slabs consisting mostly of granite, quartzites and quartz with very little marble. Material supply points are in Albuquerque, Denver, Dallas, and Salt Lake City, said Paul, adding, "We did do the container thing in the past, but for me the juice just wasn't worth the squeeze. However, every distributor is a long drive from here, so our half-acre slab yard and our 6,000 square foot showroom, built here five years ago, is well stocked. This was very important to us, just because we wanted everybody and everything in one location, and to speed up communication and team building." Paul added that buying containers direct really didn't save him much money, and he buys in bulk mostly from Arizona Tile, MSI or The Stone Collection.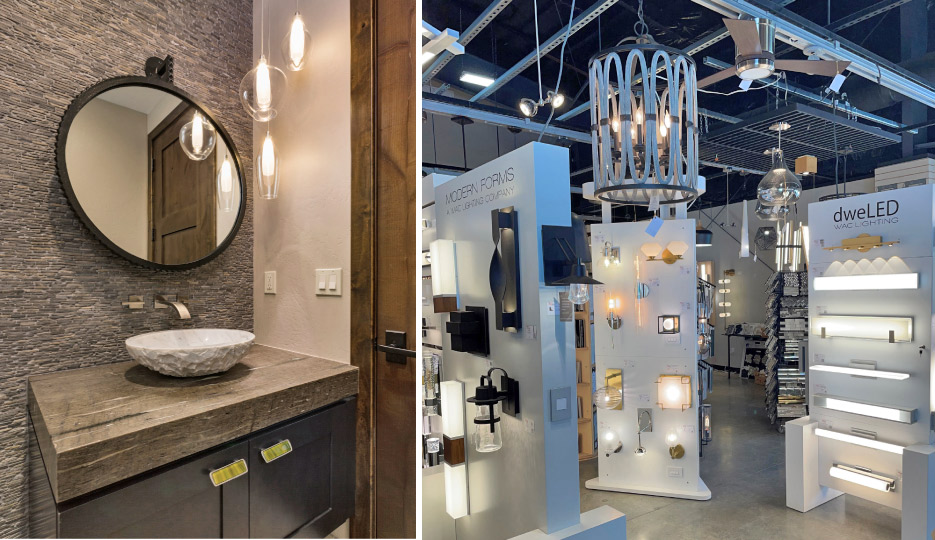 Above, right: The new facility has a 6,000 square foot showroom. Jackie Beasley is a certified lighting specialist and designer, and heads up this niche division. "Lighting can make or break a house. You can have a gorgeous home, but if you make poor lighting choices in terms of function and esthetics, it really lets a house down."
Above, left and below: Traditional and rustic, to ultra-modern, these five kitchen and bath installation samples illustrate the range of Tile & Light Art's design capabilities. Customers can select from a wide range of natural and engineered stone materials from the Tile & Light Art half-acre slab yard.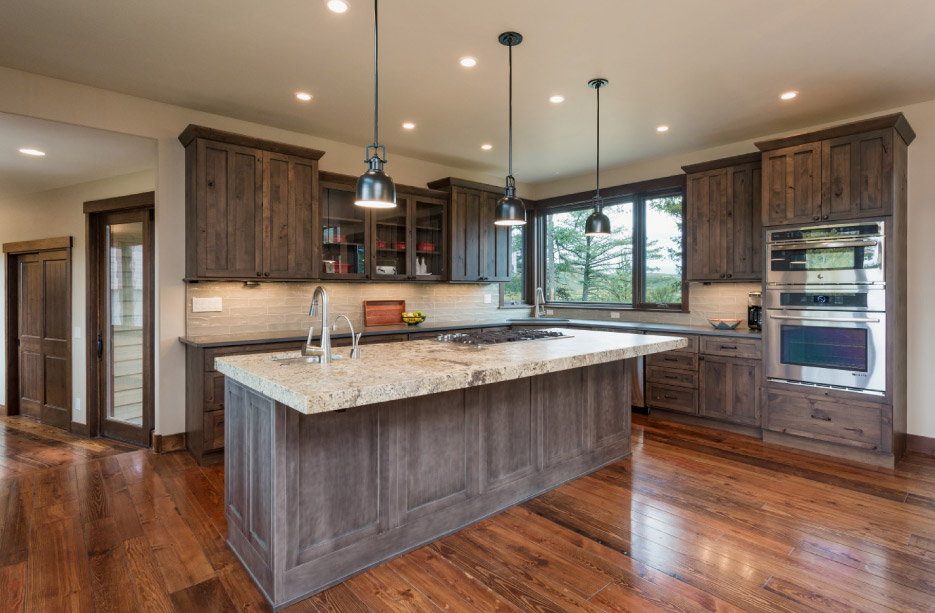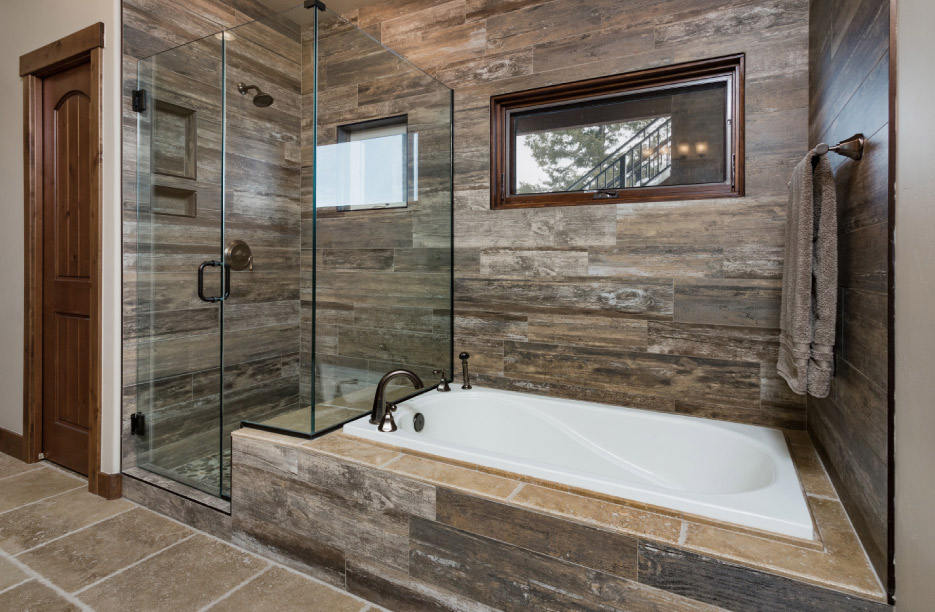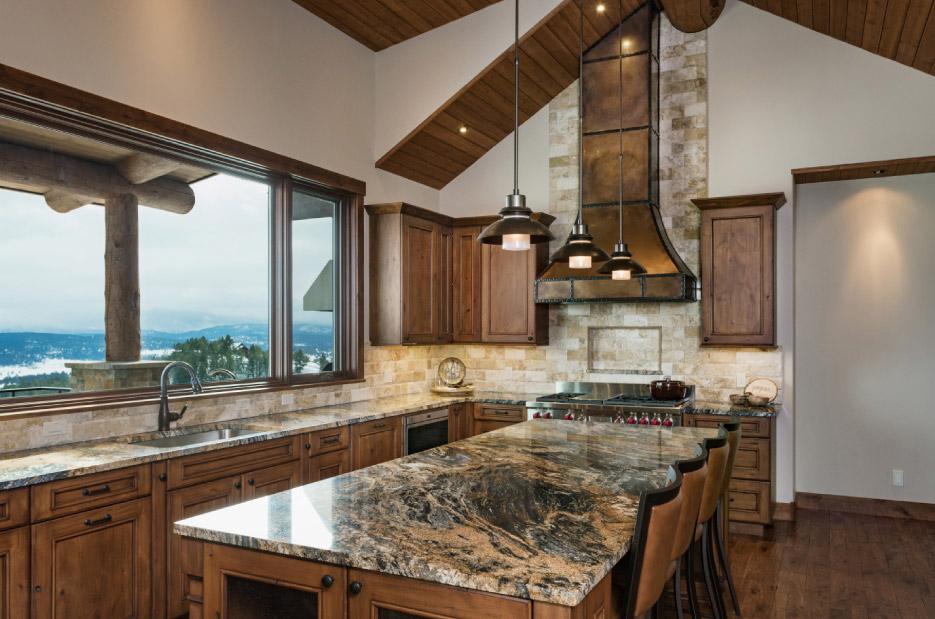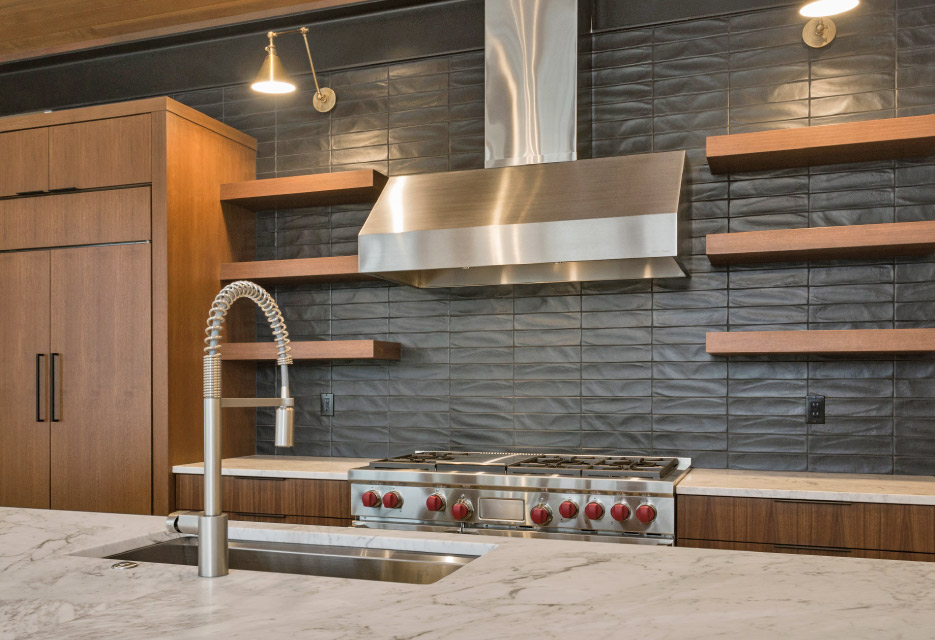 Understanding How to Be an Asset
With a construction background for most of his life, it was fairly easy for Paul to recognize the demands of being in the stone biz, he explained. "Coming from the lumber industry and construction, it's one of those things where you understand others. I understand when a builder says to me, 'Hey, I know we're behind, but can you help me improve on my schedule?' and you know exactly what he's saying. He's got a closing date looming, and we sometimes have to pull out all the stops to make sure we work with him to get that closing date accomplished. The pressure is incredible as the house comes towards final completion.
"Usually the homeowner has building fatigue, and the builder is trying to get out of that job and onto the next home project. They are also quite often on a budget, and everybody is a little tense, so we need to be a problem solver and not a hindrance to that process."

Decorative Light —A Brilliant Niche Offering
Seeing a niche market that would further adorn their clients' homes, the couple invested heavily in all styles of chic lighting. It is run by Jackie, who is a fully certified lighting specialist and designer, continued Paul. "She does an excellent job. Lighting is always front and center in our business, but it's the fourth product category. In terms of volume, it's about 15 percent. We have really morphed into the design world, and we have beautiful fixtures that complement our stone work. I always like coming in, because it's always gorgeous, and I love lighting. Good lighting is like jewelry on a beautiful woman, and makes everything look one step above."

Success Etched in Stone
Tile & Light Art of Durango has lots of competition. Paul looks at them and sees what they are doing, but doesn't focus on them. He instead focuses on what he does, and runs the company with care and efficiency, he explained. "We do what we say we are going to do, on the timeline that we say we are going to do it. That's the biggest thing, especially with our clientele. They are counting on reliability, and we provide that along with excellent craftsmanship and quality at a competitive price. We are not the cheapest, those things and our get-it-done attitude keep our customers happy. Given our market here, we are very much into the custom fabrication world, and we always want to be the best. Anything new that comes out, such as materials, applications or design trends, we want to instantly be on top of it. We always like to be at the forefront, and we like to try new things. We love this business, and we wouldn't trade it for anything."

For more information, visit www.TileArtofDurango.com .