The Stone Detective: The Stone that Doesn't Like Cold
Frederick M. Hueston, PhD
It was a bright and sunny day here in Florida. I woke up early, got dressed and headed over to my favorite greasy spoon for a cup of joe and maybe some waffles. I know it's a switch from my normal bacon and eggs, but what the heck.
I put on my fedora and trench coat, grabbed the keys to the old Woody and headed out the door. I no sooner got in the Woody when my cell phone rang. The voice on the other end sounded very calm and professional. He introduced himself as a homeowner who had a modest summer home in the mountains of Colorado and has some issues with his stone balconies. Yes, that's not a typo – he said "balconies," as in more than one. He told me he had built this house several years ago and limestone was used all over the house.
I asked him what the problem was, and he told me the following story:
Several years ago, I started noticing a lot of algae and mold growing on the stone. I have had it cleaned several times, but it keeps coming back shortly after they clean it. It is also flaking in numerous places. He said he was at his wits end and needed someone like me to come take a look at it, and figure out what was wrong with it. Well, who was I to turn down a trip to Colorado? Too bad I don't ski but I'm sure I can find something to do there.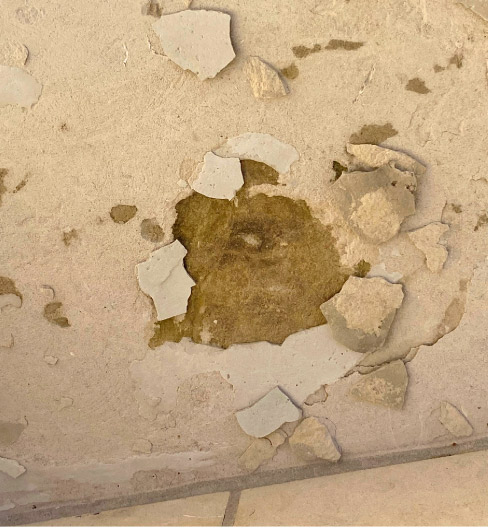 A classic example of spalling due to freeze-thaw conditions. Sadly, In this case, reinstalling a more suitable limestone is the cure.
I made it to the diner, walked inside and greeted Flo, and ordered my breakfast. Of course, the Admiral, one of the regulars, was telling another one of his war stories. I'm sure it was the same one he tells every day, hoping to find a new ear to tell it to. I finished my breakfast, blew a kiss to Flo and thanked the Admiral for his service and headed back to my office to book my trip.
The day of my trip to Colorado had arrived. I drove to the airport, headed to my gate and I was off.
I pulled into the long drive at the address the GPS sent me to, and in front of me was this little, modest home. (Now you can look at the photo.) Yeah, it was only a summer "cottage," and one of only five of his houses.
I pulled up against the four-car garage and knocked on the back door. A tall, lean gentleman answered the door and introduced himself as the owner. I'd tell you who he was but I was sworn to secrecy.
We sat down and he told me again what his issues were. One of the things he told me was the type of limestone he used. I would mention it in this story, but I don't want to get any hate mail!
The type of limestone he chose was very soft, very absorbent, and is prone to freeze thaw failure. Before I had a chance to look at it I was sure this was the type of damage I was going to see. Sure enough, we walked outside to one of the – dozen – balconies, and the stone was flaking and spalling. It was also full of mold and algae, which was not uncommon for this environment. But, this stone is also noted for harboring biological growth. Fortunately, I only know of two or three buildings in the entire US that have this type of stone. However, the others are in warmer, subtropical environments where freeze-thaw is not an issue. Now, for those of you unaware of what freeze-thaw damage is, here is a brief explanation. When rain or moisture enters the stone and then the temperature drops to below freezing, the ice crystals expand within the pores of the stone causing the stone expand, and to flake or spall.
No matter how lavish or simple the setting, choosing the right stone for the environment will help your project last longer.
The damage on these balconies was extensive, and in my opinion, it was not only installed improperly, but a different type of limestone should have been used. I recommend replacement with the proper stone.
Another case solved. Now off to the golden Rockies, and perhaps some buffalo stew.

The Stone Detective is a fictional character created by Dr. Frederick M. Hueston, PhD, written to be entertaining and educational. Dr. Fred has written over 33 books on stone and tile installations, fabrication and restoration and also serves as an expert for many legal cases across the world. Send your email comments to him at fhueston@stone forensics.com.