Stone Restoration and Maintenance Corner: Floor Restoration Products and Their Use
Bob Murrell
M3 Technologies
Photos by Bob Murrell
The most common technical support calls I receive involve instruction on what product to use for a specific application and how to use it. As you probably know from reading any of my articles across the years, by submitting a test area you accomplish two major confirmations: the end results, and the most effective procedure to reach them. So there you have it – my best shot – so you should have no further need of my advice. I've just made myself obsolete. LOL!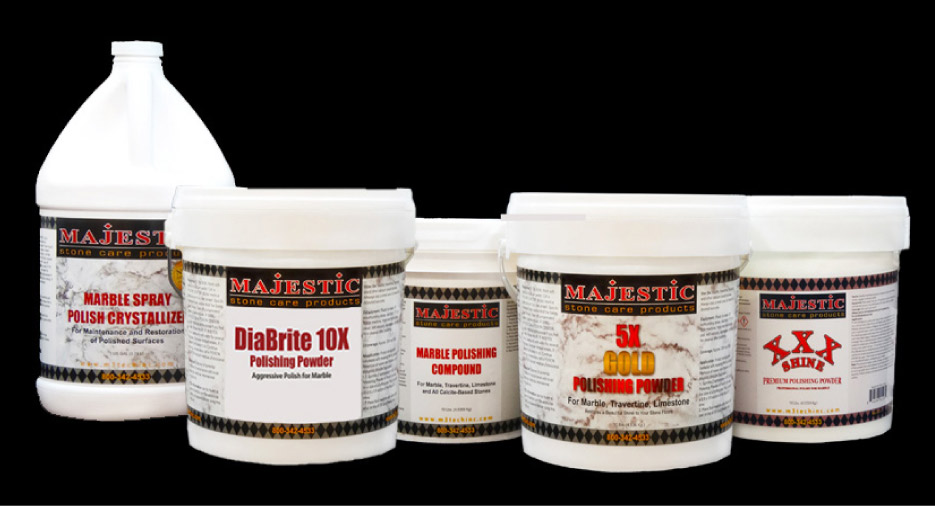 My go-to premium marble polishing products include Majestic 5X Gold, Marble Polishing Compound (MPC), XXX Shine, DiaBrite 10X, and Marble Spray Polish Crystallizer.
But let's first talk about the most used Majestic product(s): the polishing powders and compounds for marble. The Majestic 5X Gold, Majestic XXX, Majestic Marble Polishing Compound (MPC), and the Majestic DiaBrite 10X are the most common products used for the polishing of calcareous-based stones such as marble, limestone, onyx, alabaster, terrazzo, and some other stones, as well. Majestic 5X Gold is the number one marble polishing product, but having some of the other products on hand may help with particularly stubborn stones. I advise that everyone should have a small amount of XXX, 10X, and MPC on the truck, just in case the 5X doesn't give the desired result.
All of these products are used in basically the same way. Each is typically used with a slow, speed single disc machine, but there are exceptions. This can be a floor machine or a hand tool. Single disc machines normally work better for this procedure as the product is more effectively captured under a slow speed disc.
I typically use a natural pad (sometimes referred to as a hog hair or simply a hair pad). Of course, there are different varieties of these pads, with some having larger amounts of hair and others with less. I like the Elite pads M3 sells, but we also sell a heavier hair pad, too. I used to use red pads, but they can transfer dye on high lips (edges) sometimes. In any case, it is a personal preference, so use whatever works best for you.
I recommend wetting the area to be polished with clean water first, adding a 1/4 cup or so of the Majestic 5X Gold, XXX, 10X or MPC in a small line, then adding the pad and machine. Polish a 25 square foot to 40 square foot area at a time, something you can easily reach with the machine. Make 4 to 8 slow and even passes. If the little circles you see when moving the machine from right to left are spaced further than 1 inch apart, you are moving too fast. Keep a little hand-held squeegee in your back pocket and it will help you to check your progress. Once polished, wet vacuum the slurry, immediately flood rinse with plenty of clean water (some use pH Neutral Cleaner in their rinse water), and do another wet vacuum. Complete large areas in a checkerboard fashion, overlapping completed areas to blend.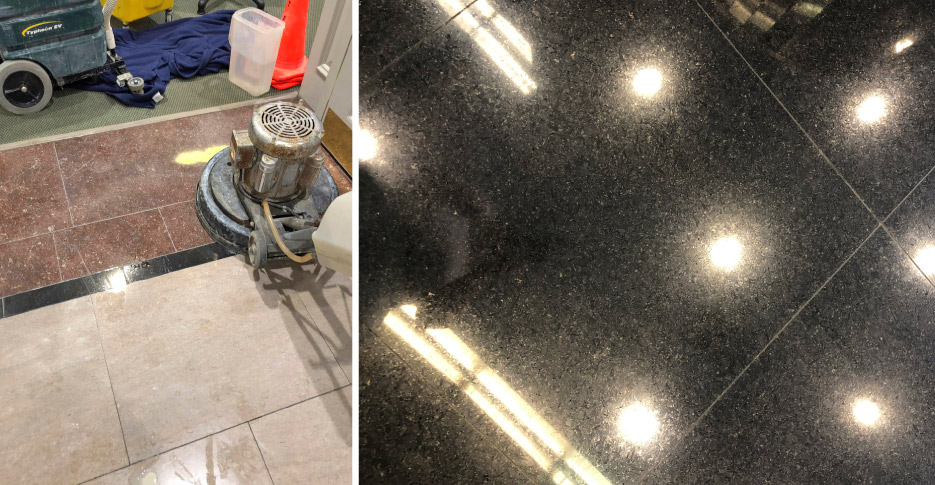 Above, left: Here, I've applied clean water to a small section of marble floor. I'm using a swing machine with Majestic 5X Gold.

Above, right: Absolute Black Granite floor after polishing with Majestic Granite Polishing Powder Dark.
I suggest that you play around with the amount of machine weight (I like about 125 pounds total), amount of water to powder ratio, number of passes, and which product works best on a particular stone to achieve the desired results. In many cases, it helps to run a 12,000 grit diamond impregnated pad (DIP) wet, like the Majestic PLP series over the surface, to rectify any heat swirls that may have resulted from the polishing process. This last step can really clean up a freshly-polished marble floor nicely.
Speaking of dips, many contractors ask if they should be run wet or dry and low speed or high speed. The answer is, "Yes." Dips tend to cut more when used slow speed and wet. They tend to produce a higher finish when used high speed and dry. So you see, it all depends on the application or project requirements. I use them slow speed and wet for re-honing marble and limestone. Many use them under auto-scrubbers, for an economic, light resurfacing tool on smooth concrete floors.
You can also do a chemical-free scrub and recoat on floors with finish. Simply use your swing machine and the appropriate dip (usually an 800 grit will work well) and water. It will remove heel marks, scuffs, and light discoloring so that you are ready for a new application of finish.
Using the dips dry and at high speed (like a burnisher) tends to produce a higher shine. You can also use them dry with your slow speed machine, as well. Many floor refinishers use a 1,500 or 3,000 grit pad to even out and shine up a concrete or terrazzo floor, once they have been polished to a 1,500 grit or 3,000 grit with a resin puck or disc. You can also shine up and harden many Concrete Guards and floor finishes, including the newer "ceramic type" finishes. You can also use the 12,000 grit to buff out polished marble or limestone floors, too.
At M3 Technologies, Inc., we have many polishing products for granite and similar stone, such as quartz, green marble (serpentine), and quartzite. We stock Granite Polishing Powder (available in light, dark, or extra dark), which is a mixture of fine aluminum oxide and tin oxide, pure tin oxide (kind of expensive but very effective), Granite's Gloss (a branded paste product from Italy), and our Majestic Granite Polishing Compound. Once again you may ask, "Well, which one is the best, and the one I should have?"
The answer is similar to that concerning marble polishing: it all depends on the stone, and you should probably have some of each with you to test.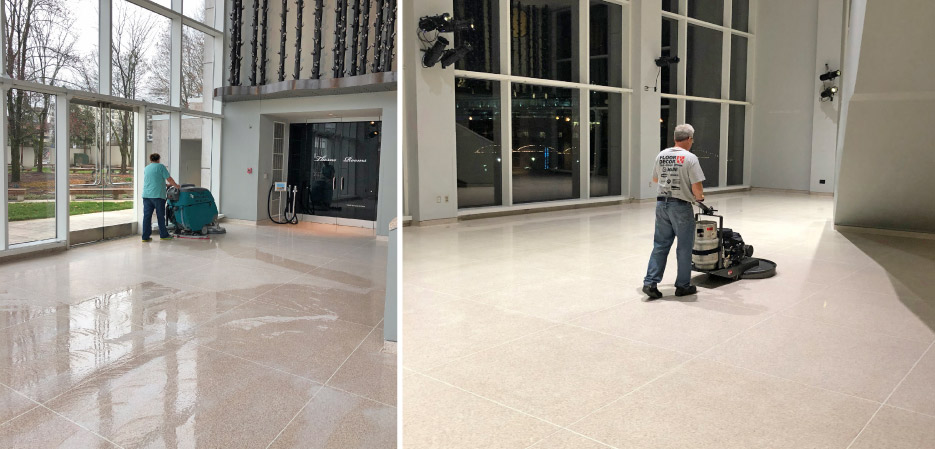 Above, left: Diamond impregnated pads (DIPs) used wet on terrazzo, under an auto-scrubber.


Above, right: DIPs being used dry under a propane-powered high speed burnisher for a "ceramic sealer."
When polishing granite and similar stone, you can use a natural or hair pad, or the latest preferred method of using a #0 (or close to 0) steel wool pad. It all depends on the application. For touching up countertops, I would probably try a hair pad or #0 steel wool with some Granite's Gloss first, as this is typically sufficient for this type of operation. If I was polishing after refinishing (honing), I would probably go with the Granite Polishing Powder, Majestic Spray Crystallizer (no water), and a #0 steel wool pad. This last procedure is slow and labor intensive, as you need as much weight on the machine as possible.
Do about a 9 square foot area at a time. Apply a tablespoon of the Granite Polishing Powder in one spot, give a couple (2-4) spritzes of the Crystallizer, and use the steel wool pad to spread the paste over the area. Buff until the paste starts to dry and re-spritz with a couple more squirts of the Crystallizer to lubricate. Go until it starts to dry again, and repeat the procedure until the desired polish is achieved.
I like to put a natural pad on my pad driver, and then the steel wool under the natural pad. This is to help keep the steel wool from adhering and collecting to the pad driver, and also from tearing the steel wool up prematurely.
I hope some of these technical tips will help you. Don't be afraid to call your distributor for technical assistance.

As always, I recommend submitting a test area to confirm both the results and the procedure prior to starting a stone or hard surface restoration or maintenance project. Also the best way to help ensure success is by partnering with a good distributor, like BBI, that knows the business. They can help with technical support, product purchase decisions, logistics, and other pertinent project information.
I pray you all stay safe and healthy.

Bob Murrell has worked in the natural stone industry for over 40 years and is well known for his expertise in natural stone, tile and decorative concrete restoration and maintenance. He helped develop some of the main products and processes which revolutionized the industry, and is currently the Director of Operations for M3 Technologies.