No-Lift Transitions to New Manufacturing Facility to Better Serve Customers
NO-Lift Install Systems has moved operations to a new facility in Estacada, Oregon, a small community near Portland. The move into the 4,000 square foot facility was made in March, and the upgrade is a measure of the company's success over the past eight years. All operations and production will be based out of the new headquarters.
The No-Lift System crew celebrates their new 4,000 sq. ft. manufacturing facility. The goal of the new facility is to bring all the production processes in-house, with an emphasis on quality control.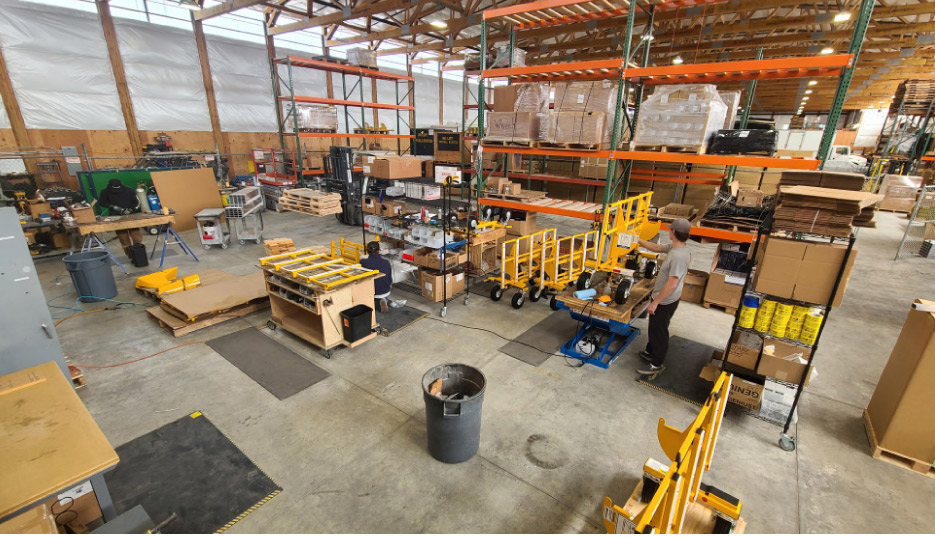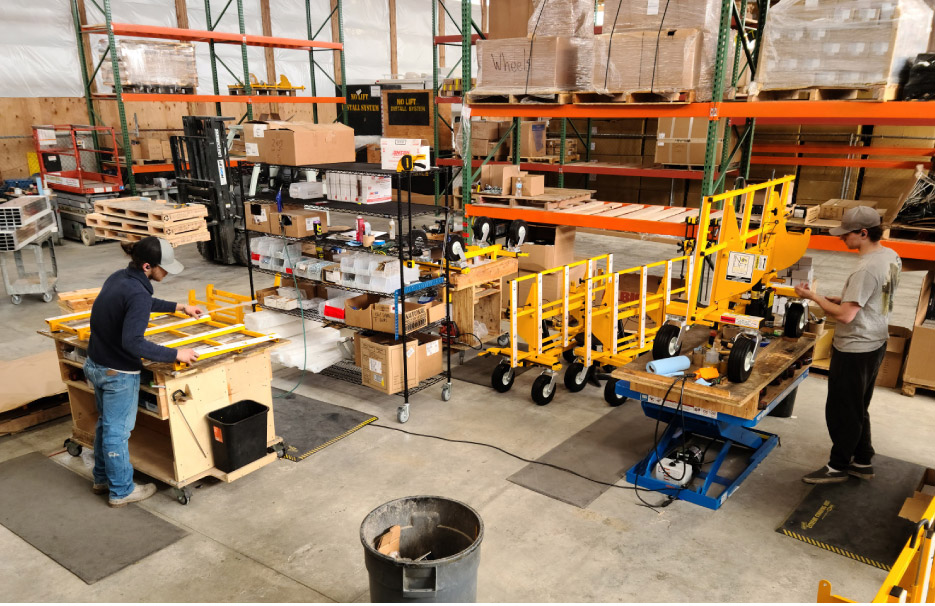 "The new facility will give us room for growth, with room for new equipment and processes, and will be solely dedicated to No-Lift production and marketing. When you consider we started out in a shared space in the back of Crowley's Granite Concepts fab shop, with Aaron's install guys doing on-the-job testing, we really have come a long way," said Wesley Rice, Marketing Manager for No-Lift. No-Lift is already shipping new carts assembled in the new location.
Rice continued: "We will be moving in some new equipment. Our plan is to do the manufacturing process in-house, from beginning to end. Due to space and equipment limitations, in the past we've had to sub-contract the welding and powder-coat. Doing all production start to finish, in-house, will give us closer quality control," Rice said. The additional equipment will facilitate in-house processes like robotic welding and CNC machining. No-Lift currently has 14 employees, with 9 on the manufacturing side of the business. Some office staff are still working part of the time from home, a health and safety measure adopted in 2020 during the pandemic, and gradually being relaxed.
No-Lift has new products in development, and the new facility will enable them to go to prototype even faster. In a February Slippery Rock Gazette interview with No-Lift inventor Aaron Crowley, he hinted that they were developing a trailer and crane system to load countertops onto the No-Lift cart at the jobsite. If you have ever loaded or unloaded stone from a trailer, A-frame or truck bed by hand, a safer way to save even more backs and knees sounds like a great idea.
Rice concluded: "I get letters a regularly from guys who love the No-Lift System, and can't thank us enough for saving their backs, and making installation safer and less physically demanding for themselves and their install crews."

For more information, video demonstrations of the No-Lift in action, and user testimonials, go to www.noliftsystem.com. Email Sales@NoLiftSystem.com or call 503-212-4034.