Stone Restoration and Maintenance Corner: Musings from An Old Stoner
Bob Murrell
M3 Technologies
Photos by Bob Murrell
I have seen quite a lot in my well over 40-year career in the natural stone and eventually the hard surface restoration and maintenance industry. I started in this business when I was very young, around 10 or so. I wasn't actually grinding floors at 10, but I did help to manufacture abrasive bricks and polishing heads. I worked in manufacturing and stone tool distribution until I went into the Navy, and took up selling tooling again while attending college.
I started working on existing floors and other surfaces when I was about 30. I went back to work for my stepfather at VIC International, after a stint at a nuclear facility in South Carolina. We started our Restoration & Maintenance (R&M) Division to help accommodate contractors who restore and maintain existing stone, terrazzo, ceramic tile, and decorative concrete surfaces, probably around the late '80s or early '90s.
Our first priority was to be able to help contractors restore and maintain marble and similar materials, as these surfaces tend to show wear and chemical attack the quickest. These surfaces, as you know, are susceptible to attack from acidic and in some cases strong alkaline products, and the result is etching and burning of most any surface that is calcareous. These etch marks stick out like a sore thumb, especially on any polished calcium-based surface.
So we took our many years of supplying products to quarriers and fabricators and began to supply products to the R&M industry, which was in its infancy, here in the USA. Fortunately, we had connections all over the world, especially in Italy and throughout Europe. So several of us traveled to Europe frequently, so we could learn from the masters. Of course they knew the geology and chemistry better than most anyone. After all, they had been dealing with dimensional stone and other hard surfaces for thousands of years. America, on the other hand, was only a few centuries old and much of our installed surfaces differed, in some respects, from our European friends.
Here in America, polished surfaces were and are being used everywhere. Shiny is clean. In Europe, most polished surfaces are normally relegated for vertical and decorative surfaces only. For functional surfaces, like flooring, the Europeans most always use honed materials. Now that modern stone processing technology has made it possible for the use of laminate stone (12x12x3/8 inch tiles), these polished surfaces are even easier and more economical to install. Naturally, along with the use of these tiles, there is also the propensity for increased grout lines and lippage issues.
So you see, there is a definite need for trained professionals to evaluate, restore, and prescribe maintenance for all of these hard surfaces. We set out to do just that. I have literally done thousands of training seminars for customers from all over the globe. And of course, I'm not the only one who has been doing this, just one of the ground floor people, so to speak.
Of course, we trained people on granite, terrazzo, ceramic tile, and were some of the first to polish concrete here in the USA. I remember polishing the concrete in the inventory area of the Bellagio in Las Vegas in the early 1990s. Back then the process hadn't been refined quite as well as it is today, but it still looked pretty good.
Nowadays, polishing concrete is very common. However, naturally polished concrete is not used everywhere, especially in areas where high traffic and spillage from acidic materials is prevalent. So now one of the standard practices is to hone the concrete to about an 800 grit and then apply a Concrete Guard product (topical coating) to help protect it from these spills. This is the procedure for most grocery stores and other similar applications. Also, concrete that has been stained must be protected, as well. This same procedure is also valid for terrazzo, especially cementitious terrazzo.
Above, left: Etched polished concrete where the Guard product was worn away by foot traffic, exposing the unprotected surface.
Above, right: Polished concrete where the Guard product has been degraded and the surface is under continual attack by acidic spills (like vinegar from pickle jars!).
As I mentioned earlier, polished marble is one of the most high-maintenance stones and in the good ole US of A, we have plenty of it. Of course there is also plenty of polished marble used in the Caribbean, South America, and Asia as well. Where there is naturally polished marble, limestone, terrazzo, and concrete, there is also a need for maintenance and in some cases, restoration.
With a great number of square footage of these surfaces being installed, there are issues that come up like some not being done correctly, or at least, the quality level of the installation was not up to professional standards, so to speak. For example, there are tile contractors who may use sanded grout on marble installations. Lately, I see this fairly regularly, and some of the grout manufacturers even label their sanded grout as suitable for marble and other dimensional stone installs. This of course can, and probably will, inhibit future maintenance and certainly restoration projects which may require grinding, honing, and/or polishing procedures.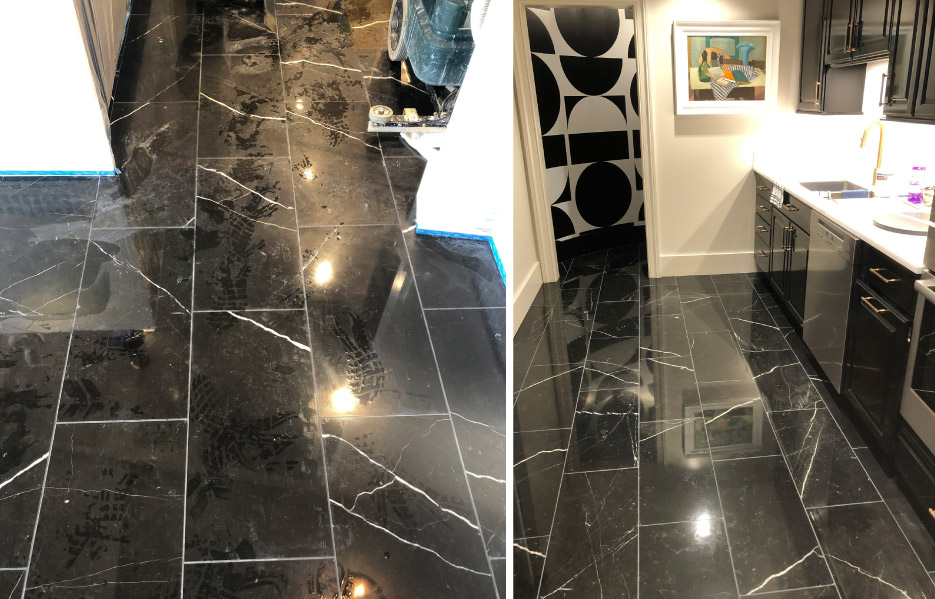 Above, left: Excess material left by installers on black marble. They were unable to successfully remove.
Above, right: A restoration contractor was hired to remove and re-polish the black marble floor. They used Majestic 5X.
They may also use grout lines that are too wide because they are used to laying ceramic tiles that require larger grout lines to offset the low dimensional tolerances of some ceramic tiles.
Even though the use of more durable surfaces (i.e. granite, quartz, and quartzite) is usually the best choice, the use of marble for kitchen countertops is becoming more prevalent today. Both honed, which would definitely be preferred, and polished marble countertops are becoming quite common. Of course these marble tops will require much higher maintenance than the more resilient granite-like surfaces. These surfaces will definitely provide increased business opportunities for the R&M contractor.
Above, left: Honed marble severely etched by acidic spills over time.
Above, right: Honed marble after restoration by a qualified R&M contractor.
Now that the total lockdown for the COVID pandemic is nearing its end, due to both the vaccine and natural infection rates, it seems that business is picking up very quickly, at least here in the South. It also seems to be picking up most everywhere else as well. I know because I am in the R&M manufacturing and supply industry and we are seeing a definite improvement in sales. So gear up and get ready, there are many surfaces that will require you services soon!
As always, I recommend submitting a test area to confirm both the results and the procedure prior to starting a stone or hard surface restoration or maintenance project. Also the best way to help ensure success is by partnering with a good distributor, like BBI, that knows the business. They can help with technical support, product purchase decisions, logistics, and other pertinent project information.
I pray you all stay safe and healthy.

Bob Murrell has worked in the natural stone industry for over 40 years and is well known for his expertise in natural stone, tile and decorative concrete restoration and maintenance. He helped develop some of the main products and processes which revolutionized the industry, and is currently the Director of Operations for M3 Technologies.