Upstate Granite Solutions Offers Rock Solid Service
Peter J. Marcucci
Photos  Courtesy Upstate Granite Solutions
Additional photos by Greenville Real Estate Media and Cayer Commercial Photography
When Paul Nichols enlisted in the United States Army in 2009, the plan was to become a military chaplain and an assistant pastor, while also getting his master's degree. In spite of this, the army had other ideas, recalled Paul.
"I was commissioned as a second Lieutenant in the armored division and trained at Fort Knox, Kentucky. I was basically a tank platoon commander for a total of five years, until I was injured, breaking both of my legs."
After seven surgeries, Paul was medically retired in 2014, and he and wife, Kelly, moved to Greenville, South Carolina. Uncertain of how to make a living at this point, Paul got resourceful and rolled up his sleeves, he continued. "As a civilian, I really didn't know what to do. My wife was pregnant with our first son, so the timing wasn't the greatest. We had no house and no income, either, and we were living with my aunt and uncle, so I began doing odd jobs such as pouring concrete and putting up fences."
Soon after, Paul and Kelly purchased a foreclosed home in need of work, including kitchen countertops. However, after searching the local fabrication shops, the couple went a different route, said Paul. "All we found was poor customer service and pricing that was all over the place. It was a very disappointing experience that led to a lot of frustration." Out of that frustration, he began to search for a solution for his needs, and that solution presented itself to provide his own countertops, he continued. "I bought some slabs from a company that was going out of business, and watched videos to learn how to fabricate and install them. After that was successful, I thought I could sell off the slabs that were left over, which I did!" Successful, indeed, and with a clear path to follow into the future.
Currently in its sixth year of operation, Upstate Granite Solutions is an all-under-one roof, 20,000 square foot showroom, warehouse and shop. Equipment consists of a CMS CNC, a CMS CNC saw, a FAB-KING Fabrication Center and a Marmo Meccanica Inline Polisher. The array is topped off with an overhead crane, outfitted with a Manzelli Vacuum Lifter. The company has also recently broken ground for a new 11,000 square foot fabrication shop. It will include all the above equipment as well as a new Northwood Raptor dual table waterjet, a Northwood CNC, and a Marmo Meccanica Inline Polisher. A second Kaeser screw compressor and a 3-axis crane spanning the entire production floor will also be added. Once completed, the old shop will be turned into an extension to the current showroom, adding an additional 5,000 square feet.
Below: Walk-through warehouse and showroom combines meeting areas, vignettes, samples, and slab display. Expansion plans an additional 5,000 square feet to the showroom.

Current shop equipment includes a CMS CNC, a CMS CNC saw, a Fab King Fabrication Center and a Marmo Meccanica Inline Polisher. Expansion plans for a new 11,000 square foot fab shop will add a Northwood Raptor dual table waterjet, a Northwood CNC, and a second Marmo Meccanica Inline Polisher.

Upstate granite's dedicated fabrication team stands behind their work. Customer satisfaction and word-of-mouth through social media outlets helps drive customer traffic to the shop.

Solutions for Success
Competing mostly in the high-end residential market, Upstate Granite Solution's sales are approximately 60 percent contractor and 40 percent walk-in. Employing a very talented staff of 38, all are considered family, said Paul.
"Without my employees, I wouldn't have a company, and fully realize that. I've given our key players the responsibility of this company, and the freedom to basically run a little business inside this business. I don't micro manage. I guide and help and give criticism about how I want things done, if that's the case. They have the opportunity to spread their wings and to use their gifts and abilities the best they can. Even the new-hires will come in and see that this company is different from their last, and that's important to me, because I want to take care of them as part of my family.
"Everyone from the guy who sweeps the floor, to the templater, to the installers; everyone has to have the same mindset for us to be successful in our mission, which is to be the best solution for our customers. We have weekly meetings to go through the previous week's wins and losses, and we use it as a time to learn as a family, and not to beat anyone over the head for making a mistake. How can we fix the problem or how can we not have this problem happen again?
Everyone feels that it's a safe and secure space to talk and it's a huge way to motivate them to give our customers the best experience."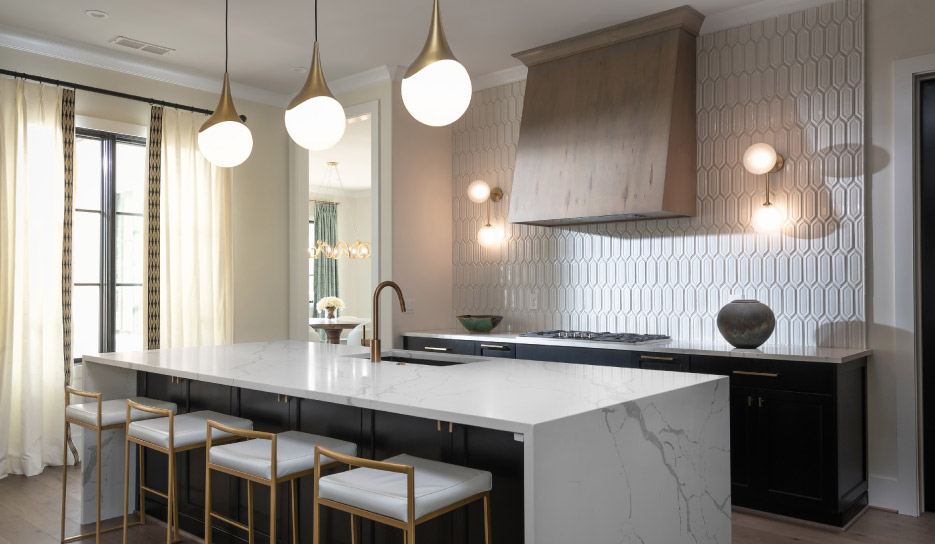 Above: Open plan residential kitchen features Calacatta Laza polished quartz with full-sized eased double waterfall island.
Photos (2) Cayer Commercial Photography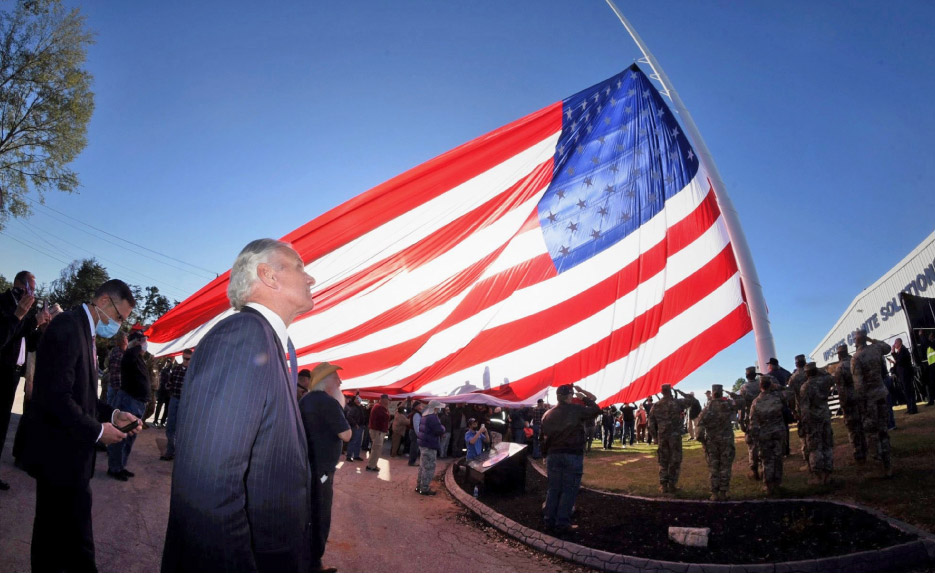 Above: S.C. Governor Henry McMaster (at left) lent his official presence at the Veteran's Day flag-dedication ceremony.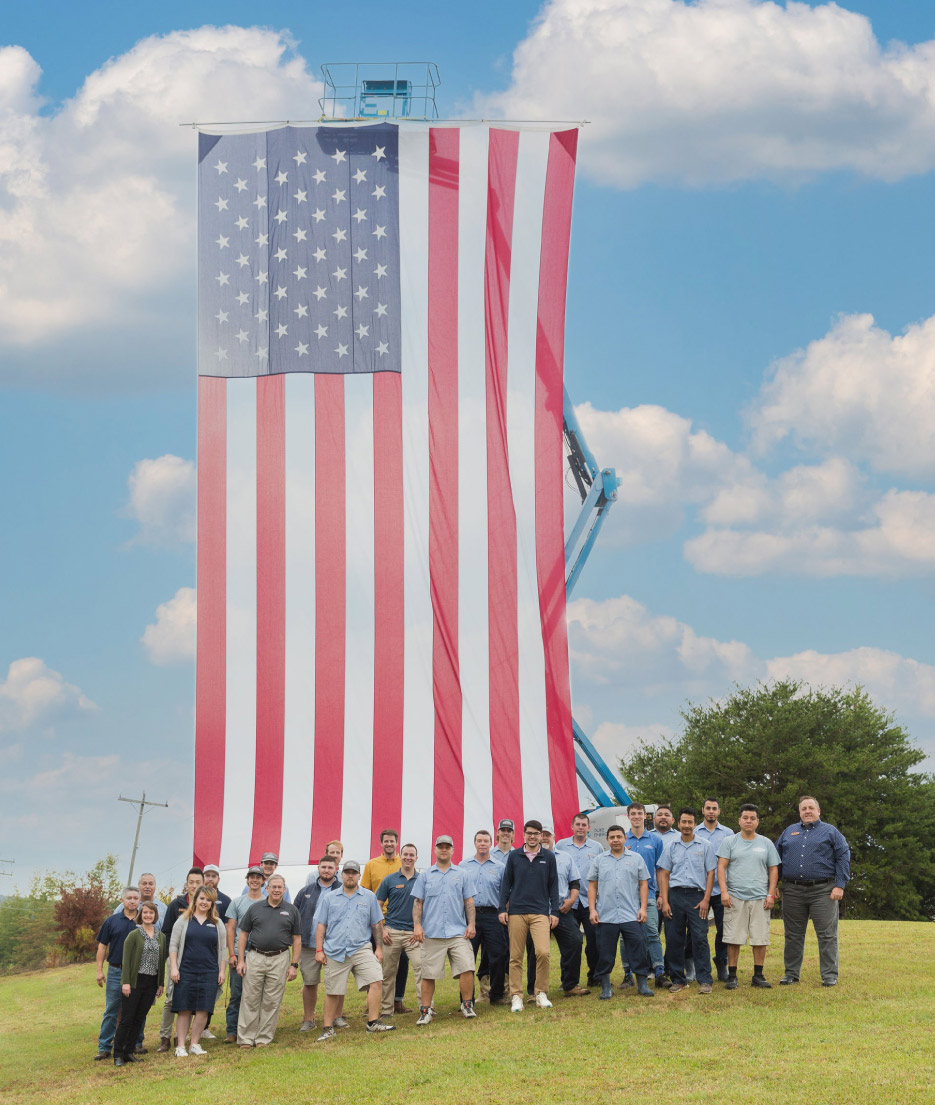 Above: The Upstate Granite Solutions crew gathers in front of their specially sewn 50 x 80 foot American flag.

Marketing, Product Promotion

and Sales
All seven of the company's showroom staff are non-commissioned, and are there to educate customers from conception to completion, and to assist that job when it goes into production, said Paul. "Some customers come in confused and frustrated. They are at the end of a very long building project and don't know where to turn or what to do when it comes to their countertops, and everyone of our showroom staff strive to make it as simple as possible through education. We keep our pricing simple and transparent, and customers come to us and tell us they know we are not the lowest price, but they trust us to get the job done right and that we stand behind our work."
Worth mentioning is that Upstate Granite Solution's showroom is actually a walk-through warehouse complete with vignettes. Talk about "what you see is what you get!" The company will also showcase the wares of a cabinet company, Paul explained. "We formulated a relationship with a local cabinet company that will be renting space in our new showroom. I'm actually going to train one of our staff to sell their cabinetry, and we will get a percentage of the profit of the sales. That's a big advantage, because we can design the cabinets along with our countertops and backsplashes without muddying up the water or diluting what we are, and that is to be countertop experts in our market. I don't want to be in the cabinet business and carry the inventory! I just want to offer these things to our customers for ease of use and a good experience."
Home shows are also part of the company's repertoire. Paul is a member of the Home Builders Association of Greenville, and understands the value that it has, he continued. "We set out to use the home show not as a lead generator, but rather as a brand awareness and community outreach. We had six different televisions going with six different videos that we had produced to showcase our company and what we do. We didn't use it to get them to sign and get their information. We just gave out our information to let people know who we are. We've also gone around and gotten to know the contractors there. We've built relationships with them, and they bring us steady business throughout the year."
Additionally, the company can offer-up highly rated contractors that can knock down or build a wall, plumbers that can hook up faucets or gas lines, and tile companies that can install flooring. "We are not licensed or insured to do any of those things," said Paul, "but we can coordinate our customers with reputable contractors that we've worked with for many years, so the customer does not have to continue looking. They've found their answer with us."
According to Paul, he spends very little on marketing, and does not have outside source people. Instead, they've developed an online presence with social media and customer's reviews, he explained. "I really believe that word-of-mouth reviews have been the biggest asset to our growth. We are very proud to have a 4.9 Star Google rating. There's not a day that goes by that people come in and tell me that they heard of us by searching online and reading our reviews! I really feel that this is part of what sets us apart from our competitors. So we don't spend a lot of money, and if I told you our budget, you'd probably be shocked, and I'm happy about that!"
As for the effects of the COVID shutdown, Paul said that in the beginning there was a huge reduction in traffic, but not for long, adding, "After the first two weeks, we saw a huge increase in walk-in traffic, and our contractor sales increased by 40 percent. We then exploded the rest of 2020 and 2021. So over all, COVID has not had any negative effects on our number of customers, and actually had the opposite effect."
Upstate Granite Solutions' average service radius is 30 miles, which covers from Greenville out to Spartanburg or to Anderson. According to Paul, that radius keeps them loaded with work, averaging over 200 installations per month. At any one time, an average of 800 to 1,000 slabs are in stock with all being purchased through six local vendors; none at this time are purchased quarry direct.
Above: Residential master bath features a Mont Blanc leathered marble custom double vanity backsplash.
Photo: Greenville Real Estate Media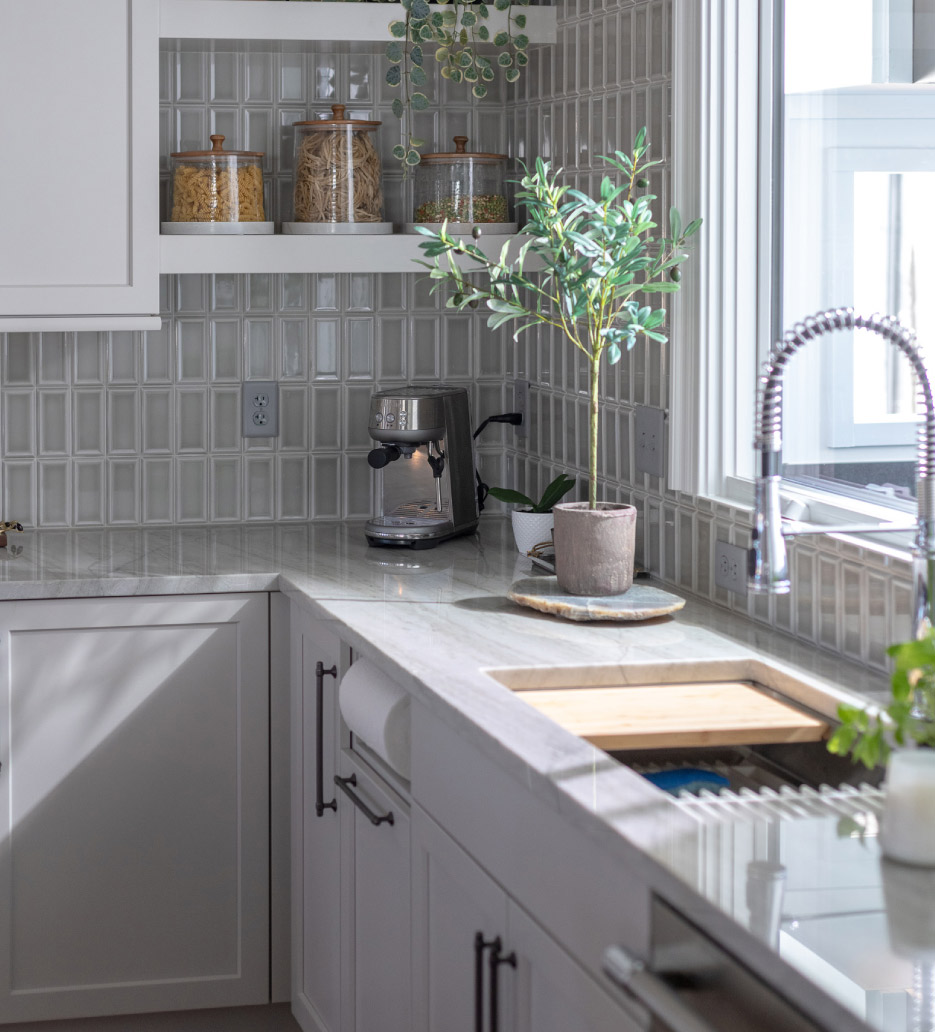 Above: This Brownstone project with Stoneledge Properties features Sea Pearl polished quartzite tops with HGI cabinetry.
Photo: Cayer Commercial Photography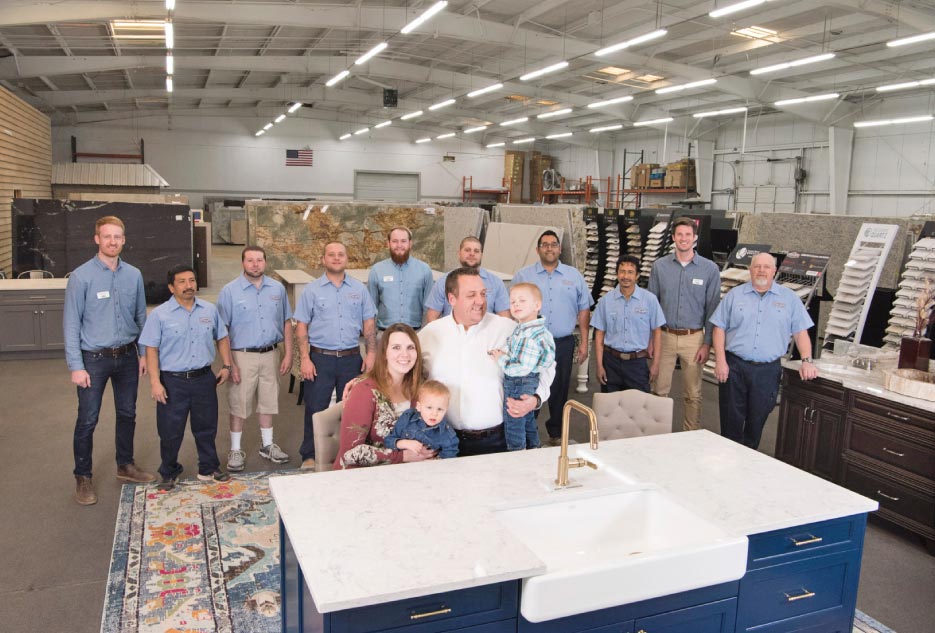 Above: Upstate Granite's combo showroom / slab display from their first year.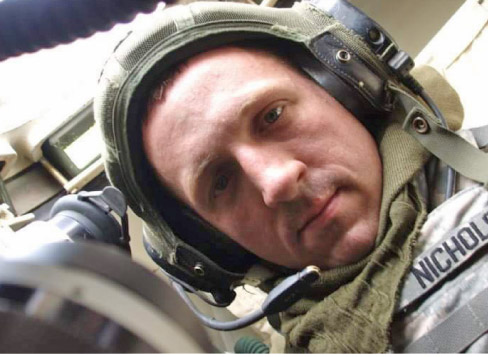 Above: Second Lieutenant Paul Nichols, Tank Platoon Commander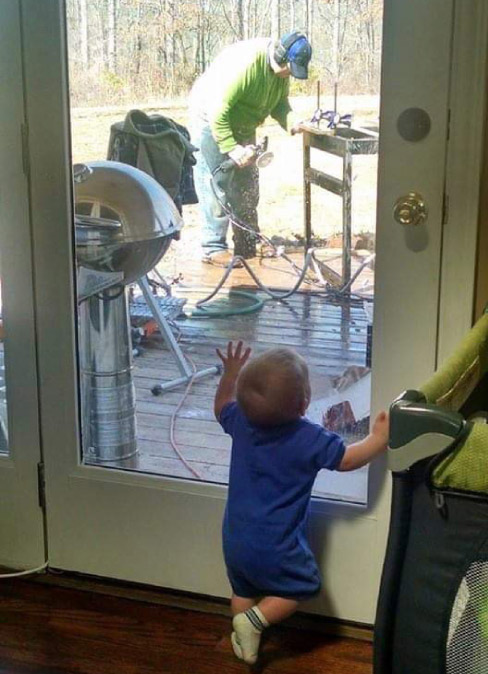 Paul Nichols' early days as a fabricator meant working from home in the truest sense.
Only Just the Beginning of Something Special
"The military certainly has helped me organize my business, because I did not have a business background.
I think that coming from a military background and understanding clear directions to give to employees has been a great asset, because when I give instructions, I give the task and the purpose. If I can empower my employees with what the task and purpose is and give them the responsibility and freedom to take the proper initiative, they will prove to be successful, whether they have a military background or not.
Our people's successes are directly responsible for us taking over our market. Just this morning I had Cambria reps here, and they told me that every stone shop in the upstate area is striving to be like us. That's huge, and a huge compliment, because a lot of them have been here longer than we have.
"We are also very excited about our new shop and new equipment coming. In the beginning, we took a building and just made it work, but now we are constructing a building that will let production flow the way we want it to. With the addition of a dual table waterjet, it's going to help us increase our quality and increase our output by 30 to 40 percent. So my goal for the next five years is to keep that small company feel, while increasing production and quality, and adding more people to our family to accomplish that. The demand is there!"
Upstate Granite Solutions is a highly valued, two-year BB Industries customer, and we are proud to offer their story. They are members of the Natural Stone Institute, the Home Builders Association of Greenville, and the local Better Business Bureau.
In 2019 they were recipients of the Better Business Bureau's "Business Integrity Award" for Outstanding Customer Service, as well as named number 4 as South Carolina's fastest growing company, known as "The Roaring Twenties Award".

For more information, visit www.upstategranitesolutions.com .