Knoxville News Sentinel Awards BB Industries Knoxville's Top Workplaces 2021 Honor
BB Industries has been awarded a Top Workplaces 2021 honor by The Knoxville News Sentinel. The list is based solely on employee feedback gathered through a third-party survey administered by employee engagement technology partner Energage, LLC. The anonymous survey uniquely measures 15 culture drivers that are critical to the success of any organization: including alignment, execution, and connection, just to name a few.
"During this very challenging time, Top Workplaces has proven to be a beacon of light for organizations, as well as a sign of resiliency and strong business performance," said Eric Rubino, Energage CEO. "When you give your employees a voice, you come together to navigate challenges and shape your path forward. Top Workplaces draw on real-time insights into what works best for their organization, so they can make informed decisions that have a positive impact on their people and their business."
BB Industries is one of the most respected distributors in the stone industry and has experienced explosive growth in people, products and partnerships, over the past few years, even throughout the pandemic, setting record sales.
"This award is such an honor because we pride ourselves on treating each other like family," said BB Industries President & CEO Rick Stimac. "When I accepted the position of CEO in 2017, I was impressed with the loyalty and longevity of the employees here. Most have been at BB Industries for at least five years, many more than ten, some more than 20 and the most long-term employee who helped open the company in 1995, just retired a few months ago."
Bill Hickey, Vice-President of Business Development said, "I've worked at BB Industries now for almost 17 years. In that entire time I have always felt like we were one big family. Beginning with the original owners of Doug Slocum and Ron Weiler and continuing today, we treat our customers and employees as if they are family. I believe this is why we have so many employees with over 15 years of service, and customers who continue to allow us to serve them. It truly is a joy to work in an environment like this. I'm not sure many people have the chance to experience that, but I know it is why we have been as successful as we have been for 27 years."
Stimac added, "Since I came from the HVAC industry, many of my employees have taught me about the stone industry, and provided history on where BB Industries came from, so that we were able to strategically plan our future, as a team. We have added some of the most experienced sales consultants in the industry to our team, brought thousands of premium products to our offering, as well as partnered with top industry brands. We are committed to being the best product supplier and a true partner in the stone industry."
All of the company departments – marketing, sales, and order fulfillment – work as a cohesive unit toward the goal of being the best in the industry. They know each other's families and support each other through hard times. It really is a unique environment.
But the glue that holds it all together is President & CEO Rick Stimac. He has an extensive history of successfully growing revenue for nearly 30 years. Stimac is an innovative, passionate and motivational leader who clearly defines mission and goals, aligning people and resources and consistently delivers results that exceed expectations in distribution channels.
This is a formula for business success, but more importantly, his strategic and empowering philosophy unites the employees and makes them want to work hard for Stimac to reach company goals.
"This award helps us gel even more as an organization and everyone who works here should be proud that they contribute to such a special atmosphere. We know that translates to our valued customers and vendor partners, and makes us one of the best in the industry."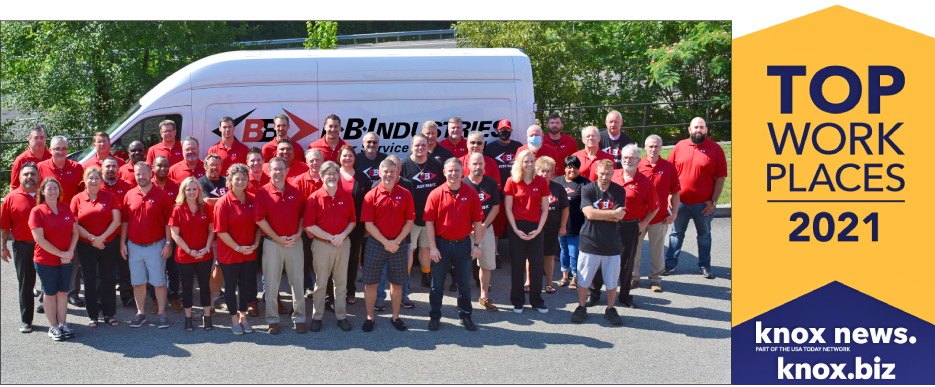 About Energage
Energage is a purpose-driven company that helps organizations turn employee feedback into useful business intelligence and credible employer recognition through Top Workplaces. Built on 14 years of culture research and the results from 23 million employees surveyed across more than 70,000 organizations, Energage delivers the most accurate competitive benchmark available. With access to a unique combination of patented analytic tools and expert guidance, Energage customers lead the competition with an engaged workforce and an opportunity to gain recognition for their people-first approach to culture.
For more information or to nominate your organization, visit energage.com  or topworkplaces.com.  

Visit BBIndustriesLLC.com and www.facebook.com/BBIndustriesLLC.USA.