Chester Smith Marble & Granite: Maintaining a Legacy of Quality and Dedication
Joel Davis
Photos  Courtesy Chester Smith Marble & Granite Company
Chester A. Smith Marble & Granite Company has withstood the test of time, maintaining a heritage of quality for almost 94 years. The Columbus, Ohio-based shop has a rich history in the marble industry and upholds a proud family legacy.
Jeff Johnston is the president of the company, having taken over from his late father-in-law, Paul Smith, in 2011 (see our tribute to Paul Craig Smith, Page 4). The shop primarily designs, fabricates and installs custom kitchen and bathroom countertops from granite, limestone, marble, soapstone, and slate as well as a variety of engineered Quartz products.
"Our best customers are some of the higher-end custom builders in town," Johnston said. "It's so rewarding to see any job come together — but especially these custom jobs. There is a sense of gratification to see the finished product and know the customer is happy."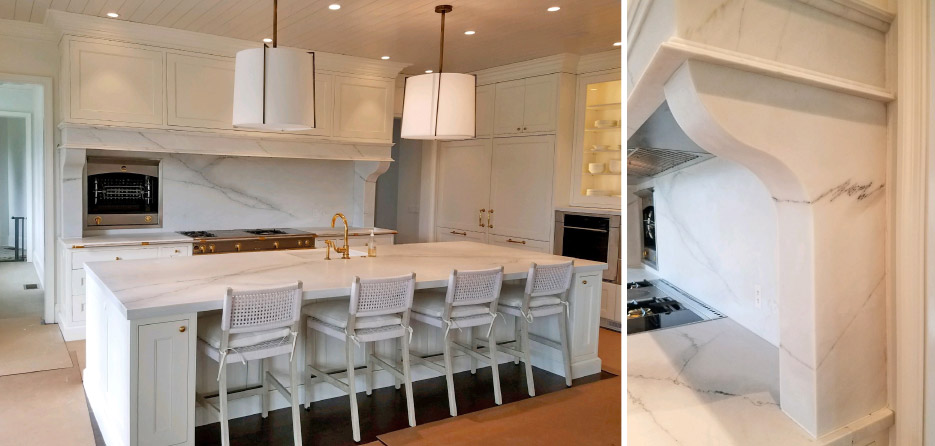 The Chester Smith Marble & Granite company specializes in high-end residential installations like these Carrara marble kitchens.
The company also fabricates custom commercial projects such as receptionist desks or vanity tops, but that is not its focus, Johnston said. "You could call us a boutique shop. Our niche is high-end, custom residential work. We're not a production shop, chasing large commercial jobs like hotels or condos. We don't do cladding or interior walls — nothing of that scale."
The focus has paid off. Although shops in other places saw hard times during the worst months of the COVID-19 pandemic, the company not only survived but thrived, he said. "We've been very busy during the past year. During the pandemic, we never slowed down, we just kept going. In Ohio, construction and related types of work are considered essential. As our market is residential fabrication and installation, demand never dropped."
Chester A. Smith Co. gets the majority of its customers through referrals. "The bulk of it is through our relationships with the custom home builders and designers. It's just from our long, long-standing relationships, although some of it is through our website."

Above: Custom cutout and joinery marries a butcher block prep table to this double laminated granite top.
When it comes to numbers, the company's 6-person fabrication shop is producing five to six kitchens per week and around three to four vanity tops or other smaller items. "A lot of the projects we're doing are specialized and highly detailed," Johnston said.
The fabrication shop is equipped with an AccuGlide Miter Workstation, Makita grinders, two bridge saws — one from Gregori and the other a GMM Brio bridge saw, a Hercules router, and radial arm face polishers.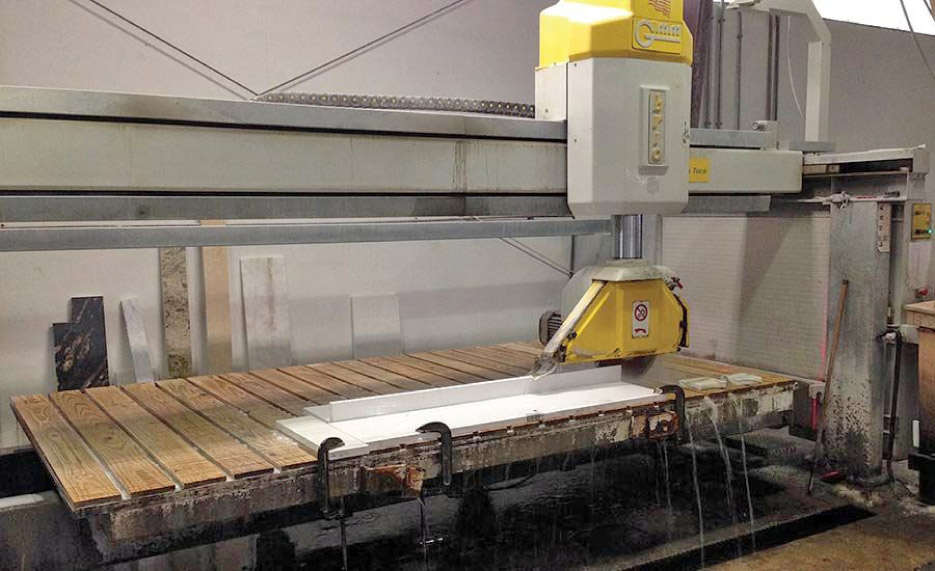 Above: The shop fabricates using an AccuGlide Miter Workstation, Makita grinders, two bridge saws — one from Gregori and the other a GMM Brio bridge saw, a Hercules Edge Router from BB Industries, and radial arm face polishers.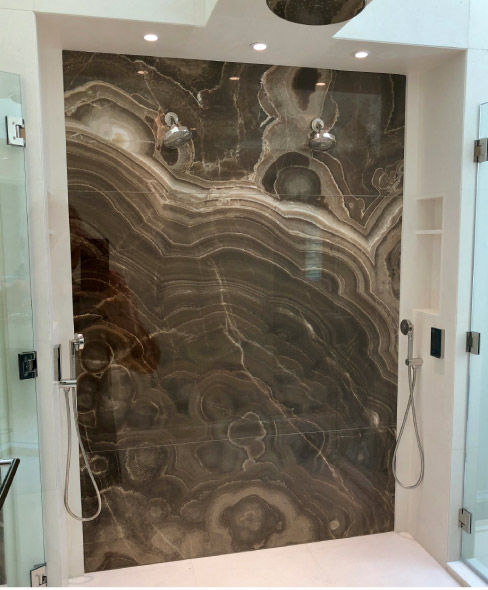 Above: This master bath features a full-height Onyx shower wall.
The shop isn't equipped for automated production. The goal is to produce quality work rather than aiming for quantity. "We still do most things the old-fashioned way with hand tools and routers," Johnston said. "We still have some of the old face polishers in use. We don't really have any automated CNC equipment. It's all hands-on."
The shop relies on BBI for 95 percent of its day-to-day shop supplies, from diamond pads to drills to saw blades, as well as a router and side grinders. In fact, Johnston said, with a laugh, his shop won a BBI contest that involved turning in old grinders to receive a discount. They ended up finding 32 grinders. "It was funny how many we found," he said.
A favored Ty-Sa-Man bridge saw was used by the shop for many years for mitering, shaping, or running edges until it finally gave out. "Ty-Sa-Man Machine Company was a highly-regarded manufacturer out of Knoxville, Tennessee," Johnston said. "We had bought a rebuilt saw and used it for 10-plus years. It was a good saw, solid engineering."
The shop offers a variety of specialty edging profiles, including Dupont, Ogee, Double Dupont, Cove, Reverse Cove, as well as beveled and mitered edges. Customers can choose from polished, honed, and leathered finishes.
Founded in 1928 by its namesake, Chester A. Smith, the company primarily served the commercial market in its early years. One of the founding members of the Marble Institute of America (MIA) in 1944, he served as its president twice and had a long involvement with the organization.
The company is still listed in the current Natural Stone Institute (NSI) directory as the seventh member to join the original organization. It remains a member of the NSI to this day. More recently, it joined the National Kitchen & Bath Association.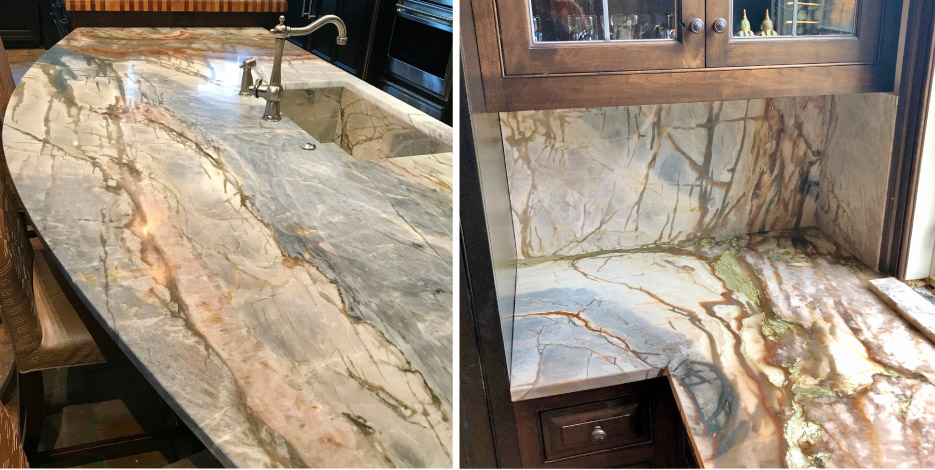 Above: This marble kitchen features a full-height backsplash and a matching, built-in undermount marble sink.

Below: Chester Smith Marble & Granite Company offers a wide range of custom shaped edges in exotic varieties of marble and granite. For over 35 years they have focused on the high-end residential market.
During its early years the company sought out larger commercial projects such as banks and schools. Chester Smith saw the potential of marble and bought Detroit Marble to serve as a supplier for his projects. He sold the secondary company in 1949 when the Chester A. Smith company opened a shop at its current location.
In 1959, Paul Smith became president of the company and began moving the company away from its commercial roots. "In the early days, the company sold some cabinetry and flooring and did a lot of tile work," Johnston said. "They needed to do a lot of commercial jobs because it was just a different market back then. But when Paul took over from his dad, he streamlined the company into almost strictly a marble and granite shop. It's been that way as long as I've been there. We've been a true residential fabrication and installation shop for the last 35 years."
The company has been driven by the long-term commitment of the Smith family and is currently owned by Paul Smith's daughters, Leslie Smith and Stephanie Smith Johnston. "In October, this will be my 34th year with the company," Johnston said. "Paul worked up until he was in his late 80s. He'd come into the office almost every day up until three or four years ago."
So, what keeps Johnston engaged in the company and the stone industry? "I'm Paul's son-in-law, and there is a family legacy to maintain. I'd be lying if I said that wasn't a factor. But if you take that out of the equation, I do this because this is a unique business in unique trade."
After almost 94 years, where does Johnston expect the direction of the company to go? "We have a great reputation for high-end, custom residential work," he said. "It's our strong suit, and we're going to maintain that. We have a long history, and, for the foreseeable future, I don't think we're going to really dramatically change. We're in the right kind of niche."

For more information, visit their website www.ChesterSmithMarbleandGranite.com .