Rockcrete USA: Helping Fabricators Go-With-the-Flow Since 2005
Peter J. Marcucci
Photos  Courtesy Rockcrete

and Woodsman Kitchen & Bath
It is no secret that certain areas within North America are experiencing water rationing and are falling short of their water requirements. A lack of rain and accelerated evaporation due to elevated temperatures has created a sticky situation for every living thing in these regions. It's also no secret that as more and more fab shops turn to automation, the need for a clean source of water will continue to grow as a key element within the shop. Getting and maintaining a wet fabrication system will be a priority for savvy shop owners throughout this decade.

Testing the water flow. Heavy-duty hot dip galvanized grates are used for Rockcrete trench drain system.

Above, right: The excavation is complete and ready for the formwork to be built.
Foreseeing this need as far back as 2005, Rockcrete USA began thinking outside the trench for better ways of getting slurry from point A (the machine) to point B (the recycler). Located in Norcross, Georgia, Rockcrete USA is a family-owned company whose span of service is nationwide, as well as Canada. They've succeeded in creating the highest standards of design as well as a full line of top-shelf products used to direct water from fabricating processes. These products are part of the MEGAMAX® INSTA-POUR® system, and consist of pre-engineered components used for creating trenches with radiused bottoms and catch basins. MEGAMAX® INSTA-POUR® components are available in various widths, depths, slopes and trench bottom configurations. Their smooth radiused bottoms make a tremendous difference when it comes to sediment build up. They can also be quickly installed, so that shop down-time is as short as possible. Additionally, all work is performed using staff employees, not subcontractors, so the client is assured of consistent quality performed in an expeditious manner by folks who are trained in the installation of these products.

Creating Different Slopes for Different Folks
Case in point is Rockcrete's latest installation at Woodsman Kitchen & Bath, a return customer located in Jacksonville, Florida. It's a new shop in a new location. However, new or old, every installation comes with its own set of problems and opportunities, recalled Rockcrete USA Operations Manager Hank Liebenberg.
"Woodsman Kitchen & Bath started from the ground up. It was well planned and well laid out, and one of the biggest shops I've seen, so far. They designed the machine layout, and we came in after the fact. When they said, 'This is what we had in mind for trenches. Can you make it work?'
"In the end," said Liebenberg, "We had to adapt the layout to create a feasible and functional layout, from an engineering standpoint. We made it work."
According to Liebenberg, this process began in August of 2020, and was finalized into a contract by January 2021. Work then began in mid April 2021, he continued. "The problem was that it was a big building with 1,250 lineal feet of trenches, and the longer the trenches get at the same slope, the deeper they get by the time they reach the collection tank. And the deeper the trenches get below the foundation, or if the trench is right next to it, the higher the risk of undermining the foundation, thereby creating a situation where the soil does not have the same weight bearing capacity that it had originally." Liebenberg likened this to driving to the edge of a road, and the roadbed collapsing under the weight of the car.
"These trenches were indeed very long. Imagine, if you will, that one started at four inches deep on the high end, and ended up at thirty-six inches below floor level by the time it entered the collection tank. If you dig a trench right next to a column that holds up the building, the trench is now holding the column that holds up the building. So you need to stay far enough from the column, so you don't undermine the foundation or the footings."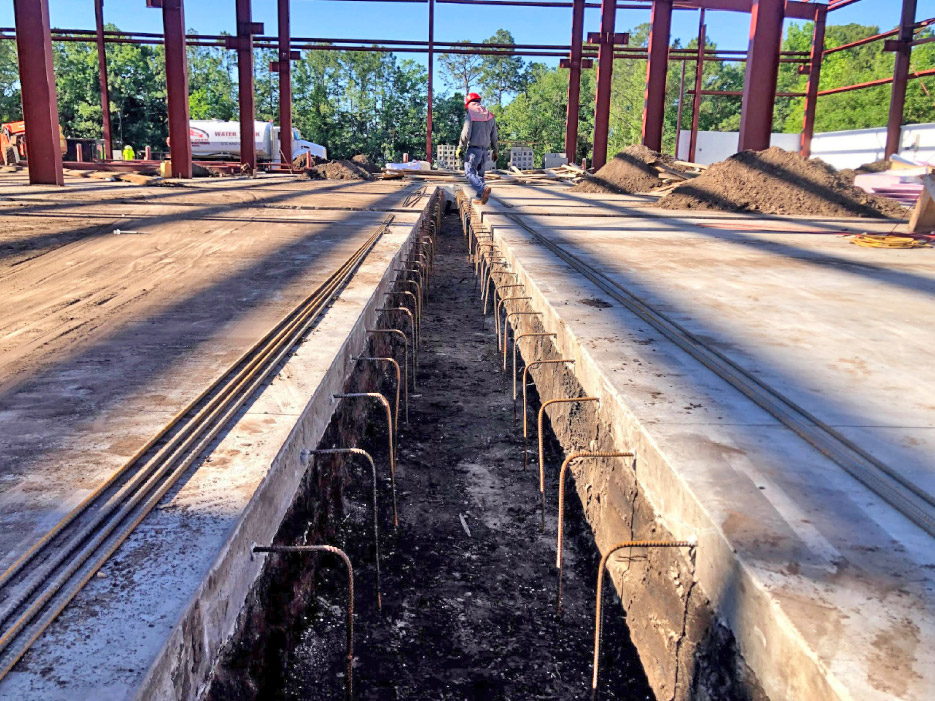 Trench with steel reinforcement tied into new shop floor with epoxy.
"We have used Rockcrete three different times, twice on large projects in an existing building, and most recently in our new building.  The Rockcrete crew was exceptional, very involved with the installation, and able to work through any problems. We're very happy with their work and I highly recommend them." — Randy Scott, Woodsman Kitchen & Bath

Life in the Trenches
Liebenberg also stated that Rockcrete trench corners were radiused and not squared, which also helps to keep water velocity at its peak, with little or no slurry buildup. Adding to the complexity of this installation was the fact that the foundation was built on top of good-ole Florida sugar sand that can erode pretty darn fast.
As for getting the installation to the finish line, Rockcrete USA was allowed nine weeks, but they got-r-done in six weeks, explained Liebenberg. "They were under a real time constraint. There was limited access to the jobsite, as there were a lot of contractors. We had to finish our part quickly, so we could get out and the next crew could get in. We always try to optimize our installations by working nights and weekends. Our crews are very experienced with all and any situations during installations. Nobody knows what's underground, such as bedrock or a high water table and surprises like that, but we can handle any situation. We've experienced a lot of issues, and have the ability to fix them."
Another obstacle for the crew to work around was that the roof hadn't been installed. Trust me, when I say that Florida summer temps and humidity, combined with afternoon rains that you can set your clock by, are no fun at all, but Liebenberg's team persevered. "Our crew would excavate trenches, and then at 4 o'clock we'd get a rain coming in, and everything we excavated would go back in the trench, because it was sand."
Because the crew had to avoid some of the footings, they constructed different slope percentages in different areas, and designed trench widths to allow for different volumes of water.
"The longer the trench, the more water it's going to pick up along the way; and the closer you get to the pit, the wider and deeper you need to go," explained Liebenberg.
"It's just like any river. It starts with a stream, and then goes faster and wider towards the end. So on this job, the design and layout was tricky, but we got it done and they are very happy with how well it works."
In an update to the Slippery Rock Gazette, Woody Garner of North Coast Construction, General Contractor for the new fab shop build commented on Rockcrete's involvement. "The whole project has now been successfully completed and Woodsman Kitchen & Bath moved into the site the first week of September. They installed their fabrication equipment in August in preparation for full operation with the move-in.
"The Rockcrete Custom Trench Drain System plays a very important part for the client's wet fabrication process. The custom system of over 1,200 linear feet of cast-in-place reinforced concrete trenches were detailed precisely for the numerous inverts."
"The Rockcrete shop drawings were easily understandable for the outstanding field crew to install without interruption, which was actually completed ahead of schedule. Rockcrete provided excellent project management from early design throughout the entire installation. There was a minimal punch list to a complex operation, which was completed in a timely manner, as well."
"Our crews know how to handle any and all situations," Liebenberg explained. "We've run into difficult situations in the past, anywhere from digging and having to add another concrete footing, to digging into a former dumpsite. We do coordinate well with our clients and our crews for the logistics part, but whatever the situation, our specialists know what to do. We normally send a crew of five to six guys to a jobsite, but on the Woodsman job we had 18 to 20 when we were pouring concrete. Pouring would begin at 4 a.m., and that means you've got to have an alert crew who know what they're doing."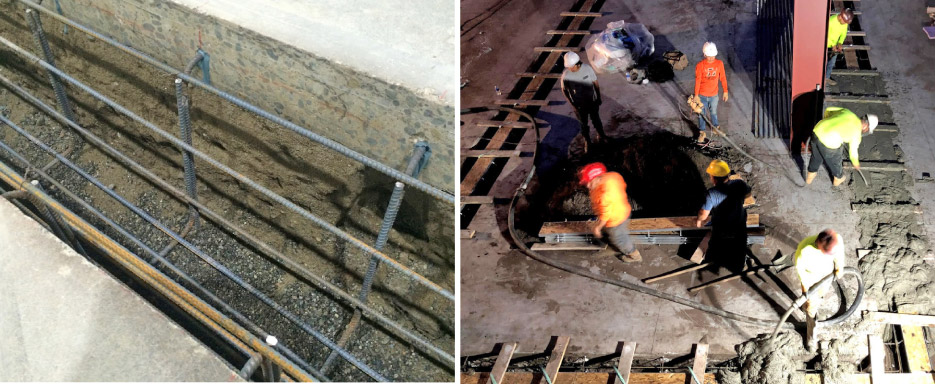 Above, left: The steel reinforcement ran the length of the excavated trenches to add support to the drain system.
Above, right: The Rockcrete crew executes a late night pour.
Above, left: The formwork is complete and ready for the concrete pour.
Above, right: Clean-up after the pour begins the next day.

Staying Ahead of the Curve
"Our products work, and we know how to use them, and when it comes to trenches, this makes a big difference," continued Liebenberg. "There is no learning curve for us. Think about it! If someone spends a lot of money on equipment and a shop, the last thing they want to do is install bad drainage that's going to need cleaning often. Yes, every trench needs cleaning, but if it's done correctly, your manual cleaning is minimized dramatically. Our trenches are more efficient than our competitors. As far as folks doing it themselves, they've got to do many, many jobs to get the experience that we have. It's going to take them a lot longer, always costs them more, and they will not get the same end result that we can provide.
"It's not as simple as just digging a trench. We have the right people, the right materials and the right equipment."
Rockcrete USA is currently finishing up one of two jobs for Cosentino where they built the machine foundations and trenches.

For more information, go to www.rockcreteusa.com .