Granite and Marble Solutions: Using Automation to Delight Clients
Peter J. Marcucci
Photos  Courtesy Granite and Marble Solutions
When Don Benton was between jobs in March 2020, he began searching for something similar. After all, as a longtime IT guy, who had supported various Fortune 500 companies much of his working life, surely something along these same lines had to be available, or so he thought
"With all the COVID stuff happening, I was put out into the job market, and spent several months looking for a similar level position, which was nonexistent at the time. I then realized that this was more of an opportunity than a challenge, and that instead of beating my head against a wall looking for a job, this is the opportunity of a lifetime to go do something else."
Always wanting to own a company, Benton, with a mixture of enthusiasm and trepidation, began soul searching, he continued. "So I began looking for the right company for me, something that fit my lifestyle and was pandemic proof. I had granite in my kitchen, and started narrowing it down to my criteria, and stone fabrication ended up being at the top of the list."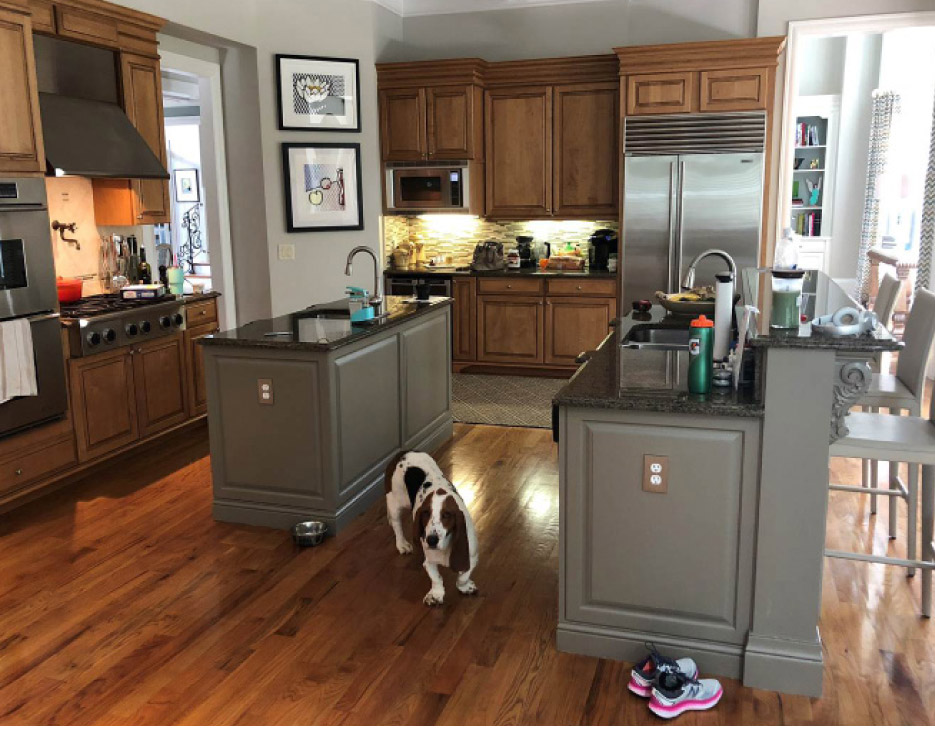 Before and after remodel treatment. Granite and Marble Solutions puts its customers first, and bringing in state-of-the-art automation is part of their solution to speed up production while keeping a high standard of quality.

The Art of Knowing What's Possible
The focus was now on Granite and Marble Solutions, a successful 17-year-old company located in Alpharetta, Georgia, whose original owners were looking to implement an exit plan. "They had about 50 percent of their original people, they were making money even through the pandemic, and it was the right fit for me," continued Benton. "Even though it had its complexities, it wasn't that complex to jump in and understand the nuts and bolts from a business perspective."
Now a newbie owner, Benton relied on the experience of the employees to help carry him through the transition and day-to-day operations. The shop was very manual and templating was still being done with wood sticks. There was a gantry saw which did have functionality, according to Benton, but not a lot. Edging, cutouts and coring were also done by hand. Once up to speed, however, Benton recognized that production could use a bit more giddy-up. And so he began searching for something to facilitate the higher volume needed, he explained.
"I always try to look at products made by American manufacturers first. That's a big thing for me, and after looking, the biggest thing that wowed me was BACA's responsiveness and details. They were just all on top of it. I think it was about 9:30 at night that I filled out their online form wanting more information, and by 7 am the next morning, I was talking to Paul Schuch, their salesperson. Paul is a very straight shooter, and really helped me understand the pros and cons of different equipment. We also talked in-depth about how the shop operates, and he was very helpful with understanding my team. One of the things that pushed me towards automation was staffing. Fabricators can be pretty hard to find here in the Atlanta area, and I'm not the kind of guy who wants to be dependent on one single person."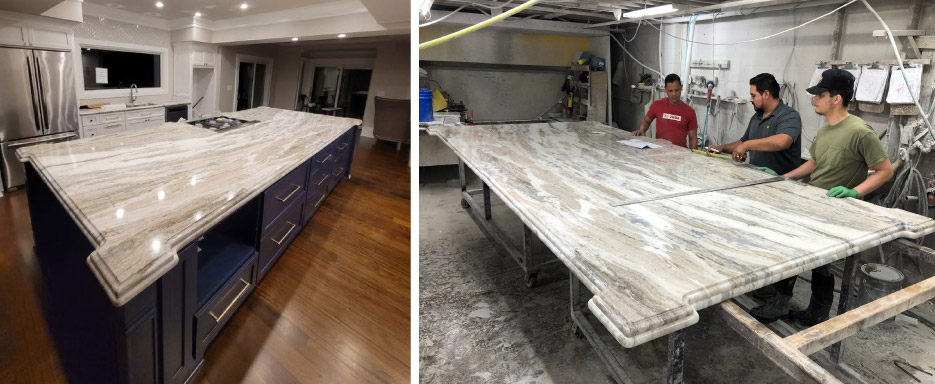 Above, left: Installed full slab kitchen island.
Above, right: The fabrication team makes a quality check and takes measurements before programming

Moving Forward
In February 2021, Granite and Marble Solutions added a BACA Robo SawJet, a dual-table, combination saw and waterjet, capable of cutting and coring any slab material quickly and accurately. "My fabrication manager is like a kid in a candy shop when it comes to new toys," continued Benton. "Then there's our saw man. He was not resistant, but he was a little intimidated to be in charge of running the SawJet; however, he was still very receptive to the training. So it did take everyone a little time to get used to the differences, and we did have our growing pains, but it was worth it."
According to Benton, return on investment (ROI) was an important factor before purchasing the BACA Robo SawJet, because it was such a large investment, especially after just buying the business. However, ROI is not everything, he explained.
"The biggest thing that I liked and continue to like about BACA is that we have that same relationship we had in the beginning. Their people are willing to give references and talk about stuff, and help me to understand how the shop can do things better. Paul and his team have been in the industry, are open and consultative and are willing to share their knowledge, and that is very important to me, because it keeps me and my company moving forward. Additionally, their service has been great! If we have an issue, we call them up, and they walk us through whatever the problem is, and get us back up and running.
"For example, recently we had a camera go out, and they overnight shipped one to us, and we were back up and running the next morning. So that level of service definitely makes me sleep better at night, because anytime you're down, it impacts the business. I am happy with my decision, and the Robo SawJet has worked out well. The BACA machine has opened new opportunities for us, and we've also just installed a Marmo Meccanica LCV711M polishing machine to help keep up with the extra output we now have."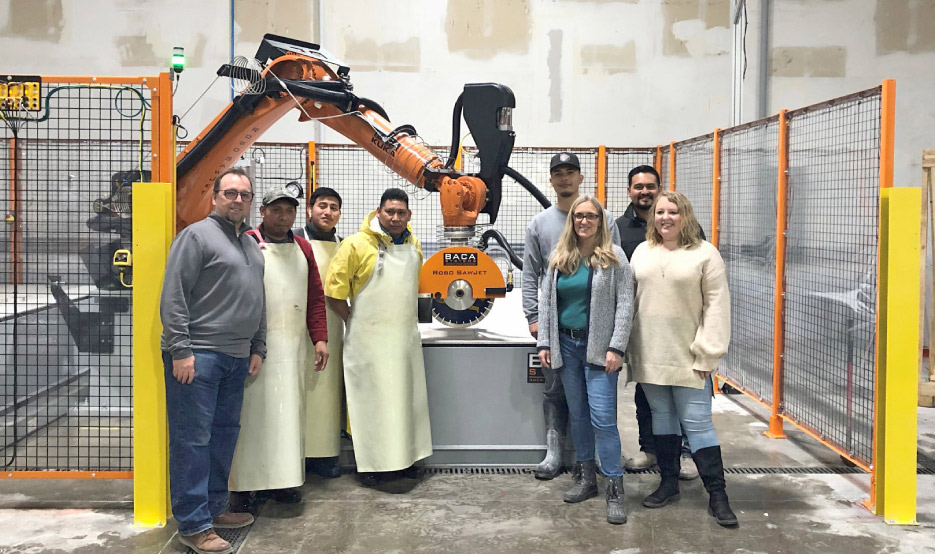 From left: Don Benton and some of the Granite and Marble Solutions team with and their BACA Robo SawJet, installed in February 2021. Recent shop machinery upgrades include a Marmo Meccanica – LCV711M Vertical Line Polisher, and a Gorbel jib crane to handle moving and loading material.

The Nuts & Bolts
The everything-under-one-roof company encompasses a 12,000 square foot building. 3,500 square feet is office and showroom, featuring kitchen and bath vignettes, while 8,500 square feet is shop and inventory. All materials are on display racks, and viewable by clients.
Producing mostly residential work and selling through local builders and renovators in the greater Atlanta area, Granite and Marble Solutions range of service is about a 30 mile radius. "Although we will do work for any size home, we are targeting mid- to high-end homes," continued Benton. "The amount of jobs we are now able to produce is up by 10 percent, and the square footage is up by 30 percent. So we can now focus on getting some bigger jobs into the shop."
When asked if the increase in production created more buying power, Benton said, "Yes, due to higher volume, we are now targeting how to get better pricing out there. I try to buy nothing less than a bundle of each color, unless it's a custom job. I like to keep in stock what we think our customers will like. Not sending them out shopping is to our benefit." Benton said he currently buys local, but is considering bringing in containers in the future, adding, "I'm traveling to Turkey next week with one of the local vendors here to look at their quarry and try to closely integrate to get some better deals and give them more volume."
The Granite and Marble Solutions showroom includes kitchen vignettes and samples of in-stock colors.

Innovating and Elevating Production Through

Team Work
Including Benton and his son, the company totals 15 team members, with nine fabricators and two installation crews. Benton gives them full credit for the ongoing success, he explained. "I'm here every day, but it's not essential that I be here supervising every job, and that's a testament to the fact that the team keeps things running. There's not a team member who has been here less than five years, and the longest tenured employee's been here 17 years. We are all family, and everyone truly cares about getting the jobs done, helping each other out and, most importantly, keeping the clients happy with exactly what they need. That's everyone from the sales team up front, to the guys polishing in the back. Sometimes they'll come grab me and say, 'Hey, we can do this better!' Maybe it's a quality issue, maybe it's a safety issue, and that helps to make positive changes around here. If we've got to put in some late hours, the whole team is ready to rock 'n' roll to 9 o'clock, and then enjoy a good pizza afterwards. We have a 'Let's Get It Done!' family atmosphere, here. If I had to, I could leave for three weeks, and everything would be ticking along just as when I left. So I can't say enough great things about everyone."
Two residential remodeling treatments of outdated kitchens, replacing the client's outdated look with lighter granite and a larger island.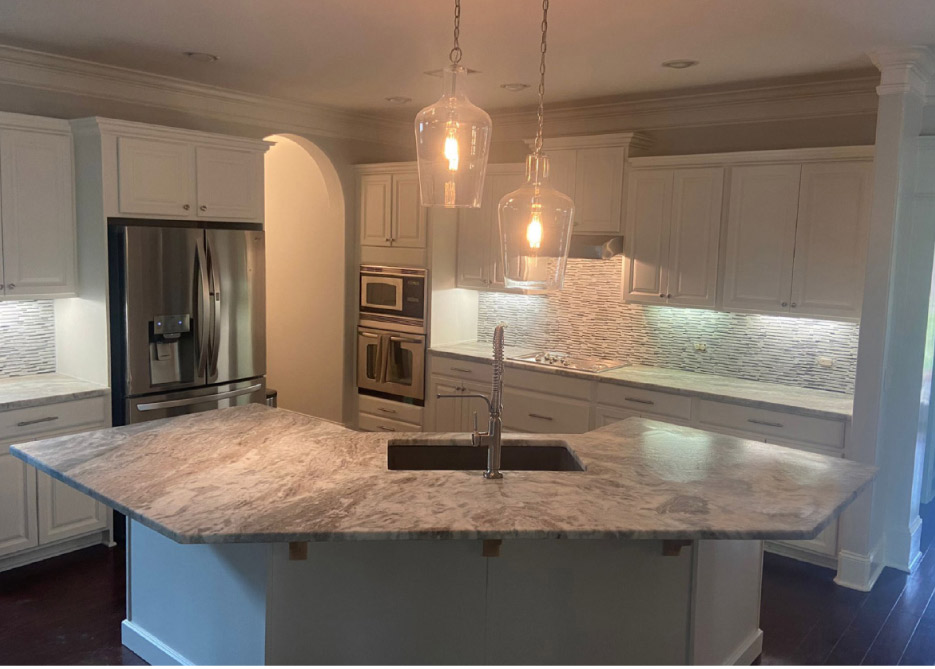 Putting the Customer First
"We truly focus on the customer. When they leave here, I don't want anyone to say one bad thing or even a mediocre thing.
I want them to be ecstatic and tell everyone that they paid a lot of money for these countertops, and it was the best money that they have ever spent. If they are not happy, we are going to do whatever it takes to make them happy, and it's really worked for us. My senior coordinator cares about anything and everything about the process. Part of her job is dealing with the clients when they're not happy, and turning it around to make it a positive experience for them. We can have a serious complaint and we're all worried about what's going to happen, and the next thing we know is that we've gotten a Five-Star Gold Review in the end.
"As for the future, what I'm looking for is a couple of things: what can help me drive down costs, and what is going to help me do the type of jobs that I would like. I recently partnered with a designer that is doing a lot of very custom homes in the Atlanta area, where literally everything is mitered. There's not a vanity in every 15,000 square foot home that isn't mitered. We do our edges in-house, but the two, three and four inch mitering, we outsource to other folks locally, and that gets expensive for us and our clients. So there's an opportunity, that if I have enough volume for mitering, to look at something that will help us to bring costs down, increase sales and bring our craftsmanship up a couple of notches. It's my nature to want to have the latest and the greatest and the direction I roll to, and I'm not one to stick to how we've always done it."

Granite and Marble Solutions is an accredited member of the Better Business Bureau as well as a member of the National Kitchen and Bath Association.

For more information go to www.graniteandmarblesolutions.com .