PinPoint Status Offers a Better Way to Navigate Client Interaction
Peter J. Marcucci
Photos  Courtesy PinPoint Status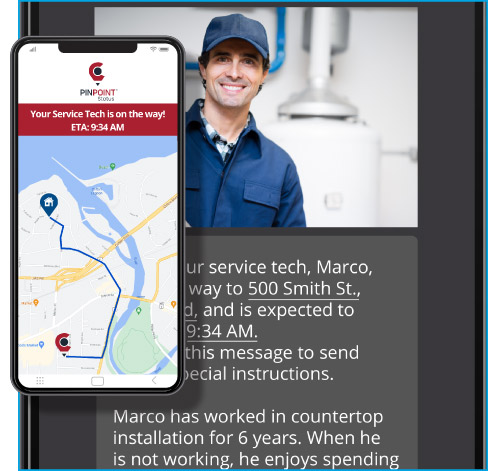 The PinPoint Status app facilitates clear communication on appointment times, in-home visits and deliveries between your shop and the client. A demo is available on their website.
Money buys a lot of things, but it can't buy time, can it? Now, think back: When's the last time you scheduled a professional service provider to your home, and they said something like, "We'll be there somewhere between 10 am and 3 pm." Most likely, you'll remember this if you're one of the unlucky homeowners who waited patiently for the bell to ring sooner than later, and they showed-up later, late, or worse, not at all. An unpleasant, yet memorable experience for sure, and a good reason to never call that service or company, again.
Understanding this all too well, Nick Began, the former owner of StoneWorks LTD. Inc., and now CEO of PinPoint Status, decided to put his efforts into finding a better way to schedule, and developed a software specifically for companies that deliver or install, he recalled. "What PinPoint Status does is help with all communications between your fabrication company and the client. It is customizable, and fully integrates within the majority of all ERP (Enterprise Resource Planning) software, such as Moraware, StoneApp and Stone Process to make them better. PinPoint Status is also Google Calendar certified, an app that 58 percent of stone fabricators use to schedule their appointments."
One of the main benefits of PinPoint Status is that the fabrication company has the option to schedule 24, 48 or 72 hour notifications to the client, including the date and time of arrival. Additionally, said Began, just like Uber, the client knows who is coming with a picture and bio as well as a GPS image of where they currently are, adding, "The big advantage and benefit of PinPoint Status is that the client does not have to sit around waiting for your salesperson, templator or installers to show up.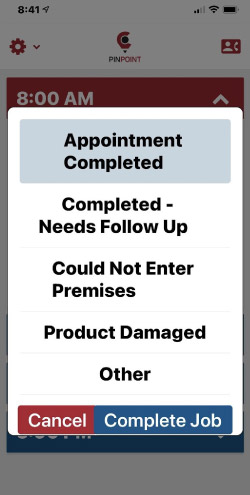 The client knows where they are, and there is no 'four-hour arrival window.' Our number one client complaint used to be, 'When are you going to arrive?' and they were very unhappy getting such a vague timetable."

Keeping a Finger on the Pulse of Your Business
Began went on to say that during the early development of PinPoint Status, an important objective was to build in a way to privately and discretely get feedback from the client when the installation was complete. "In my old days of owning a shop, it was extremely difficult to find out what the finished product looked like. I could tell you stories about how the installers said that everything went great, and then a day or two later we'd get the client calling back asking, 'Why didn't somebody call me back, I wasn't really satisfied!'
Unfortunately, I really didn't have a good process in place to get real time feedback.
"So ask yourself this: to really run your company efficiently, are you getting the data that you need? Here's another example, and a real eye-opener for us, just a month ago. One of our customers, and one of the largest service providers now using PinPoint Status, is Precision Countertops in Oregon. They had been using another product where they would hand a tablet to the client at the end of the installation, and ask them for their "Star Rating" and to check off how they did.
At the time, Precision Countertops had just begun using our product, and was ready to turn the old one off. However, still using the tablet with the old program, the client gave the installation a Five-Star rating, but as soon as the installers left the job, the client immediately gave them a One-Star rating using PinPoint Status, which features a "Low Rating Report," that alerts all levels of management. After reading the report, one manager thought this was strange and brought it to our attention saying, 'My goodness! She gave us a five using the old program, and using PinPoint Status she gave us a one. I'm calling her', and when he did, the client said, 'How dare you put me in the position to rate your installation
and installers, when they are standing right next to me! I didn't feel like I could give real feedback!'
Above and below: Job completion and other vital in-the-field messaging is automated with PinPoint Status. Customer job satisfaction reporting data can be collated with the handy dashboard app.

"So now they had the correct feedback, because if you give somebody a tool to sign off while the installers are there, I don't think any of us would want to be in that situation, versus as soon as the installers leave, being able to give a rating and comments on how well they did or didn't do – that is priceless."
To sum up its benefits, PinPoint Status helps to automate the whole process from the sales person to the finished product by pulling the data into the system. PinPoint Status is easily learned and flawlessly integrates with modern, action flow apps such as Moraware, Stone App, Eased Edge and Action Flow, and can also be integrated with much older versions of action control software with some additional work. It reduces call volume, ends late or no-show appointments and, above all, keeps your customers happy, while giving them the opportunity to confidentially and comfortably review your work. These reviews can then be easily uploaded into any online media service by the customer through a supplied link to Google, Facebook and Houzz.
Furthermore, we live in a day and age where people like to know who's coming and, according to Began, when PinPoint Status added a picture and bio of who is coming to the home, 100 percent of the time that person got a higher star rating. Not only are good ratings great for acquiring new work, they are also good for morale, because if your company has a culture of praising and rewarding great work, and you take the time to recognize and praise those people, they will feel valued, appreciated, successful and secure, and this recognition will most likely help to create long-term employees.
At the end of the day, you can do everything right, but it's the installation that they'll remember. It could be good or bad, but it's something you need to know before your next sale, because good referrals are usually the most profitable, and word-of-mouth, without a doubt, is the best advertisement. It's free and sincere, and there are no more customers thinking, "Where's my kitchen, who's coming, and why am I waiting around?" all at a reasonable monthly cost per user.
PinPoint helps to automate the whole process from sales to finished countertop. It puts the tools in your hands for accurate arrival time notification and managing customer expectations and satisfaction.

So: What's Your Status?
PinPoint Status was nominated by the International Surface Fabricators Alliance. They were also the finalist for the Greater Cleveland Partnership's "Most Promising Startup," and additionally, received an award for the "Best Tech Solution" in the commercial division.

For more information visit www.PinPointstatus.com and click on Demo for a firsthand experience.