Stone Restoration and Maintenance Corner: Community
Bob Murrell
M3 Technologies
Photos by Bob Murrell
First, I need to start out with some news that will be unpopular. As the Director of Operations at M3 Technologies Inc., it is my unfortunate position to inform everyone that our prices will be going up officially on November the 8th, (I am writing this in October). This is due to raw materials cost increases, production cost increases, and of course logistics or shipping cost increases. It's not just our industry, it's energy prices, food prices, commodity prices, construction prices, and basically most everything has shot up in price as of late.
We can no longer absorb all of the increases and, to be fair, we have not adjusted our prices since 2018. To remain profitable and keep the doors open, we must pass along the increases we have received. I am sure most of you will have to do the same, and I hope that you understand. It is what it is.
As if that is not bad enough, we also have to contend with the current supply chain delays. For example, floor machine prices (basically anything with a motor) have risen as much as 40 percent and we won't be receiving any new inventory until sometime in January of 2022, if then.
However, it's not all bad news. As stone industry restoration and maintenance professionals, we serve as an important link in the chain of the community. We provide a highly skilled service that is currently in big demand.
Over the last 30-plus years, I have seen a tremendous growth in the use of natural stone, terrazzo, ceramic tile, and decorative concrete. Of course, this translates into an increased demand for these surfaces to be restored to new or better than new condition. That's where we come into the picture, right?
There are also many more links in the chain of community such as electrical, mechanical, healthcare, construction, firefighting, and of course, law enforcement.
As a part of this community, one morning recently I was asked by a fellow Crossfitter at the gym (who also happens to be a K9 Sheriff's Deputy), if I wanted to do a ride-along.
Of course I instantly thought of Kevin Hart in the movie Ride Along. Then, a few seconds later, I am thinking of the song "Bad Boys", then on to "Show me your hands!", and finally, "You're gonna get tased!" Then I snapped out of it and decided to see for myself what a ride-along was really like.
I've always respected those who serve, whether it's in law enforcement, firefighting, first responders, and of course, the military. I served four years in the world's finest Navy, so they all have a special place in my heart.
I told my friend (Knox County Deputy Nick Halsey) that I would love to do the ride along. So the date was arranged and we were on! Initially we had discussed that we would go over the protocol before the actual ride-along date. There would be a release form that I had to sign. I really don't remember reading it, as nothing really stood out, other than "stuff could be remotely possible" (my interpretation), and who cares, right? I mean, I'm the one doing this! I quickly signed my affirmation.
I talked about it with my other friends for days leading up to the event. Everyone kept asking me, are you excited? Let's just say I was beyond excited, I was pumped!
The day finally arrived. We were to meet at 2:30 at a place not far from my house. I got there a few minutes early. Remember my motto: On time is late, early is on time. Nick arrived in his cruiser and, after a few adjustments to the front seat to accommodate me, we were off. Remember, the cruiser is these guys' office. Computer, radios, and all kinds of stuff make for a small area for any front seat passengers. We made it work, though.

A Sheriff Deputy's cruiser is his office. It's where he spends the majority of his time on patrol, so it can be a little cramped for the front-seat passenger!
Below: Deputy Nick Halsey and his Belgian Malinois partner, "Knox," training and working out.

Below, left: Patrol dog Knox applies his special training and alerts his partner something dangerous has been detected in the vehicle.
Below, right: Knox Co. Deputy Nick Halsey and his rookie ride-along, Bob.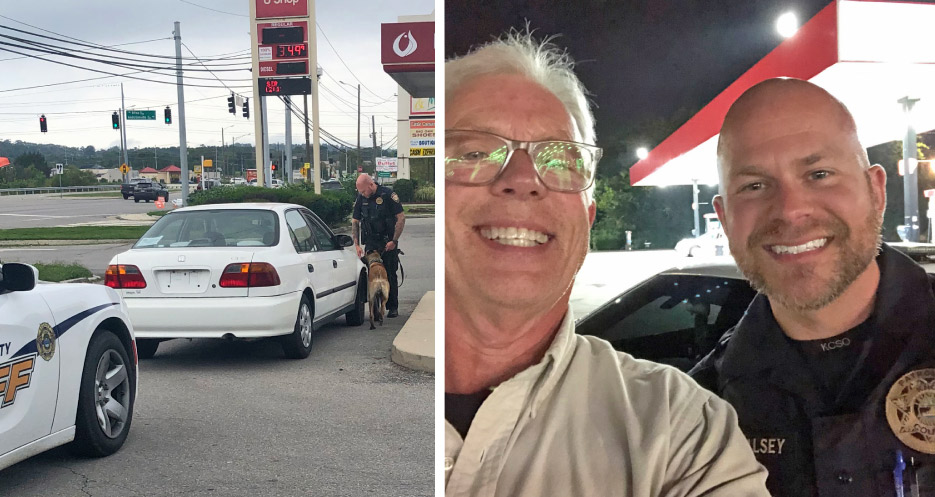 A restricted space was the least of my concerns, as I now had a full set of highly trained teeth about 6 inches from the back of my head, going nuts to get at me!
Knox is a Belgian Malinois and he didn't much care for me being in the front seat of his cruiser! Nick gave Knox a firm talking-to, and as the evening wore on, the tension between Knox and me got a little better.
First stop: meet with the other northside evening shift team. We stopped for some quick spicy tacos before heading out to our shift. These men and women work very closely with one another and back each other up, so that no one unit is without support from the others. I learned very quickly, this backup is very important for the security and safety of each Deputy. To say they have each other's backs is an understatement.
After our late lunch, we were heading out to investigate someone supposedly walking in the road erratically. Then we got a call from one of Nick's team; he had a felony stop. So we whipped the cruiser around and off we sped to go support the other Deputy. (BTW, they use special apps on their phones as two-way radios so as to not tie up the official radio channels.)
We arrived at the scene within a minute or two. The other Deputy already had one person in the back of his cruiser and was questioning the other outside of the vehicle.
Nick immediately went into backup mode, and in a few seconds, the Deputies has retrieved a loaded 9mm, which was seen on the floor of the vehicle. The Deputies then asked for consent to search the vehicle and it was denied (since having a loaded weapon in your possession is not necessarily illegal in Tennessee). So that's where Knox comes in handy. Nick took Knox around the vehicle and when Knox "alerted" he'd sniffed something (he is trained to smell narcotics), they now had probable cause to search the vehicle.
After a quick search, they had a tomahawk, machete, and drug paraphernalia sitting on top of the vehicle. I was blown away! This all started from a simple traffic stop where the license tag was improperly displayed. I got to go up close and see all of the stuff on the vehicle roof and thought to myself, this could have easily gone bad, fast. This is why time is of the essence when one of these brave Deputies makes a stop or responds to a call. Quick backup is paramount to safety and ensuring success.
One of the persons was a previously convicted felon, and it is a major violation when a loaded weapon is found in their immediate vicinity. He did cooperate with the Deputies and took responsibility for the weapon. He went to jail and the other guy was released to go on about his business, but without the vehicle I might add, as this was now evidence in the new felony charge.
One thing nice about having Knox with us was that we couldn't transport any arrestees to the county detention center. Since the van or paddy wagon was not in service on this particular evening shift, each person who ended up with a date to see the judge had to be transported to the facility by one of the evening shift Deputies.
After this stop, we went to a couple of domestic calls. Knox and I stayed in the cruiser for these. It was interesting to watch as the Deputies did their job. I would say these could easily go bad as well, because emotions are high.
Watching Nick amazed me. I mean when he was talking with the parties involved, I swear he was looking straight into their souls. I know that these Deputies are highly trained to know what to look for, what to say and what to expect. Nick has over 13 years of experience doing this, so lying to him, probably ain't going to work. Just sayin'…
We finished the evening with another domestic call, only this one was flagged as a homicidal/suicidal-type call. An older man was holding two knives to his own throat. He evidently had eaten a bunch of pills and was drinking beer, too. So the Deputies (there ended up being over 10 of them, with two supervisors) basically just reassured the guy that everything would be alright. After a couple hours of this tense stand-off, they only had to wait until he passed out, allowing them to safely remove the knives. He was taken by ambulance to the hospital for his health, safety, and evaluation. Ultimately, they completed another shift safely, along with everyone else involved that evening.
I can't tell you how eye-opening this experience was for me. We were busy from the time we started and through the entire shift. Knox had even almost acclimated to me by the end of the shift. These men and women are consummate professionals at what they do. Their bravery, skill, and desire to serve the community are a sight that everyone should be able to witness up close like I did. I would rate my experience as out-freakin-standing!
As always, I recommend submitting a test area to confirm both the results and the procedure prior to starting a stone or hard surface restoration or maintenance project. Also the best way to help ensure success is by partnering with a good distributor partner, like BB Industries, that knows the business. They can help with technical support, product purchase decisions, logistics, and other pertinent project information.
I pray you all stay safe and healthy.

Bob Murrell has worked in the natural stone industry for over 40 years and is well known for his expertise in natural stone, tile and decorative concrete restoration and maintenance. He helped develop some of the main products and processes which revolutionized the industry, and is currently the Director of Operations for M3 Technologies.