Neolith Sintered Stone ESSENTIAL Series Features Anti-Bacterial Properties
The company Neolith®, a world leader in the sintered stone industry, recently launched a new series known as ESSENTIALS in the US. This series was created in response to what has proven to be "essential" in people's lives in view of the pandemic. This 100 Percent all-natural revolutionary product is now formulated with up to 90 percent recycled material and features an innovative technology that prevents the proliferation of bacteria such as Listeria monocytogenes and Salmonella.
"People worldwide have gained a new understanding for what really matters: health, safety and environmental awareness have become key in everyone's day-to-day lives. The current situation of our planet has made society more committed to the environment and concerned about exposure to biological agents such as bacteria all while developing a special sensitivity towards well-being, pureness and beauty. It's a shift in paradigm where the materials we choose for our daily lives have become essential to living better," says José Luis Ramón, CEO of Neolith® .
Neolith® ESSENTIALS was devised based on the three major values that define the brand's character and, more specifically, that of this all-new series.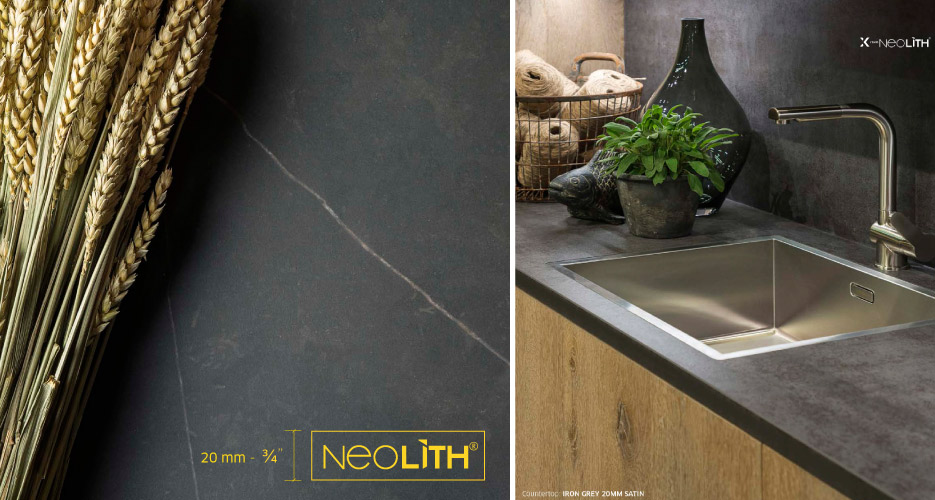 Above, right: Countertop, Iron Grey 20mm Satin.

The Environment
Neolith® is a 100 percent all-natural product and the first company in the sector to achieve carbon neutral status in 2019 as a brand with a great social conscience that is committed to respecting and protecting the environment and which carries out important environmentally-friendly initiatives.
To maintain and reinforce its sustainability commitment, Neolith® is presenting a new formula with up to 90% recycled material in the composition of some of the models in the ESSENTIALS series.

Hygiene
Due to such built-in technical properties, as a near-zero porosity, not to mention the ease of cleaning and disinfection with regular household products, Neolith® is an ultra-hygienic and low-maintenance surface, which is perfect for use in both private and professional kitchens.
With the ESSENTIALS series, Neolith® is going one step further by focusing on food hygiene and launching its NeolEAT technology. Along with adequate household hygiene on the material, this new technology helps mitigate the proliferation of bacteria such as Listeria monocytogenes and Salmonella.
According to a press release, NeolEAT technology* has been incorporated in the four lines in the new series: Shilin, Wulong, Met-ropolitan, and Sofia Cuprum 2021.
(*) Pursuant to JIS Z 2801:2006 / ISO 22196, tests at more than 99.9% effective.

Excellence
Built into the Neolith® DNA, excellence highlights the brand's commitment and demand to obtain the highest quality and achieve the most rigorous standards with which each surface is produced. Excellence can be seen in everything from the sourcing of raw materials, quality controls and the delicacy of its design to the carbon neutral environment in which it is manufactured.
The Neolith® ESSENTIALS series brings out the brand's constant appetite for innovation, making use of cutting-edge technology and processes to achieve the best composition, quality and design results for surfaces.

The All-New Models
Following a search for the essential elements that could provide visual harmony and functionality, Neolith® ESSENTIALS is now presenting two new models inspired by limestone to design residential and commercial atmospheres that entice peace and quiet: SHILIN: serene beauty and WULONG: elegant neutrality.
Inspired by the Chinese natural area Shilin Karst (the "Stone Forest"), Shilin has a light background and fine, granular details with a special texture that further enhances its natural qualities, much like limestone.
As a spiritual brother to Shilin, Wulong is a slightly darker surface with grey tones and granular detailing which was inspired by one of China's unique geological formations: the Wulong Karst.
Neolith® ESSENTIALS also reflects another of the latest trends in residential and commercial architecture and interior design: industrial minimalism — the idea that "less is more."
Neolith® is present in the North American market through an extensive sales and distribution network comprised of various partners located in more than 20 states. Several direct distribution warehouses are expected to open in different states throughout the country.

Visit www.neolith.com/en for more information.