Two Girls and a Hammer: Making Chicago Beautiful One Renovation at a Time
Peter J. Marcucci
Photos  Courtesy Two Girls and a Hammer
When Rose Kallas and her niece, Christine Morgan, decided to enter into a partnership for fun and profit in 2016, it wasn't finalized where you'd expect. Not on a napkin while dining, or in the presence of a lawyer. Nope! It was finalized while getting some rest and relaxation, recalled Rose Kallas.
"We were in a pool in New Smyrna Beach, Florida. Christine had just passed her real estate license test, and we were talking about if she should sell residential or commercial, when she said, 'You know... I'd really like to flip a condo!' And I looked at her and said, 'Well, me too!' So we swam over to my husband, Jim, and told him what we wanted to do. He looked at us like we were crazy, but said he'd give us x-amount of dollars and told us to have at it!"
With most of the details hammered out, the girls returned home to Chicago to begin their search for their first condo. They looked here, there and everywhere, until they found the perfect one. It was a well used, one bedroom, one bath, built in 1912, explained Rose. "It was a Benjamin Marshal building, one of the most beautiful buildings on Lakeshore Drive in Chicago. As you entered the lobby – the beautiful marble walls, original elevators, all in this little 12 story building – it was stunning, and needless to say we fell in love. Marshal was a very well-known architect at the time, and you felt like you'd walked into a building in Paris or London."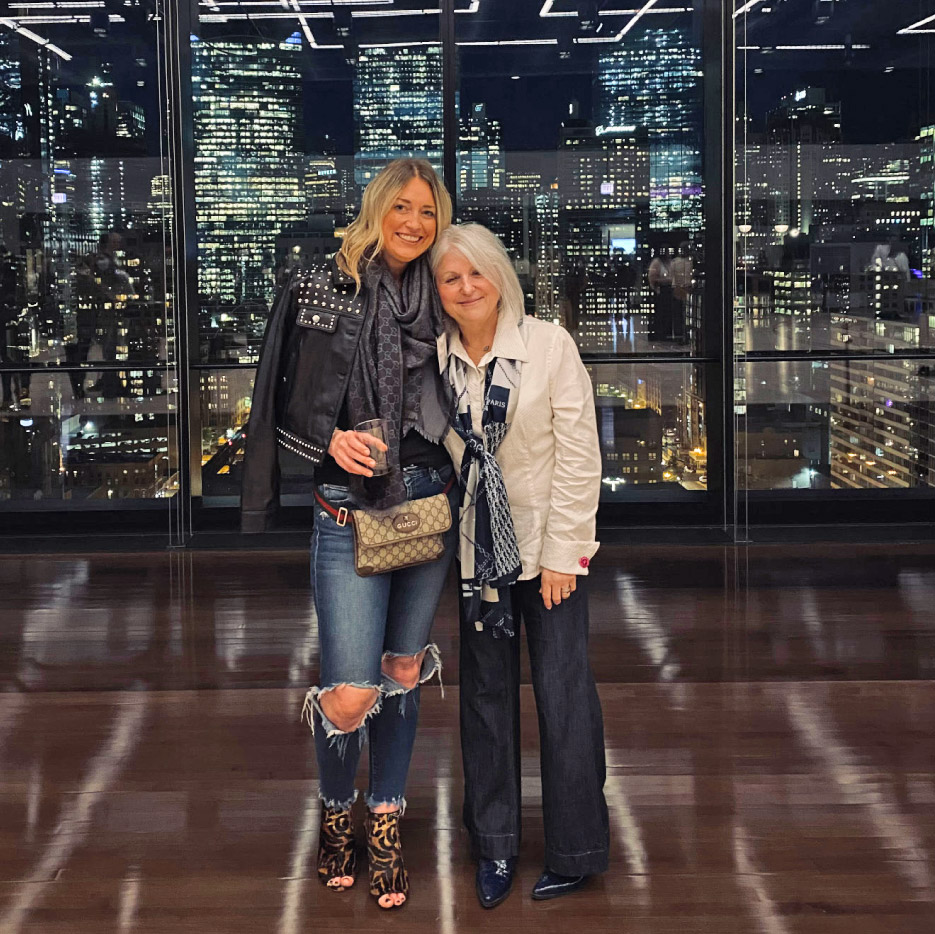 Christine Morgan and Rose Kallas are Two Girls and a Hammer.

The Girls Come Out Swinging
And so, the fun began. One of yesteryear's finest would now get a much-needed facelift. With no previous construction experience, the renovation came with a learning curve for both girls, continued Rose. "We designed the entire space, decided what we wanted and what our buyer would want. We were very hands-on, there every day making sure everything was being done properly. It was like going to the Harvard University of construction. We learned a lot about working on old buildings in the Chicago market, the permitting process, what it takes to bring everything up to code, and who is giving us a line of baloney and who is being honest with us, which is probably the biggest thing you can learn in the construction industry. We certainly had our ups and our downs, but we managed to work our way through every bit of the challenge."
The condo, when finished, was pristine. Christine then hired one of Chicago's finest photographers to do a comprehensive photo shoot, posted them on a real estate MLS website, and immediately, began receiving ten to twelve showing requests per day, explained Rose. "The pictures were so good, and the unit turned out so beautifully, people couldn't wait to see it. Many of the potential buyers were saying to Christine, 'We need two bedrooms and two baths. Would you do the renovation for us?' So, we were up and running."
After that, the girls sold their "baby" and have never flipped another condo. Rose's husband was paid back, and the girls were now the principal owners of Two Girls and a Hammer LLC. The company has been self-sustaining ever since, undertaking all levels of residential and commercial renovation and construction.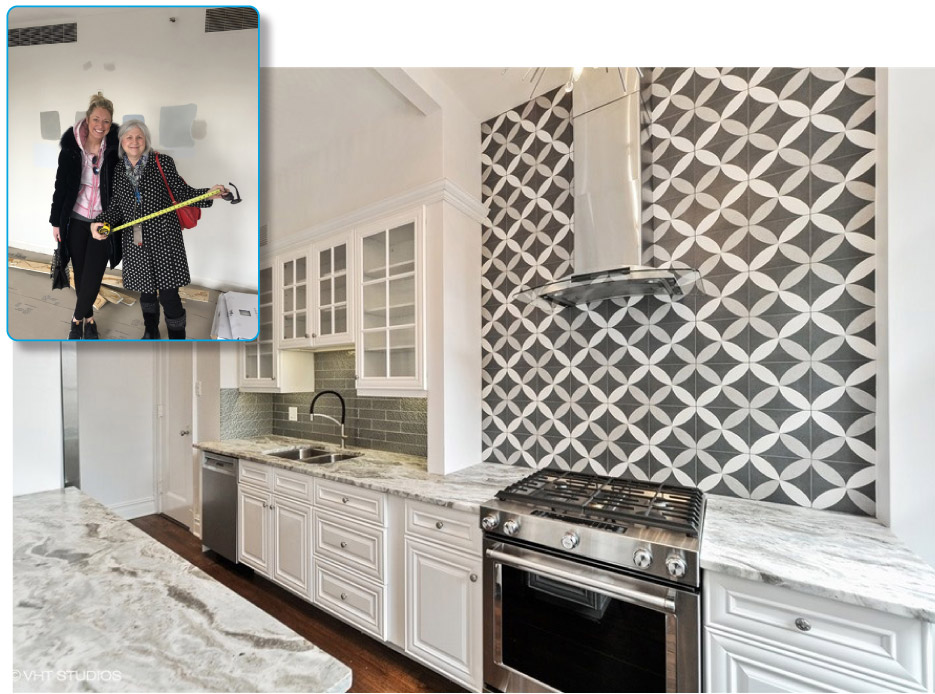 Above, inset: Christine and Rose, at the start of their partnership, at the 161 Chicago Avenue condo renovation, and above, a kitchen unit at the 1200 Lakeshore project. "We did a complete gut rehab of the space to modernize it for today's world while maintaining the details of its era. The kitchen included leathered quartzite stone and custom cabinets. "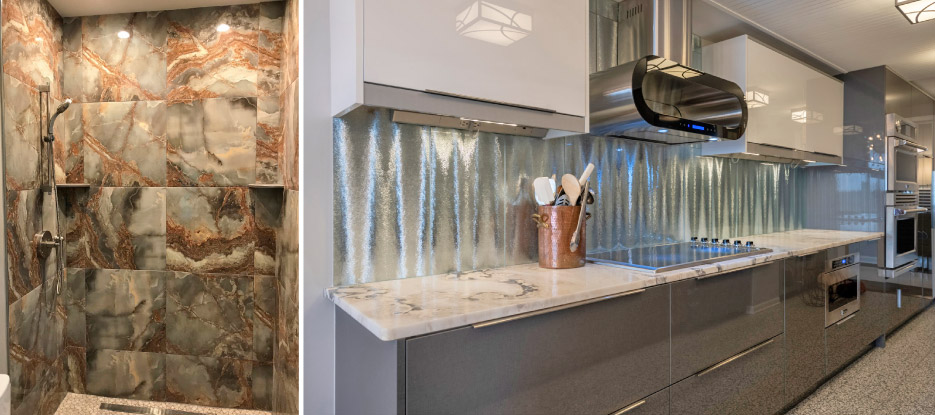 Above, left: This  walk-in shower features 24 x 24-inch marble tiles to update this bathroom into a sexy, modern space. Says Christine, "We work with (the client) to get all these finishes within their budget."


Above, right: This project, a 3,500 SF unit in the heart of Chicago's downtown, involved a complete gut renovation. The new, sleek kitchen features oyster marble countertops. .

Have Tools — Will Travel
The company's service spans approximately 15 miles out to the neighboring suburbs from their downtown Chicago headquarters, continued Rose. "The subcontractors we work with live in various parts of the surrounding Chicago area, so we try not to go any further than an hour and a half drive time. Any further than that, we don't make any money, because everyone is spending hours traveling in a truck, trying to get to the jobsite. So, it doesn't make economic sense for us. Besides, there is so much work for us in our area. We have been approached by a few clients to come down to Florida or out to Arizona, but it's just not feasible at this moment."
As for employees, it shouldn't surprise you that Rose and Christine are the total make up of Two Girls and a Hammer, while most work is performed by licensed subcontractors, continued Rose. "Our subs bring our vision to reality. They are wonderful people, and they love us, because we have all these wacky ideas, and they are creating many things that they haven't done before."
When asked about the Chicago market, Christine weighed in, saying that it is competitive, but not a problem for them. "We are very different than other construction companies, because we are very hands-on. We are with our clients start to finish, from the day that we go in and meet them to talk about their project. We then put their project vision together and give them a ballpark price and a full blown scope of the work. We then continue to move through the project with them. The way we bid our clients, is that we price labor and rough materials. As for the finish material such as tile, stone, faucets and cabinets, we let the client make the decisions on what grade they want to go with, because a cabinet is just a box, but what finish is their budget going to allow? So, we work with them to fit all these finishes within their budget. We even take them material shopping. It's just a very different experience for the client and maybe a different way of running a renovation company."
When custom design work is an option, an architect is just a stone's throw away, but not always needed, continued Christine. "When we do need an architect, we have someone who we love to work with. It really depends on the job and the location. If it's a simple bathroom, we'll either shop for a vanity or build a custom one, if it's not in a standard space. We also create our own kitchen drawings for our renovations, so our clients can see their vision come to life and the way it's going to look when the project is finished. We try and solve problems for them and maximize their space by talking to them about what makes the most sense. However, design and materials are a big factor. Most of it depends on their budget."
The girls also keep clients within their budget by using remnants found at stone yards, shopping vendor sales and closeouts. Christine and Rose, when possible, will donate usable, unwanted materials to homeless and abused shelters for their projects when doing a client's demo work, continued Christine. "We repurpose and donate as much as we can, especially appliances, cabinets and even stone countertops, because many clients just want brand new in their kitchens.
"The charities we work with, especially the ones for abused women, give these women apartments with kitchens that need to be redone."

Making it in a Man's World
If you showed up at one of Two Girls and a Hammer's jobsites, it's likely you'd see Rose donning knee pads, working a paint brush, or getting into the thick of things while explaining what needs to be done. About 90 percent of their work is residential, and the girls have a very high level of expectation, said Rose. "We have a wonderful relationship with our subcontractors. After five years, we really have a good team. When we do our full-blown house renovations, we have a team for that, and have another team for smaller projects. The Team knows and works well with each other and understands our expectations. We won't start a job until all the needed materials are on site, so everyone stays busy and are not waiting for materials to arrive. Everything is there. These days, we are dealing with supply chain issues, and if we have a problem obtaining a certain component for a client, we will try and find a replacement or just build something similar. Furthermore, once we get a job, we don't start construction until two or three months later, so everyone has time to put the job in their schedule, and we have time to get the materials delivered to the jobsite. So, we work very hard to keep our jobs on track."
Christine: "It takes months to get everything together and we won't start the demo until we do. Once it begins, we have a developed schedule and tell the team who is coming and when they are coming, and we follow through with them every day. We don't have the time to fool around with subs who don't want to work on our schedule, and our subs appreciate it, because they get a ton of business from us. They don't have to find the work, schedule with the client, or do the paperwork. We do it all."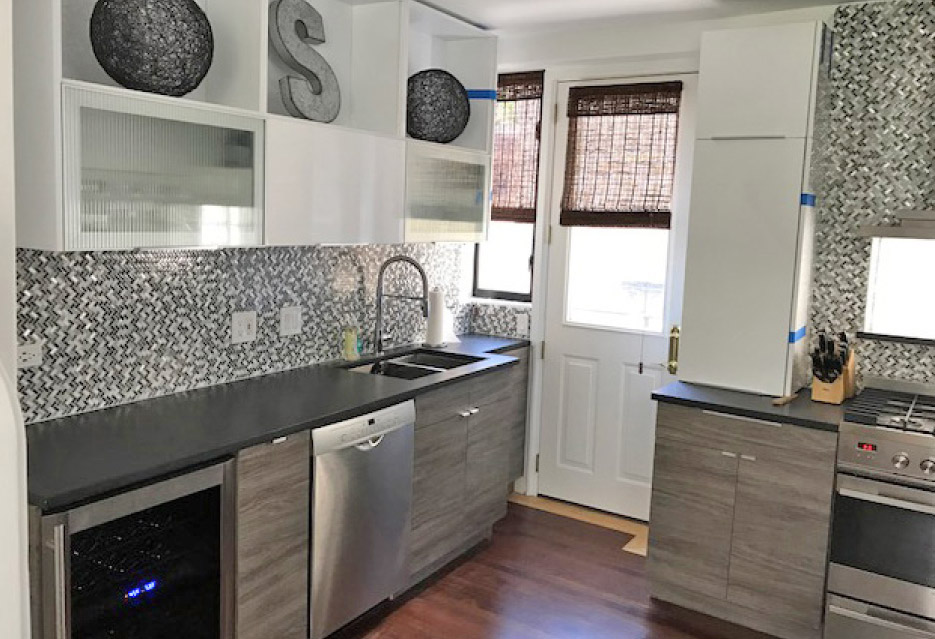 In this Gold Coast reno, Christine says, "We ripped out the dated kitchen and brought it up to date with sleek cabinets, a waterfall edge on the island, brushed black absolute granite countertops, and a hood over the range. The result was a thoroughly modern makeover."

Success, What's Hot and What's Not in the Chicago Market
True success can be measured on many levels, and as our interview began winding down, I decided to ask the construction mavens what they attribute their success to? Is it your quality, is it knowing what's vogue, is it word of mouth or is it the feminine touch? Rose responded: "All of the above, but the main reason is this: who makes the decisions about the inside of your house? It's your wife, right? Women run the house, and women like dealing with women. We've walked into various bids, where another contractor had just left, and we get, 'Oh, my God! He wasn't listening to what I was saying, and he didn't understand my vision!' Then, we get the job, because we understand what women want!"
As for what's popular in Chi-Town these days, Rose continued, saying, " As for the trend in cabinetry we are seeing more use of wood, and mixing and matching different colors, as well as expensive with less expensive, in fashion that's better known as High — Low and right now it seems to be vogue, trendy, cool and hip. Also, more natural colors and soft tones, and colors in appliances to bring in more excitement. Over the last two years, people have spent a lot of time in their homes, and stark whites don't give them that warm, fuzzy feeling. It's too institutionalized."
Christine: "We are very aware of design trends. Super high gloss laminates, high-contrast, and wall papers with textures and colors are popular, as well as leathered surfaces on stone. Five years ago, everything was white quartz or marble. Now we are selling lots of quartzites. We tell our clients that your countertops and lighting are the jewels of your kitchen. We just got a call for a suburban project, and she wants Dekton. People are also gravitating toward lighter flooring, because darker flooring shows stains. More modern cabinets and doors with colors that pop, rather than light or dark. Shaker is also trendy. Blacks are also coming back with different textures and clean lines, and even retro colors from the 1960s. Cabinets with drawers and pullouts are also getting popular."
Rose: "Yes, it's all about functionality. The consumer is all about, 'When you open up your pantry, are those shelves going to roll out and pull all of those cans out in front of you?' That's where we come in, and really work through and create more functional spaces. Like I tell our clients: a cabinet is just a box, and it's what you put in that box that makes your life easier. We educate them, but I do feel that sometimes it's to our detriment, because we give some clients a lot of information, and then they don't use us for their project, but they use our ideas, which is fine. However, we really do feel that we need to give them all the information they need to make an informed decision."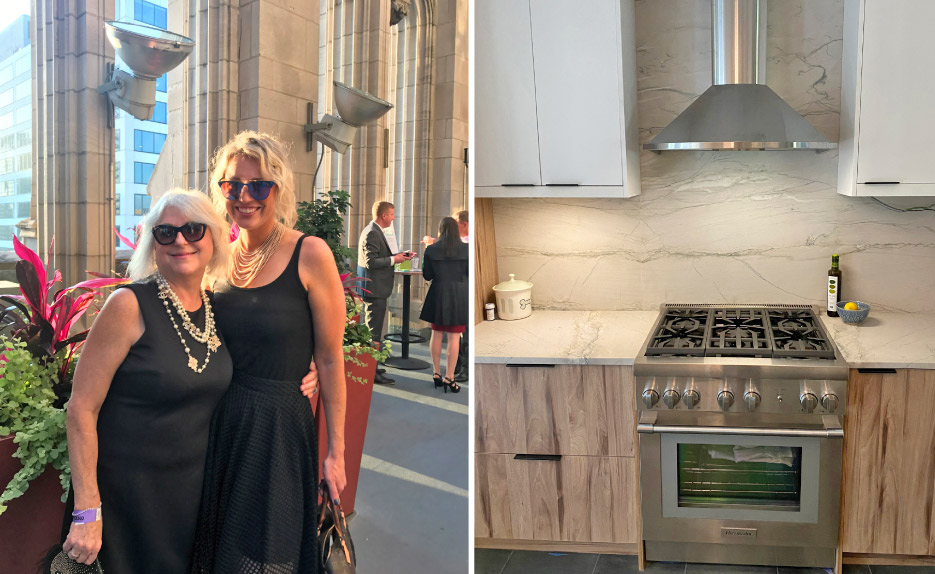 Above, left: Rose and Christine in the Crown-Tribune atrium. They are currently working on a residence renovation at the Residences at Tribune Tower.


Above, right: This kitchen update included quartzite countertops, full height stone backsplash, and custom cabinets.

Hitting the Nail on the Head
In closing, when Rose and Christine first started, they would go out almost every day on bids, until they understood that they were killing themselves and weren't being productive, but not so anymore, continued Rose. "We realized that to give good customer service, we couldn't kill ourselves trying to grab every piece of business, so we started telling our customers that their bid could be a month or more away. Some were willing to wait, while others said they couldn't, but eventually called back a month later, saying that we are worth the wait. That, for us, was very heartening. So we continue to visit our jobs every day, but dedicate one day a week to going out on bids. Tuesdays and Wednesdays are dedicated to doing punch lists and jobsite stuff, and Thursday and Friday are our catch-up days."
Christine: "Both of us are there 100 percent on each project, because a renovation can be very difficult for a family. Lots of big decisions, lots of money being spent, and I think our clients really appreciate the way we do things. We don't have a secretary or somebody else talking to you about your project. We answer our own phones, and we get the calls and texts at eleven o'clock at night asking what you think of this or that. We are all about keeping in mind our client's lifestyle, their budget, and their ultimate goal. We are funny and fun, and we run a tight ship. We took a chance and it worked!"

For more information go to www.twogirlsandahammerllc.com, or find them on Instagram and Facebook.