Notre-Dame de Miséricorde – AKA Claire's Arch
Sharon Koehler
Photos  Courtesy Northeast Masonry
Those of us who deal in natural stone (whether we supply it, sell it, buy it, fabricate it, install it, admire it or cuss it out from time to time) can for the most part can agree that natural stone is ageless and timeless. It was around before we got here, and it will be here long after we are gone. Not only do we all know it, but a man by the name of Paul Holloway knows it better than many of us.
Paul Holloway is a mason and has been so for roughly 48 years. He started in the trade when he was 15 years old, in Los Angeles, California, and is still doing it today. He practiced his trade not only here in the United States, but across Europe. He was also a Peace Corps volunteer, designing and building schools in West Africa.
Holloway owns Northeast Masonry, a successful masonry business in Mound House, Nevada, that he started in 1988. Northeast Masonry holds licenses in three states. Not too many places these days can say they have been around for over 30 years. But Paul doesn't take all the credit for his success. He realizes that he had good people, good friends, and some great inspiration along the way.
Paul was working on what he called a "castle" for his family in rural Mound House, Nevada, when things took a happy turn. They added a daughter, Claire, to their family. It was that act that would eventually send Paul on a quest to create and build a masonry masterpiece on his own property.
The idea for Claire's Arch came from his then 5-year-old daughter Claire when they were driving together one day. He told Claire he wanted to build an entrance to their property. Claire asked him what kind of entrance. Paul told her he wasn't sure, but it would need to be "beautiful and strong." His daughter responded: "Papa, can you build an arch?" Those words sparked a journey, a project and a labor of love that took over 15 years to complete… Claire's Arch.
Above, The piers and arch are built from local andesite stone, with a Black Granite keystone.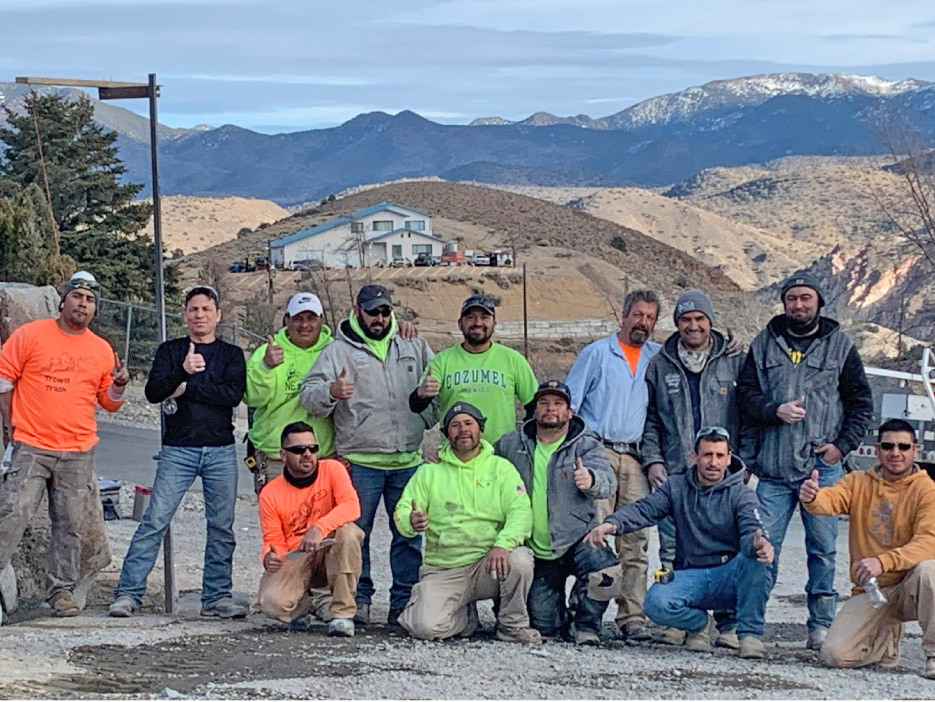 Above: The Arch construction team
Paul had a good company and a good reputation, but he needed more. He needed funds. So, he started chasing large CMU commercial projects for his business, for capital. He started doing a lot of big commercial work at Lake Tahoe, Nevada. He took large jobs at El Dorado Beach and King's Beach in Tahoe, as well as a large multi-use project running from Sand Harbor Beach to Ponderosa Ranch Resort.
Funds weren't the only thing he needed. He needed equipment… large, specialized equipment. He needed a large – actually, an extra-large – cable saw.
In 2017/18 he had designed and built a smaller cable saw for use in company projects, but he needed something bigger. So, he took the lessons he learned from building the smaller saw, went back to the drawing board and created a custom, larger cable saw capable of cutting boulders up to 16 feet. He built the larger saw for use solely on Claire's Arch. (Both of these saws and a guillotine are currently for sale. Check out the SRG Classified section).

Sourcing Local Stone
Another thing he needed was stone, and lots of it. He chose Andesite rock. Andesite is very popular in the Lake Tahoe area and it could be easily, locally sourced. Andesite is volcanic in origin with a light to dark gray color range. It does contain crystals, but very seldom are they large enough to see, and occasionally Andesite does contain round "pockets" that were created by bubbles of gas. He wanted the piers to be the same type of rock as the arch, but he wanted them to have a patina, so he collected stone for three years, picking and choosing the color and size he wanted.
Holloway teamed up with a local construction company to draw up plans. He wanted to make sure that the structure looked like part of the surrounding landscape. So, to that end, he created a mockup of the arch. The model was 1/4-inch scale, made of natural stone, created right outside his office. He took what he learned from building the model and changed the plans several times before getting exactly what he needed. It was also the mockup that gave them insight to what kind of tools and equipment they would need to use.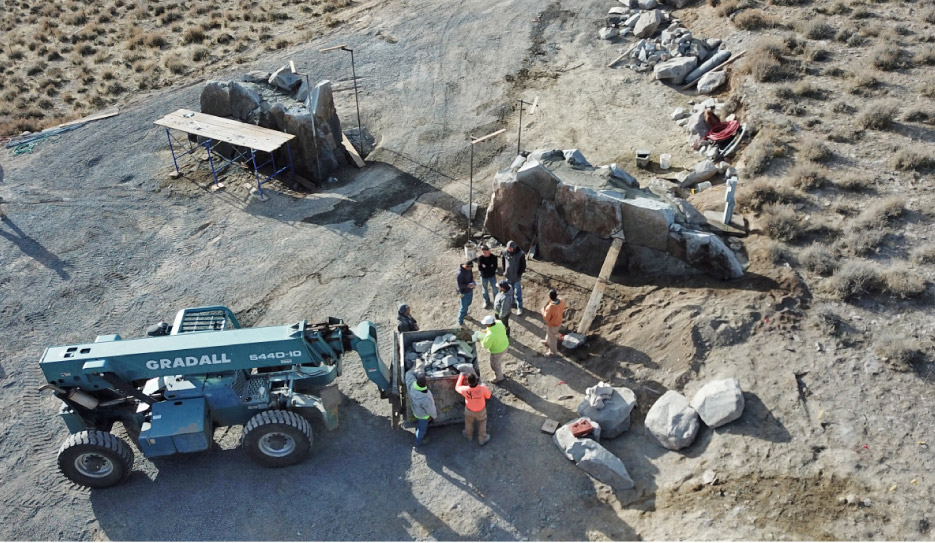 Above: The bases of the two piers come together, ready to build the arch
Above: Holloway's custom wire saw, cutting stone for the arch; Hand-cutting stone on site; Lifting one of the major pier stones into place.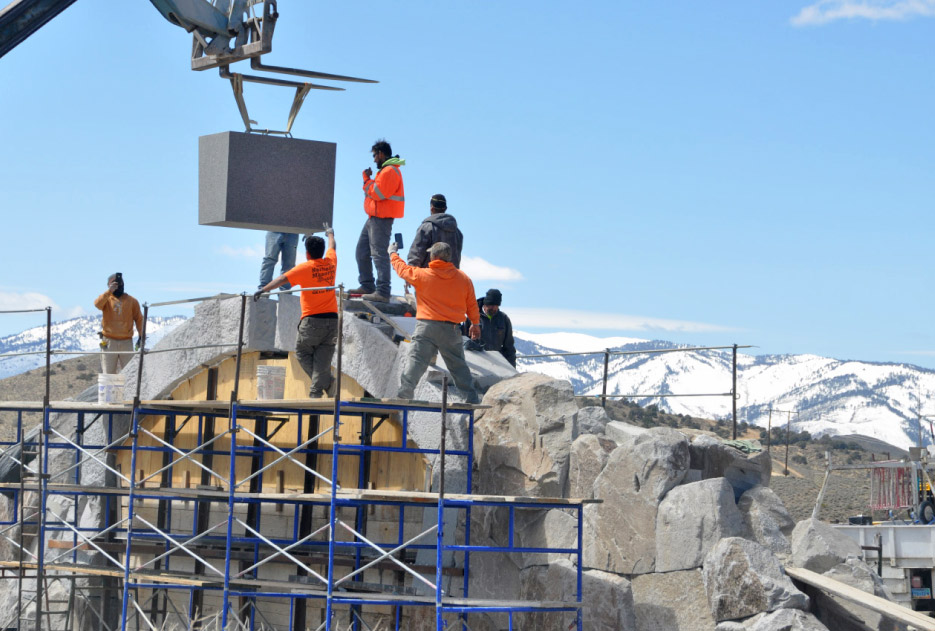 Above and below: Fitting the keystone.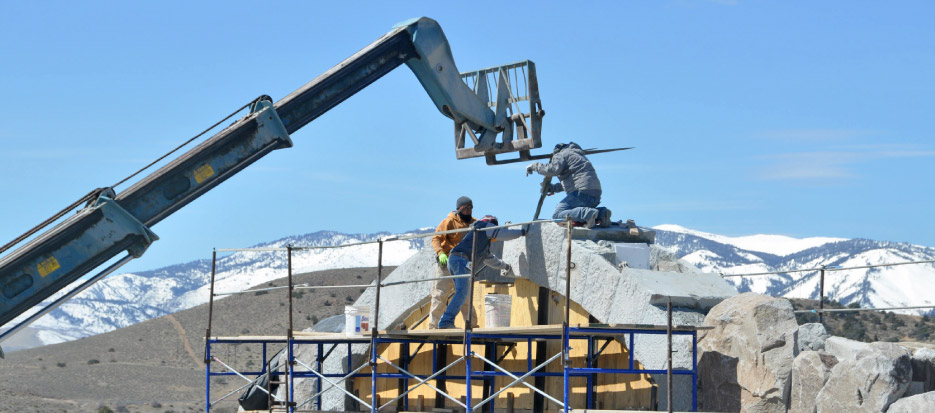 Building the Arch
On January 1, 2020, Paul and what he calls a team of "a few good men" started working on the steel mats that would go under and support the two piers. After that it was up to Paul, gravity and "a few good men."
Once the footings cured, the crew used a crane to start placing the 30,000-pound pier stones. After the larger boulders were placed, they used a Gradall to place the smaller 10,000-pound stones. (A Gradall is a piece of heavy-duty construction equipment that features a tilting, telescopic boom, which makes it a good fit for this type of project.)
The stones were cut on Paul's large saw and then hand dressed for fit. More importantly, they are fit together without bonding agents such as mortar or concrete. Gravity holds everything together, so precision really is important.
The arch is also andesite rock, but without the patina of the pier stones. The exception is the keystone. The very middle stone of the arch weighs 5,832 pounds all by itself and is black granite.
Paul said that they changed the keystone to granite on a whim, after already cutting one keystone.
Holloway often discussed aspects of the project with his team. So, he had a conversation with his men, questioning if they should change that piece, and they said, "Why not?" So, the change was made.
It may have taken over 15 years to get the project started, but once it started, Paul says, "They smoked it!" They started on January 1st, 2020. The first stones were laid in mid-January 2020 and the arch itself was completed by mid-March 2020. The landscaping, curbing and plaque boulders were completed in the fall. Paul lived at the site while it was under construction saying that he wanted to view it in all different types of light. Besides building it, Paul is also proud of the fact that no one got hurt during the process.

Dedication
There are two 40,000-pound boulders at the finished site, with inset plaques. One plaque has the names of all the people who worked on or had a hand in the project, and is dedicated to all Stone Masons past and present, worldwide. Paul will say without hesitation: "I didn't build that arch. Tremendous teamwork and very skilled craftsman built that arch."
The other plaque is a dedication to women, and more importantly, to the women in Paul's life who helped him in different ways, at different times. He says they believed in him or saw something in him even when he couldn't see it himself. One woman helped him get through school. Another one loaned him money when he needed it, no questions asked. Of the ones who are still living, he keeps in touch with them still, today. He says he is blessed to have known them all.
When asked "Who gets to see the arch?" Paul laughed and said "It's kind of ironic because it's in a remote neighborhood east of Carson City, along the river. It's in a kind of rural area, in a beautiful setting on property I bought 35 years ago. The arch sits on the road and is easy to see. All are welcome."
The official name of the arch is Notre-Dame de Miséricorde, which translates to Our Lady of Forgiveness, but Paul refers to it as Claire's Arch, as she was the one who inspired it.
In essence, Claire's Arch is a labor of love.
It's a 700,000-pound monument to his daughter, the women who have touched his life, and stone masons everywhere.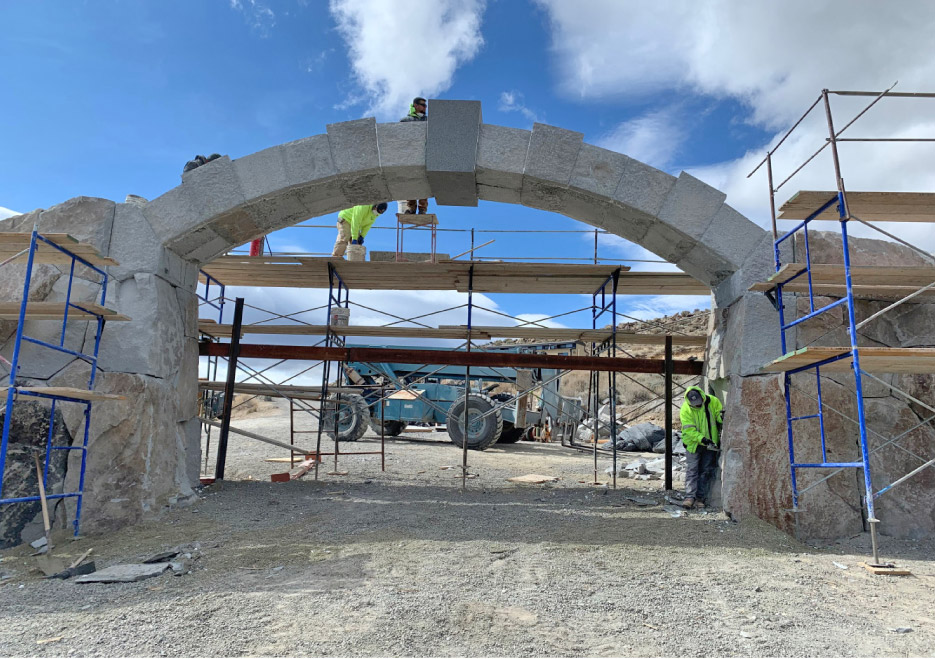 With the keystone in place, the major work on the arch is almost complete. Finishing touches include hardscaping and placing two 40,000 lb. andesite boulders with inset plaques, which inform visitors and dedicate the arch site.
The arch was cut from black and white andesite Amacker stone locally sourced just outside of Markleeville, CA. The piers are surface stone with patina and cut to create a natural formation designed to fit with the terrain, unlike the rest of the arch, which is the same stone, only without the patina. The keystone centerpiece is black Granite, quarried in Raymond, CA. This masonry-constructed arch with natural formation piers uses over 700,000 pounds of stones, all cut with Holloway's custom-designed wire saw.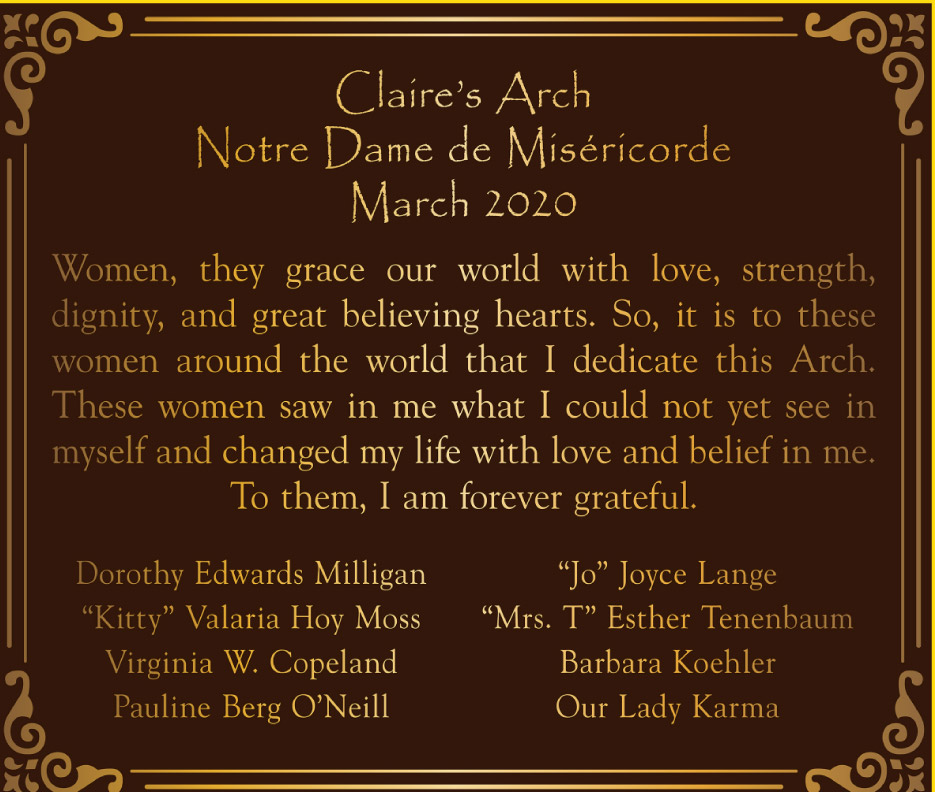 Below: Hand-chiseled steps lead up to the right-hand side plaque, dedicating Holloway's efforts to the influential women he has met over his life and career.


"The World Needs More Tradesmen"
Paul does believe in the value of masonry as a trade and he believes that schools should offer masonry and other trades as courses. He strongly believes that tradesmen are the backbone of a country. "They build our roads. They build our factories. They build our schools. They build every part of our lives."
At one time, Paul approached the local high school and offered his services to teach masonry classes as a working trade. The school shortsightedly refused, saying it was not their focus.
Since his saws and guillotine are up for sale it was thought that maybe he was retiring. After all, a working mason in his 60s is hard to come by. He said he was taking a breath and figuring out his next path.
Northeast Masonry will be a part of Paul's story and legacy for many years to come, but it will be overshadowed by Paul's masonry tribute to a little girl's question, and the women he met in his life who believed in him and helped him. Paul Holloway will always be known as the mastermind and creator of Claire's Arch.

For more information on this amazing project, there are two videos of Claire's Arch on YouTube. One shows the actual process of building it, and the other is a panoramic view. There is also a video of Holloway and the arch when he was interviewed by a local Nevada TV station.

Visit North East Masonry's website at www.northeastmasonry.us .