Google Reviews Are a Fabricator's Online Word-of-Mouth Reputation
Stephen Alberts
Countertop Marketing
Your countertop company gets probably most of its retail countertop projects from:
1. Word-of-mouth leads
2. Referrals from contractors
3. Website and social media.
Most fabricators we talk to get most of their retail jobs from number 1 and number 2. Some say they get projects from their website and social media, but they aren't sure. Most countertop companies I speak with don't track their online leads, so it's tough for them to tell where they are coming from.
In the online world, Google maps acts like a countertop company's "word-of-mouth." Think about it. When you get a WOM lead it's someone who mentioned you to their friend/family and then you get the job. If I'm online looking for a countertop company and I read reviews on Google, I'm essentially using those reviews like referrals. The only difference is I don't know the person leaving the review.
But it doesn't matter! And the numbers below explain why.
84 percent read online reviews for service-area businesses and tradespersons.*
81 percent of people use Google to evaluate a local business.*
55 percent of people care if the owner responded to the review.*
The first two stats don't surprise me, but the last one should matter to you! I always tell our clients that whether they get a Good or Bad review on Google, respond to it. And since 55 percent of people look at that, it's super important that you respond to a review. I'll break it all down for you below. I'm going to go over some simple steps you can follow to get more Google reviews, and I'll give you a few tips you can follow.

Step 1: Set Up Your Google Maps Page
You most likely already have this but you want to set up a Google maps page. It's been called Google Local, Google My Business and at the time of writing this article, it's called Google Business Profile. They go through a lot of names! But it's the same profile as your Google maps listing. Go to www.google.com/business/ and follow the next step.
One of the most important things you can do to promote your business online is to set up to receive – and respond to – customer reviews of your services. Best of all – it's free.

Step 2: Get Your Google Optimized review Link
The next step is a little tricky but I'll walk you through it. Go to the Google developer's link (see below) and type in your business name – mine is the example.
Select and copy the Place ID that comes up, and paste it onto the end
(after the =)
search.google.com/local/reviews?placeid=
Yours might look something like this, with a string of numbers and letters:
search.google.com/ local / reviews? placeid = ChIJ603jQDwQ6IkRW wH93k9KRaM
What this will do is automatically open up the review box when someone clicks on it (see the example of the review box in Sample 3). You want to save this link to a document so you don't lose or forget it.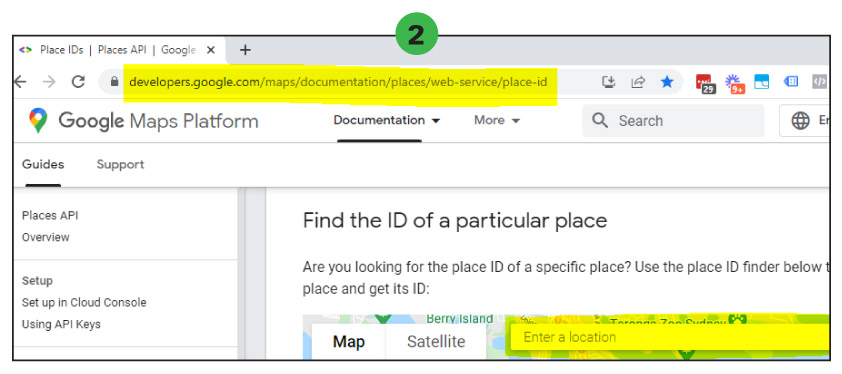 Step 3: Send This Link to Customers
After a job is complete, send your new Google optimized link to customers. It will open up the review box like Figure 4 when they click on it. This makes it much easier for them to leave you a review! And remember, the more reviews you have, the more retail countertop jobs you will get from people reading those reviews. Below is an example email you can send out:
Hey, (NAME)
Our team enjoyed working on your (TYPE OF COUNTERTOP PROJECT). If you have any issues, please contact me immediately about it at (your cellphone). And if you are happy with our work, please leave a review at the link below:
(YOUR GOOGLE LINK)
It helps spread the word about our countertop company to others in the community.


Asking for Google Reviews
Below are Some tips and tricks when trying to get more Google reviews for your countertop company
Make sure to ask them right after the job is complete if they are satisfied with your work. Give them an option to call you if they aren't happy. This will help with preventing negative reviews. Give them your cell phone number (as we did in the example email). A cell number sounds more personal than a business office number.


Ask them in person, on the phone, with a handout card, and with your new review link. The more ways, the better!


Follow up! Most will not leave you a review right away. Make sure to follow up with them 2-3 times, in 2-3 emails and 2-3 phone calls.


You can shorten your review link with a handy online tool (

https://bitly.com/

). That way the link to the reviews page isn't super long, which can discourage people from using it.


Respond to all positive and negative reviews. Remember 55 percent of people read a business's response.


If you get a negative review, call the customer right away and see if you can fix the issue. And if you can resolve their issue, they can change that review into a positive one. And if that doesn't happen, be sure to respond to it in Google.
When responding to negative reviews write the response and let it sit there for a day. Then read it again. It should sound truthful, caring, and professional. You don't want to blow up, and that's the reason for coming back to the response you wrote a day later so you can review it again with a different mindset.


Be consistent! Don't stop asking for reviews after one completed countertop project. Keep doing it month after month and you will see reviews come in.


Unfortunately, the stats are against you. Realistically, you can expect about 1-3 out of 10 customers to leave you a review, even if you follow the steps above and all my tips. But even getting only 2-3 reviews a month will add up. That's 24-36 after a year, and you will get more retail countertop projects from it. Just keep at it!

Stephen Alberts is the owner of the Countertop Marketing Co. They specialize in helping countertop companies grow the retail side of their business outside of word-of-mouth and referrals. To learn more, book a free strategy call at www.countertopmarketingco.com or email steve@countertopmarketingco.com.