Fulfilling Dreams Together, One Customer at a Time
Peter J. Marcucci
Photos  Courtesy Bedrock Quartz Surfaces
Coming from modest beginnings in 1976, Topcraft, a laminate countertop company started in Sandy, Utah, was destined from its onset to be one of Utah's premier stone fabrication companies. The company's founder, David Jorgensen, had gained valuable experience from his father's laminate business, and eventually created Bedrock Quartz, one of Utah's foremost suppliers of fabricated quartz and natural stone.
Bedrock Quartz is now a family business employing 165 team members, in four locations. Bedrock Quartz has grown exponentially since 2002, with the help of David's sons Alan (CEO), Eric (President of Operations) and Steve (Production Builder Channel Manager). Through the values inspired by their father while growing up, the family has turned a garage-based lamination shop into a stone fabrication powerhouse, recalled Alan Jorgensen.
"There are eight kids in our family, and we had school at home. When we were old enough, my father would take us to lighten the load for my mom. We learned hand tools, construction sites and customer service. He taught us to 'measure twice and cut once', and 'if you don't think you have the time to do it right the first time, what makes you think you'll have the time to do it right the second or third time?' He also taught us persistence, doggedness, how to figure things out, and how to innovate."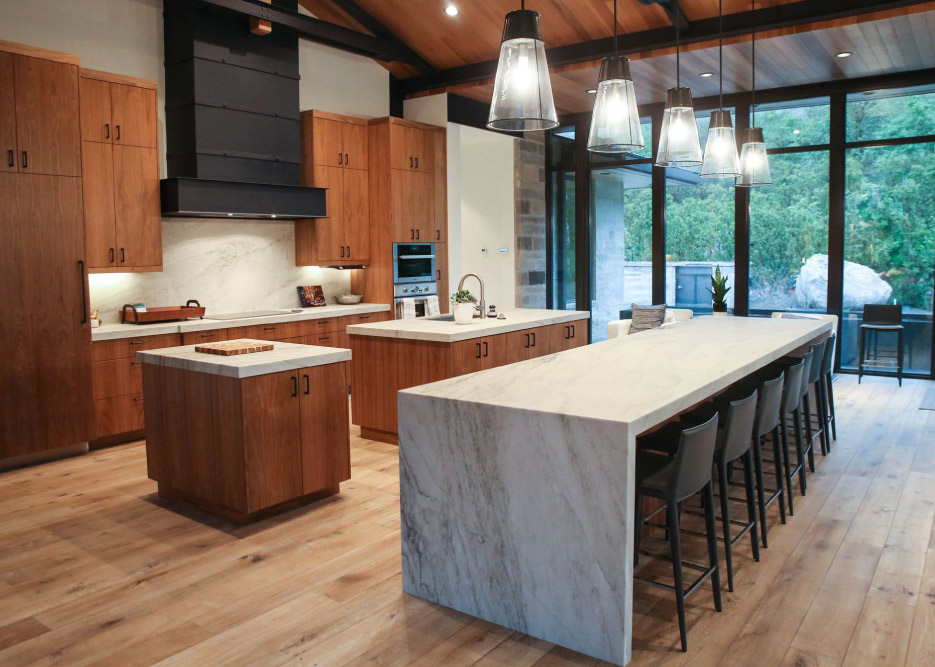 Above: A dramatic White Pearl Quartzite waterfall table is the centerpiece of this spacious open plan room.
Below: Two Quartz islands are designed as a modern, industrial contrast to the decorative quartzite stove counters and backsplash chosen in this kitchen and dining area.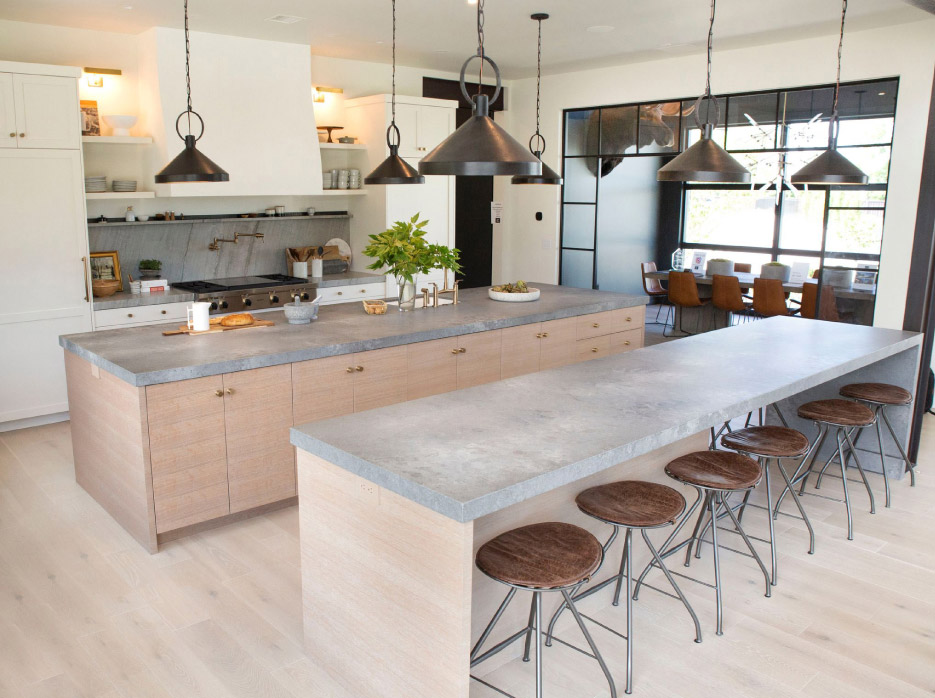 Values to Grow By
In 1996, after seeing the writing on the wall, Topcraft began transitioning from laminate countertops to solid surfacing, and then to quartz, and by 2002, had fully transitioned to quartz and stone fabrication. Leasing a 7,200 square-foot shop and outfitting it with all the necessary Park Industries equipment, high volume production began in earnest, continued Jorgensen. "It was at this point that we formalized the partnership and created Bedrock Quartz. Even though we had a general foundation in construction, it was a heck of an experience to figure stuff out."
As it turned out, the tiny seed that was planted in a garage in 1976 continued to flourish, and by 2005 expanded to a new, 25,000 square-foot fabrication facility In West Jordan, Utah. Furthermore, after emerging out of the Great Recession a decade later, an expansion of 100,000 square-feet was added in 2019 to keep up with the demand, continued Jorgensen. "It's been an interesting journey of ebbs and flows, successful years and struggling years, and to keep moving forward and figuring things out to get to the next level, and our current level."
The recent fab shop extension includes a Park Industries Fusion 4045, Fusion 4245 and Yukon bridge saw, two BACA SawJets, a Loeffler KSL 100 Pencil, Montresor Vela 7.2, four Park Industries Titan 2800 CNCs, and a Zares Optical CNC tool measuring system. A Park Industries Hydroclear 220 Water System processes and adds clarity to all the slurry water produced. A variety of jib and bridge cranes outfitted with vacuum lifters by Woods or Manzelli safely facilitate all movement within the OSHA-compliant wet shop. Additionally, just a few years ago, an air purification system was installed that evacuates and replaces shop air four times per hour.
Total team members keeping the well-oiled production machine running include: 52 in the fab shop and warehouse, 41 in installation, 32 in sales and sales support, 23 in office and administration, 9 templaters and 8 programmers.
Fabrication is approximately 95 percent residential, with 40 percent of their business coming from retail customers, 40 percent custom builders, 10 percent production builders, and the remainder coming from Lowe's contracts. As for customer demographics, Alan went on to paraphrase the old saying, "Don't put all your eggs in one basket."
"I believe strongly in variety of customer type. Our single biggest customer is 7 percent of our business. Some of our competitors might have had 80 percent of their business with Home Depot or 90 percent with production builders, and that sounded risky to us, to be so concentrated into one area."
Thanks to their three satellite showrooms, the company's radius of service covers the entire state of Utah, as well as some portions of Wyoming, Idaho, and Arizona. The St. George showroom, the farthest of the three, is about four hours from West Jordan. In this case, fabricated jobs are trucked to the jobsite and local installers complete the process.
With well over 100 colors to choose from at any one time, the sales ratio is approximately 70 percent quartz, 20 percent granite and 10 percent quartzite. Fabricated porcelain, to a small degree, is also happily provided when requested.
As for marketing, besides their excellent word-of-mouth reputation, retail sales are generated through their website, social media, radio and television ads, while the builder's side of sales comes through referrals from longtime relationships and excellent team members, said Jorgensen.
He added, "We are definitely not the low price leader in our markets. However, we find that because of our stock offerings and quantities of materials on hand, we are quite competitive. Our customers have a huge amount of color choices with competitive pricing. That said, we do not change or advertise based on the lowest price in our markets. Instead, we work toward quality and the positive customer experience that people are looking for."
"When we work with customers, it's an education and discovery process. We are trying to understand what's interesting to them, what colors they like, and what their house looks like, and then educate them on which of our products might fit what they're looking for. This helps us to become a trusted partner, and helps them to discover what they really want. We don't highlight any brands of products in our showroom," Jorgensen said.
Sinks, faucets and tile for flooring, walls and backsplashes, are also on the menu for clients to select for their project.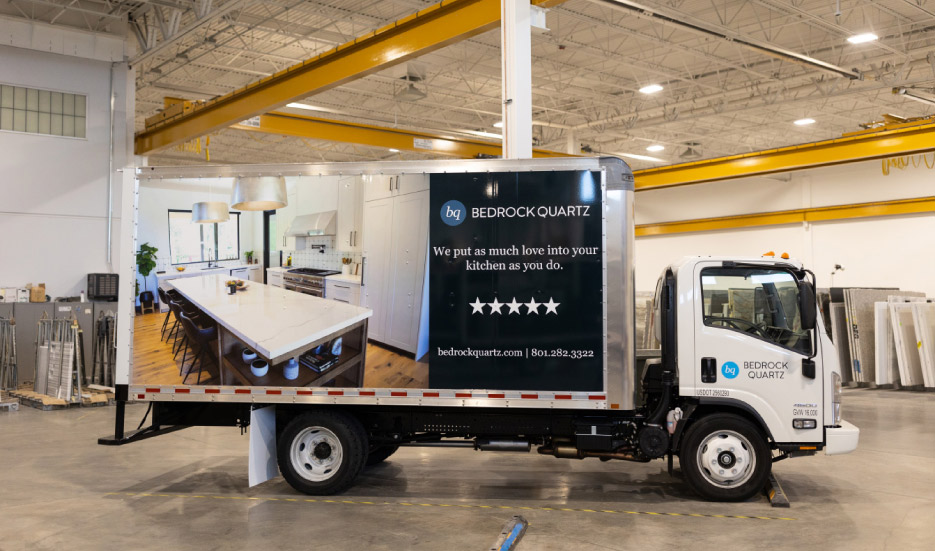 Bedrock uses a fleet of several delivery vans and installation trucks – which are also rolling advertisements. Bedrock Quartz services Utah and parts of adjacent Wyoming, Idaho and Arizona territory.


Values to Succeed By
Several years ago, Bedrock Quartz adopted five core values that the company and team members work to follow. Those values are composure, positivity, innovation, execution and integrity.
"Our mission statement is 'Together We Fulfill Dreams.' The idea behind this concept and our values is that we are trying to create an environment where our employees, our customers and our vendors can all work together in a way that all of us can further our individual dreams and goals while fulfilling our customer's dreams, and our core values are what guide that interaction. All of these things make a difference in how we show up for our customers, and how we show up for each other. We want a work environment that people can be comfortable in and are happy. There is no one part of our team that is more important than the other, and everyone here does a great job of working together and solving problems for our customers and vendors. Many team members have been here for only a short time, however, many have been here over ten years as well, from the early days. They have proven their ability and strength, and been willing to grow with us. A wonderful compliment to all of our people is that all of our upper level and many of our mid-level managers could be out for a few days, or be unavailable in case of an emergency, and the company business would carry on."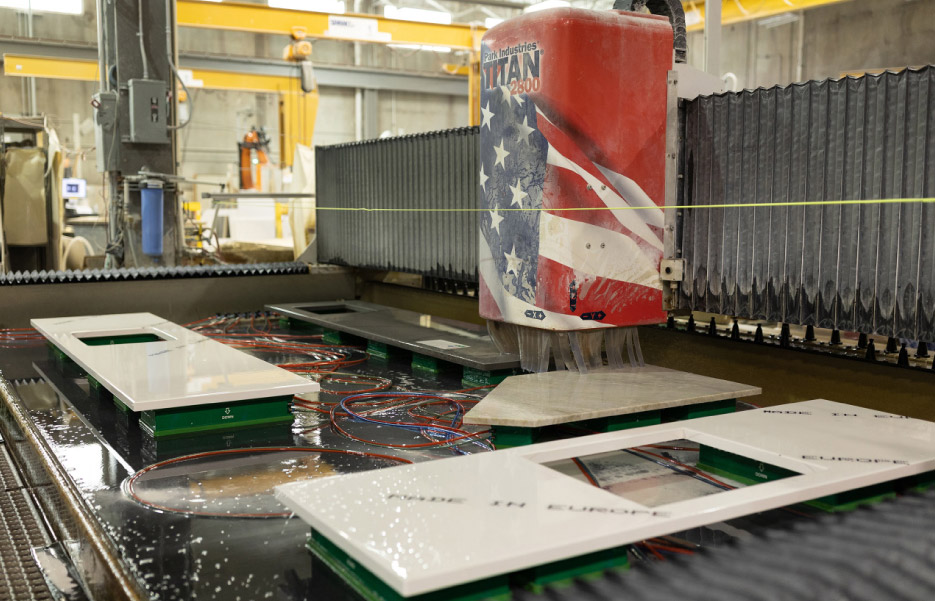 Above: One of four Park Titans Bedrock uses to keep production in step with demand, with over 90 skilled fabricators and installers to add finishing touches to the job.
Below: The Bedrock fabrication shop uses jib and bridge cranes outfitted with vacuum lifters by Woods or Manzelli to move materials through the OSHA-compliant wet shop.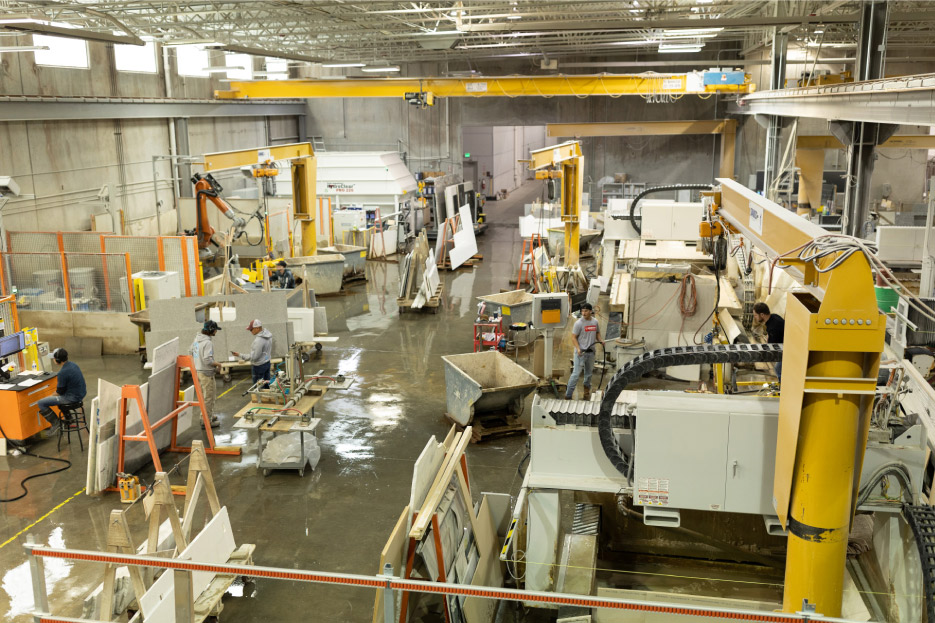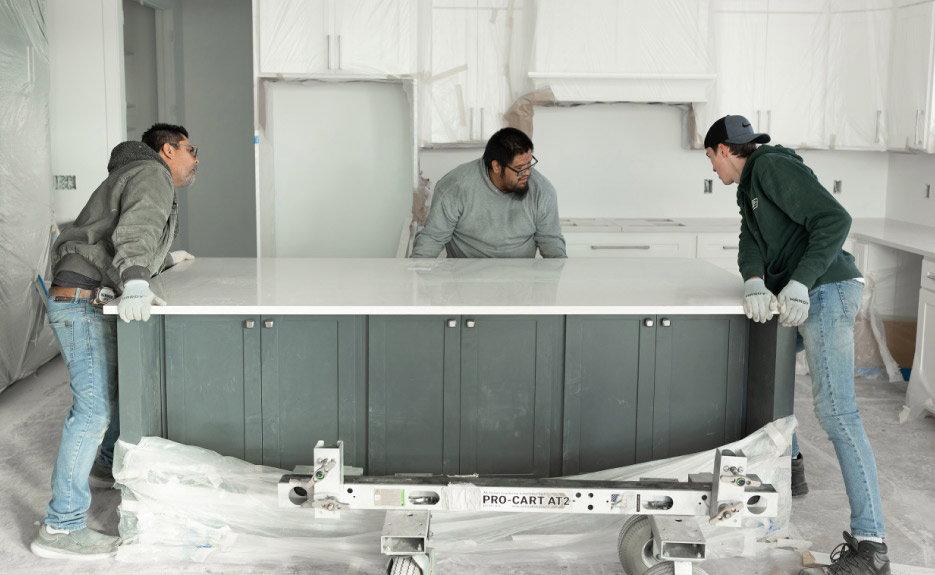 Below: Bedrock makes extensive use of digital templating and AutoCad programming for the most efficient use of time and materials.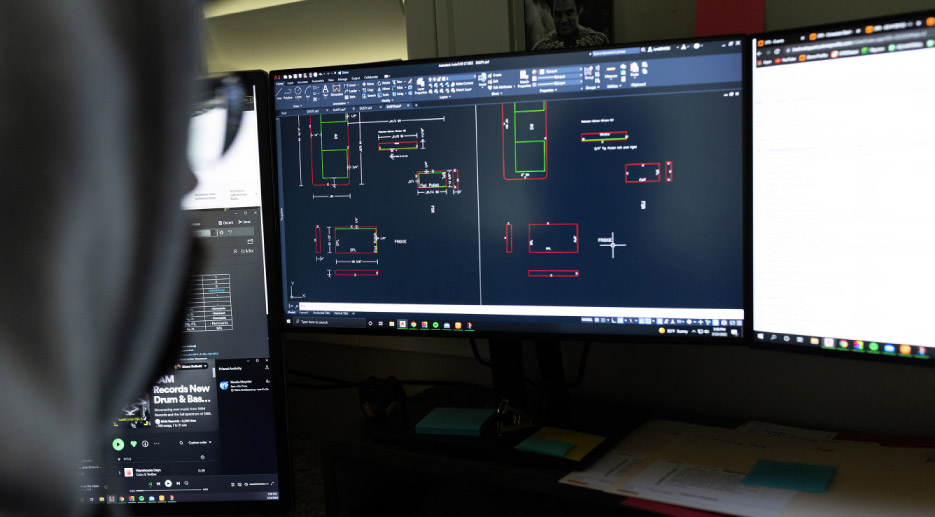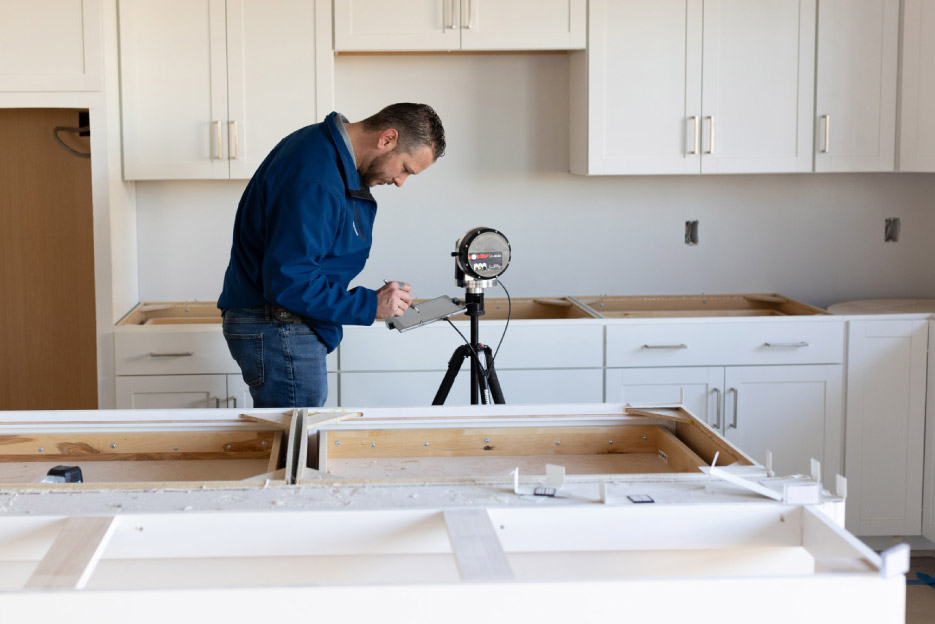 Success Etched in Stone
"The growth has been rapid enough in Utah, so I would not really call it a tough climate to do business in," continued Jorgensen. "There's a lot of opportunity here, but the tough aspect is about having enough trained people in all of the departments to take advantage of more of the work. We could sell more, and we will sell more as we bring in more quality individuals to take care of our customer's needs. Our 10-year goal is to triple the size of the company through expanding our operations, teams and acquisitions. We are two years into this goal, and our people are absolutely critical to that.
"One of our key focuses is talent development. We run training programs to help our people grow, and to help them understand that there is a tremendous opportunity for their personal growth within the company. We are constantly working to provide a top-notch, worry-free and delightful experience that our customers will be thrilled with, and, to the extent that we are successful at that, is the ultimate measure of our success blended, with our employees' growth and development."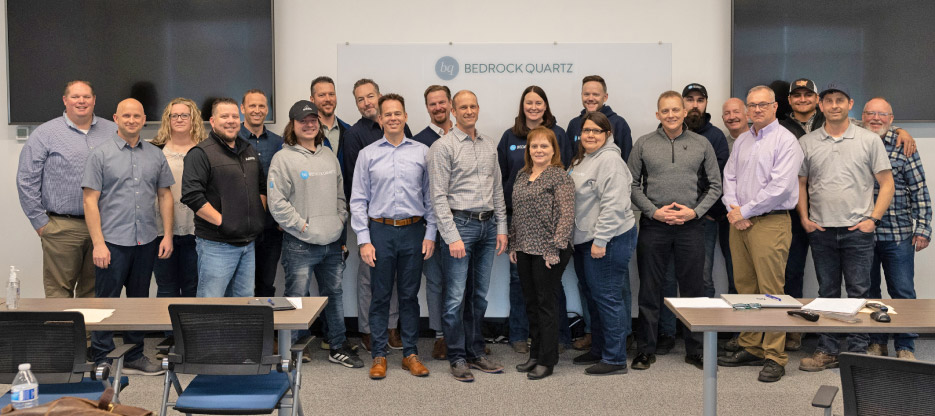 Above: Bedrock Quartz managers and executive team.


Below, left: Calacatta Nuevo quartz kitchen features an exceptionally long, curved bar countertop with entertaining room for 7-8 people.


Below, right: A unique floating vanity designed for a guest room.

Below: Some of the dedicated Bedrock install crews.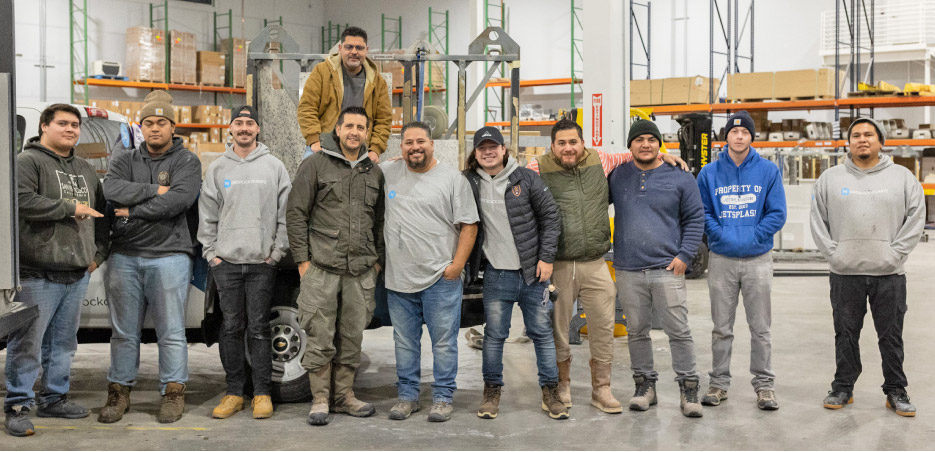 Bedrock Quartz is a member of the National Stone Institute, the esteemed Artisan Group and numerous home builders groups. Bedrock Quartz is also a valued customer partner of BB Industries.
For more information, visit their superb website at www.bedrockquartz.com.