Colonial Marble and Granite: Using Quote Countertops Digital Technology to Drive Sales and Efficiency
Larry M Hood
Peter J. Marcucci
Photos  Courtesy Colonial Marble and Quote Countertops
Over the last several years, the Slippery Rock Gazette has reviewed apps and digital tech devices developed specifically for the stone industry. Our conclusion: there are many great options available. So: how do you choose what fits your shop? The Slippery Rock Gazette talked to Colonial Marble and Granite about its experience being an early adopter of digital technology, and their experience using Quote Countertops.
Founded in 2006, Colonial has its corporate and fabrication location in King of Prussia, Pennsylvania, and three showroom/slab yard locations in New Cumberland, Pennsylvania, Philadelphia, Pennsylvania and New Castle, Delaware. Colonial Marble and Granite serves a diverse market which includes both retail and commercial, and covers the entire state of Philadelphia, Delaware, New Jersey, and the southern boroughs of New York. The company additionally serves the Maryland market north of Baltimore, and will be expanding in to the Washington D.C. market with a showroom/slab yard in the near future. They produce 50 to 120 countertops per day, and employ from 230 to 300 plus team members.
Representing Colonial Marble and Granite in our conversation is Owner-President, Nikos Papadopoulos, and Senior Vice President of Marketing, Sales and Design, Sandra Phillips. Representing Quote Countertops is COO/ Managing Partner, Frank Sciarrino, and Chief Sales Officer, Stephen Fiumara.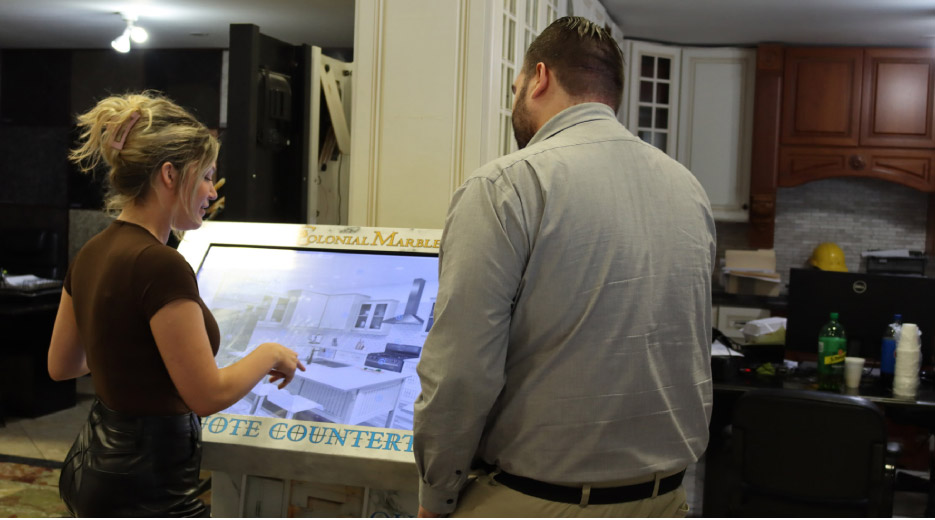 Colonial Marble and Granite uses the unique tools in Quote Countertops to engage customers, enhance their shopping experience, and get them into their showrooms and satellite locations.

SRG: Why and when did you decide to try Quote Countertops software?
Nikos Papadopoulos: About eight years ago, we started to look for different tools that create engagement with customers. When we looked at the Quote Countertops tool, what it offered seemed a good choice to support our marketing efforts, initially all online. We wanted the ability to have the customer in the driver's seat, and to create a conversion online that helped the customer go through an expectation in the sales process, almost as if they're a designer browsing our website. We needed two functionalities: one being the estimation and quoting process, and the other was to really take (customers) through a visualization journey, creating a visual experience for them, which was a new concept in the market place.
What was really unique about it was that it allowed businesses like ours to create a model and a template that really catered to us. We could showcase what we wanted to showcase, and create a price point for transparency online, which in the beginning I was a little skeptical about. But there's a benefit to honesty. By putting a price point out there, we were able to see instant success through a tool that showcased our products. So, as we got to see it work, it was almost instantaneous success for our sales reps, and our business, and a real boost to our business's exposure online.

SRG: One innovation we are very curious about are the stand-alone kiosks. Do you have kiosks available in all of your showrooms, for when customers walk in?
Nikos: Yes, we do.
Stephen Fiumara: One of the big differences between Enterprise subscription, which Colonial is using, and the rest of the subscriptions is the ability to use the kiosk feature. Shops get a kiosk because they're using it for full quoting in their showroom.

SRG: How do they work, and can clients use Quote Countertops from their homes to get a feel for what you offer?
Nikos: There are two different ways kiosks can be used in the showroom. One – we have kiosks that have everything all ready built out to our model on the showroom floor, so if customers are waiting, the sales rep can create the visual encounter right then and there, choosing and selecting the color cabinetry they have, wallpaper, etcetera. This way, they can establish some sort of visual dialogue through the selections they've made. The second, in-showroom opportunity that showcases the technology, is in the slab yard. When they are going through their material selection, sales reps have their tablets and the software, where they can go directly to the link on our website. They can actually going through the selection process with the customer, right then. At that point, they've gone through the start of the process, identifying what the kitchen essentially looks like, and how these new selections along the process are going to fit into that design.
Prior to that, these customers have had such a strong engagement online, and they are already familiar with the tool prior to coming in, because they've gotten to play around with it before even setting foot inside our showroom. So we do experience a lot of customers who have already been through a selection process. The technology is a big part of why the customers were able to engage with the process and our company, prior to walking through our doors.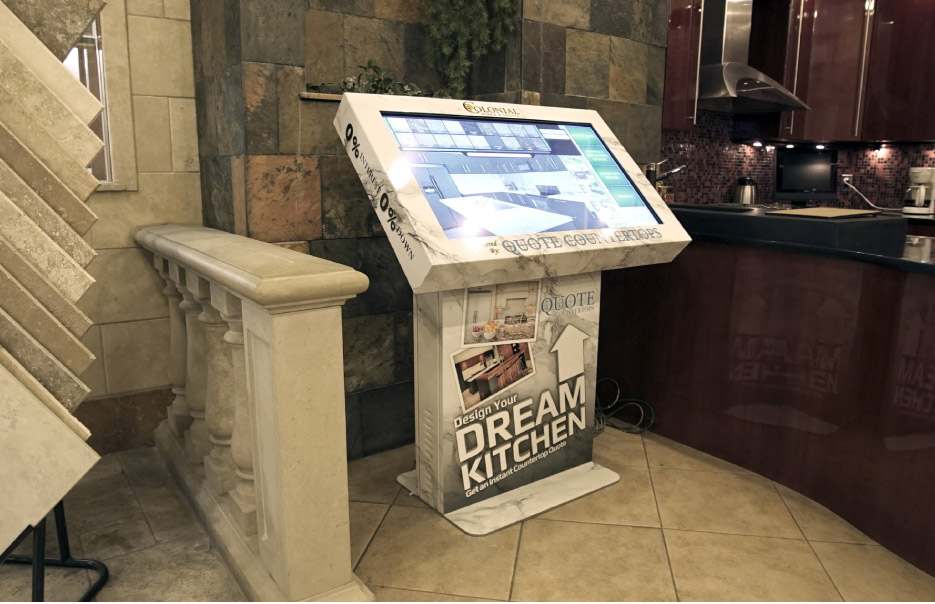 Above: Colonial Marble and Granite showroom. Their 4 showrooms are equipped with a Quote Countertop kiosk.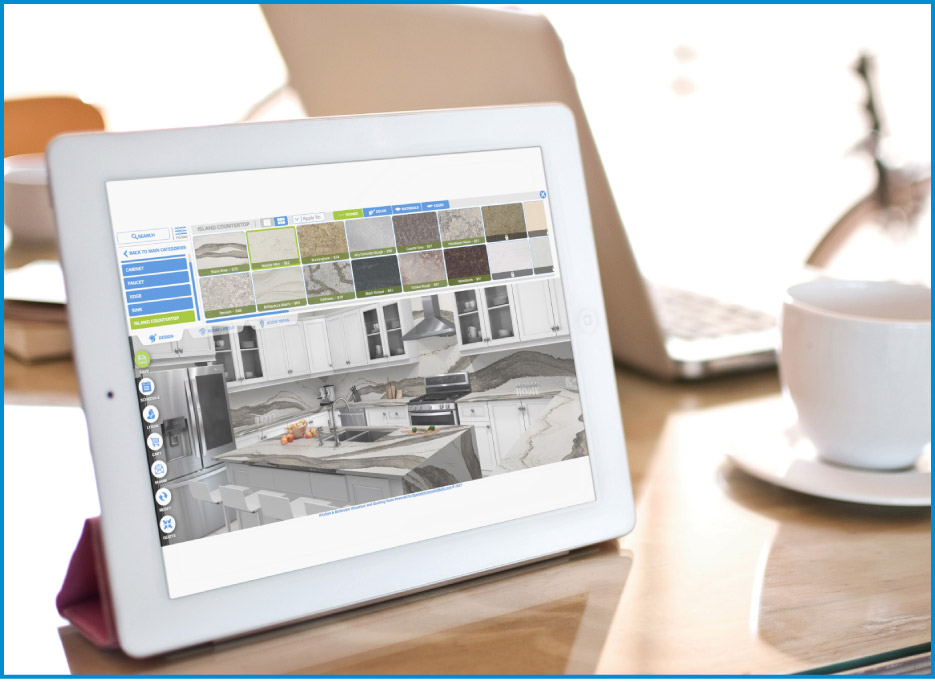 Colonial Marble and Granite uses the Enterprise system of software with includes interactive kiosks offered by Quote Countertops.
Below: This kiosk display in a mall setting sends customer information and quote requests back to Colonial Marble and Granite for follow-up.

SRG: When a customer steps up to the kiosk touchscreen, how easy is it for them to interact with the Quote Countertops software?
Nikos: Very easy. To be completely honest, had they not built a very user-friendly experience, we wouldn't have seen this success. I think the mobile capabilities of the technology are exceptional. The fact the customer can actually go through the process as easily as they can – that's the whole beauty of the system. It's amazing you can have a custom product where the customer is taken through all the different intricacies of fabrication, the installation and the design. The technology in Quote Countertops really eliminated the difficult part of it. The mobile part of this app is a great tool. A mobile experience that gives you visualization and estimation so easily speaks volumes as to why we've seen the conversions that we do, and why the customers are so engaged in this quoting process.

SRG: When customers are finished putting in their information, and it comes down to closing the sale, how close is the price at the kiosk or on their mobile device to the final contract price? Is it fairly close?
Nikos: We have a pretty strict model where we want to meet the customer's price point at least a minimum of 80 percent of the time, and we get very close to that number. There's a lot of hidden services fees that wouldn't be shown, even there. We have a model, and the way we have our pricing packages really eliminates that part of it. The tool has a square foot calculator inside of it – that part was genius – because customers ask, 'What does 30 or 45 square feet mean to me?' They don't know how to come up with that number. But a square foot calculating tool makes it so simple. They say, 'we are just going to go to our back wall and we are going to measure this.' It has all the appliances and everything factored into a tool that is very easy to use, so you're able to get pretty accurate to the final price point. Clearly, how custom the project is adds to that. But for me, when it comes to the feedback of my sales reps who get the leads that are coming from these quotes, this is where the industry process always was: you would have a customer step in with so many square feet, this is the material that I'm interested in, and can we get a quote? That process is completely reversed now. The customer is getting essentially a design of what it can look like, they are getting their square footage and their calculations all plugged into the tool, and the sales rep essentially is provided – in the actual quote that was calculated by the system– what the color of the cabinets are, what the colors of the floor are, the paint colors, etcetera. Additionally, they are getting a visual on the design side of it, showing where the customers are going with the project, or what the customers like, and the feedback we get from our sales reps is, 'How easy is this!'
The customer has done a lot of the work, but more importantly we get an idea of where they want to go with this project. And it's not just numbers that are on a quote or a contact form. Customers essentially have a design center with this app, and they also have someone here (our designer Sandra Phillips) who is a true designer. We know how that process works. We don't want to take away from having an in-house designer, but we want to put the customer in the front seat to feel like they're a part of that journey; the technology allows them to do that, and also makes it easy for the sales rep.
At the very front end of the project, our sales reps are receiving price points the customers are familiar with. It's not like you have anything hidden. It's all exposed in the middle and the front of the quote. And that's fantastic!
Frank Sciarrino: One thing I'd like to add on the quote side, is that Nikos' team is an example of actually committing to something and putting it through the process. Some people, it's one thing to sign up for a software package, but then they don't use it to its full abilities. Colonial saw the advantages, and they implemented it the right way, in different parts of their businesses.
Nikos: Thank you for that, Frank. Sandra, I know you can add some highlights. Sandra is our Senior Vice President of marketing, sales and design, so all the sales funnels and design funnels that come through the business are under her wing. She's on the social platforms daily. There are so many things you can do with the technology, as Frank pointed out. We really engaged in taking it everywhere we can take it, because it converts so well.
Sandra Phillips: One of the really exciting things is that we use the visualizer tool for both kitchens and designs, as well as the estimating tool on our social platforms, on the paid side and also on the promotional side. What that means is that we give the customers an opportunity to know us, where they otherwise might not have heard about us. It gives us exposure. They see the visualizer tool and innately they become very curious. 'What is this?' they ask. It's interactive, it immediately gets them engaged in our products, as they're able to go on there and start trying it out.
We've actually seen between a 30 and 40 percent increase in new followers, and people coming through who are very interested in finding out more about our products just based on the visualizer tool. It's also really fun and engaging, and it takes them through that journey, as Nikos was saying, where they're actually in control of the design. So it gives them the ability to explore without full commitment. They can take themselves through the journey of doing a darker, more mood-type of kitchen, and then they can explore something very airy and clean, without any judgment. They're just sort of playing around, and seeing what sticks with them. This is very interesting, because it is definitely a driver of business that you don't really expect, especially on the social platforms.
One of the great things about design, and some of the challenges that designers in general have, is that sometimes when clients come in, they don't really know what they like, or they might misrepresent a particular style. An example is someone might come in saying that they are "very contemporary." They want something very contemporary, but they actually want it to look very classic. And when they go through the visualizer tool, one of the things that is very helpful for a designer using the platform, is it helps them have a little insight to the client and what they are looking at when they go through that process in-person. So, when they are on the tool, they can navigate and define what classic or contemporary or even modern is to them–which is different for everybody. Somebody who is classically trained might take a look at it and say, 'Well, that's very traditional. That's not even classical at all!' And the colors that clients are navigating definitely give the designers help. You know, where they can say, 'Okay–that's it!' Someone who is not able to verbalize what they really like is able to create it on this tool, present it to the designer, and when they come in to our location, we can then take that inspiration and relay it back to them in reality, and show them the products and the items that will produce the design that they are truly looking for. This shortens the process, too! It takes their essential concept straight to our sales process. It's a quicker transaction, as opposed to it being really lengthy, having to discover what it is that the customer is looking for. So it's an excellent tool for our designers as well.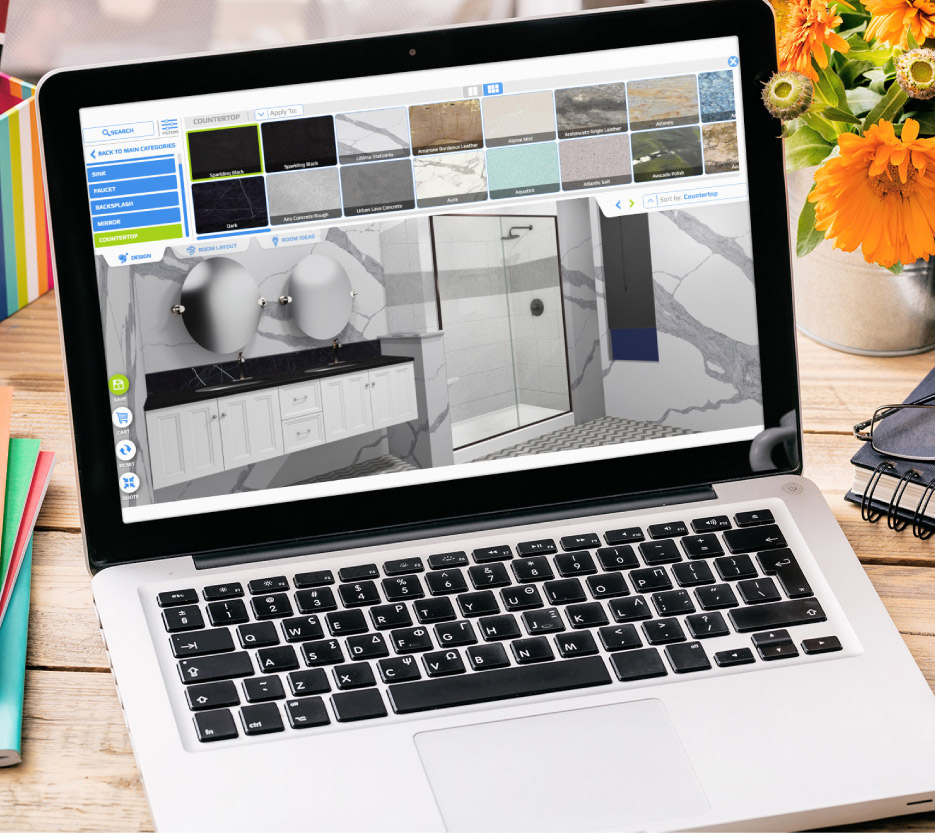 The Quote Countertops bathroom visualizer is another facet of the app that kitchen and Bath outlets can use to design bathroom remodels.

SRG: Can a designer use the tool to develop ideas and prices, and then present options to the client?
Sandra: That's a good question. Someone like myself– I might actually go in there to play around with budget. I might go in there and say, 'Okay, what's all this going to look like?' But mainly I use it for the quoting portion, to arrive at a budget. Usually, there's a preconceived notion of (the customer) saying, 'I only want to spend X amount of dollars in the creation of my kitchen.' And when you go on the tool, you're able to pull all these ideas together, and arrive at something that you're able to present to the client. So it's a useful tool in that way, as well.
Frank: On that end of it, Sandra and Nikos, you do custom fabrication for subcontractors like designers and kitchen and bath companies. What you're saying is this is a tool for the kitchen and bath dealers, and if the customer needs to see what a Silestone color, or a Cambria color looks like with certain cabinets, the dealers are using it with their customers to get a quote on design. You're arming your kitchen and bath dealers with a tool that allows them to design.
Nikos: That's right. I have accounts right now, who have catered their business the same way we have online, generating leads and everything. We've even created their own profiles in the tool. I mean, we essentially get all the business. We will go through the scheduling side of it, but, essentially, we arm them with a very strong conversion tool for their business, so we all win, right? If they don't have great experience on the sales end of it, or they don't have great exposure online and on social platforms, this technology can do that for them. Again, they don't have to use our price points. They can go out there and create whatever price points they want and whatever colors they want to enable their customers to see options, as long as it's helping them to get conversions. We funnel down into different businesses that feed our overall business, and it's really neat that the software allows for that to take place, as well.
So, the kiosk has been really useful in our showrooms, and we also use the kiosk in our trade shows. Customers are walking up to our booth, and playing around with it. They love the idea that they can explore it. We were utilizing the kiosk feature in mall displays, but since the pandemic, we paused until we started to see activity come back into mall showrooms. However, the kiosk display at a mall is self-generating leads all on its own, 24 – 7, and you don't have to man it! So that's another way we use kiosks.
And as for trade shows, the kiosk is really interactive. You have this massive kiosk in front of you offering all these features, and you're really playing to the benefit of the technology.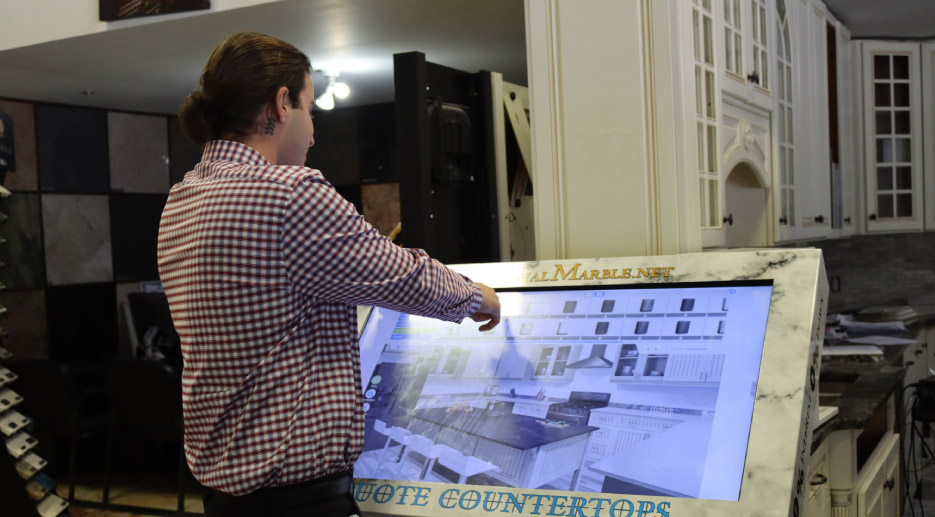 The Quote Countertops Kitchen visualizer allows in-house designers and web shoppers at home to experiment with stone colors and effects.

SRG: In closing, what has been the overall impact of having the kiosks in your showrooms and the Quote Countertops software available to your clients?
Nikos: One benefit in the showroom is that the customer is (physically present), and nothing will ever take away from the interaction of a face to face interaction, right? We're not expecting the tool to replace that. We're expecting the software to be a tool. Once you actually have the customer walk through your doors, you're listening, speaking and interacting, back and forth on the intricacies and the details of the project. Then you can turn to the technology to show them really neat things, based on the feedback that you're getting from them, and you can even navigate toward what the customer's needs are, right on to the tool by showing them examples.
When you have a technology with visualization features, that also has estimation features — for a customer, how cool is that? You're able to see something out of your imagination. You're bringing a project to life, as you're accenting the colors and creating the contrast and everything within that essential scope of design, using a tool. It may not be the exact design, but it's giving you a visual of how everything will look and feel, the color tones and the moods you want for that room, through the tool. So then the sales reps can say, 'Let me show you what we can do and what this may look like.' Then they can go right to the tool and be able to show that. It's almost an assisted sale, utilizing the tool in the process.

Join us next month for Part II of our interview with Colonial Marble and Granite and review of Quote Countertops.