How Does SEO Work for a Countertop Shop?
SEO– I know what you're thinking. You've been pitched a million times either from cold callers or people emailing you about SEO for your countertop shop. Or maybe you had a horrible experience with a marketing company helping you with SEO.
In this article, I'm hopefully going to turn that around for you and give you the truth about SEO and how it can help your business. And then next time someone calls you pitching SEO services, you can maybe teach them something!

What is SEO?
SEO stands for Search Engine Optimization. It's the things you do to your online presence for your website to show higher (aka rank higher) in a search engine like Google. The best way to think about SEO is to imagine a big puzzle. There are a ton of pieces to that puzzle and like for SEO, there are a ton of tasks and things you can do to help your search engine rankings.
And what's the overall finished puzzle? It's that top few spots in Google that will bring you traffic to your countertop shops website. And the more traffic you get to your website, the more leads, and projects you will get.

How Long Does it Take?
This is probably the number one question I get. When will my fabrication shop be on page one in Google? And I say the same thing every time: I have no idea.
And that's the truth. No one knows this. But I'll give you a breakdown of what you can expect if you start an SEO campaign.
Brand New Website: If you never had a website it will take you a LONG time to rank on Google. By long it could take 12 to 24 months.
If your website in on page 3,4, or 5+: This might take place a little quicker, but still could take a good 6 to 12 months.
If your website in on page 2: OK! Now we're talking! If you are on page 2 this is a good sign. You can expect it to take 3-6 months. Nothing in Google happens overnight.
If anyone tells you that your shop's site will be on page 1 in Google in 30 days, run and run fast in the other direction!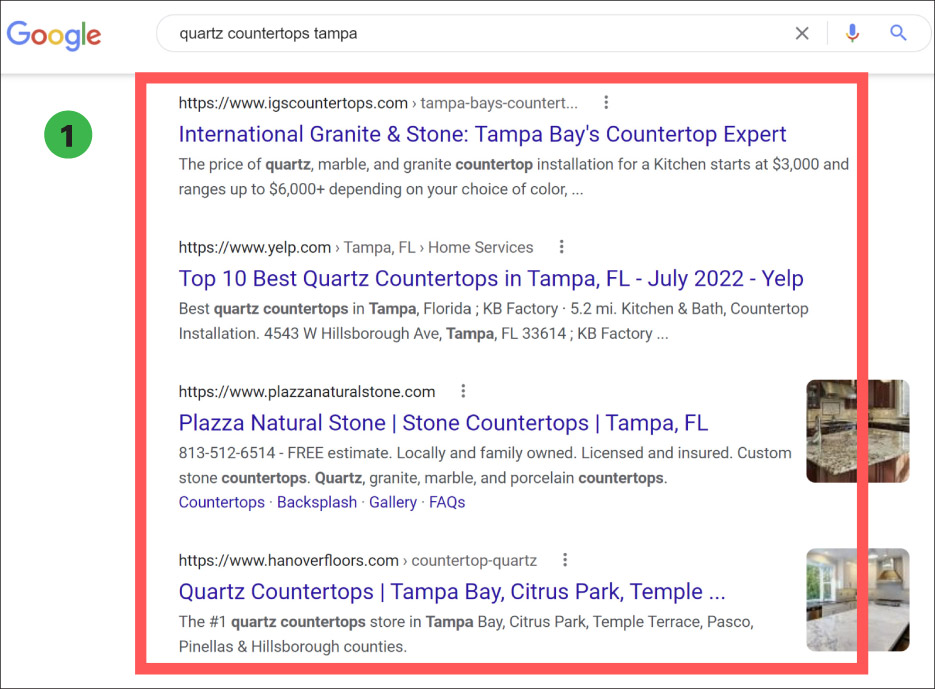 Typical search results when someone types in "quartz countertops Tampa" in Google search. The listings here are the organic search results, and SEO helps a website get top-listed.

How Much Does it Cost, and Why is it Expensive?
Remember when I said that there were a lot of puzzle pieces to SEO, this is the reason for the high cost. It's very labor intensive for a company or for yourself to do SEO on your website. Most solid companies will charge around $2,000-5,000/month to work on your business's SEO campaign. An in-house SEO employee at a marketing firm makes around $50-85K/year.

What Tasks Are Involved in SEO?
There are dozens of tasks that go into SEO. I'll list some important tasks and briefly describe them below:
Website speed and user experience: Your site needs to be fast and user-friendly. This is a big ranking factor.
Content: You need unique and quality content on your website. Each page should have around 500 words on it.
Meta Titles and Descriptions: This is what shows on a Google search page. You want to include important keywords in these. (See diagram 2)
NAP: Your name, address, and phone number should be consistent on your website and online profiles like Google maps and Yelp. Google looks at this as a ranking factor as well.

Meta titles and descriptions (shown in bold) are the specific key words you need to use in your business description. This will help rank your website higher in search results.

Can I Do it Myself?
You could learn SEO and tackle this yourself. There is a lot to learn, so for some of the tasks you might have to hire outside help. Unless you are skilled in web design, you will need to have some of those skills.
But what you can do is write content! This is probably the easiest thing you can do to help your countertop shop's SEO, and all it takes is time. There are hundreds of topics that you can write about. Start with what your customers ask you:
What should I expect on the day of my countertop installation?
What's the difference between granite and quartz?
What kitchen countertop materials are best if I have children in the house?
You can talk about the different types of edges, backsplashes, material… the list is endless, and there are tons of topics to write about. I'd start by going through your current pages and increasing the word count on those. Add a few paragraphs to each one. Then you can start a blog on your site and post articles. Remember to make sure each one is around 500 words long.

Is it Worth it for My Countertop Company to Do SEO?
YES, 1,000% yes! Think about how people look for local businesses. They do ask friends and family for recommendations, but if they don't do that, they pull out their phones and search for what they need. Google is never going away; the way we search might change, but people will always "Google" things they want, whether it's a new pair of shoes or some Alpine White granite for their kitchen. Either invest the time and learn SEO or invest the money, and start now. Because like I said above, it takes time. But if done correctly, it can completely transform your business and bring you in a ton of new revenue.

Stephen Alberts is the owner of the Countertop Marketing Co and STONE ENGAGE. They specialize in helping countertop companies grow the retail side of their business outside of word-of-mouth and referrals. They also offer software to help you engage more with customers and close more countertop projects.

To learn more please visit countertopmarketingco.com or stonengage.com. You can also email Stephen at steve@countertopmarketingco.com.