Survey Indicates Positive Outlook for Homebuilder Market Despite Recession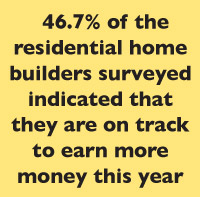 The Association of Professional Builders (APB), a leading business coaching service for custom home builders, with members in the United States, Canada, Australia and New Zealand, today provided additional insights on the homebuilder market in light of a possible recession that U.S. economists are predicting. While construction material costs, labor shortages, and other pandemic implications have arisen, the association remains optimistic about residential homebuilders' businesses – provided that they know how to prepare for a possible recession.
Recently, APB released findings from its annual 2022 State of Residential Construction Industry (SORCI) Report. The report, compiled annually, surveyed more than 700 builders from the United States, Canada, Australia, and New Zealand, and was sponsored by Buildertrend, CBUSA, Buildxact, Xact Accounting and Builda Price. Key findings concluded that 68.9% of U.S. homebuilders focus on new construction and take on approximately 13 projects per calendar year.
"Smart builders must factor in extended lead times, material price increases, and labor shortages. These factors are all combining to erode what little margins builders have left in their projects," said Russ Stephens, Co-Founder of APB. "The residential home builders who will continue to succeed are the ones that have a good understanding of their financials; this includes protecting their profit margins with at least a 25% gross margin."
The 2022 SORCI Report indicated that the benchmark for fixed expenses is approximately 15% of the company's annual sales for those building companies with over $3 million in annual revenue. 55% of the home builders surveyed also projected marking up their jobs by 25% or more based on their profitability in 2022. More than 50% (56.6 percent) of U.S. builders noted that they monitor their gross margins on jobs every month.
Optimistically, 46.7% of the residential home builders surveyed indicated that they are on track to earn more money this year, surpassing $120,000 in annual salary, also with 52.7% of their jobs completed on budget.
APB predicts that with demand now starting to reduce for home builders in the U.S., it's imperative that builders address how they are marketing their business before it's too late.
"Sales have been relatively easy for builders to achieve over the past two years due to unprecedented demand which has led to a reduction in marketing activity for most building companies," said Stephens. "However, as demand softens, it's important that companies factor in the long sales cycle in the industry. This means they need to be generating opportunities right now in order to still be signing contracts in 6 to 12 months time."
The right understanding of the company's operating costs, both fixed and variable, accounting for lead times, taking on specific jobs that don't stretch the company too thin, and marking up jobs correctly to account for the materials and labor market, are all critical with a possible recession looming. As some of the jobs the home builders are completing are already booked out with a more than 18-month lead time in their schedules based on prior demand, the building companies that will still be operating in 2023 will stay close to their financials, recalculating their costs every 30 days.
To find out more about the state of the residential construction industry, a free PDF of the report can be downloaded at https://go.associationofprofessionalbuilders.com/sorci-download.