The Stone Detective – The Case of the Color-Changing Tile
Frederick M. Hueston, PhD
Oh boy, what a morning. I woke up with a sore back and my arms were asleep. It sure is fun getting older. If I didn't wake up with something that hurt, I would think I'd died! But life goes on and so do all the issues with stone and tile. As a matter of fact, the problems seem to be getting more and more complex. I managed to roll out of bed and was really in the mood for a Taylor Ham and egg sandwich. Can you guess where this ole man grew up based on the craving?
I got dressed and headed out the door on my way to the diner. Just as I was cranking up the ole Woody my phone rang. "Stone Detective, here," I said in an "I-just-woke-up" voice. The caller on the other end was a local home builder and he had a voice very similar to Christopher Walken's. For a moment, I even thought it might be the actor. He went on and on about this subway-type tile that he had installed in several new homes. He told me that the bottom row of tiles was turning gray. He went on and on about how the tile was properly installed, and his relationship with the installer, etcetera, etcetera. I really didn't care about all of that since I was only interested in the problem.
My first thought was it's not unusual for tile to turn color and darken. I have seen this in numerous projects and the reasons can vary. But what he said next got my attention. He told me that the tiles turn gray in the morning and by the late afternoon they're white again. Can you guess what could be happening? I told him I would have to do an inspection to give him a definite answer. He said that would be great and we set it up for later that morning. Now I was off for a cup of joe, a Taylor ham and egg sandwich – on a hard roll, of course. Can you guess yet where I was raised? No cheating, I see you going to Google. LOL!
I parked the ole Woody and headed into the diner. Flo must have seen me coming and was already pouring me a hot cup of joe. She gave me that "what do you want this morning?" look. I just tipped my fedora, and she smiled and said, "Taylor Ham and Egg coming right up." She yelled to the short order cook, "(Insert state name) pig and a hen's kid on a bun." (That's another hint.)
Just as she was pouring my cup of joe, the old Admiral walked in, sat down next to me – and you guessed it. He starting telling me the same old story I have heard a million times. I smiled and asked Flo to wrap up my sandwich to go. I threw a fin on the counter and headed out the door to go meet "Mr. Walken."
My destination for the consult was in a brand new development. I was supposed to meet the contractor on a certain street, but none of the houses had numbers on them. I drove by a group of about 10 people hanging out in front of one of the homes and stopped to ask. A short, stocky fellow came up to me and said, "You're the Stone Detective?"
"I sure am. Where should I park?" I asked. He eyeballed the Woody and motioned me to park down the street.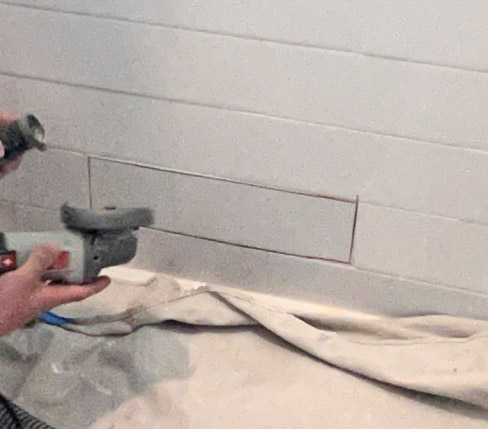 Let me fast forward to the problem. We walked into the master bath which was clad in your standard white subway tile. The first row of tile along the base was gray and the rest was perfectly fine. By the way, all ten of those people accompanied me into the house. Don't ask me who they all were, but my gambling money is on some lawyers and employees of the tile installer.
I took out my moisture meter and bingo – the dark tiles tested wet, while the others were dry. The situation was just as I thought, so now, I needed to find out where the moisture was coming from. I looked closely at the grout and sealant lines and they were all intact. I asked if we could remove a tile. One of the installers removed a tile, and I noticed the thin set was wet, as well. I then asked for a screwdriver to remove the drain cover. When I did, I saw the problem right away. All the weep holes in the drain were clogged with salts. After asking a few more questions, I found out the water in this development was extremely hard.
But that wasn't the only issue. I had the installer chisel around the drain and remove the drain entirely. I then discovered that the installer had placed his setting bed right against the weep holes, plugging them from the get-go. I looked up at my audience and just smiled and pointed to the clogged weep holes. I told them I would render my opinion in my report. I'm sure I'll be hearing from them soon. When weep holes get clogged, water will back up in the setting bed, and since there is nowhere for the water to go, it will wick up into the walls. This is not an uncommon problem, and my guess is the installer was not experienced with the proper drain installation. But who am I to judge? I leave that up to the contractor, the installer – and possibly the attorneys.
Another case solved. And FYI, the Taylor Ham and egg sandwich was darn good! Reminds of my youth growing up in… (sorry – you'll still have to guess!)*

The Stone Detective is a fictional character created by Dr. Frederick M. Hueston, PhD, written to entertain and educate. Dr. Fred has written over 33 books on stone and tile installations, fabrication and restoration and also serves as an expert for many legal cases across the world. Fred has also been writing for the Slippery Rock Gazette for over 25 years.
Send your comments to fhueston@stoneforensics.com.