Artistic Granite and Marble Goes Bigger and Better
by Peter Marcucci
Photos  by Larry Hood and Courtesy Artistic Granite and Marble
When Ron Brown opened the doors of Artistic Granite and Marble in Nicholasville, Kentucky in 2002, he did so with one simple idea: combine new world technology and old world craftsmanship with great service.
Ron had been a long-time local contractor known for quality and had the credentials and résumé to prove it, with experience in several associated fields. Ron's son, Chris Brown, is now General Manager of the new shop, and shared an interesting backstory. "Dad was a home builder for fifteen years before transitioning into countertops. The company that installed granite in one of the houses he was building did such a terrible job, that dad purchased the slabs for the next house and fabricated them in the garage. That was the start of Artistic Granite and Marble."
The Big Move
As the years passed, it was with an unwavering, laser-like focus on his quality and customers, that Ron's company grew exponentially. As the saying "Success Breeds Success" goes, it couldn't be any truer than what was to come next for the company. A move to a larger facility was in the works in the minds of Ron and Chris, both mechanical engineers. The father/son team would soon purchase a 10,000 square-foot facility in October 2020, transfer all the existing equipment, and then get the whole shebang up and running by March 2021 – but not without a few bumps in the road, explained Chris. "The week we were supposed to tear down, move and reinstall our BACA sawjet, an ice storm hit. BACA was scheduled months out at the time, so we had to get it moved that day or else we would be out of a saw for months! That resulted in me driving it on the front of a forklift – in the snow – about a mile down the highway. We love our BACA sawjet. It has always been the focal point of the fab shop with everything else built off of that."
Chris also mentioned that their previous shop location grew organically over the 15 years that they occupied it, but it was not very conducive to an efficient workflow.
"With this new facility, we were able to design the processes from the ground up by plotting out where all of the machines, A-frames, trenches, cranes, utility lines and tooling were to be placed. This saved a lot of headaches, instead of figuring it out on site, and I would highly encourage any other fabricator looking to do the same thing to lay out every last item in CAD."
Chris went on to say that none of the company's team members were laid off during the transition. Instead, they all pitched in to facilitate the move. "We currently have 15 employees, and I don't know how we could have made it through the last few years without them. Between the late nights, Saturday work, Sunday work, and holiday work, they have rolled with the growing pains and performed incredibly well."


The Nuts and Bolts of the New Operation
Current equipment in Artistic Marble and Granite's 4,000 square foot, fully wet shop consists of the BACA two-table Robo Sawjet, a Farnese Lynx bridge saw and a BACA Miter-X, while three overhead cranes safely serve the entire shop. "The BACA Miter-X only does one thing," explained Chris. "It does a phenomenal job at getting the miters cut perfectly, which allows us to make nearly invisible joints, and I am confident in saying that we produce the best miters in the region."
Additionally, the company has full, in-house steel fabrication capabilities for its special projects, such as floating vanities and shower seats. To date, and most notable is the support system for a levitating island, as well as an all-metal, 10-foot-long fire pit table, shown elsewhere in this story. Metal up to 1-inch thick is cut on their BACA Saw Jet, fitted and then welded using a hand controlled Tungsten Inert Gas (TIG) welder. "It's nice to do our metal work in-house," explained Ron Brown. "We have two mechanical engineers here, so we can do the design work and cut it here. I tell people that there's nothing we can't do. If you're going to do a twenty-foot levitation table, it's going to be very expensive, but we'll design it and put whatever steel in there that's needed to support the load that you require. If we had to wait for a local welding shop to build it, that might add six weeks to the job, because of the complexity, and getting the quotes. It just simplifies things so much doing it in-house."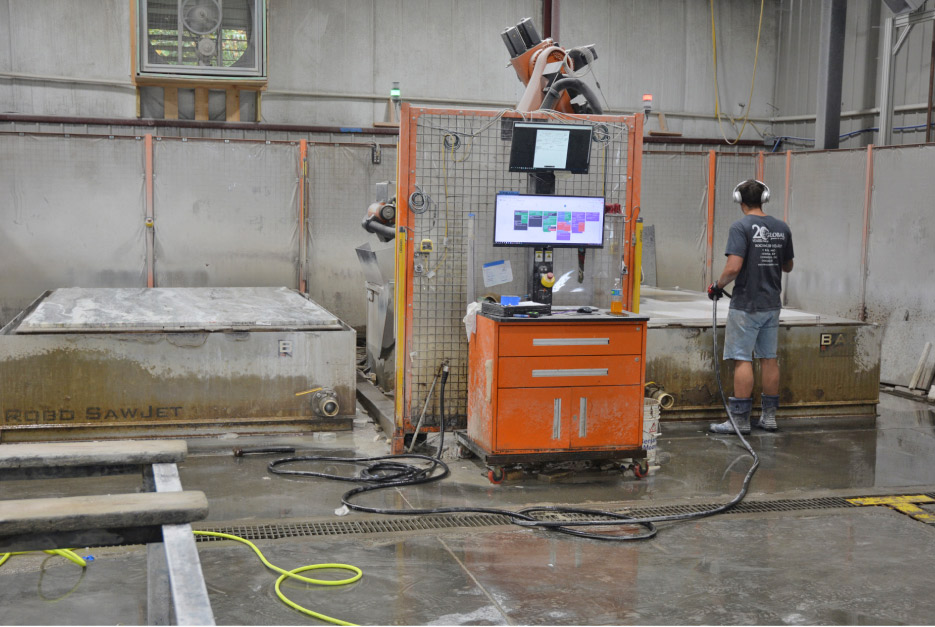 "We love our 2-table BACA Robo Sawjet"
The new shop and equipment was planned around the capabilities and output of the Robo Sawjet, including a Farnese Lynx Bridge Saw and a BACA Miter-X, which sees a lot of use. Mitered tops and islands are a specialty of the shop.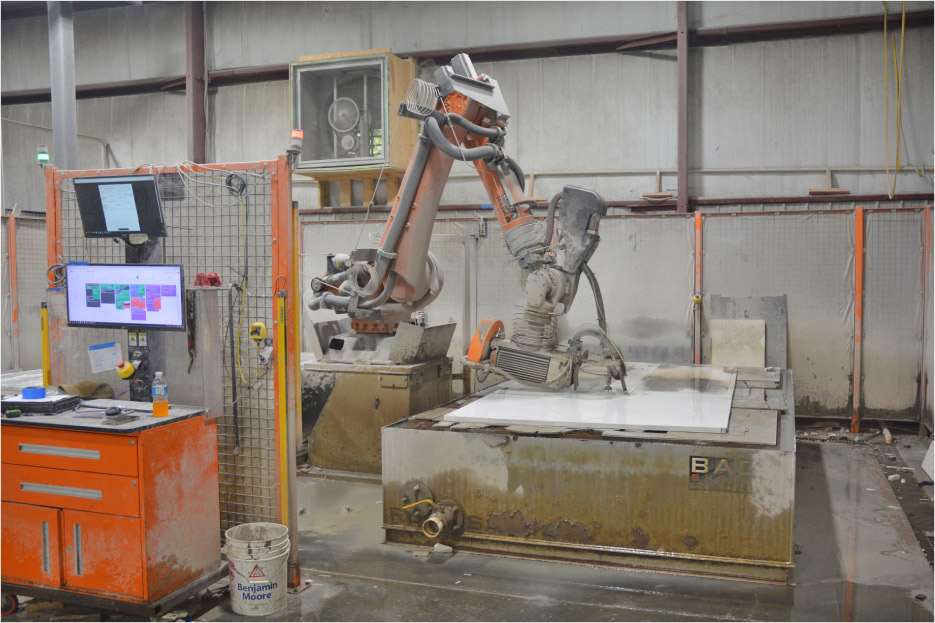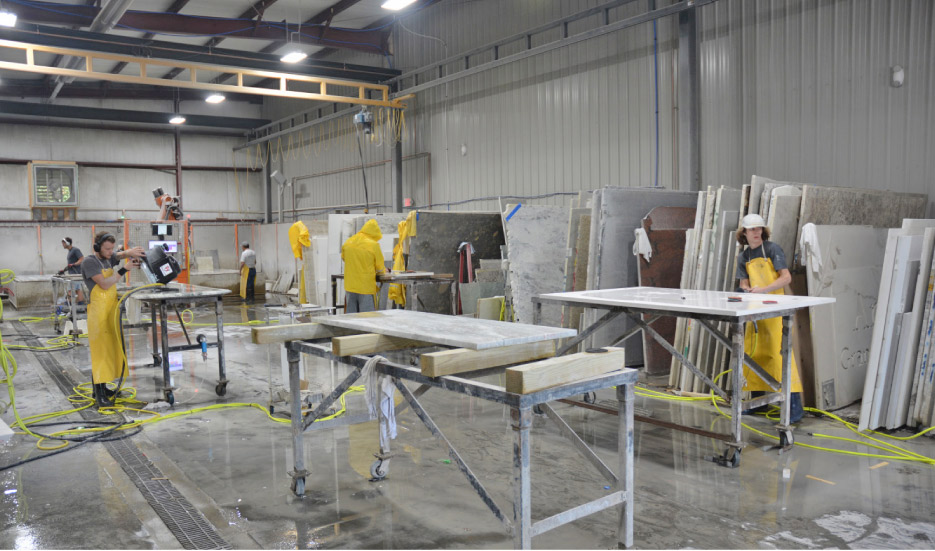 Efficient machines, attention to details, and quality hand-finishing allows Artistic Granite and Marble to maintain its commitment to customer satisfaction.
Production Software
As for software to help control sales, fabrication and installation, the company uses Moraware CounterGo for quoting, and Google Calendar for production and job tracking. Most of the company's sales are residential, and due to customer loyalty built over the years, very little sales come from the web, said Chris, adding, "Dad's reputation as a builder has generated much of the word of mouth around us, which is how most of our customers reach us. We do very little in terms of advertising. Around 60% of our jobs are new builds, and word-of-mouth is critical. You don't get that unless your customers are satisfied every step of the way, and maintaining that relationship with our builders and contractors has been of utmost importance to our company."
The company's reach of service for 90% of their jobs extends 25 miles from Nicholasville, Kentucky, to the greater Lexington area. Most clients are from a high-end demographic, wanting select or exotic materials to embellish their homes. To satisfy their desires, at any one time, Artistic Marble and Granite stocks over 500 slabs in 58 colors. These materials are mostly sourced through local suppliers. However, the company will occasionally import containers, said Chris. "Our market is as hot as it has ever been, right now. I've seen reports of building slowing down nationwide, but have not seen anything approaching a slowdown as of yet in and around Lexington. We specialize in high dollar stone, which lately has meant a lot of quartzites."

Family Ties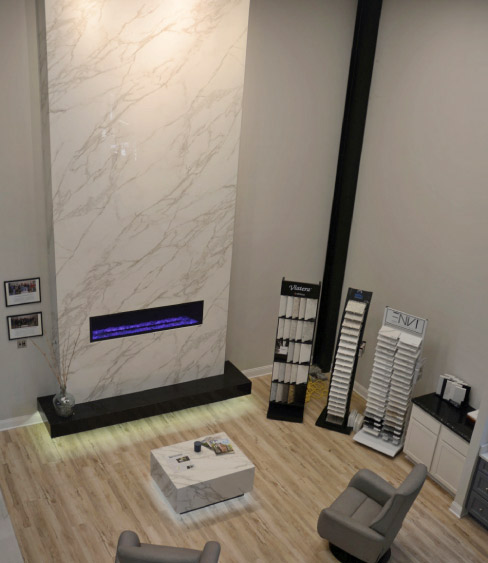 A 2-story fireplace in Neolith Calacatta dominates one end of the showroom.
Ron's daughter, Carrie Brown, is also an integral part of the company. Coming onboard in 2018, Carrie started in a position that you might not expect, recalled Ron. "I was a little concerned about bring her on, because there were the usual sibling rivalry issues between my kids when they were teenagers.
"So, even with the possibility of some friction there, I was so delighted when she came onboard. Carrie and Chris have each other's back and work really good together.
"Actually, when we first started her, she was an installer. I kind of try people in a position to prove that they really want to work for me, and instead of giving her an easy job I put here on an install crew. We used to have apartment jobs, and she would be on one end of an island, and carry it up three flights of steps. She's a pretty tough girl, plays women's rugby, and works out a lot. She actually was able to shame some of the install boys and get them to work a little harder. I think they were embarrassed to have a girl outworking them!
"So that trial period worked out well. She proved to be a real asset, and she really liked doing it, initially. But, her real talent is working in the office, and working with customers." Carrie is now in charge of sales and bookkeeping for the company.
Chris' confidence in their quality shows through loud and clear in their 4,000 square foot showroom filled with tasteful and impressive displays, including quartzite, quartz, granite, marble and glass tops. Multiple vignettes include a levitating island in quartzite, a working kitchen in Silestone (great for company parties), a book-matched conference table in quartzite, and a vanity and 2-story fireplace in marble. A large display of materials are also featured in 40 by 90 inch dimensions, as well as four full-size quartzite slabs to catch the interest of clients looking for something extra special.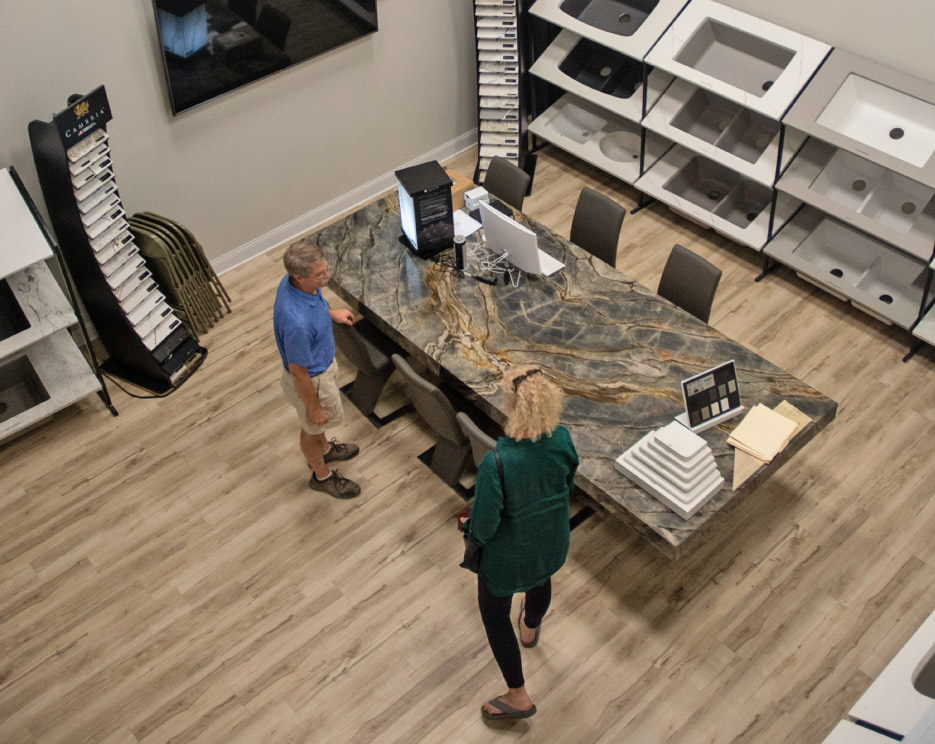 Artistic Granite's 4,000 square-foot showroom features some eye-popping samples. With offices on the second floor, there's also ample space to grow.

Other vignettes include a Cambria Bentley shower, a book-matched conference table in quartzite (Above), a working kitchen that features working bar taps and authentic bourbon barrel insets, and (Below) an ingenious cantilevered floating island, also in mitered quartzite, plus large display of materials in 40 by 90 inch samples, as well as four full-size quartzite slabs.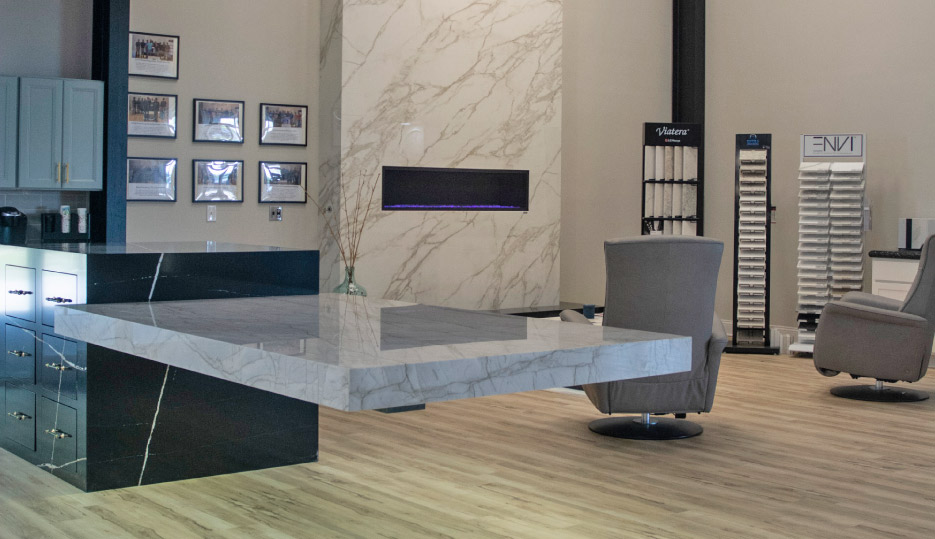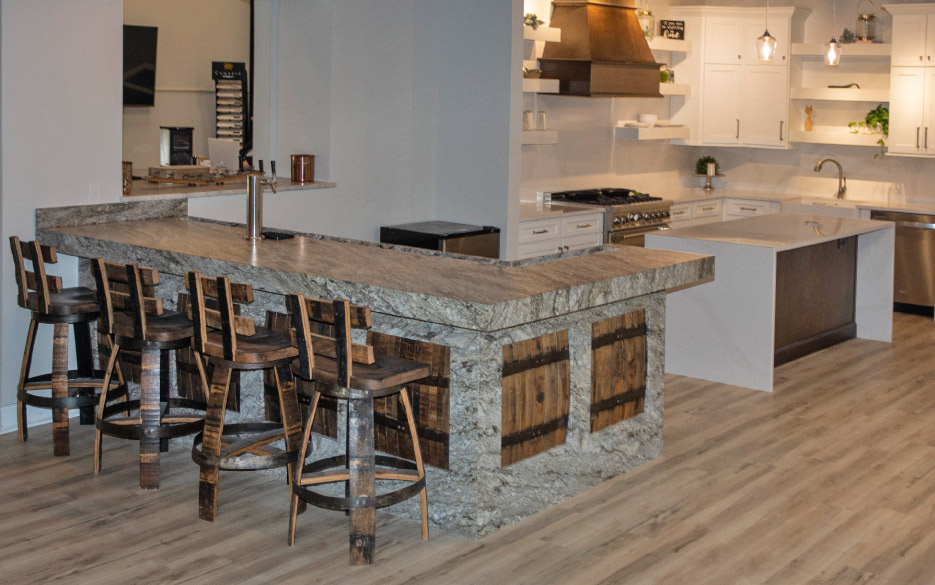 Above: A fully-functional display kitchen in the Artistic Granite and Marble showroom features a working tap and appliances, theme-decorated with recycled bourbon casks repurposed as stools, light fixtures, and insets set in a granite bar.

Below: Carrie, Ron, and Chris Brown in the spacious, two-story Artistic Granite and Marble showroom. In the foreground is a floating, cantilevered table, also pictured at right.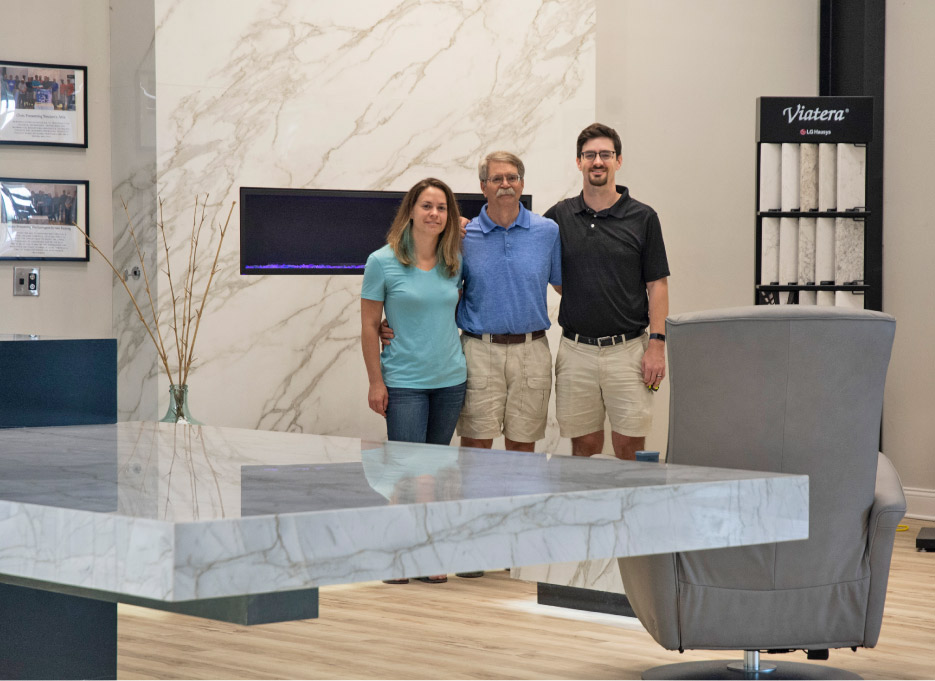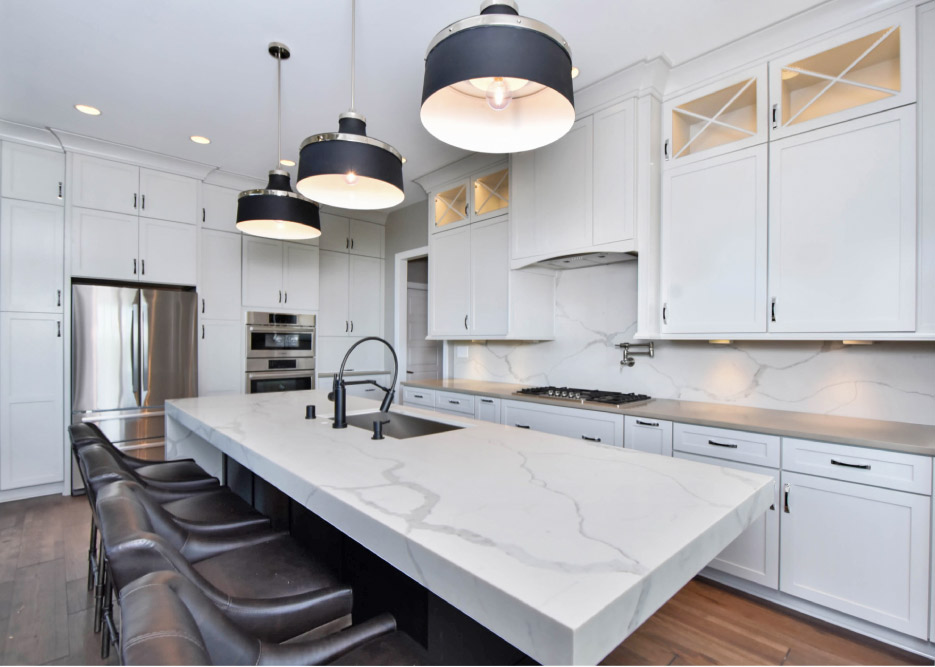 Above: MSI Calacatta Classique quartz kitchen for a 2017 St. Jude Dream Home project, materials donated by Artistic Granite.

Below, Left: LED-lit floating glass vanity top with a porcelain vessel sink. Brown has plans to bring the manufacturing tech in-house to make glass tops like this one.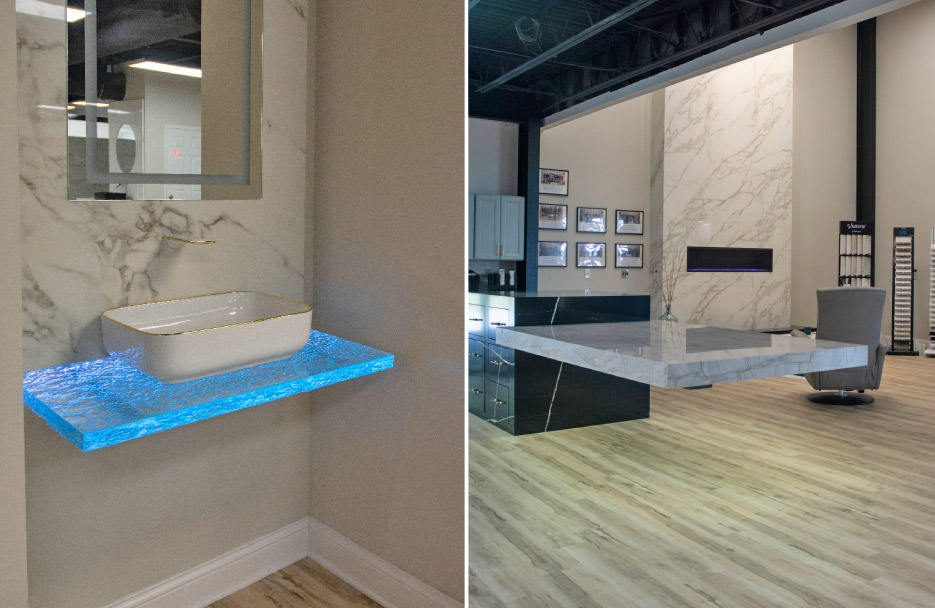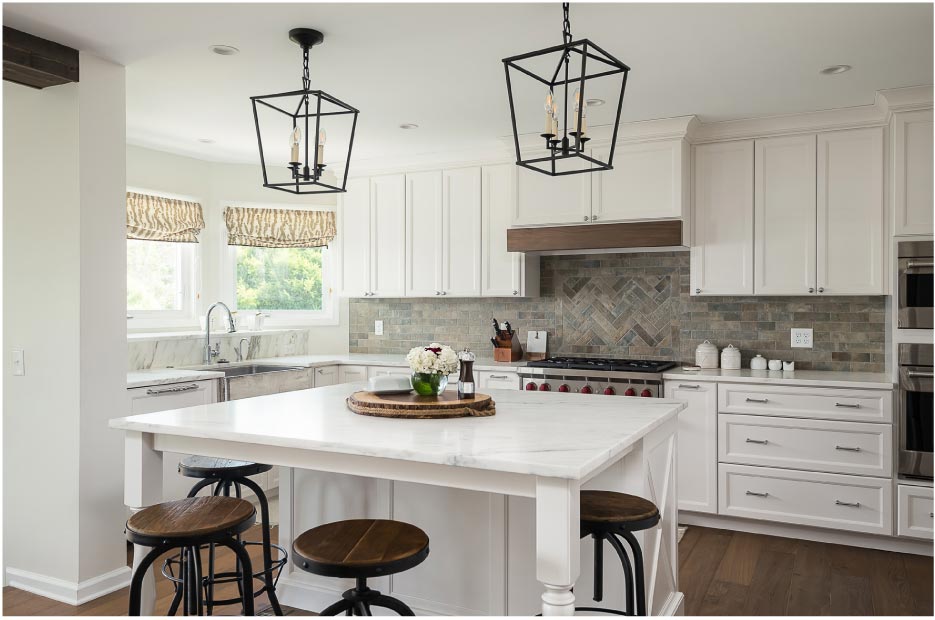 Above: Imperial Danby marble traditional kitchen.

Below: Farmhouse-style integrated soapstone vanity sink with matching faux painted walls.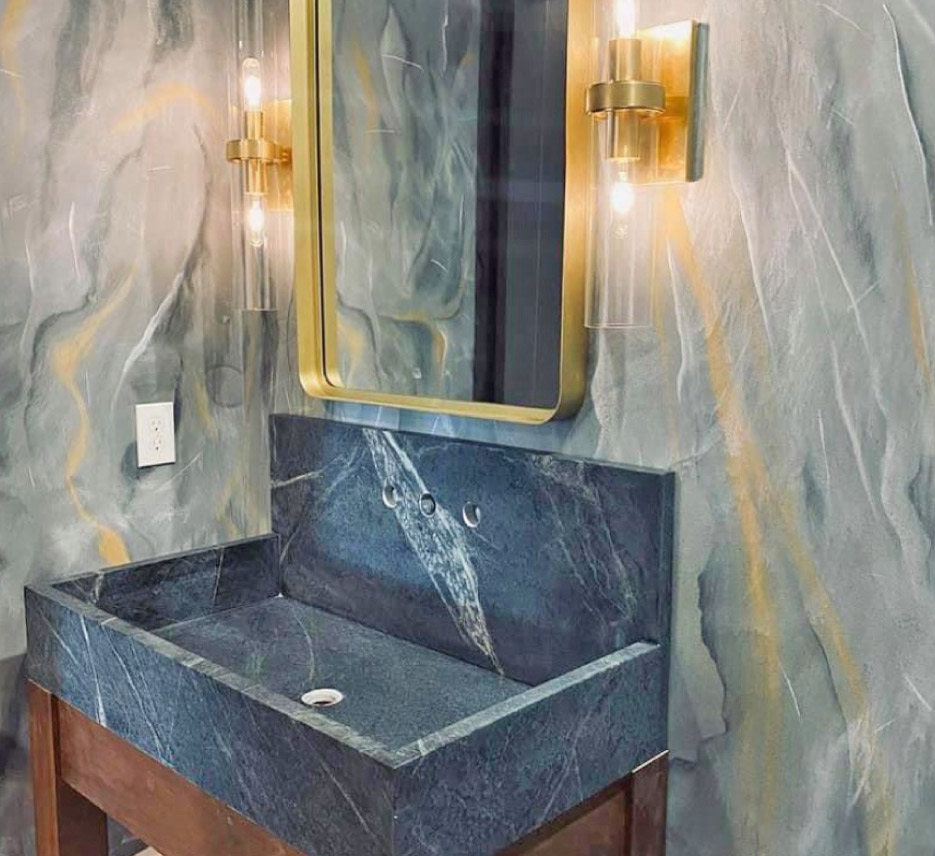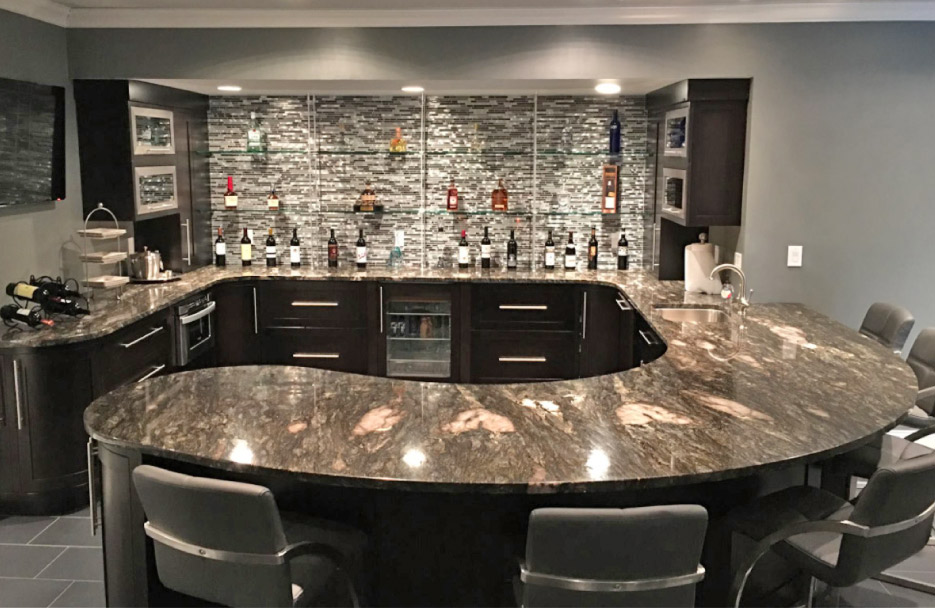 Above: Granite wrap-around bar designed with a unique rounded profile.


Below: This quartzite fire table rests on a Dekton cabinet with aluminum framing and access doors to the propane assembly – part of Artistic Granite and Marble's expanding outdoor display area.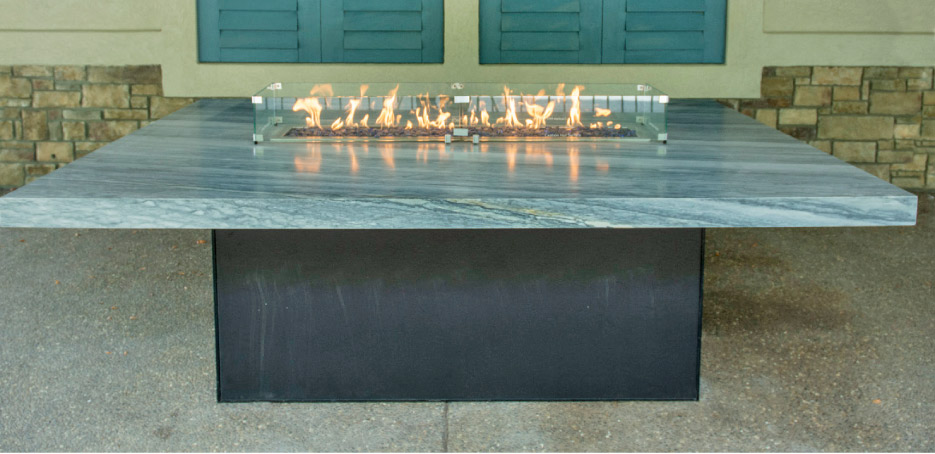 A Rockin' Future and Full Speed Ahead
"Dad and I both have engineering degrees, which helps us to solve many of the issues we see on a daily basis and come up with creative solutions to some of the more extreme requests we get from customers," continued Chris. "We are a family business that cares about the relationships with our customers, and we believe in treating them respectfully. We've expanded considerably, and for the last three years, we've been experiencing right around 20% growth every year, which is kind of amazing, but we're making it work!
"That said, to keep up with the demand, we are going to need to increase our workforce. We've just hired a bunch of fabricators and installers, as well as a project manager to take a little bit of work off of my plate to help me sleep at night! Nonetheless, we are looking to hire three more fabricators, and put on one more installation crew. On one hand, it's tough to keep people around, but the ones who do stay have been very high-quality team members and have been with us for many years. They are reliable, do a great job everyday with very little direction, and know how to take care of our customers. We give them great benefits and pay rates, and have as much overtime as these guys want to work. We treat them right, give them all the tools they need to succeed, and they are well taken care of. We are family, and I don't know where we'd be without their level of dedication and experience, and having them has been invaluable.
"As for dad, he has taken more of a backseat, I guess. He's still involved in special projects, but in the day-to-day operation of the company, he's taken a step back. So he's about as retired as he's gonna get, which means he puts in a fifty-hour week, instead of an eighty. And if that's what keeps him happy, I'm not going to stop him!"

Artistic Granite and Marble is a member of the Building Industry Association of Central Kentucky, and has been a loyal BB Industries customer since Ron Brown launched the countertop company.
For more information about Artistic Granite and Marble, visit www.artisticgraniteky.com .