Stone Restoration and Maintenance Corner: Restoration Training School is a Great Investment
Bob Murrell
M3 Technologies
Photos by Bob Murrell
As professionals, training is one thing that we really can't get enough of. Whether you're a 40-plus year veteran like me, or those wanting to become a new technician in the business, you must understand the materials and situations you will be dealing with, and there is a base minimal knowledge and skill level that is required.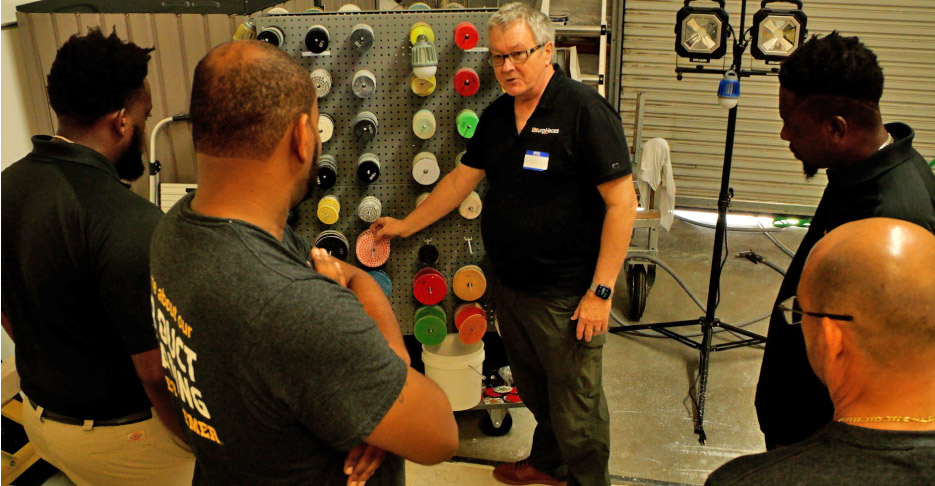 Dr Fred discusses diamond abrasives with class at the SurpHaces Learning Center in Melbourne, FL.
In the field of a hard surface restoration professional, we deal with marble, granite, limestone, quartzite, serpentine, mixtures of these with cement or resin (terrazzo or engineered stone), concrete, ceramic tile, and even Corian-type surfaces, too. The hardness and other important properties of these materials can differ greatly and can present various challenges, even for the veteran contractor.
Now, if you're a seasoned contractor needing to grow your company by adding more employees, you can possibly hire on some experienced help. However, these days, experienced help may be hard if not impossible to find. You can, of course, bring in people and try to train them yourself. This will take time, which you may not have. Also, some will learn faster than others.
Even if you get the chance to hire an experienced technician, there is the other potential elephant in the room: why are they looking for a job? It could be a legitimate relocation issue, or it could be some potentially negative issue. What if they were fired by their previous employer, or worse? Hiring a new employee can be a daunting task, with its own risks.
However, there is another option you should consider. You can send all of your new hires, regardless of experience level, to a qualified school to get the latest training. This will speed up the process and give them the foundational training they need to become beneficial to you, at a much faster pace. Also, they will have learned at the school and not on your jobsite, which won't slow you down or risk potential issues, in that regard. Once they get the basics from the school, you can continue to train them in your own procedural style.
M3 Technologies Inc. has partnered with The SurpHaces Learning Institute (formerly the Stone & Tile School). The SurpHaces Learning Institute is headed by Fred Hueston (aka Dr Fred), who is renowned for teaching stone restoration students. There are classes designed for all skill levels, from beginners to experienced level craftsman. I have known Dr Fred for over 35 years, and he is the best in the business, now that I no longer teach (LOL). The Institute is located in Melbourne, Florida, which is not far away from Orlando. Flights should be cost-effective from virtually anywhere in the country, and not too far of a drive for anyone in the southeast.
The SurpHaces Learning Institute offers courses in both eLearning, designated E or eLearning with hands-on option, designated H. Courses include but are not limited to:
Marble and Stone Floor Restoration
Master Course – Stone Restoration
Inspection & Troubleshooting – Stone, Tile, and Masonry
Engineered Stone Restoration
Granite Floor Restoration
Historic Preservation
And there are many other specialty courses available, as well.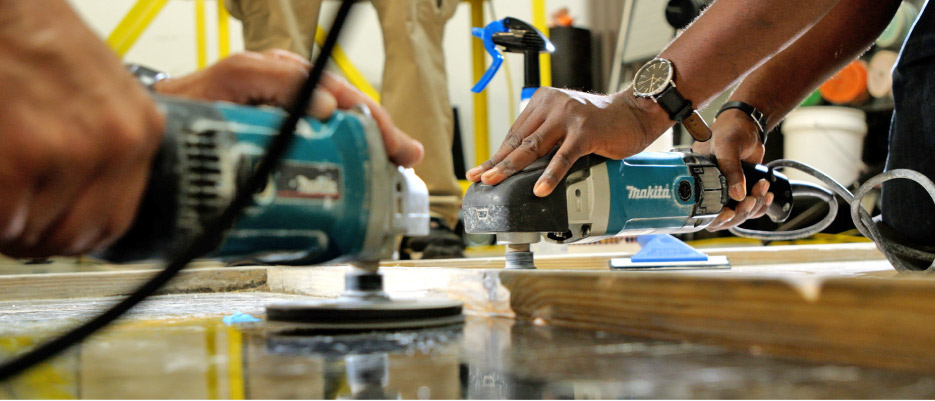 SurpHaces Learning Center instruction includes actual practice in tools and techniques. Classes are designed for all skill levels.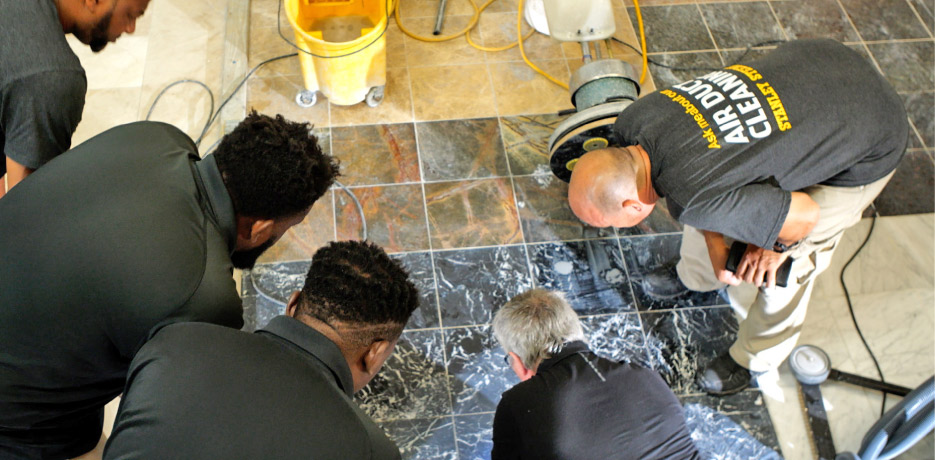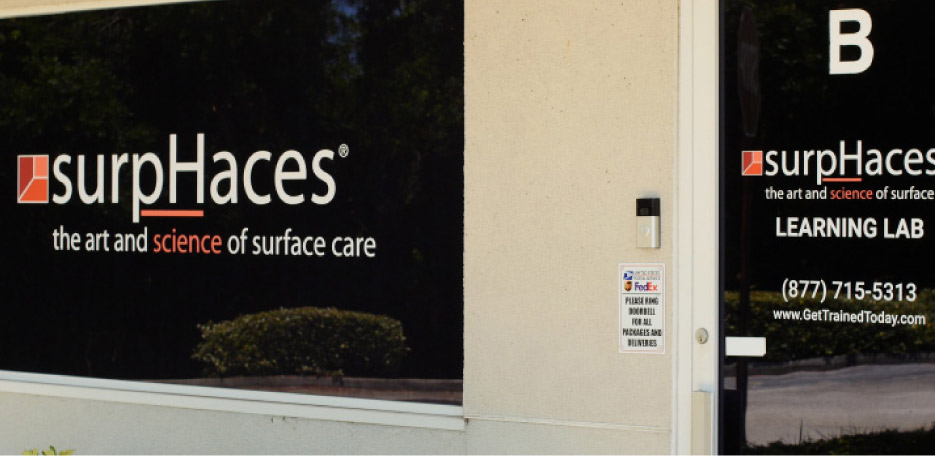 These courses are applicable to all contractors, both new and experienced, and I highly advise this form of continuing education. Being aware of the latest new procedures and products can most always be beneficial to your business. The investment in your company is probably tax deductible too, but check with the people at The SurpHaces Leaning Center to confirm this.
One aspect that must be taught and enforced by you, the business owner, is professionalism and tact. Without expert direction, employees can sometimes be a liability to your company. You can't have technicians lounging around on and soiling expensive furniture, leaning against walls, handling potentially expensive objects of art, smoking (sometimes, there is no smoking on some work sites) and improperly disposing of their cigarette butts, and generally being disrespectful of your clients' property.
It is just as important that they look neat and professional, as it is that you look professional; a disheveled-looking crew will get you a bad reputation, fast. As you know, I suggest company logo shirts at a minimum; the rest is up to you.
Also, please try to keep employees' conversations with the clients to a minimum. You don't need them talking about what a "harda#$" you are, or the people down the street, for that matter, either… just sayin'! Training your employees to work both smarter and harder is the goal.
I ran one of the largest training centers in the country, back in the day. I had many students who attended our school. I still personally know quite a few who are operating very successful restoration companies to this day.
It all started with a good foundational training program. The rest is on-the-job training, along with continuing education.
If you need to send some of your current employees, need to send a new hire, or simply need to go back yourself and get some expert training or certification on a specific topic, The SurpHaces Learning Center is the best way to get that done both quickly and cost effectively.
Check out the school at www.GetTrainedToday.com.
As always and before beginning any new project, I recommend submitting a test area to confirm the results and the procedure, prior to starting a stone or hard surface restoration/maintenance project. Also, the best way to help ensure success is by partnering with a good distributor partner like BB Industries, that knows the business. They can help with technical support, product purchase decisions, logistics, and other pertinent project information.

Bob Murrell has worked in the natural stone industry for over 40 years and is well known for his expertise in natural stone, tile and decorative concrete restoration and maintenance. He helped develop some of the main products and processes which revolutionized the industry, and is currently the Director of Operations for M3 Technologies.