Granite Repair: Where Can I Learn to Do That?
Frank Sciarrino
Granite Gold Services, Inc.
Common issues and accidents can cause damage to granite countertops. When that happens, what can you do?
Why does granite crack in front of a sink? This area is very prone to cracking, mainly because of breakdown in the caulk sealant around the sink. As the caulk deteriorates, excess moisture around the sink area can cause the installed reinforcing rod to oxidize, rust, and expand over time – causing the stone to crack. In addition to caulking it's important to seal your stone, as this will prevent moisture from penetrating the stone and triggering the reinforcing rod to oxidize. Prevention is key and it's very easy. Inspect the caulking around your sink and ensure your stone is regularly sealed.
Also, accidents can happen: In some cases, especially on new construction jobsites or remodel projects, someone steps on the edge of the countertop – perhaps to work on cabinets or windows. In other cases, the homeowner may step on the edge or in front of the sink to replace a light bulb – and the damage is done.
So: what can do you to repair a cracked countertop? A skilled stone restoration professional can reassemble broken pieces much like assembling a puzzle. If the damage is caused by an oxidized steel rod, the first step is to remove the rod and any traces of iron. Next is a thorough cleaning of the sub-top, and each piece of broken stone. The sub top wood may require rebuilding and preparation. Each stone piece is then carefully glued together with color matching epoxy. Once all pieces are assembled in place, clamps are used to set and secure all the pieces. Once all the glue or adhesives is cured the stone will require honing and polishing to sand flush and blend into the existing finish.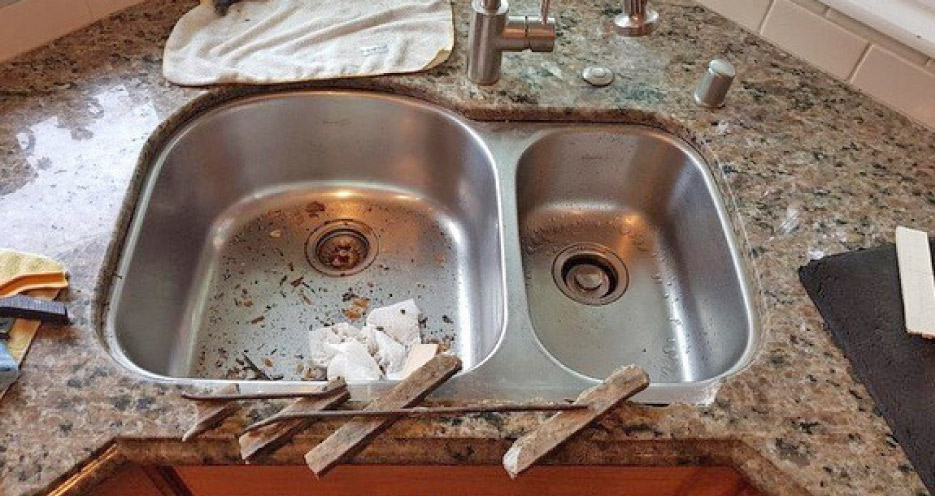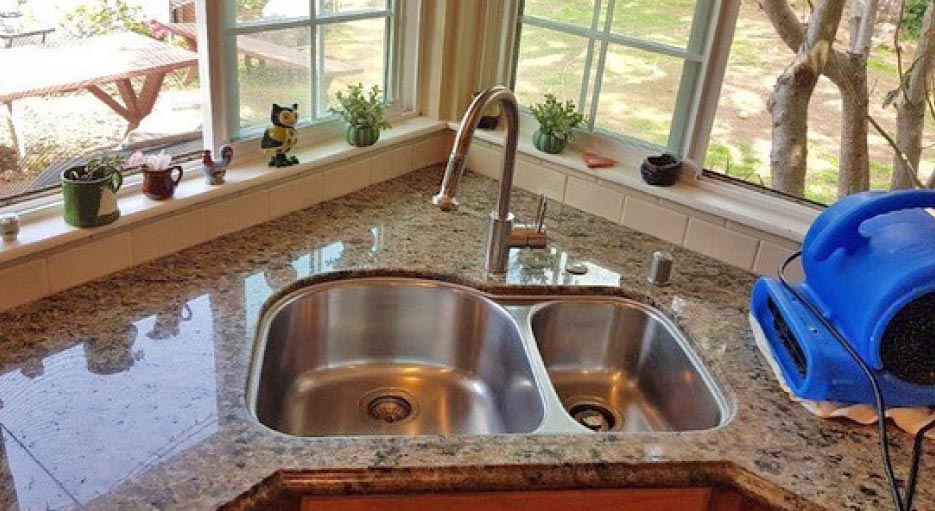 Above: Before and after repair of cracked granite, chiefly caused by excess collected moisture leading to an oxidized support rod.

Above, Left: After reinstalling the sink, expert caulking and sealing is key to preventing future failures.

Above, Right: Final edge cleanup and after repolishing the restored outer sink border leaves the countertop looking better than newly installed.
Above: Before and After: In some cases the underlying cabinet will need to be replaced.
This particular restoration job involved reconstruction of the underlaying wood cabinet. Effective caulking and sealing is key to preventing failures like this.

For advice on repairing granite and other stone and quartz surfaces, contact Frank Sciarrino at Granite Gold Services at 800-475-7866 or email frank@granitegold.com.