Julie Warren Conn Explores the Power of Expression in Stone
by Peter Marcucci
Photos  Courtesy Julie Warren Conn and by Larry Hood
Growing up in Knoxville, Tennessee in the 1950s, Julie Warren Conn loved working with her hands. She imagined becoming a fashion designer while making clothes for her paper dolls, or being an airline stewardess when gazing at the sky through the treetops. From time to time, Julie also imagined natural shapes of all types, and at the time, unbeknownst to her, it was these images that would help shape and eventually lead her to her passion and lifetime career as a sculptor.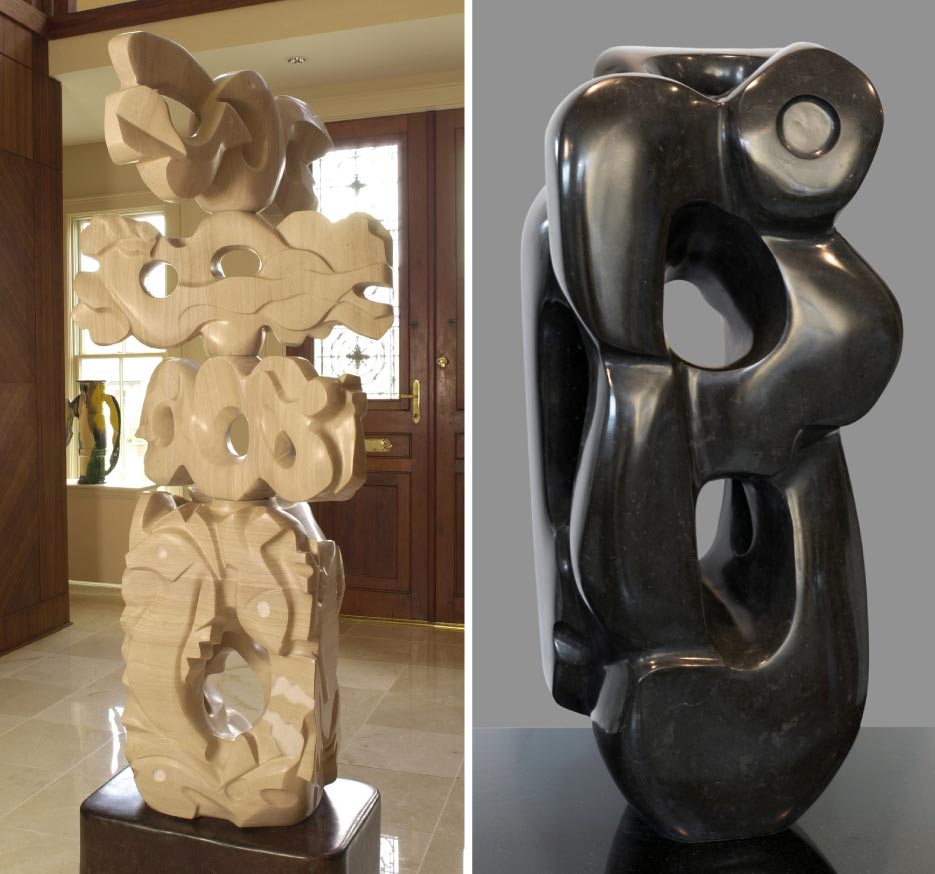 Above, left: All Creatures
"In 1994, I was commissioned by the Memphis Cancer Center in Memphis, Tennessee to create a sculpture for their lobby. I was given freedom to just do the work as I wished— no questions asked (always the way to get the best work from an artist!). Done over a period of months, the four pieces of marble were carved by me without assistance. Various high-relief carvings of animals surround the lower portion. The top three panels are doweled and can be turned in various angles. All pieces are highly polished revealing the beauty of the Italian Serpeggiante marble. The mass of the pieces is mounted on a very heavy cast bronze base. Sadly, The Cancer Center closed a few years ago but the sculpture became the focal point in the doctor's home who had originally commissioned the work. It was a sheer labor of love to create this piece. I feel it is the closest I have come to creating a "masterpiece."
Above, right: Samburu (Warrior Series)
Tennessee Imperial Black Marble
25˝ H x 10˝ W x 7˝ D
Tennessee Black marble is the most difficult to polish because all scratches must be removed. A few years ago, I decided to get back with working this native black stone, which is so beautiful. Samburu was created in 2016, a few years before my accident. It was that year that I felt I was really back in a groove, making some of my best work. I was proud that at my age I could still do it! You know the expression from Proverbs, 'Pride goeth before destruction, (and a haughty spirit before a fall.') I was reminded of that the hard way when I seriously injured myself in 2019 —  in fact, it was  the worst injury of my life!
Imagination Will Take You Everywhere
Now imagine, if you will: Julie, now a young woman, having the good fortune to attend the University of Tennessee to pursue her chosen craft, and leaving with a Bachelor's degree in Fine Arts in Sculpture in 1965. Her life was falling into place as she spent the first ten years of her career welding sheets of steel into art objects. Life was good; however, change was in the air. Julie was primed and ready for what would be her next phase and the final key to her success, but not without a lot of work, due diligence and luck, she recalled. "I was very tired of the welding, and I finished a piece of stone that I started in college. Once I did that, I went to a local marble company, The Marble Shop. Claude Ledgerwood owned the company and permitted me come in, and the men in the mill taught me how to use the electric and pneumatic tools to work the stone."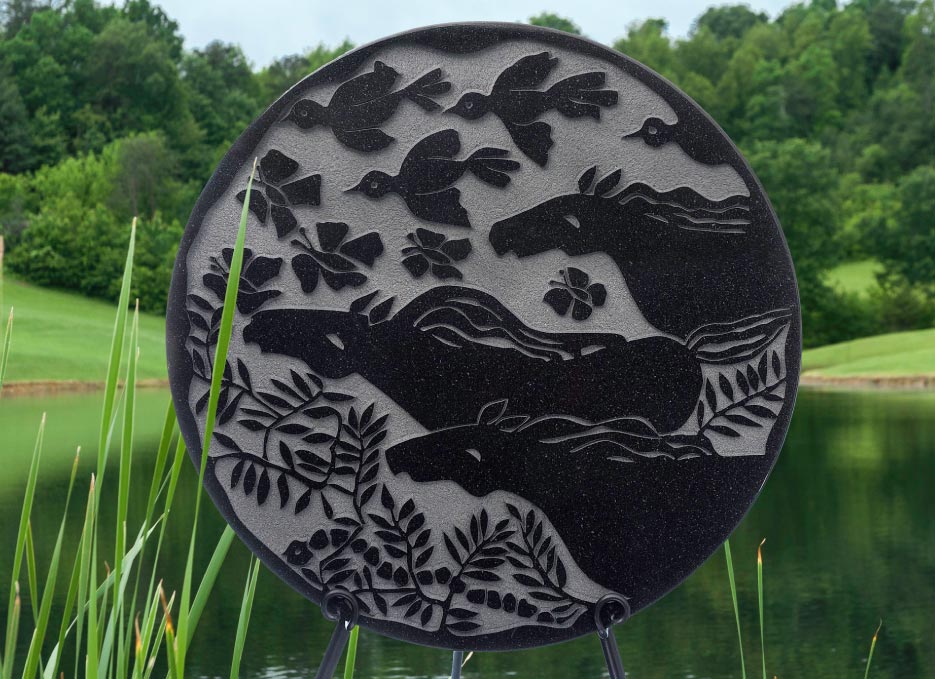 Above: Racing With the Wind
"Stone drawings have become an important part of my work. I began using this technique in the early nineties. These are created on black granite to obtain the best contrast, and many of the drawings are used architecturally in many commissioned walls in Knoxville (Second Presbyterian Church, Cokesbury Family Life Center, the KUB Building, Morristown City Hall, and others). I also collaborate with a blacksmith in Kentucky to develop tables, pedestals, etc. to support the stone drawings for use as more functional pieces in the office or home. This 30-inch disc is currently displayed on a wrought iron pedestal."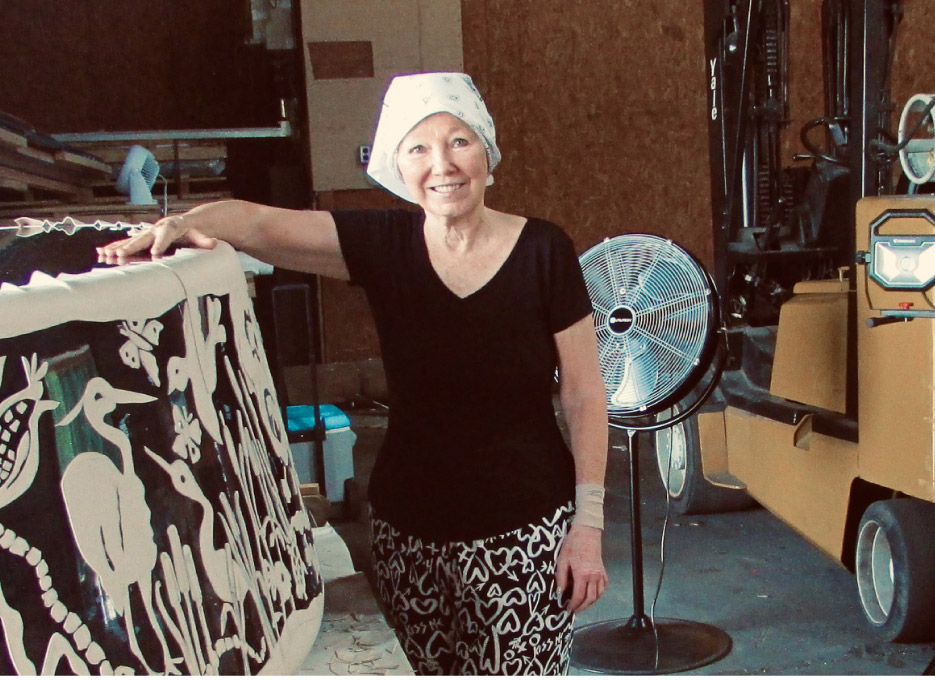 The Transformation of Love
By 1975, Julie's metal work was sidelined, and a clear path leading to natural stone was in her destiny, she explained. "The beauty of the stone was so outstanding and the process of carving stone was so opposite of what I had been doing, that one piece led to the next, and I never returned to welding. I found my interest, I found my passion, and instead of being an additive process, which I was doing in steel, I was reducing the stone and trying to find the form and the shape."
Early on, Julie was inspired by many 1940s and 1950s-era sculptors including Barbara Hepworth, Constantin Brancusi, and Henry Moore, who she visited in England. "Henry Moore was in his 80's, and had a blanket over his lap, holding one of his ink drawings, and a glass of sherry on the table beside him. He was open and friendly as we began chatting. It was so amazing to talk to him, and a very exciting moment for me."
She was also heavily inspired by Michelangelo, she continued. "I read TheAgony and the Ecstasy before I started on an 18,000-pound block of Tennessee marble. It was during my early career, and as I worked the stone with my electric tools, I remember laying my head on this huge block thinking, if Michelangelo can do it with a hammer and chisel, with all of these tools and some extra help, surely, I can do it. There were also many times I laid my head down on the stone, crying, 'Who's gonna win, Rock – you or me?' "

A Career in Flux
Currently living in Lexington, Kentucky with her husband, Philip, Julie continues to immerse herself in work at her studio in Winchester, located about 13 miles due east of Lexington. The large studio includes a show room for her sculptures. She's there working most week days, when she's not traveling.
Her passion continues to drive her, and she still delights in the challenge of taking a block of stone, drawing lines and sawing, grinding and chipping away. At age 79, it is an intuitive process, she said, adding, "I've been doing it so long, the stone will pretty much lead me. If I'm working figuratively, I'll take a different approach by conceiving it in my mind, laying out a plan and trying to develop it. Most often these pieces are highly refined, requiring double the amount of time to polish or to rough-out the form. They sometimes include textural contrast, but overall, I finish and polish the whole stone. The piece may suggest figures, it may suggest animal forms. So, it's figurative, but extremely abstract. Nothing I do is picture-perfect realistic. I would also characterize some of my work as classical, in that I work in a classical way, refining by hand. So, not in the Michelangelo sense, but classical, because my approach is about craft. I never felt like you get craft without art and art without craft, and I will use anything I can to obtain a polished, refined sculpture."
Currently, within her art, there are three divisions: direct carvings, stone drawings, and her bronzes, which are all very distinct and different, because of her level of participation in the processes.


From Stone to Bronze
"With bronze casting, I've already created the design in stone; molds are made of my original design in stone but the pieces are cast at a foundry firm. My next part of the production is overseeing their multi-step process at the foundry, to make certain the pieces are cast with precision. I work with the patineur to make certain each one turns out to the specified color and patina. I work in an edition of nine for the bronzes, in lieu of hundreds. This process permits a form to be shared, and the low-numbered edition maintains the character of the original.
"My sculpture The Founders is my largest bronze-casting to date. The hollow, bronze back-to-back figures are placed on a 9,000-pound block of black granite, imported from India. I worked with the Georgia Granite Group in Elberton, Georgia, in August 2021, creating the freehand drawings on the granite, and preparing the base for sand-blasting the flora and fauna forms, to create the polished relief drawings. From start to finish, this monumental project occupied 4 years of planning and work."
Julie admits that the bronzes are certainly much easier to handle than the stone, because they don't weigh as much. "I've had so many back injuries; I can't lift a lot of stone." Julie does have her own forklift and has perfected ways to maneuver stone to avoid lifting. She has also substituted lighter, easier handling tools for her old heavier tools to get the proper finish, she continued. "The smaller tools are just as hard on my body as the big ones. The big ones just get the work done a little faster! I can still get a lot of work done without using the big heavy tools I had always used before the accident. I also don't have any assistance now, because I'm too involved in creating as I go, and enjoying the process as I go, and I can't turn that over to somebody. To me, it's a very personal experience to work with a piece of stone."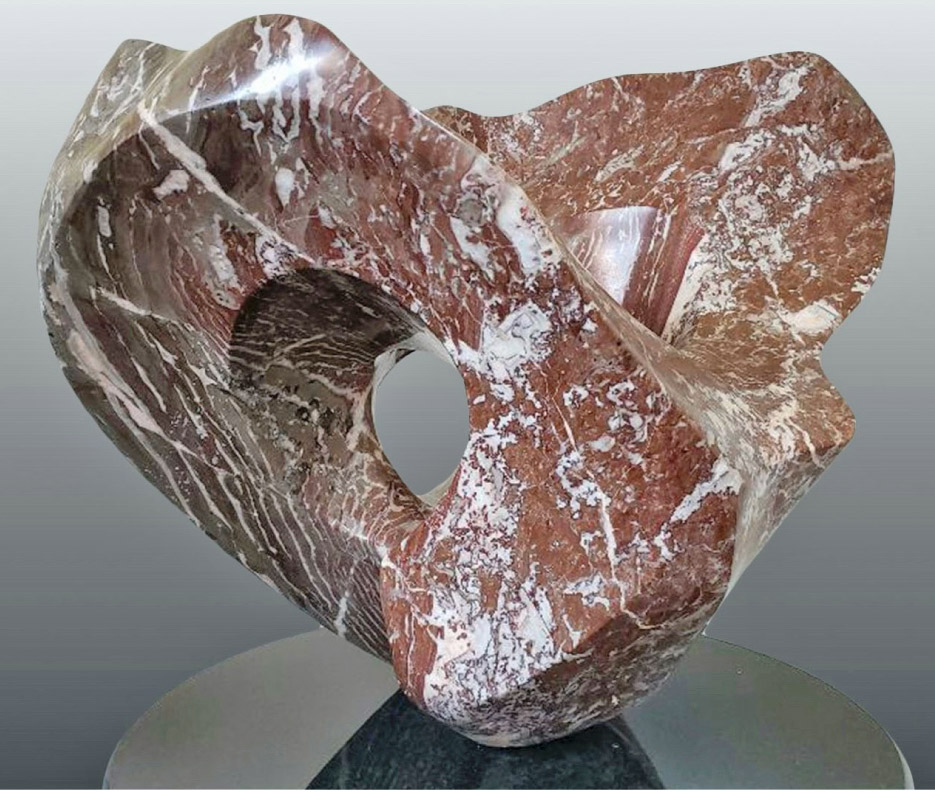 Above: Viage
Tennessee Coral Rouge Marble
24" W x 15" H x 15" D
"Viage was recently delivered to clients in Knoxville, who purchased one of my early works of the same Tennessee Coral Rouge Marble in 1985. The very first piece of stone I acquired came from the old Gray Knox Marble Company in Knoxville. (My father purchased that plant years later to become part of his pre-cast concrete plant.) I hauled the heavy raw stone to my UT art class, and with hammer and chisel began chipping away. I only roughed out the piece and found the process too difficult to consider as a profession. Ten years later, a friend visiting from Italy offered to complete the piece. He was working at the Marble Shop in Knoxville. I got heavily involved and once the polishing began, I had found my passion! The stone is spectacular! I asked to work at the plant of the Marble Shop and the rest is history. The men in the mill taught me the craft of working stone in a more expedient manner. I never returned to sculpting in metal."
Above, left: Back to Back, Bronze, Ed. of 9
22˝ H x 17˝ W x 9˝ D
The male/female figures represent the unity of a couple working together. Back to Back became the prototype for creating the large-scale figures for the Maker's Mark Distillery commission, The Founders.

Above, right: Bianca, Alabama Marble
14˝ H x 12˝ W x 10˝ D
The Accident
"I was working in the studio on a Saturday afternoon on December 7, 2019. I was already tired when I started this project, and anytime you feel that you are too tired and not focused, and doing something potentially dangerous, you probably shouldn't be doing it! Nonetheless, I needed to finish a very small piece for a show in New York, and began to work on it. I picked up a very old right-angle grinder with a 4-1/2-inch diamond blade on it, started cutting, and within a split-second the saw blade grabbed the sleeve of my left wrist. It was an old grinder with an on-off switch, not a paddle switch, and I had done what all of my stone carving buddies did; I had removed the guard. Fortunately, the cloth of the sleeve had bunched up and stopped the blade – but not without consequences. Without me realizing it, it had made a deep, severe cut into my wrist. I then jerked the plug out of the wall, and tried to get the saw loose from my clothing. All the while my mind stayed perfectly clear, which was amazing. I had on several layers, so the blood wasn't coming through, yet.
"Continuing to struggle, I still couldn't get the saw off, so I grabbed scissors, tried to cut it off, and finally ripped off the sleeve, and realized how serious it was. I then ran out of the studio, then out of the house and into the neighborhood screaming for help, but nobody heard me. So, I ran back into the house and called 911. By then, I knew I was really bleeding heavily and in big trouble. 911, you know how they do, 'Now where are you, blah, blah, blah?' But now I'm really frightened, and a little hysterical, and said, 'Don't you understand that I'm bleeding to death?' But as soon as I heard the sirens, I knew help was on the way and threw the phone down."
The bottom line: Due to her heavy clothing, the saw blade stopped just short of the bone. Fortunately, a hospital intern was able to put Julie's wrist back together temporarily, just to stop the bleeding – which was still a ten-hour process. Then, three days later, extensive surgery was performed. And now, after two years of grueling therapy, she's regained about 80% of the use of the hand that she almost lost, and is again able to create beauty, albeit more gently and carefully.


Above: Healing Hands, Marble & Bronze
"Rehabbed and pushed to the limit by my kind, caring, tough hand therapist – one of the very best in the country, and fortunately based in Lexington – I carved this work. Cut from a raw block of Colorado Yule Marble (the same stone as used for the Washington, DC Lincoln Memorial) I carved a series of hands. After all, for two years and after hundreds of hours of therapy trying to restore the use of my hand, I daily studied the hand. This piece just flowed – I simply held the chisels! The original marble piece is in my therapist's collection. I have also had it cast in bronze- thus, the greenish color cast." The original roughly measures 13˝ H x 15˝ W x 7˝ D."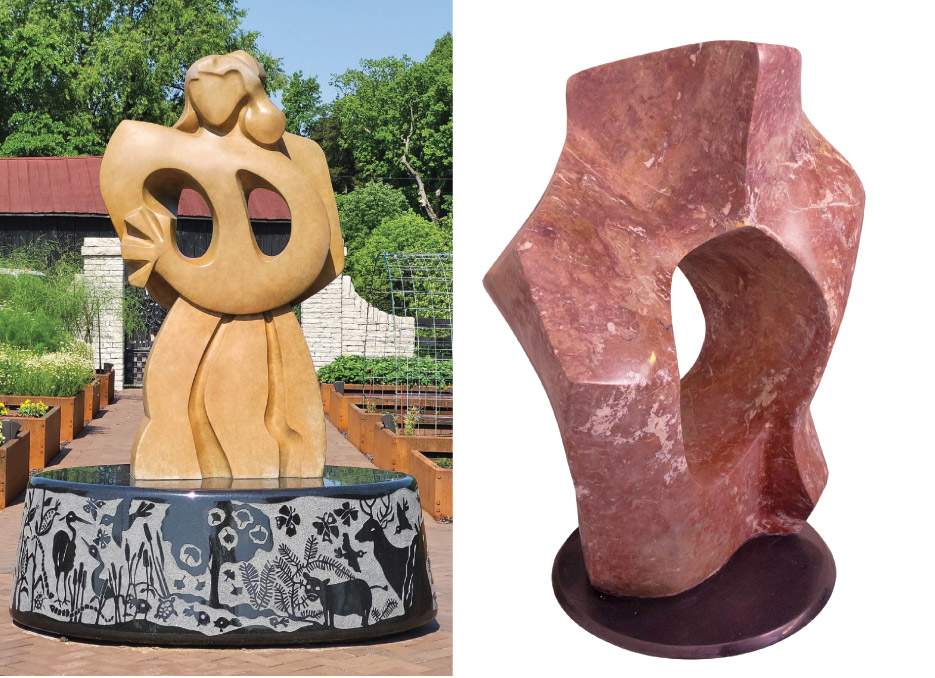 Above, left: The Founders

"I was working with the Georgia Granite Group in Elberton, Georgia on the 9,000 lb. granite base for this project. It was fabricated in India, shipped into the Port of Savannah in the summer of 2021, and trucked to the GGG company. I spent two hot and sweaty weeks in the 103° Georgia heat drawing and preparing the rubber for sandblasting. When completed, it was sandblasted by a man from Peru. The base was then trucked to Loretta, KY for installation at the Maker's Mark Distillery. All of the staff at GGG were instrumental in cheering me on. This was a wonderful, exciting project after overcoming a serious injury!"

Above, right: Wishing Stone
This large sculpture of Coral Rouge (Tennessee) marble is one of Julie's favorite materials, and increasingly hard to find.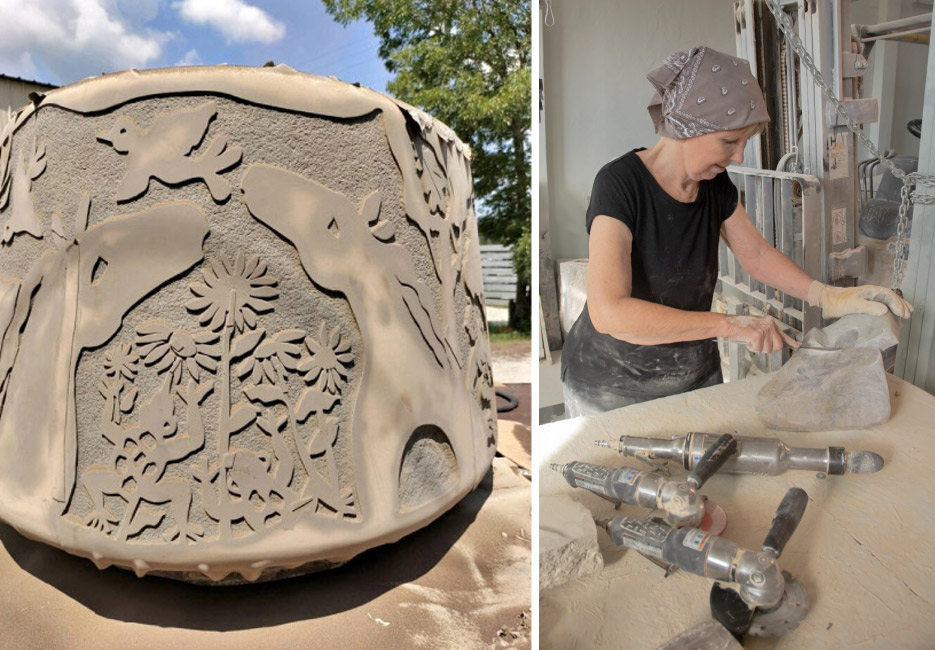 Above, right: Julie works on a new piece in her studio in Winchester, Kentucky. The pneumatic air tools in the foreground are heavy-duty and "practically antique" Ingersoll-Rand grinders. Julie also has a large collection of old Italian chisels and files.
Plans for the Future
Julie's work continues to evolve, and after the accident, she's even more determined to keep doing it, with no plans to stop, ever. Traveling with her husband Philip half of the time, and working her craft the other half is a real balancing act, and challenging, because she's also a mother and a grandmother.
"What has kept me going is that I'm always trying to achieve that masterpiece, but I've never quite gotten it. My sculpture All Creatures possibly comes closest. That said, it's important to get the work out there for several reasons. When my work means something to someone else and they want to have it, that's special for me. Additionally, through the years, the more I could sell, the more I could afford to improve my working conditions, my tools, and keep advancing.
"Some artists are so shy and cannot work directly with clients, and that's where galleries come in to play. But galleries push you in a certain direction. I love the craft, the business, the numbers and working with the clients. I love all of it, the entire process, even though it's such hard work. But, if you have a will, there's a way. My work is going to remain the same, and hopefully continue to be as good as my work from the past, retain the quality I've reached in the past. I still have the drive, and can still enjoy the things in life that most people enjoy – and feel very, very lucky, because I've had enough success to keep working.
"The accident certainly changed me, took its toll, and I can live with it. However, there still is a lot of nerve pain and my hand will never be the same. I can still work, but after a year of recovery and inaction, I don't have the strength that I used to. Part of aging is you slow down, and part of injury is it takes you out for a long time. Yet, I wouldn't feel as old as I am, if I hadn't had the injuries I've had.
"As for up-and-coming artists, I feel that if you've been given any kind of gift and you don't use it, it's a real waste. So, follow your passion and follow your dream. Whatever your goal is, work to achieve it. Whatever experience you can get, get it. Don't be afraid to strive for what you want."
Above, left: Mishima (Warrior Series)
Vermont Marble
50˝ H  x 15˝ W x  8˝  D
"One of many warrior sculptures created throughout the years, Mishima was carved during the period my father was passing away. I shed many tears as I beat on the extremely tough piece of Vermont Marble. Rigid symmetry and textural contrast define the form. I would love to cast this sculpture in a large scale in bronze for a client.
Above, right: Fallen Angel, Bronze, Ed. of 9
17˝ H x 8˝ W x 4˝ D


Julie is currently working on three commissions. After almost 50 years "in the business," her work is sold privately through reputation and word of mouth, and is not available in galleries. To learn more about Julie, view her work, her processes and her available sculptures, visit her stunning website at www.juliewarrenconn.com .