New 2023 BB Industries Product Catalog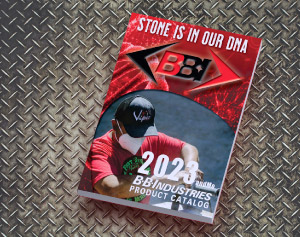 The 2023 BB Industries product catalog is now available in print and digital format with hundreds of exciting new products. One of the newest product lines featured in the catalog are the Viper STRIKE and STRIKE II Turbo and Bridge Saw blades for cutting granite, quartzite and other materials. They are manufactured using medium frequency sintering technology, a slightly different manufacturing process from the standard Viper turbo blades. This technology equally distributes heat during the sintering process, producing a blade that is stable and reliable, assuring the user a clean cut every time. See it on the website: BBIndustriesLLC.com .
BB Industries is also promoting the Envy™ sink line, offering a more complete line of the most popular stainless steel styles, and stocking them in its regional distribution centers for faster delivery to any place in the continental US. 
If your shop did not receive a 2023 BBI catalog in the mail, you can call 800-575-4401 to request one from any of the BBI CSRs, or regional CSRs. You can also access a digital version on their website link found at the bottom of their home page..

For over 28 years, BB Industry's philosophy has been to offer exceptional products and first-class service to its partners in the stone, tile and concrete industries. For more information, visit www.BBIndustriesLLC  .