Italian Marble & Granite: Customer Care and Quality are Number One
by Peter Marcucci
Photos  courtesy Italian Marble & Granite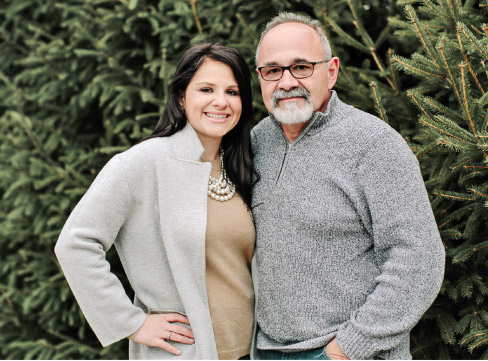 Katrina Hora and Mark Zografos, co-owners of Italian Marble & Granite in Clarence Center, New York.
Italian Marble & Granite was founded by Pasquali DiLisio in 1986. The 3,000 square foot facility located in Elma, New York was perfect for the fledgling company to grow and spread its wings. In 1993, the company expanded to an 11,000 square-foot facility under the leadership of Mark Zografos.
Under its new management, Italian Marble & Granite settled in and focused on quality and customer service. Mark Zografos, along with 10 team members, grew Italian Marble & Granite to its next logical transition. In 2007 they expanded operations into a 22,000 square foot structure located some 30 minutes away in Clarence Center, New York. That move allowed them to have all operations under one roof.
Fast forward to 2023. The company is again looking to expand, explained Co-Owner and CEO Katrina Hora. "We are in the process of meeting with architects and engineers to see if we can expand onto the building we have, and maybe put on a second floor, as well. That's the goal for this year – to at least add another 10,000 square feet."

A Family Enterprise
Katrina is Mark Zografos' daughter, and as a teen would come to work during high school summer break: cleaning, answering phones, learning materials, and generally helping where able and safe to do so. Then, years later, after getting her degree in Accounting and an MBA, Katrina made a life-changing decision. "I asked dad to give me a shot in 2012. I said, 'You can let me work for you for one year, and if you don't think it's going to work out, you can cut me loose and I'll go back to school and get my CPA.' "
As the story goes, she never left, and became the company template maker using a Laser Products LT55. She learned about clients, contractors and estimating, she explained. "It taught me how to read drawings and blueprints, how to design with clients and how things come together, and gave me the space I needed in the company."
Currently, estimating, co-scheduling, purchasing, large account sales, day-to-day operations, new systems integration and expansion are her responsibilities and areas of expertise.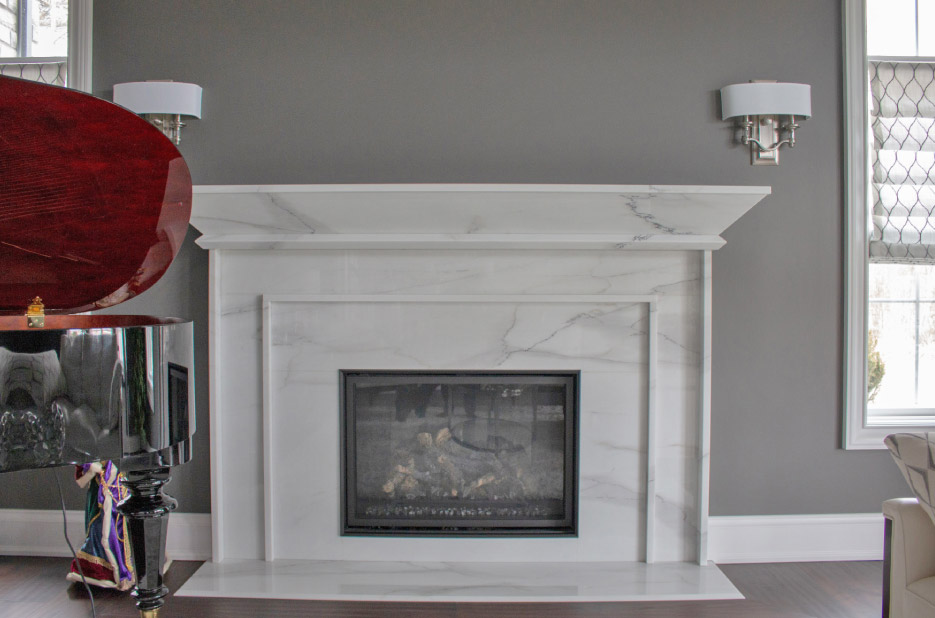 Mitered and vein-matched Calacatta Lincoln marble fireplace designed for a residential customer.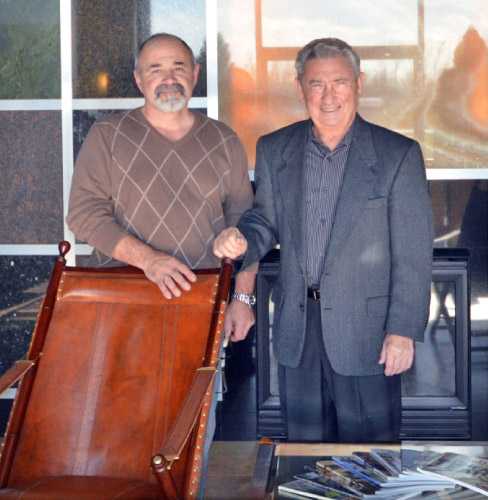 Mark Zografos and original owner Pasquale Delithio in the Italian Marble & granite showroom.
A High-End Customer Base
Italian Marble & Granite is primarily focused on high-end residential direct to homeowners, or through their many custom builders, while in-house, custom design is available for all by designer Virginia Sorrentino. Virginia is the daughter of the original founder, Pasquali DiLisio, and she stayed with the company during the transition, Katrina explained. "We do work with designers, but we will design your whole kitchen with cabinet colors to match the countertops for those clients coming off the street who might not have a designer. Virginia has been with the company since the beginning. She can meet with the clients, and have the whole house designed in fifteen minutes."

Marketing & Materials
To date, the company's main source of sales within the Buffalo area has been from satisfied client and word-of-mouth recommendations. However, with aggressive competition from local shops as well as fabricators working out of their garages, Katrina has just hired Trellis Marketing to help keep her company in the forefront, both on the web and through local venues. "By creating a bigger branding presence, I want Italian Marble & Granite to be who people think of when they think countertops." Katrina has also strategically positioned the company in social media platforms such as Facebook, Instagram and Houzz.
With over 1,000 slabs of all types in stock and an average of 60 kitchens produced monthly, the company buys from local distributors, only. "Container" is not in Katrina's vocabulary, and for good reason, she explained. "Buying local helps to maintain quality. Unless I had somebody in a quarry, finding a certain stone, I don't want to do that. We've tried it in the past. Ten years ago was the last container we imported. We brought it in, opened it up and said, this doesn't look like the pictures! The slabs had fissures all over them, and you can't send it back. I do think knowing good distributors and having good relationships with them is really key. They know what I look for, and only send me that, and this arrangement has been a huge benefit for us."
Even though container isn't in Katrina's vocabulary, Dekton and porcelain is. "We've made a little niche for ourselves by fabricating Dekton. I feel that it is going to give quartz a run for its money. It looks more realistic, is heat resistant, and is going to change the industry. Dekton just released more colors that look like marble, and it also has a quick-cut version, and if you can cut it at a faster speed and not have to relief cut it, that might change the game, as well. We don't mind working with it. You just have to take your time when fabricating. If you just want to pump work through your shop, you're not going to be doing that with Dekton or porcelain."
The company's 4,000 square foot shop consists of a full array of Park Industries equipment, including a Yukon 2 Bridge saw, Fusion CNC Sawjet, Saberjet XP Sawjet and Titan 1800 CNC Fabcenter. However, you can have the nicest building and best equipment, but if you don't have good people to take care of your customers, you're not going to do well long term.
Built-up 6cm Granite island designed for a spacious, high-end kitchen.

The Best Team Delivers the Best Results
"Our layout tech is methodical, and thinks of everything, and our installers are really great because they care about every job and are open to criticisms," Katrina continued. "I get so many calls from clients afterwards saying, 'Your installers educated us, showed us how to clean it, and explained more about the stone.' Furthermore, when the shop guys know we have a deadline, they'll stay late and get it done.
Even our warehouse guys are meticulous about the quality of the stone that comes in here.
"So everyone here goes above and beyond for this company to excel in quality and service. They understand that the work we are doing is high-end, and they want the clients to know that we are putting care into their job. I've also just hired a remote employee from India. He works the same hours as we do, and he logs on to our team viewer every morning at eight o'clock. We can see him, and say, 'Hi, how are you?' and directly interact with him to make changes to the programs, and continue the education. Our success isn't because of Mark or me. It's because of every single one of our team members are so good at their jobs."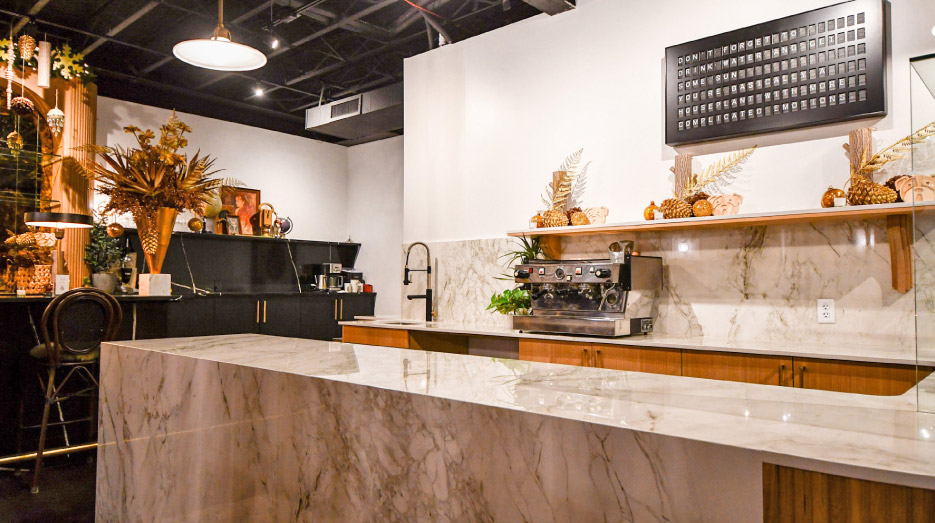 This commercial job for The Monocle features a mitered dekton island with waterfall edge. Hora: "We did a miter and then transitioned to square and transitioned to a mitered edge again, to complete this showpiece top."
Below: Detail of the full-height Bergen Stonika Dekton splash showing undermount bar sink cutout.

Software is the Driver of Efficiency
As for control and production software, the company is in the process of integrating Pinpoint Software Inc. into their Slabsmith and Stone App software. "We are going to be using Pinpoint for scheduling templates and installs. I'm excited for that, because it can record the conversation that you're having. So if I text my client the day before and say we are going to be there at a certain time, I have that in my system. Unfortunately, some clients don't always remember what you said, and you can send them that text message as a reminder. It's also nice, because clients have real-time knowledge when one of our people is going to be there, and they feel a little bit more comfortable." Katrina has also implemented a program where the client signs off approval of templates and installations, as well as video documentation of the install, which they've used very successfully for training.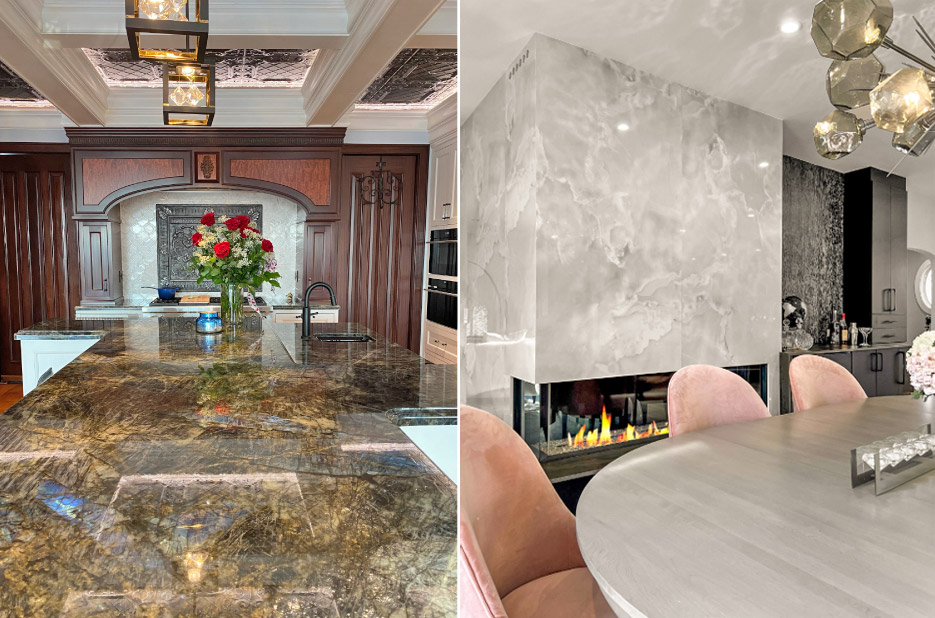 Above, left: Calacatta Valentin Quartz was used for this extra-large residential island project.


Above, right: Mitered Dekton fireplace wraps on three sides. This great room has a matching mitered Dekton waterfall countertop tying into the fireplace.


Below: Porcelain kitchen with full-height splash.
Hora: "We've made a little niche for ourselves by fabricating Dekton. I feel that it is going to give quartz a run for its money… you just have to take your time when fabricating."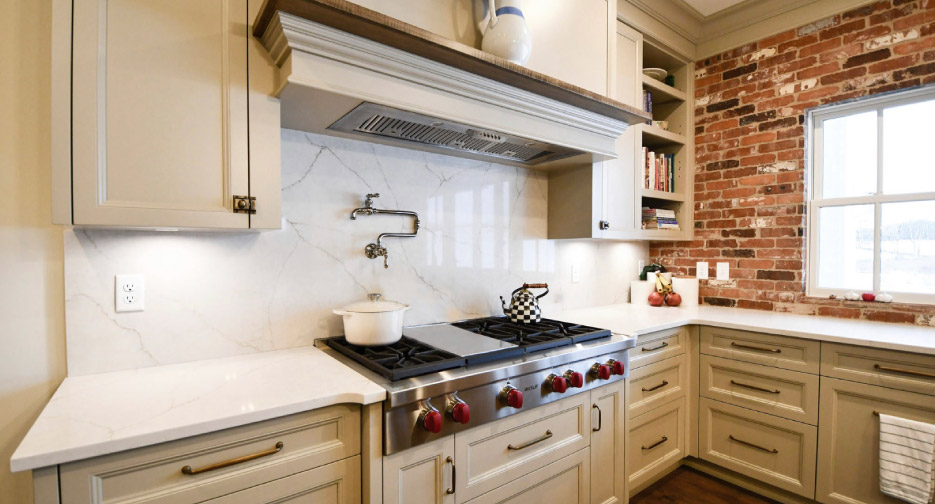 Planning for Growth
"In 2021, we had a 40% increase in our sales and production. Since that boom period, I've been building off of that momentum and staying current with all the new technology and the way other people are doing things. This can be passed on to our clients, and they can see that we are always trying to step up our game by showing them different techniques and programs, and educating them by the time we install. I'd like to double or triple our size over the next five years. I'm pretty aggressive on that right now, but I'm not trying to do it by taking on big box stores. I also want to grow into other markets such as commercial work and expand geographically."
As for Katrina's dad, Mark Zografos, he still helps handle day-to-day operations, but is getting ready to retire in a few years, and completely hand over the helm to Katrina. After decades in the stone biz it's anybody's guess what he'll do, said Katrina. "He likes hunting, cars and vacationing, but I don't know if he'll be able to stay away. But when that time comes, I will miss his daily input, guidance and experience!"

Italian Marble & Granite is a member of Rockheads, and is a loyal and satisfied BB Industries customer.
For more information, visit www.italianmarbleinc.com .