Brazilian Natural Stone Organizations Showcase Diversity at StonExpo 2023
In February 2023, ApexBrasil (the Brazilian Trade and Investment Promotion Agency), in partnership with Centrorochas (the Brazilian Center of Natural Stone Exporters), showcased Brazil's diverse and unique natural stone offerings as part of the annual international StonExpo event at the Mandalay Bay Convention Center in Las Vegas. The Brazilian booth on the StonExpo trade show floor featured materials from 22 of Brazil's leading exporters, including more than 40 varieties of natural stone from the country's 12 geological types. Brazil's inaugural presence at this year's StonExpo celebrates the theme of "Brazilian Geodiversity, 'Brazilianness', and Art."
Brazil's leadership in the international stones market has grown steadily over recent years because of strong international interest in the high-quality, unique natural stones found throughout Brazil's five primary regions. In 2021, international exports of Brazilian ornamental stone hit a record high of USD $1.34 billion, up 35.5% from USD $990 million in 2020, according to Centrorochas data. Despite widespread global supply chain interruptions, exports in 2022 remained strong at $1.28 billion, with expectations of further growth in 2023. The United States is by far the largest importer of natural stone from Brazil, with more than 58% of Brazilian stone exports bound for the U.S., followed by Italy (13%) and China (8%) as the top three destinations.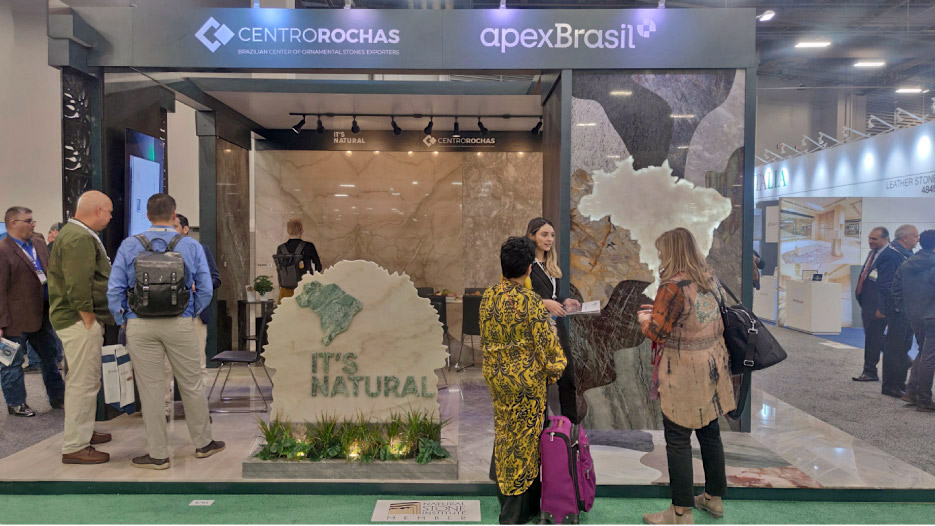 The debut booth included 22 Brazilian exporters and more than 40 varieties of natural stone.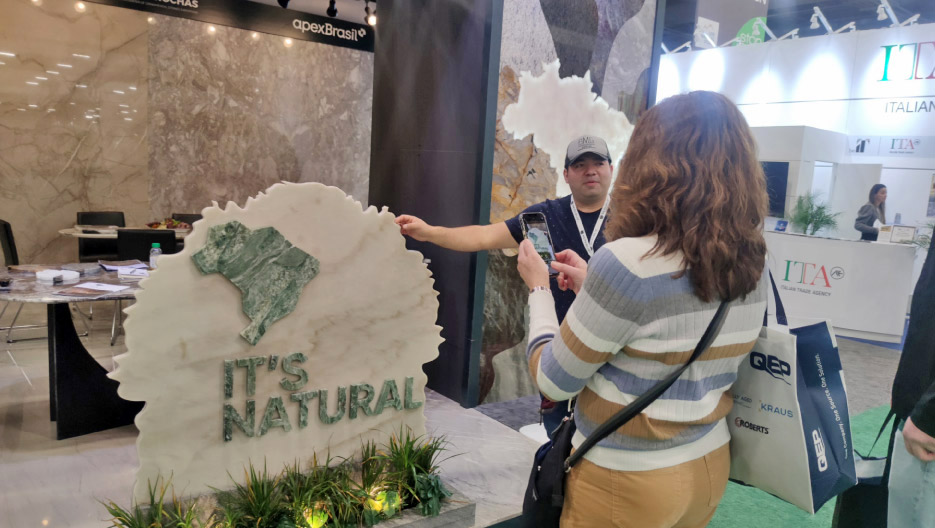 Araciene Pessin – distinguished ornamental stones expert, CEO of Gramobras Granitos E Mármores, and CEO/designer of Áquila Stone Design – custom-designed the Brazilian exhibition space at StonExpo to portray the country's rich natural and cultural diversity. The space was anchored by a diverse array of ornamental stones and a quartz crystal map of Brazil to depict the country's rivers and other geological features. Other one-of-a-kind displays featuring traditional Brazilian architectural techniques and cutting-edge fabrication methods created an immersive experience to give visitors a look into Brazil's lush and serene natural environment from which these stones are quarried.
"The goal of this project was to select 40 ornamental stones from 12 different geological types, and bring them together in a display that tells the story of the natural artistic aspects of the country's raw materials," explained Pessin. "Brazil's rich beauty and diversity are evident in the country's natural stone products, and we are excited to showcase these products for the world to see."
For StonExpo attendees interested in learning more about Brazil's natural stone products, Centrorochas vice president Fabio Cruz and international stone consultant Paulo Giafarov hosted an informative lecture, titled "Get to Know the Power of Brazilian Natural Stones." Topics he covered included Brazil's unique geological diversity and the modern fabrication technologies used by Brazilian manufacturers to reduce waste and water usage.
"This is our first direct participation at StonExpo and we are very optimistic about the business opportunities and connections that can be made with North American architects, designers, and builders," added Centrorochas president, Tales Machado. "Brazil is a country with a diverse variety of ornamental stones and the Brazilian companies that are displaying their products this week at StonExpo are prime trade partners for international manufacturers. Together with our partners at ApexBrasil, Centrorochas – through 'It's Natural', a sectoral project focused on increasing international awareness of Brazilian natural stones – is dedicated to encouraging further internationalization of the segment to ultimately build on the momentum of Brazilian stone exports from the past few years."
ApexBrasil considers the ornamental stones industry as a key priority sector. To learn more about ApexBrasil and other trade sectors the agency supports, visit: www.apexbrasil.com.br/en/trade-sectors.

The Brazilian Trade and Investment Promotion Agency (ApexBrasil) works to promote Brazilian products and services abroad, and to attract foreign investment to strategic sectors of the Brazilian economy. ApexBrasil organizes several initiatives aiming to promote Brazilian exports abroad. The Agency's efforts comprise trade and prospective missions, business rounds, support for the participation of Brazilian companies in major international trade fairs, arrangement of technical visits of buyers and opinion makers to learn about the Brazilian productive structure, and other select activities designed to strengthen the country's branding abroad. ApexBrasil also plays a leading role in attracting foreign direct investment (FDI) to Brazil, by working to identify business opportunities, promoting strategic events and lending support to foreign investors willing to allocate resources in Brazil. ApexBrasil is an agency linked to the Ministry of Development, Industry, Trade and Services (MDIC).

The Brazilian Center of Natural Stone Exporters (Centrorochas) is present in all the national demands to increase the competitiveness of the natural stone sector. The entity acts directly supporting the procedures related to the presence of Brazilian entrepreneurs abroad, combining commercial and operational activities related to the development and evolution of Brazilian companies.