H.E. Satterwhite: Still Tops in Stone and Tile
by Sharon Koehler
Photos  Courtesy H.E. Satterwhite and by Sharon Koehler
On May 1, 1959 (yes, 1959), John Stonnell and Howard E. Satterwhite opened the doors to Stonnell and Satterwhite, Inc. By 1966, this up-and-coming tile and terrazzo installation company moved to its current location at 12 South Lombardy St, in Richmond, Virginia. Ten years later, in early 1976, the company transitioned over to H.E. Satterwhite, Inc., still a tile and terrazzo installation company.
In the 1970s, H.E. Satterwhite, Inc. started fabricating vanity tops, jambs, curbs, and thresholds, in addition to its tile and terrazzo work. The stone products of the company grew over time, and came to dominate the company's focus. Their first stone saw was an old Tysaman brand, which later became Sawing Systems.
Today, stone projects and installation are a major part of the company. H.E. Satterwhite fabricates and installs all types of natural stone and quartz projects. Right alongside the tile work they still do, the stone side installs countertops, shower walls, fireplaces, bars, and anywhere else the customer needs stone.
They are a full-service stone and tile shop, offering design, fabrication, installation and repair of natural stone, quartz and slate, plus design, install and repair of tile projects. While they don't have a specific designer on staff, Debra Graves, the Vice-President of Sales and JR Perkins, the Shop Manager, are always willing to help customers with their tile and stone selections.
Their showroom is currently being remodeled, but they do have a slab yard right outside the back door, stocked with mostly locally-sourced slabs for customer convenience.
Their website address does not include their name, but it appropriately states exactly what they do: countertopinrichmondva.com. And even though their name isn't on their website address, it doesn't seem to matter. Debbie admitted that a lot of their business is word of mouth, which they feel is a direct result of their excellent customer service. However, they also have professional relationships with many area builders and architects, some going back 30 years. Most of their tile work is for commercial projects, while most of their stonework is residential.
H.E. Satterwhite is a member of the Natural Stone Institute and their local Better Business Bureau (BBB) chapter. They also have profiles on Facebook, Instagram, and Houzz. Plus, they enjoy a 5-star rating on Google, which also helps bring in business. OSHA has been to their shop and found everything to be in-line with their standards, but the shop itself is not OSHA certified.
When Debbie Graves, Vice President of Stone Sales was asked: "What makes your shop special or different from other tile/stone shops?" She was very quick to answer: "We are old school. We do everything by hand. That gives us the opportunity to do specialized projects that some more automated shops can't do. We have craftsman, not just machine operators."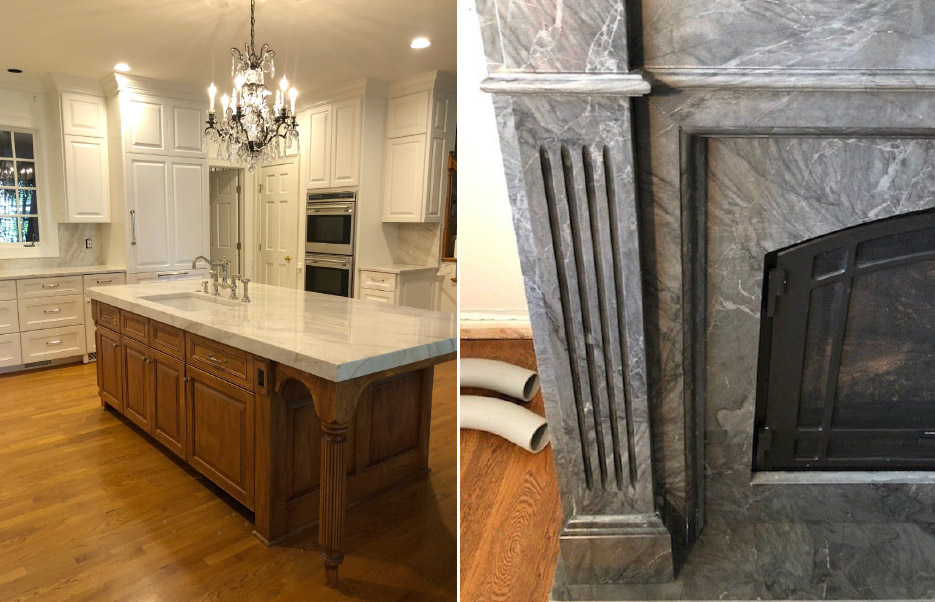 Above, right: Brilliant Black Quartzite fireplace surround for new home construction.


Below: H.E. Satterwhite has long-term relationships with several area high-end builders who appreciate the quality and attention to detail they add to the project.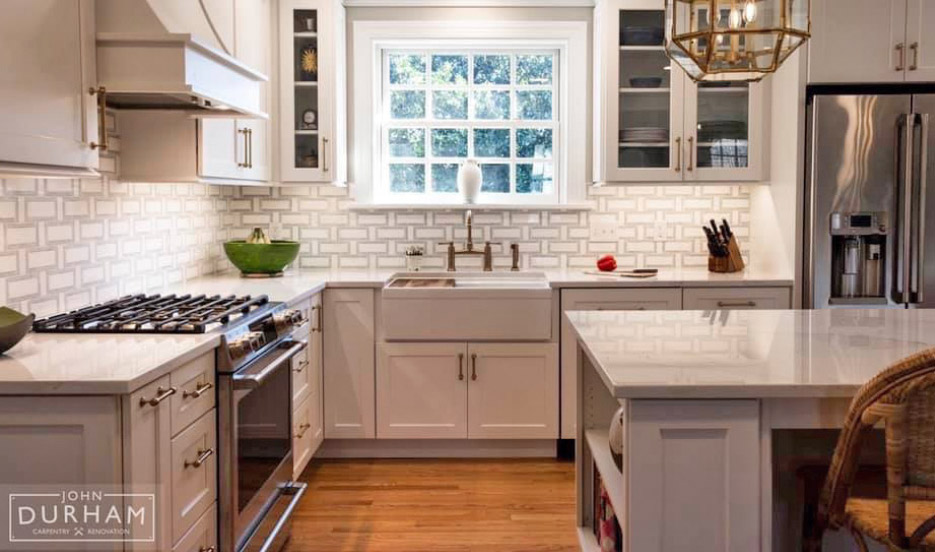 Below: Detail of full-height tile backsplash installed throughout this kitchen renovation.
As for what makes their shop unique, Debbie replied that there were two things:
1 – "As I mentioned, we are old school. We do our finishing by hand."
2 – "We have a very low turnover rate. We generally employ about 16 people. We have two 2-man install crews and we are able to pull a third man if necessary. We have 3 tile mechanics and 2 more subs on call, when needed. The thing is, when people come here, they tend to stay. I've been with the company 35 years, and Howard Payne, Vice President Fabrication Shop Operations has 42 years with the company. Gary Marston, President, is in charge of Tile and Terrazzo, serving 54 years with the company, and Granville Parrish, Vice President in charge of Tile Installers, has been here 40 years. Justin Hicks, our Lead Installer, has been here 25 years, and Chris Woods, Shop Foreman, has 10 years with the company. JR Perkins is our Shop Manager, serving for 28 years, and last but not least, Ann Graves, Secretary has 55 years with the company. This longevity affords us the opportunity to come together and gel as a team, which pretty much erases second guessing and makes us efficient in our projects and jobs."
Even though they do a lot of hand-finishing work, they do have equipment they depend on to move projects along. Their latest piece of equipment is a custom-made Park Prodigy, designed especially for them. Now, they have a Park Yukon bridge saw along with an in-line polisher, and an array of routers and air polishers for hand-finishing, with 2 compressors for shop efficiency. They also have the stone shop staple – a forklift – and they boast a fleet of six pickups and a box truck for installation.
The company sits on property containing the main building for office and shop, and several other buildings for staging and storage. Over time, they did have to modify the shop area in the main building. They adjusted walls and brought in the water and air lines.
What they don't have currently is a water reclamation system. When the city of Richmond set up their water ordinances, because H.E. Satterwhite had been in business for so long, they were grandfathered in, so they don't have to worry about water filtering or reclamation equipment.
As you can imagine, a company with this longevity didn't get there by doing mediocre work. They have won an array of accolades and awards over the years. Most recently they have received the 2022 Pro Central Virginia award, and the 2020 NARI Grand Prize for a residential kitchen over $100,000.
They won two awards in 2017 for a project in Buckingham County, Virginia. They used Buckingham Slate in renovating the county's elementary and primary school, earning them a Pinnacle award and an NSI Award of Excellence. They have also had projects written up in the publication Inspired Interiors.
Satterwhite is currently working on two whole-house projects, each over $80,000. When asked if it was safe to assume that they catered to high-end clients, the answer was, "Yes, indeed."
Debbie: "We don't do tract or cookie-cutter homes. We go for high end, not high volume. The number of jobs we complete in a month is directly linked to the size and scope of the projects we have. Another fabricator may do 15-20 tract homes a month, which is good for them and their business model, while we may have only 2 or 3 huge projects taking up our time."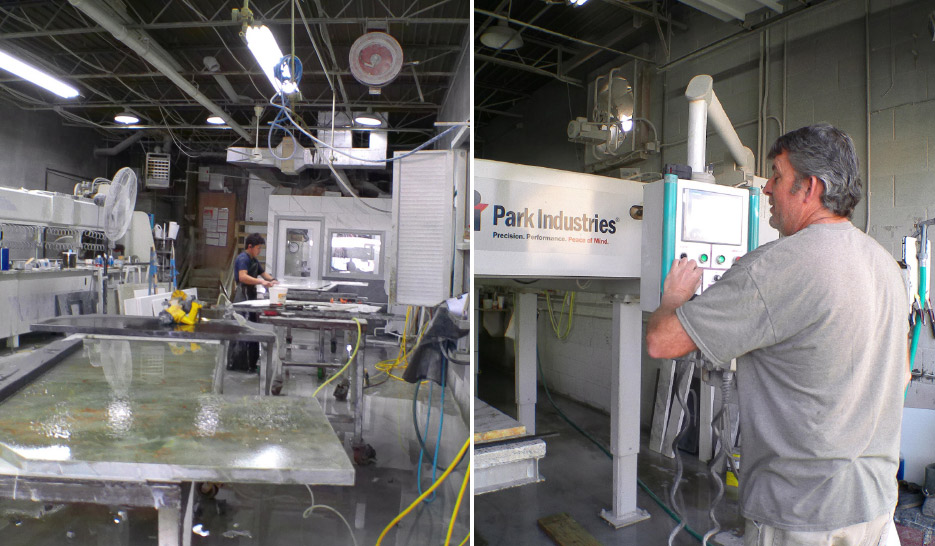 Above: Fabrication done old school. While there's some very modern equipment in the Satterwhite shop, the finishing is mostly done by hand by their quality-conscious craftsmen.
Below: H.E. Satterwhite is a mostly Park Industries shop, and is outfitted with two compressors to run air-powered polishing and fabrication tools.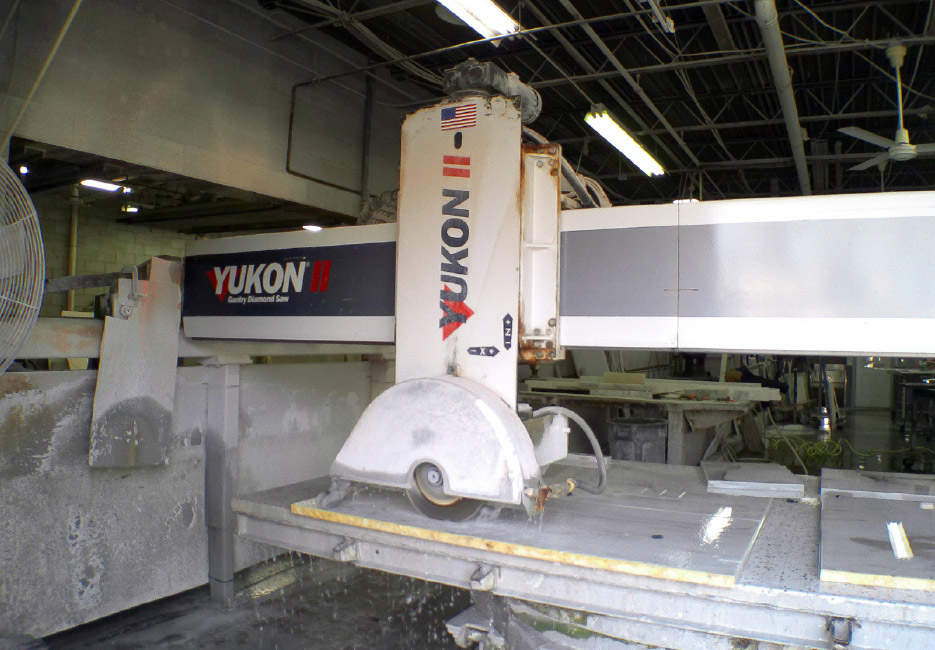 Current Market
Debbie did comment that even though the market for them is very busy right now, it only slowed down just a little during the pandemic. They followed CDC guidelines when it came to masking, sanitizing, and the 6-foot rule. They did everything they could to keep their employees and clients safe during that time, and they just kept on working. Unlike a lot of other businesses that folded, satterwhite came through the pandemic still open and fabricating, installing, and repairing stone and tile projects.
They made it through the pandemic and through 64 years of economic upheaval, changing trends, evolving material, equipment upgrades and ever-changing fabricating and installing techniques. What's next?
In order to see what's ahead, I asked about the past and this is where Debbie's sense of humor shone through.
"How did H.E. Satterwhite get to where they are now?" Debbie: "Hard work."
"What are your plans for the future?"
"More hard work."
"What are the company goals for the future?"
"To keep it going. We don't want to grow. We have no current plans to renovate or move. We are a good size now. We can handle the work we have in the space we have with the equipment and employees we have, so we're good. We are a down-home, no frills company that offers quality services at a fair price. If there's a problem on a job, we handle it. If there's a question, we answer it. We are upfront with what we do and how we do it. We educate our customers and clients. That has kept us going for 64 years and should keep us going for a lot longer than that."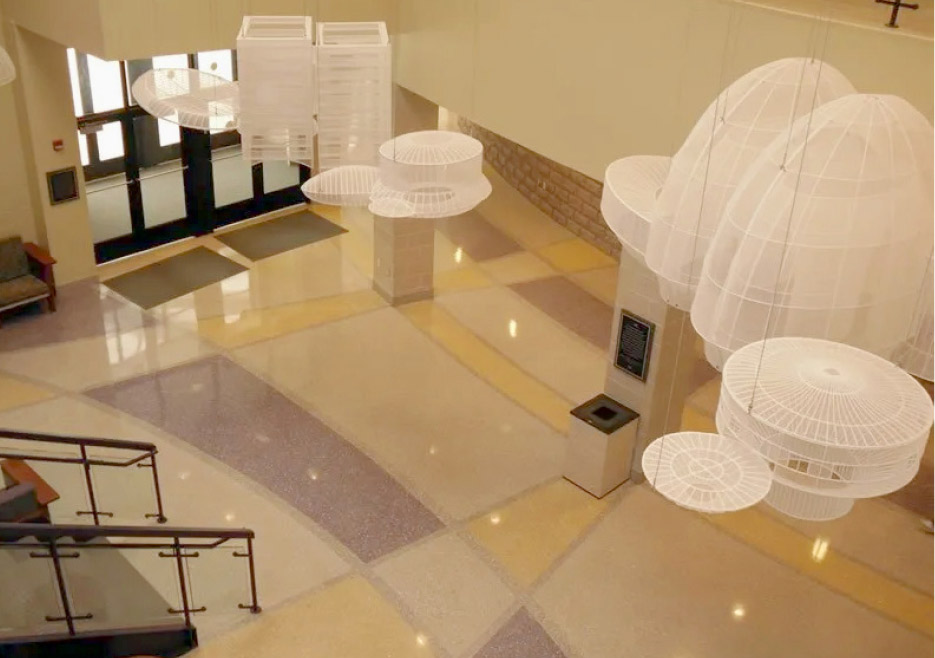 Terrazzo floor installed in the Jeanette S. Lipman Auditorium, Reynolds Community College, in Richmond, VA.

H.E. Satterwhite, Inc. has been serving Richmond, Virginia, and the surrounding areas for 64 years. Obviously, they know their stuff. They have adjusted and changed with the times, techniques and styles of their craft and they intend to stay around for many more years.
For more information, visit the H.E. Satterwhite website, www.countertopinrichmondva.com .


---
2017 Pinnacle Award of Excellence
Renovation / Restoration
Stone Fabricator:
H.E. Satterwhite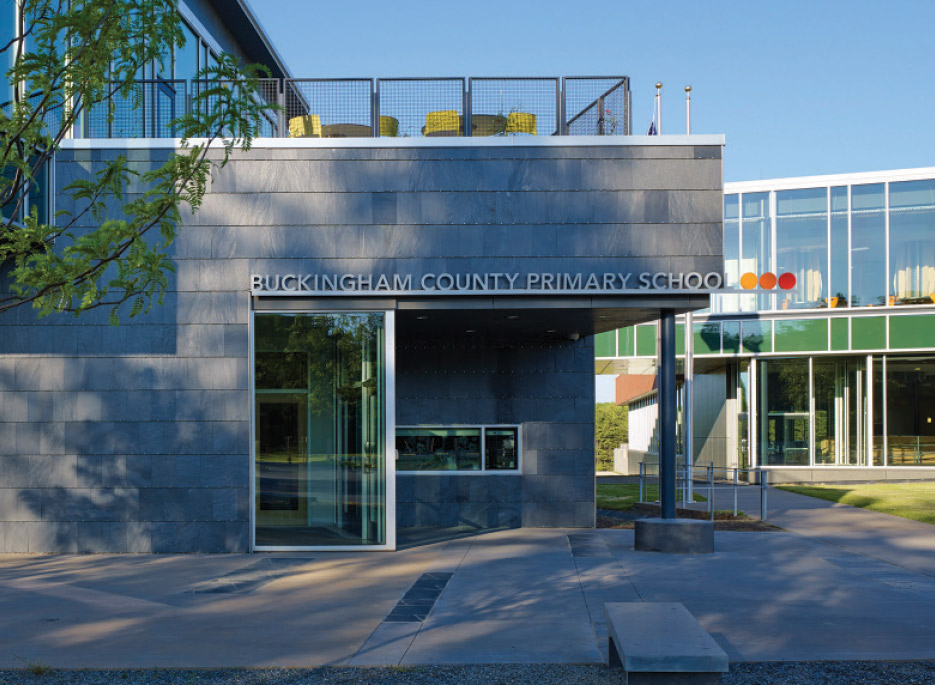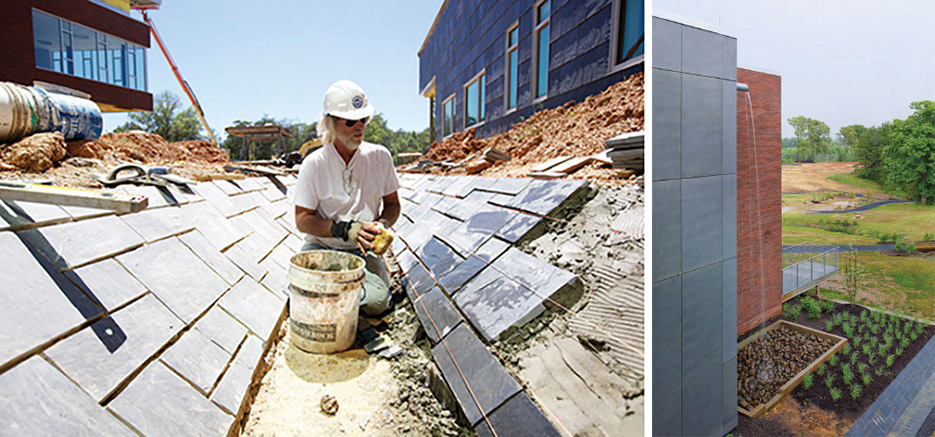 Buckingham County Primary & Elementary Schools
at the Carter G. Woodson Education Complex
Dillwyn, Virginia


The Buckingham slate selected for Buckingham County's newly renovated and restored primary and elementary school campus serves to tell children the story of Buckingham County's cultural history, geological past, and sustainable future.


The project recognizes the positive social, ecological, and economic benefits of reusing local sites and structures and the durable, hand-crafted stone reinforced this mission to specify materials that would support a community setting for decades to come. This commitment to reinvestment also supported an increase in space utilization through consolidation and an aim to promote healthy living to its students.


Select demolition, renovation, and new construction on two former school sites led to the creation of a "one school" complex with the center of the campus as shared, communal learning spaces around an outdoor piazza featuring Buckingham slate and stone. Indoors, the stone appears prominently in large gathering spaces – such as in the Community Commons and monumental stair – reaffirming the community's connection to its natural context. Outdoors, a rain screen cladding system with custom slate shingles emphasizes the sculptural qualities of the architecture. Another unique use of the slate is found in the slate-lined storm water conveyance channel cutting through the entry plaza. The channel visibly measures the size of storms, allowing students to understand the occurrence and volume of water, associated with each storm event and apply real-world skills to natural contexts.


The design team worked with key stakeholders, scientists, and a pediatrician to set goals for health and well-being that would integrate healthy eating, food stewardship, and physical activity to seamlessly become part of the school day. Buckingham slate plays an important role in enlivening the children's everyday landscape serving the architecture and learning curriculum equally well through large expressions like benches, shingles, counters, and honed tiles, as well as smaller instances of stacked stone.